Doomsday Clock only 2 minutes to midnight
Atomic scientists warn humanity of an increased level of danger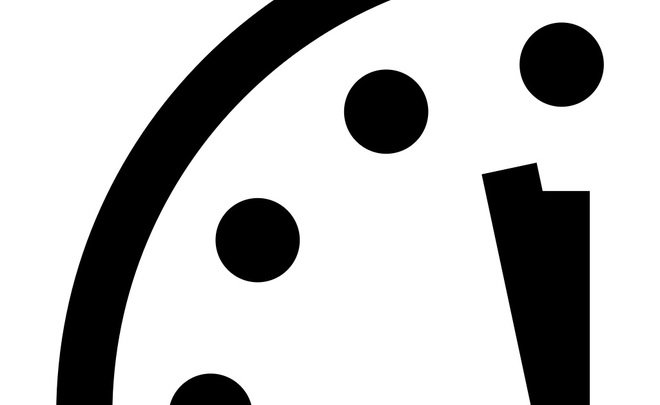 The so-called Doomsday Clock was moved 30 seconds closer to midnight, reports Newsweek. The symbolic clock represents the likelihood of a man-made global catastrophe, such as nuclear war, irreversible climate change or existential threats from emerging technologies.
The Doomsday Clock was presented in 1947 by an international group of atomic scientists who had participated in the Manhattan Project, a research and development enterprise that created the first nuclear bomb. The scientists, who ''could not remain aloof to the consequences of their work'', founded The Bulletin of the Atomic Scientists, an academic journal that covers global issues related to the dangers of nuclear threats, weapons of mass destruction, climate change, emerging technologies and biological hazards. The project has no scientific method behind the calculations, it is an analogy intended to convey to people the level of danger the world is in.
When first introduced, the clock was set 7 minutes to midnight, which represents doomsday. Since then, it has been set backwards and forwards 22 times. The biggest interval to midnight (17 minutes) was registered in 1991 and the closest (2 minutes) in 1953 after the U.S. and the Soviet Union began testing hydrogen bombs. In January 2018, the clock was again set at 2 minutes to midnight due to ''the threat posed by the misuse of information technology''.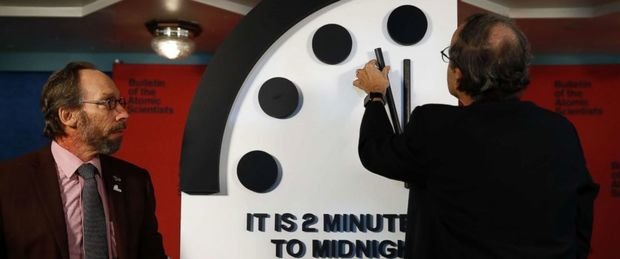 The scientists consider that the risk of nuclear war raised last year because of the ongoing confrontation between President of the United States Donald Trump and North Korean leader Kim Jong-un. According to the Bulletin, ''hyperbolic rhetoric and other provocative actions by both sides have increased the possibility of nuclear war by accident or miscalculation.''
The world's insufficient response to climate change is another danger highlighted by the Bulletin. It may seem to be a more abstract problem, but extreme hurricanes, heat waves, wildfires, drought and sea level rise pose a greater threat than even nuclear weapons, the researchers believe.
The rising global risk of emerging technologies became the third key factor for moving the clock's hand. The scientists claim that people all over the world have lost trust in political institutions, media, science and facts due to spread of misinformation. An informed public is crucial to push the policies across the globe to address the problems that are necessary to ''turn back the Clock'', says the Bulletin.
Analytics