Mehter orchestra: The Magnificent Century made the world love Turkish military music
The most ancient military orchestra from Turkey performed a Tatar song in the Kazan Kremlin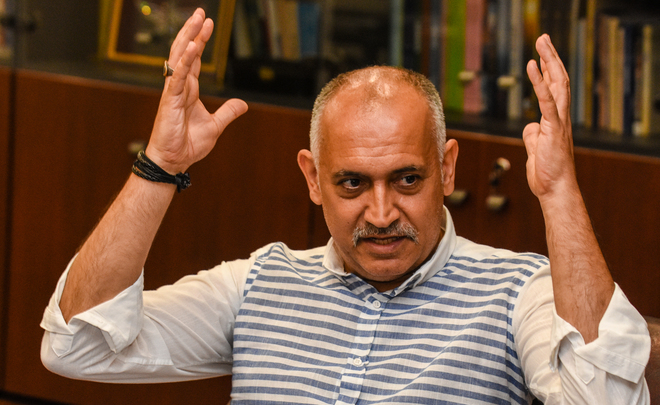 Mehter Turkish ensemble performed in Kazan on 25 and 26 August in Kazan. The collective is special because it is considered the first military orchestra in the world. What is more, there was a surprise for Kazan spectators. On the eve of the concert, art director of this group Mehmet Şükrü Alkan lifted a veil in an interview to Realnoe Vremya's reporter. Our interlocutor also told about authentic musical instruments that sound in concerts, his friendship with the Aleksandrov Ensemble and briefly told about the history of military music of Turkey.
Surprise for Kazan spectators
Mr Alkan, have you ever been in Kazan? Could you tell about your tours in Russia?
It's my second visit to Kazan. We have been in Moscow (twice), in Saint Petersburg.
In other words, did you come to our city on tour?
We arrived in Kazan from Turkey. We will perform only in your city. Although we were in Moscow just in June. I need to say that there are several Mehter orchestras in our country. But we are the only ensemble under the Ministry of Culture and Tourism of the Turkish Republic. As far as we are concerned, there are several Russian military ensembles like in Turkey.
You probably remember a plane where the Red Army Ensemble (Editor's Note: the Aleksandrov Ensemble) was crashed in the Black Sea (Editor's Note: the air crash in December 2016 in Sochi)… In 2008, we performed with many of them, many of our friends were among the victims.
Was it during the Days of Turkey in Moscow?
Yes, it was an amazing concert. There were over 5,000 people, many spectators were just sitting on the floor. This concert was also nominated for Nobel Prize.
Will there be similar joint concerts of military ensembles of Russia and Turkey?
Not in the short run. Although we don't make long-term plans. And we know about upcoming performances one month in advance. We work in this regime. When we were in Moscow in June, I did not know we would be in Kazan in August.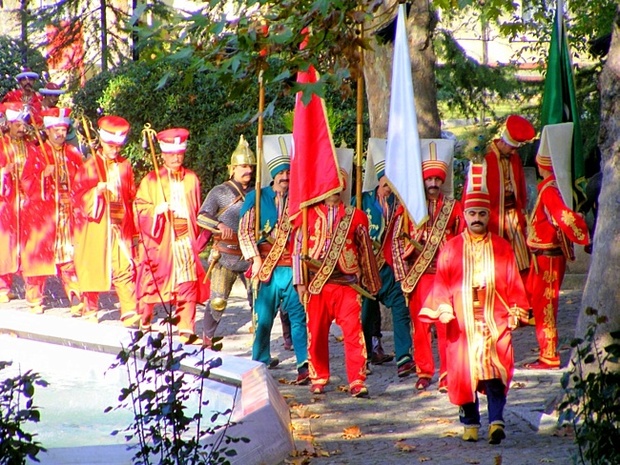 ''There are several Mehter orchestras in our country. But we are the only ensemble under the Ministry of Culture and Tourism of the Turkish Republic.'' myturkey.blog.ru
I noticed that in that joint concert you performed the Russians songs Katyusha, Kalinka. Do you have other Russian songs in your repertoire?
Yes, we play Kalinka and Katyusha, we performed them in June. In that joint concert, two soloists – Russian and Turkish – sung couplets of the song one by one. It was quite bright and interesting. I will lift a veil: as a surprise for citizens of Kazan, we prepared a song that Kazan knows.
Will it be a Tatar song?
Yes, in the Tatar language. I won't say which one, let it be a surprise.
Did you spend much time to learn the Tatar song?
I should say that learning the Tatar song coincided with our holidays. It took one month. We managed to work on it even being on holiday. As the Tatar language has many similar words, it was easier for us to learn it.
Are you often invited to Russia?
It is the second time this year. This year we also have been twice in Azerbaijan.
The most ancient military orchestra
The musicians of our military ensembles are militaries. Are the performers in Mehter also militaries?
Speaking about us, as we refer to the Ministry of Culture and Tourism, we are not militaries. However, we are state workers. Everybody studied in conservatoire, studied music. The General Staff also has Mehter. Part of its performers are militaries, they have military ranks. But we are just culture workers.
Can a person from the street, so to speak, join your collective?
As a rule, we don't hire people from the street. Somebody dies, retires, there is a vacancy. We hold an exam to fill it. We hire those who successfully pass these exams on staff.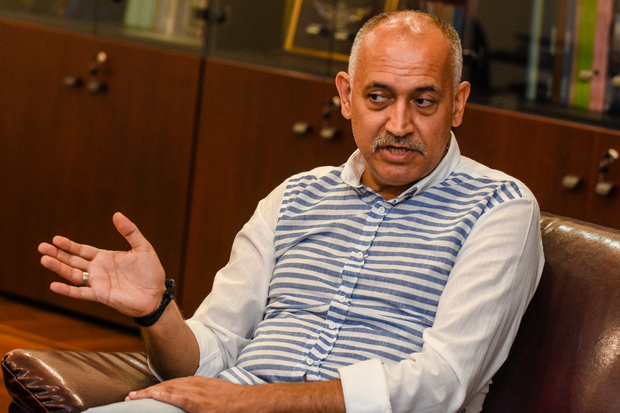 As we refer to the Ministry of Culture and Tourism, we are not militaries. However, we are state workers. Everybody studied in conservatoire, studied music
Is the competition high?
There is a big number of people on the list. But there are not any vacancies now. We have a strict rule: conservatoire graduates can pass exams, that's to say, they need to have higher music education.
Is it obligatory to be a citizen of Turkey? Or can Russian guys also try their luck there?
It is compulsory to have Turkish nationality. The ensemble is state, this is why the rules are strict. The same thing is likely to happen in Russia. However, foreigners can work in symphony orchestras, opera and ballet of Turkey as invited fellow, conductors, orchestra managers.
You told you learn songs of different countries and people. What is the most difficult one for you?
The Japanese language turned out to be the most complicated. We have been in that country nine times and already learnt four compositions in Japanese. I would not say we learn songs of all the countries we go to. We learn songs of those peoples who are interesting for us. Tatarstan occupies a special place because the Tatars are our brothers. This is why we are very happy to perform something that is close to this people. For instance, we went to Spain and Portugal but did not learn their songs.
Turkish military music is unique and one of a kind. Traditions of what nations does it include?
The music of Mehter includes peculiarities of those territories that were part of the Ottoman Empire during its blossom. It represents traditions of the Balkans, North Africa, Anatolia. Mehter has a kind of charming peculiarity. We were in Japan, gave a concert in Tokyo. We performed Ceddin Deden march. All the spectators were singing with us, everybody liked it so much. When we were in Moscow in June and performed Katyusha, nobody went despite the rain. Moreover, we performed it 4-5 times as an encore. I fail to understand what attracts people to this music. By the way, a military orchestra from Kazakhstan also came here. They asked us to perform The Ottoman March: it turns out they love it much.
I should add that people have some respect for Mehter orchestra. Artists appear in costumes that existed in the Ottoman Empire. For instance, in Bosnia, one old man cried having seen us and said: ''Welcome, Sir''. It is respect for ancestors. Everybody understands the Ottoman Empire was a powerful state but treated all the nations that joined it with respect. These symbols we carry attract spectators, thus commanding respect among people.
Probably there is also some fear of the Ottoman Empire. We were in Slovenia, we were going to perform in the city in the open air. The concert venue was looking out the mountains where some old buildings were seen, they reminded the Great Wall of China. The mayor told those walls were built to protect from Ottoman troops when the Turkish sultan was going towards Austria and wanted to conquer Vienna. These walls were built to stop the movement of the Ottoman soldiers somehow. ''And now you are performing here a concert but you wanted to conquer these territories in the past,'' the mayor said.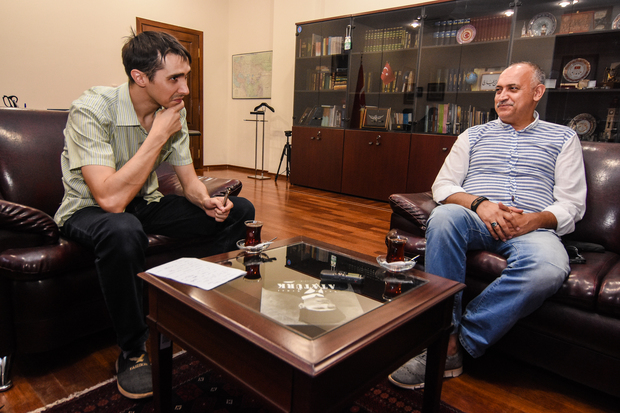 When we were in Moscow in June and performed Katyusha, nobody went despite the rain. Moreover, we performed it 4-5 times as an encore. I fail to understand what attracts people to this music
I have heard a version that Turkish military music is a successor of Byzantine music.
Byzantine music rather adopted the Ottoman one. Mehter is the most ancient military orchestra in the world. After acquainting with Mehter, many great countries – Russia and countries of Western Europe – adopted elements and created their own military orchestras. For instance, zurna was borrowed from us. People still think that the Turks came instead of the Byzantines. Actually, it is not true. We coexisted next to each other from 1200 to 1453. We conquered Istanbul-Constantinople in 1453. As far as we understand, music had existed by that time.
As an observer, I see that interest in Ottoman traditions is arising among the Turks. Does not it show that every Turk has a desire to revive the Ottoman Empire?
Everybody likes their ancestors, everybody loves them. We also love ours.
The famous coup took place in Turkey last year. Did it affect your collective? What do you think about this attempted coup?
It did not affect at all. There were not any problems, everything is fine. We work like before.
There was some tension between our countries just recently. Did you feel personally that this tension decreased?
We did not feel. We had problems with neither Russians nor anybody else.
When sultan stopped listening to music on foot
Could you tell about Mehter in detail? Why are there several orchestras with one name?
There are two principals Mehters – under the Ministry of Culture and Tourism and the General Staff. The two state collectives go on tours and perform concerts. Many municipalities create their own orchestras in all provinces. But they don't go anywhere, they are used to acquaint people with their music. We could not understand the Russian system of military orchestras as well – you have about ten. Other our orchestras with this name are amateurs, private.
As far as I understand, in Turkey, all men are conscripted into the army. If a good musician is conscripted, can he be invited to Mehter under the General Staff?
It is possible. If a person goes to the army, studies in a military music school, he can join the ensemble. There is another option when military music schools enrol after studying in primary music school: they learn how to play some musical instruments, then they are distributed among musical military departments, not necessarily to Mehter.
Mehter doesn't have a wide range of musical instruments, the range is narrow. It is zurna ( a type of flute) and pipe among the wind instruments. Orchestras have their own rules. There is such a concept as a floor: division of the group of musicians into 3, 6, 9 or 13 people. These groups change depending on the musical instruments. Drums (davul), percussion instruments, zil (plates), pipe, kös and cevgan can be used. They have different sizes. The formation is performed by certain rules.
I noticed you widely use percussion instruments. Hard rock and heavy metal just can't beat it. What's the reason?
Mehter orchestra used actively percussion instruments every day under the Istanbul walls until the city was conquered in 1453. It concerned the enemies because they thought the Turks were already having fun and celebrating. Some Byzantine militaries even died from such a moral shock. This noise frightened the opponent. Mehter was always ahead of all groups during military camps. There were performers who played the kös (a big drum) who were sitting on elephants. Imagine a big elephant, a drummer is sitting on it with kös and has two davuls on both sides (smaller drums) – an impressing sight.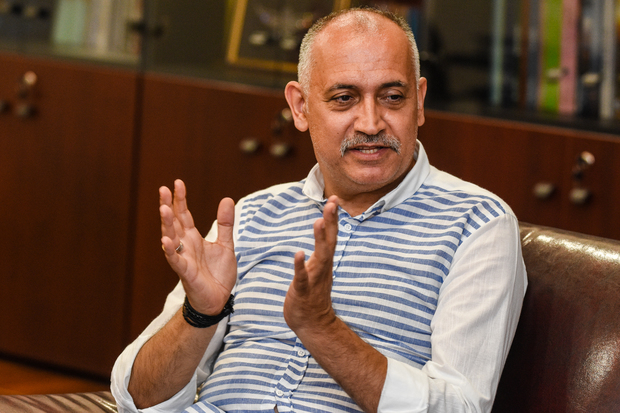 Now Mehter is at the peak of its popularity. Turkish series including The Wonderful Century only made Mehter popular in the world and in Russia, in particular
During the Ottoman era, it was a purely military ensemble. There were establishments that prepared musicians for Mehter. The ruler had the best orchestra. In addition, there were ''Esnaf Mehteri'' – an orchestra for the people.
Until Fatih Mehmed conquered Istanbul, everybody including the ruler listened to the orchestra on foot as tribute to music. After conquering Istanbul, when Fatih Mehmed became a khalif, he started to listen to it while seated: he considered himself the ruler of the world.
Mr Alkan, what musical instruments can you play?
I am the director of the orchestra, I perform as a conductor. Conductors usually have a small stick while ours resembles a swagger stock. It has an upside-down half-moon. It has a ball with Quran ayahs inside. Also, there are white and red pieces of cloth. Mehter has its own strict rules. For instance, there are special ceremonies. We pray Allah for our country. Before a composition, I appear and announce in a special way. After my words, everybody says ''Amen'', which stresses the solemnity.
Does it mean this ceremony is already sacral – it has a connection with God?
Yes, it shows the music is also spiritual. During our concert, we praise God. I say a prayer, we perform The Attack March at the end – it was used before attacking an enemy.
As far as I understood, Mehter is an element that has remained since the Ottoman era. People fought against Ottoman carry-over under Atatürk. Why did Mehter manage to survive?
Under Sultan Mahmud II, before the end of the Ottoman Empire, Mehter was closed because the sultan wanted to adopt western customs and even create an orchestra by European standards. And Mehter seemed to him an obsolete Ottoman carry-over. We managed to recreate when the republic appeared in 1954.
Oblivion age is renascence, right?
Yes. We should consider that it was an uneasy situation in the country. Turkey had to go through many things, it did not care about music. There was no mood to have fun, listen to music, a young country was created. But now Mehter is at the peak of its popularity. Turkish series including The Wonderful Century only made Mehter popular in the world and in Russia, in particular.
By Timur Rakhmatullin. Photo: Oleg Tikhonov
Reference
Realnoe Vremya thanks the Consulate General of Turkey to Kazan for assistance in holding the interview.