'We have citizens who fight. We have citizens who study in some Arab countries without any control'
Minister of Education of Tatarstan Engel Fattakhov was told off because of bad learning of Tatar in Aznakaevo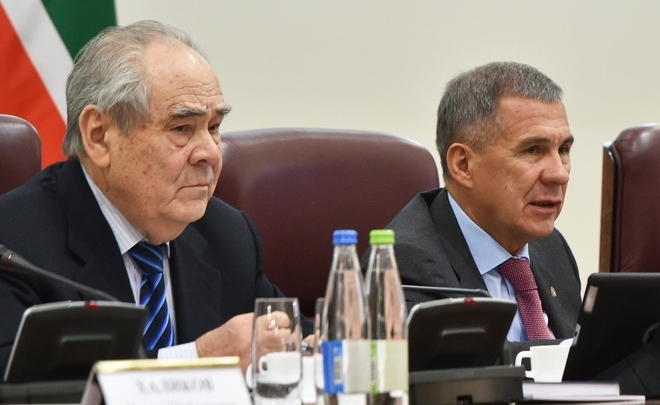 The realisation of the state national policy in Tatarstan at the municipal level was discussed at the meeting of the Council on Interethnic and Interreligious Relations on 5 December. It turned out Tatarstan feels the flow of migrants better and better. Despite the work done on the conservation of the cultural identity of different ethnicities, it can include certain risks. At the same time, the minister of education of Tatarstan was told off by Rustam Minnikhanov and Mintimer Shaimiev – because of the unsatisfied level of teaching Tatar at Tatarstan schools. Realnoe Vremya goes into details.
'Over 90% of religious organisations in Tatarstan represent Islam and Orthodoxy'
A joint meeting of the Tatarstan Presidential Council on Interethnic and Interreligious Relations, Council of Municipal Entities and Antiterrorist Commission of Tatarstan took place in the Kazan Kremlin on 5 December. Opening the event, President of Tatarstan Rustam Minnikhanov stated the ethnical identity is lost when the mass culture dominates. It should be noted that the president spoke in two languages – Tatar and Russian.
'Folk craft and arts, the traditional way of life of ethnicities who live in Tatarstan are under risk. To meet people's needs for conservation and development of languages, cultures, customs and traditions is an important task,' Minnikhanov told.

A very powerful mechanism, which covers culture besides education, was used to conserve the cultural identity of the ethnicities living in Tatarstan. Regional museums that organise specialised exhibitions and numerous themed festivals are among the 'cogs' of the mechanism. The work of the media was also noted at the meeting. According to the data used by deputy PM of Tatarstan Vasil Shaikhraziev, 186 newspapers and 40 magazines out of 1,193 media sources are issued in Tatar.
Shaikhraziev also told the republic had over 200 national and cultural organisations that transmitted interests of representatives of 36 nationalities united in the Assembly of Nations of Tatarstan. As for the cultural diversity: in Tatarstan, there have been registered 1,851 religious organisations including 1,409 Muslim, 342 Orthodox, 3 Jewish, 8 Old Believer, 5 Lutheran, 2 Roman and Catholic and 82 units that belong to other religions. About 300 facilities have been expended to religious people since the late 80s. 53 mosques and 44 churches are under construction.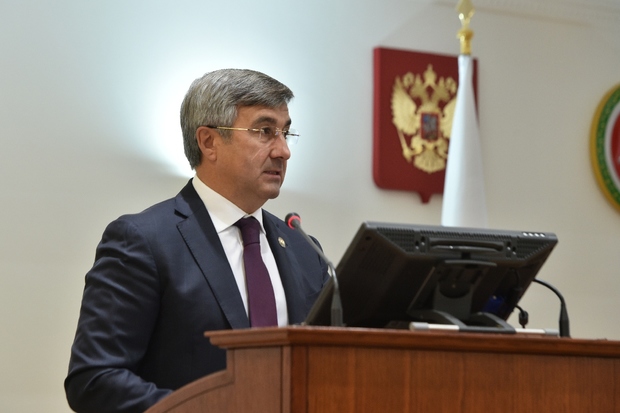 'The municipal government does a lot in this sphere. At the same time, it is important that we managed to include public associations and organisations like the Assembly of Nations of Tatarstan and the network of House of Friendship. I offer to join the community of foreigners and territorial public self-governments, which will include tens of thousands of people in this work,' Chairman of the State Council of Tatarstan Farid Mukhametshin made an offer (which, by the way, was supported by the president).
How 'radicals' were inculcated tolerance and interreligious agreement
As Rustam Minnikhanov noted, the 'multinational family' has been constantly growing in Tatarstan for the last tens of years. It is mainly explained by the attractiveness of the republic for work and residence. The speaker emphasised that such changes require great attention: 'The situation in the republic is calm, which is a result of an everyday work. We should not relax and reduce our awareness.'
'181,600 foreign citizens have been registered in the migration service in 2016. It is 8,5% more than last year. In 2011, the number of the registered people was about 134,000. In 2015, the number reached 225,000 people. In general, 66,553 foreign citizens without citizenship are living in Tatarstan,' Vasil Shaikhraziev told.
Head of the Nizhnekamsk Municipal District Aidar Metshin, who also delivered a speech at the meeting, confirmed that the number of migrants grew: people who come from far and near countries because of the growing economic potential of the region and construction of new industrial sites. It should be noted that secretary of the Security Council of Tatarstan Airat Shafigullin tells about the existence of certain problems with migrants in Tatarstan.
'We have citizens who fight. We have citizens who study in some Arab countries without any control. As a result, they are under influence. The viewpoint they formed is often radical. We are carrying out a big job. We are working with not only them but also with their ambience: we inculcate tolerance, interreligious agreement and traditional view on religion, which is traditional in our republic and Russia,' Shafigullin commented.
Rustam Minnikhanov also expressed his concern on the following issue: according to him, risks of interethnic conflicts, the formation of closed enclaves are high in the context of the similar changes. There is a great danger that people who are implicated in the propaganda of a nationalistic ideology and ideas of radical Islam might come.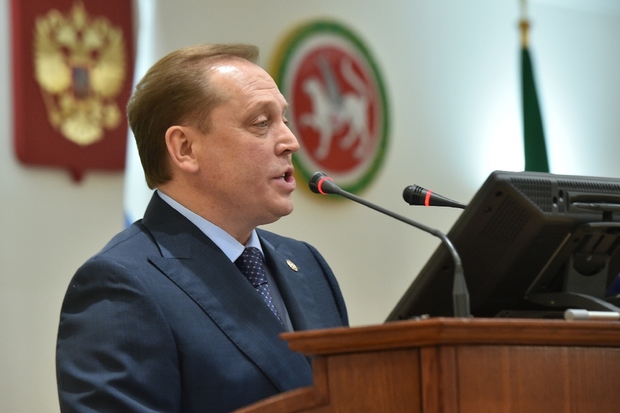 Reports of Federal Security Service with unclear past and dangerous Internet
The president is convinced that municipal antiterrorist commissions are playing a major role in the current situation. As Airat Shafigullin explained, the work of this structure doesn't look like the activity of the Federal Security Service or Ministry of Internal Affairs who, according to him, fight with consequences.
'The antiterrorist commissions of municipal entities have a very delicate task: to avoid the expansion of extremist and terrorist views to the nearest environment. We are working to avoid it, inculcate traditional values: in kindergarten, at school, at work, in culture – everybody is working on it. It is a big job, and the commission has a lot to do,' Shafigullin answered Realnoe Vremya's question.
Meanwhile, our interlocutor assured that there is not any active extremist organisation in Tatarstan at the moment. An active work on identification of dangerous elements is carried out in Tatarstan. All suspicious citizens from other countries are quickly departed.
'We see people are interested in the republic, and how migrations processes are going on. Every week Artyom Khokhorin reports as well as the head of the Federal Security Service how many people we had to depart because their past was unclear,' Rustam Minnikhanov spoke out. 'Apart from the positive things, we might face a different ideology and difficult situations in the future. We should pay great attention to the Internet. Supporters of radical points of views focus on the young who is looking for answers. If we don't work with the young effectively, it means they will get those misinterpretations from the virtual space, which might lead to serious consequences.'
'We should start basically from the language. We organised this work extremely bad in Tatarstan'
Conservation and development of languages of the ethnicities living in the republic was also discussed. As Vasil Shaikhraziev told, at Tatarstan schools, children study not only in Russian and Tatar but also Chuvash, Mari, Udmurt and Mordvinic languages. They also learn Bashkir and Hebrew.
While the speaker was reporting, State Adviser of Tatarstan Mintimer Shaimiev delved into the attached materials and noticed something that turned into a criticism of Minister of Education of Tatarstan Engel Fattakhov.
'You prepared a good material, of course. I have carefully examined it. Questions are arising… Whether it was a mistake or not, let's suppose that 86% of Tatars live in Aznakaevo District, but only 25% of them study in their mother tongue. It is noticeable. I don't want to name Aktanysh. But if 98% of the population are Tatars, and 96% of the people study in Tatar, the situation is clear. It seems that the district is purely Tatar, while so few people study in Tatar… If we compare it with other regions, the difference is big. I think we should pay great attention to it. So many Tatars live there, while only 25% of them study in Tatar at school. It is impossible or it must not be this way, I should say. You should look at it carefully,' Shaimiev spoke out.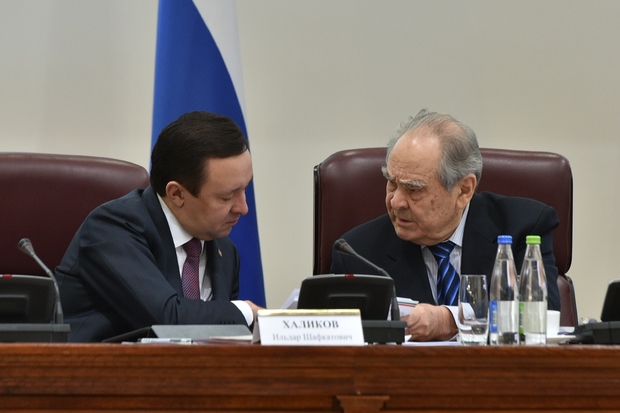 Then Rustam Minnikhanov held the floor. He noted the government constantly spoke about the conservation of the language. However, similar moments come to light at times.
'Meanwhile, Chuvashs, Udmurts and others… The percentage is far better. This is why, Mr Fattakhov, work on this issue together with the heads of municipalities. We speak about the conservation of languages, the culture… We should start basically from the language. We organised this work extremely bad in Tatarstan. Let's calmly analyse and organise the work,' the president told.
By Lina Sarimova. Photo: prav.tatar.ru