Russian automotive market continues falling in 2016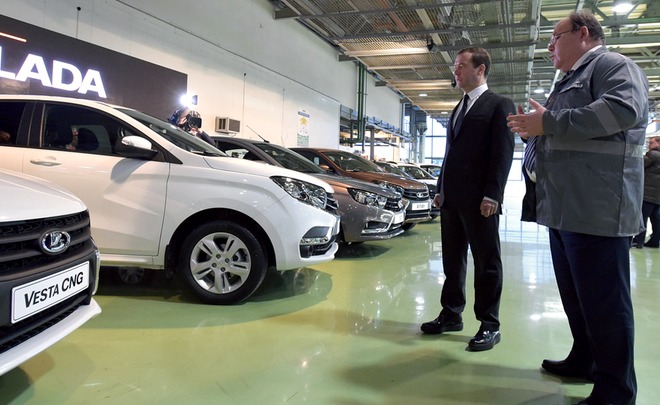 A modest fall in Russia's car sales in October is mainly a result of state support programmes. Without this support, auto sales would decrease by 30-40%, declared Vladimir Putin last week. The incentives will be continued in 2017, but a 'cash for clunkers' programme can be cancelled.
The government incentives helped to slow down the decrease in Russian new car sales in October, according to Automotive News Europe. Sales declined only by 2,6% compared to October 2015, which is much better than double-digit drops in recent months. 'This is not a bad result, confirming our earlier voiced expectation that the new car registration trend should improve towards year end,' says Joerg Schreiber, the chairperson of the Association of European Businesses (AEB).
According to the full-year market forecast, the AEB predicts a 10% fall compared to 2015. Meanwhile, some car brands even increased their sales in October. Russian top-seller Lada showed a 13% growth due to its new models, the Vesta sedan and XRay crossover. But the seller's total sales reduced by 5% in January-October. GAZ and UAZ are the only sellers from the top 10 that showed positive figures in both periods — in October and for 10 months. Most of the foreign brands showed a significant decline in their sales.
Russian auto sales have been falling for four years amid an economic recession and lower oil prices, adds Reuters. President Putin told on Saturday that the market would lose 30% to 40% this year if it were not receiving government support. 'We have managed not only to save the car production segment but sales of trucks and buses rose slightly,' said Putin. He also promised to continue supporting the automotive sector next year.
According to official data, Russia will spend 50 billion rubles on such support in 2016, although Putin estimated it at 65bn at a recent meeting with plant workers in Yaroslavl. Reuters also claims that the Ministry of Industry and Trade has recently proposed the government to raise auto support to 64,1 billion rubles in 2017. Nevertheless, the ministry has also proposed to cancel a 'cash for clunkers' programme, which provides state-financed discounts on a purchase of new vehicles in exchange for scrap cars. The programme started in 2010 and ended in 2011 to be relaunched in January 2015.
The AEB considers that any trend stabilisation in 2017 will be short-lived without a substantial government support.