Coca-Cola to launch a network to collect plastic
The global manufacturer of carbonated beverages will collect a third of utility waste having installed 500 special containers till the end of the year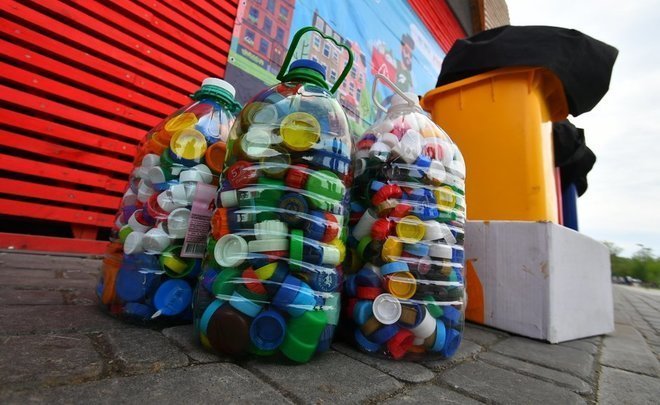 Coca-Cola is going to launch big infrastructure to collect plastic bottles and packaging in Kazan. Coca-Cola global manufacturer of carbonated beverages and the government of Tatarstan signed an agreement on developing separate collection of municipal solid waste in the city. It is expected that 500 special containers, which will collect about a third of the volume of municipal solid waste, will appear in all microdistricts of the capital till the end of the year. More is in Realnoe Vremya's report.
Kazan is the first waste-free city at Coca-Cola
Kazan became the first Russian city where Coca-Cola decided to introduce its model of plastic waste collection Zero Waste City. Within Zero Waste City global strategy of the corporation, Coca-Cola will cover the whole territory of Kazan with special big containers to collect plastic bottles and other plastic packaging. Director of Coca-Cola HBC Russia Aleksandar Ružević and President of Tatarstan Rustam Minnikhanov signed an agreement last week. The solemn ceremony took place in Kazan Expo exhibition centre during WorldSkills championship. The sides sealed the agreement with a firm handshake.
Kazan is becoming the first Russian and second European city after Greek Saloniki, Director of Coca-Cola HBC Russia Aleksandar Ružević claimed after the ceremony. According to him, Kazan always quickly responds to brave initiatives and is open to innovations, this is why the republic's capital was chosen as a focal point for Coca-Cola. Aleksandar Ružević says that every person who arrives in the capital of Tatarstan sees how clean and neat the city is. Kazan is an innovative and dynamic city where the waste collection system is at a very high level. This is why there can't be any difficulty, he has no doubt.
Director of Coca-Cola HBC Russia Aleksandar Ružević said that the concept of Zero Waste City included a cycle of educational lessons: it is ecology lessons at school, organisation of flash mobs, quests and other public activities aimed at teaching young people to treat waste. Because precisely young people are active consumers of Coca-Cola carbonated drinks.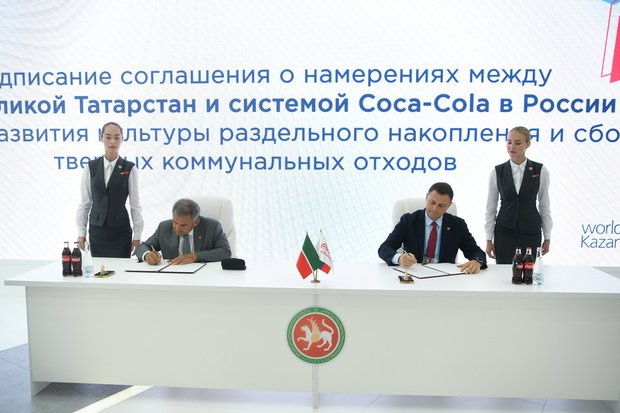 First 60 containers in test mode
From a practical perspective, the global player decided to create infrastructure to collect plastic bottles itself. As the company said, during the year Coca-Cola will launch a network of 500 containers. It is equal to the number of polymer packaging coming from Coca-Cola products sold in Kazan in 2018. "60 containers have been installed in test mode," the company said. "After the test mode ends, another 440 containers will be installed." It seems that Coca-Cola HBC still needs to see how fast they will be filled and to evaluate the citizens' culture. "The collected recyclable materials will be sent for recycling to the project's partner plants. In the future, the company plans to collect waste of all Coca-Cola products in the city," the company's press service explained. According to specialists from the Tatarstan Ministry of Ecology, plastic waste accounts for a third of municipal solid waste volumes in the city. So the global manufacturer will help the city collect polymer waste faster and dispose of it on its own.
It should be reminded that within Coca-Cola's global strategy World Without Waste, the company set a goal to switch to completely recyclable packaging by 2025 and provide collection and recycling of 100% of packaging equivalent produced in the market by 2030. "The company already implemented a programme Sort Out with Us in the Republic of Tatarstan in 2016. For instance, containers for separate waste collection were installed in 14 schools, 5 parks, Culture Centre and Behind Kazan museum in Arsk. They can be founded in Tatarstan at Kazan Federal University, Kazan State University of Architecture and Engineering, School No. 179 and at Kazan Arena. Here they appeared during the 2018 FIFA WC," the company's press service added.
Separate waste is unprofitable for regional operators
Separate waste collection is what citizens wait for from the regional operator Managing Company Housing and Utilities Enterprise CJSC in the western zone of waste management. At a recent public meeting during the waste reform, head of the company Sergey Bogatov reported on plans to launch a network of points to collect recyclable materials and enterprises to recycle waste, but only during the next two years, but there is nothing at the moment. Theoretically, Соса-Соla is to sign an agreement with the regional operator to collect and dispose of waste and find a way for recycling. However, we didn't manage to get a fast comment.
Chairman of the regional centre of Housing and Utilities Control Mikhail Zastella explains the passivity in promotion of collection points saying that "it isn't very profitable for regional operators to develop separate waste collection because they will have to dispose of the waste twice. Though plastic, metal and even glass can be recycled," he commented in a talk with Realnoe Vremya. According to him, Coca-Cola's global strategy requires costs, but they are already included in the price of the product as a recycling levy. So it will just be activated. In answer to the question about costs, Соса-Соla itself replied they weren't ready to name even the volume of initial investments.
By Luiza Ignatyeva, Aleksandr Artemyev
Tatarstan