TAIF GC and Deutsche Bank AG: partnership in the name of progress
Germany's leading financial conglomerate is the major creditor of the construction of EP-600 ethylene complex, which is the biggest petrochemical project of Nizhnekamskneftekhim PJSC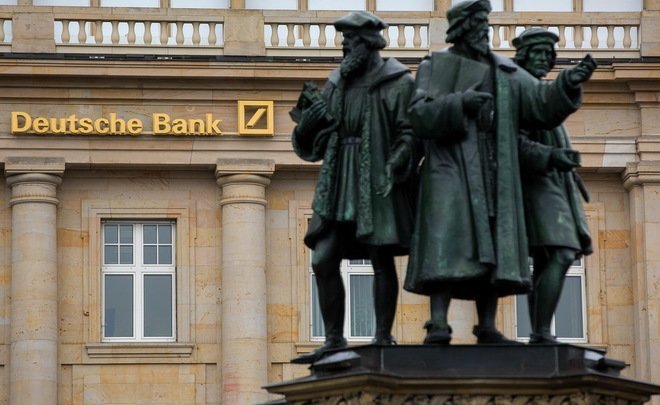 Two long-term loan agreements amounting to over €1 billion were signed last year between Nizhnekamskneftekhim PJSC, which comes under TAIF Group of Companies, and German banks. According to the first agreement, a consortium of five banks grants €807 million for the first stage of the ethylene complex project. Six financial institutions, mostly representing the FRG, are granting TAIF Group a €240-million loan in the second agreement to build a 495 MW gas turbine power plant (CCGT-TPP) at Nizhnekamskneftekhim. In both cases, the biggest banking conglomerate of Germany Deutsche Bank AG became the major creditor and organiser of banking consortiums. More about the history of one of the 30 key transnational banks and its partnership with TAIF Group of Companies are in Realnoe Vremya's report.
Deutsche Bank AG: 138 out of 149 years in the financial market are in Russia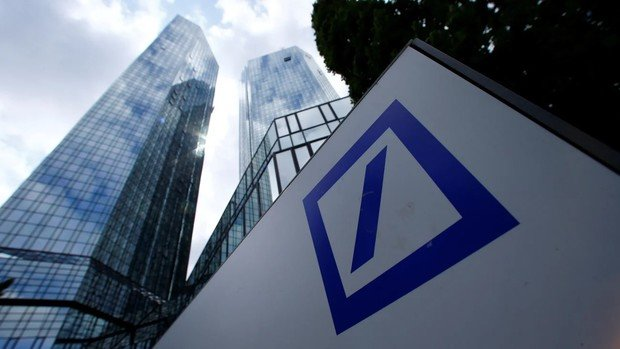 Deutsche Bank AG, or Germany Bank, is nowadays the FRG's largest financial conglomerate, biggest exchange market player in the top 30 transnational banks and an active investor. Deutsche Bank's clientele today is almost 30 million clients, numerous branches and offices in 76 countries of the world with almost 100,000 employees.
The bank itself was founded as a joint-stock bank in Berlin on 10 March 1870 with King of Prussia William I's approval. It began its operation a month later. By its foundation, the capital totalled 5 million thalers (equivalent to today's €1 billion). The staff at the moment included just 50 people, and it was headed by Georg von Siemens, Hermann Wallich and Wilhelm Platenius.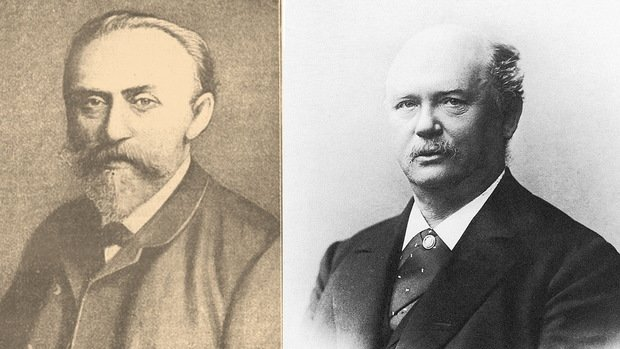 One can just admire the bank's development pace: its branches opened in Bremen and Hamburg, Shanghai and Yokohama during the first two years. A representative office opened in London in 1873, while the bank's capital rose threefold.
From the very first days, the bank's interests included not only work with natural persons and large German businesses but also foreign transactions. This was what enabled Deutsche Bank to successfully survive the financial crisis in 1873-1875, which destroyed many of its opponents. Moreover, the bank began to actively affiliate other financial institutions. By 1876, that's to say, just five years after the beginning of its operation, Deutsche Bank became Germany's largest bank in asset value. A year later, it joined a syndicate of leading private banks — the Prussian Consortium.
From the late 80s of the 19th century, Deutsche Bank actively entered foreign markets: Deutsche Übersee-Bank (Latin America) was founded in 1886, Deutsch-Asiatische Bank was in 1889, which is a consortium of 13 financial institutions in the Asian market. At the same time, the bank actively participates in the financing of the construction of power plants and railways not only Germany, where it cooperates with Siemens, Krupp, BASF, AEG, but also in South America, East Asia, the Ottoman Empire. It actively invests in Edison General Electric (USA).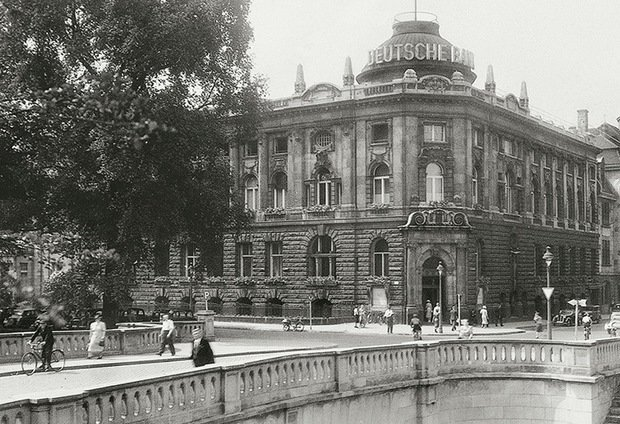 Deutsche Bank arrived in Russia as a shareholder of the Russian Bank for Foreign Trade in Saint Petersburg. The first bonds of Russian railways were issued precisely with the participation of Deutsche Bank. In 1926, the German bank was one of the first to establish relations with the USSR by chairing the first consortium financing export supplies to the Soviet Union. In 1972, Deutsche Bank became the first foreign bank to obtain a licence to open its representative office in Moscow and was the organiser of financing of pipe supplies to build an export gas pipeline.
Deutsche Bank Ltd. was founded in Russia in 1998, and Deutsche Bank Technology Centre opened in Moscow that specialised in the creation of technological solutions to trade liquid financial tools (the centre's office appeared in Saint Petersburg in 2009). In 2005, Deutsche Bank became an active participant of the Russian market of collective investments. The absorption of the United Financial Group completed in 2006 — one of the leading Russian investment companies. By 2017, the total number of staff in Deutsche Bank's subdivisions in Russia had exceeded 1,200 people, and Russia itself was called one of the priority markets for the financial institution.
TAIF Group of Companies and Deutsche Bank AG: history of cooperation
TAIF Group of Companies actively develops. New plants launch every year, the existing capacities are significantly upgraded, the start of new projects is announced. According to TAIF's strategic development programme from 2012 to 2030, investments in oil refining and petrochemistry is about 2 trillion rubles. 400 billion of them were already invested in 2018. Oil refining, chemistry and petrochemistry simply don't have small projects, while big ideas require corresponding money to be real. TAIF Group invests a part of money itself, but the other part is borrowed money.
Representatives of Deutsche Bank AG have repeatedly visited the headquarters of TAIF Group. The goal of visits is to discuss the possibility of participation of one of the world's largest banks in the financing of TAIF Group's projects. The final agreement was reached in 2018 when there was signed a long-term loan agreement between Nizhnekamskneftekhim PJSC and a consortium of five German banks UniCredit Bank AG, Bayerische Landesbank, Landesbank Baden-Württemberg, DZ BANK AG, which was organised by Deutsche Bank, in the presence of Tatarstan President Rustam Minnikhanov, then Director General of TAIF JSC Albert Shigabutdinov, head of Underwriting and Risk Management at Euler Hermes Thomas Baum and Linde AG board member Christian Bruch on granting €807 million until 2032 at the Saint Petersburg International Economic Forum in May. Nizhnekamskneftekhim Director General Azat Bikmurzin and Chief Executive Officer of Europe, Middle East & Africa at Deutsche Bank Ashok Aram signed the document. The money will be spent on the first stage of the ethylene complex construction (EP-600) with an installed capacity of 1 million 200,000 products a year.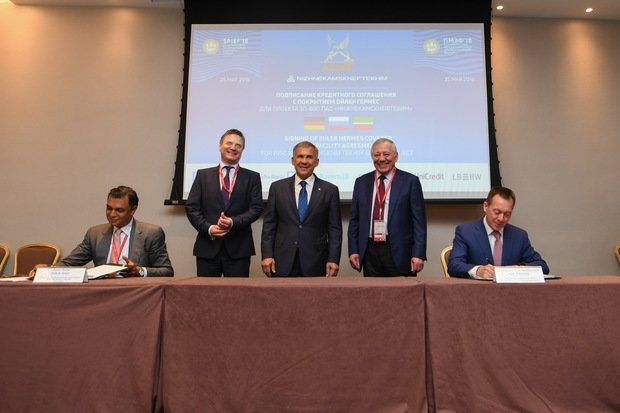 The construction of the first stage of the ethylene complex is a part of the tasks included in the memorandum of understanding between TAIF Group and Linde AG from Germany. The agreement, which is designed for 10 years, was signed also at the SPIEF in 2017 in the presence of Tatarstan President Rustam Minnikhanov and Prime Minister of Bavaria Horst Seehofer, head of Siemens AG Joe Kezer and President of Siemens Russia Dietrich Meller. Albert Shigabutdinov and Christian Bruch put their signatures to the document.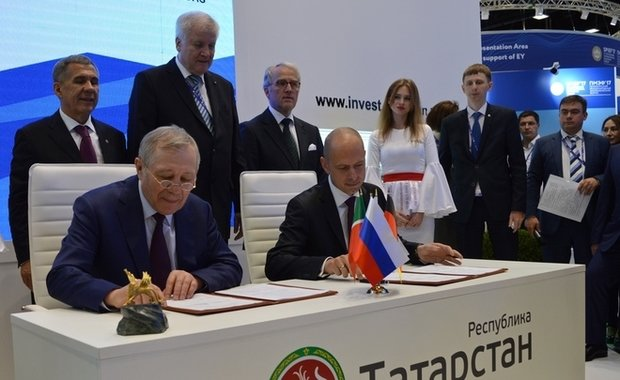 "You organised the biggest project in the country. The credit agreement will enable the appearance of the biggest production in Nizhnekamsk — a complex with 600,000 tonnes of ethylene. I want to express gratitude to Deutsche Bank that grants a considerable sum, Euler Hermes insurance company, the government of Germany, our partners who represent Linde and, most importantly, the team that worked in our country — Mr Bikmurzin and Mr Shigabutdinov,'' Tatarstan President Rustam Minnikhanov claimed immediately after the signing.

"We considered many banks, but Deutsche Bank offered the best credit conditions. This is why we chose it,'' Albert Shigabutdinov noted.

Chief Executive Officer of Europe, Middle East & Africa at Deutsche Bank Ashok Aram stressed that they always looked for the best projects to finance. Mr Aram said it's the latest project, so they were happy to be a part of the project.
The works on the construction site of the first part of the ethylene complex — EP-600 — are already underway. TAIF Group had received 11 tranches from Deutsche Bank by early June 2019, it is not only preparing the site but also supplying the necessary equipment. The construction works are expected to enter the active phase in September. With the full completion of the project and the launch of all four stages (two stages of EP-600 complex as well as a number of factories manufacturing products that are in demand in the market), TAIF Group's companies will not only increase ethylene production threefold but also augment polymer production volumes threefold, raise rubber production to 1 million tonnes a year and significantly expand the range of the latest commercially successful products.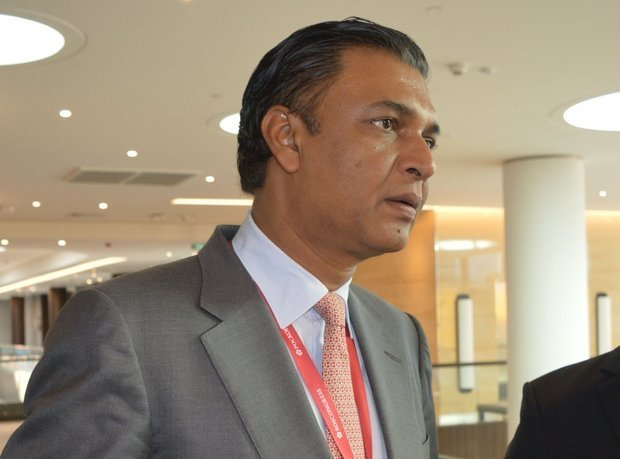 Another signing between Nizhnekamskneftekhim PJSC and Deutsche Bank on behalf of the consortium of six German banks representing the Federative Republic of Germany (UniCredit Bank AG, Bayerische Landesbank, Landesbank Baden-Wurttemberg, DZ BANK AG) took place in October of the same year but in Moscow at Russian Energy Week. They signed a long-term loan agreement with a €240-million guarantee of Euler Hermes. Tatarstan President Rustam Minnikhanov and then TAIF JSC Director General Albert Shigabutdinov were present at the signing ceremony. Nizhnekamskneftekhim PJSC Director General Azat Bikmurzin and global head of Trade Finance and regional head GTB EMEA at Deutsche Bank AG Daniel Schmand put their signatures to the document.

The borrowed money is designed to finance a contract with Siemens corporation to build a new 495 MW (gas turbine power plant) at Nizhnekamskneftekhim. TAIF Group and Siemens signed the agreement on the construction of the plant the previous year — in December 2017 in Munich, during a visit of a big delegation of Tatarstan chaired by Tatarstan President Rustam Minnikhanov to Bavaria.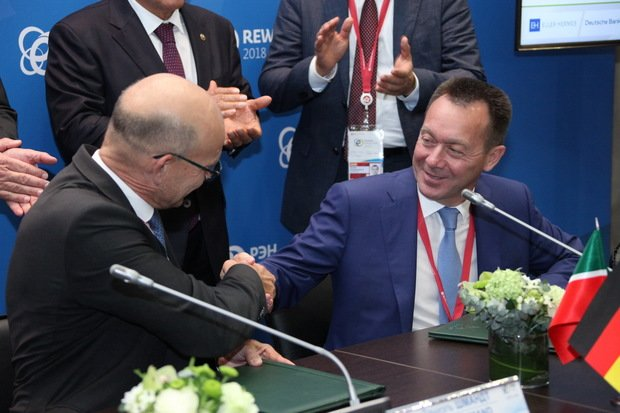 "It is an example of good work with our partners. I am very grateful to the German leadership for the approval of the project, Deutsche Bank and our partners — Siemens. We fully support these initiatives," Rustam Minnikhanov noted after the ceremony ended.

"We appreciate the reliability of TAIF and Nizhnekamskneftekhim and the professionalism of their management," stressed global head of Trade Finance and regional head GTB EMEA at Deutsche Bank AG Daniel Schmand in his interview with Realnoe Vremya's correspondent.

Preparation works are coming to an end on the site the power plant is going to be erected: the construction camp is almost ready, the site has been prepared. The construction will start as soon as corresponding permission is obtained.
Reference
Deutsche Bank is Germany's leading bank, with a strong position in Europe and a significant presence in the Americas and the Asia Pacific. Deutsche Bank AG finances deals, offers investment and banking services, commercial banking services, provides services to private individuals and offers products and services on management of assets and big private capital. Corporations, public authorities, institutional investors, small and medium-sized businesses and private individuals are among the clients of the bank.

TAIF Group is one of the largest manufacturing and investment companies in Russia that owns considerable assets and production capacities, flexible and high-level management. TAIF Group of Companies uniting 43 subsidiaries and subordinate companies operates in many areas, oil and gas processing and petrochemistry, power engineering, construction, investments and services are key of them. All the enterprises are closely connected from a perspective of economy, equipment, technology and management.

Nizhnekamskneftekhim PJSC is one of the largest petrochemical companies in Eastern Europe, occupies leading positions among Russian synthetic rubber, plastic and ethylene manufacturers. It comes under TAIF Group of Companies. The company was founded in 1967, the main production capacities are located in Nizhnekamsk (Republic of Tatarstan). The assortment of products has 320 names. Products of the joint-stock company are exported to 50 countries of Europe, America and Southeast Asia. The share of exports in the total volume of products is about 50%.
Tatarstan