Nikita Shleikher's silver plop at FINA Diving World Series
The divers will come back to Kazan in May to the Russian Championships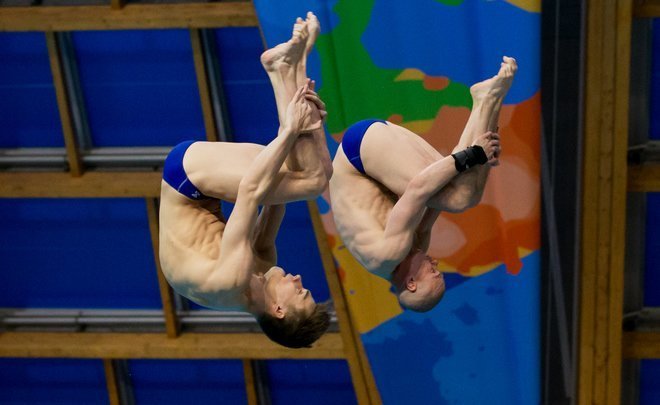 The fourth, penultimate FINA Diving World Series ended in Kazan – a part of prestigious FINA competitions with a synthesis of competition and performance. More is in Realnoe Vremya's report.
What does the tournament itself mean?
FINA Diving World Series is held at the suggestion of three countries' federations: Great Britain, China and Mexico. Later Canada and Russian joined them, which is no surprise because athletes from the above-mentioned countries are in the world's elite diving. Qatar and the United Arab Emirates also became one of the founders of the tournament, which looks a bit surprising, as the best divers participate in the competition – winners and medallists of the Olympic Games, world cups and championships, which have never been either in Qatar or the UAE.
Although, the stages in Kazan have been held since 2015 when this competition became the final rehearsal before the 2015 FINA World Championships. FINA was satisfied with the organisation level of the competition, which is held under the aegis of the international federation. And this year the international tournament celebrates a small jubilee – the fifth competition in a row. There had been three stages prior to Kazan, leader of Tatarstan diving Nikita Shleikher competed in two of them.
The representative of Sintez sports club had the best dives in Japanese Sagamihara where the Japanese, in turn, are getting ready to host the Olympics. Competing in the mixed synchro with his long-term partner Yulia Timoshinina, Shleikher was second. He also competed twice in Montreal where he finished fourth together with Yevgeny Kuznetsov on springboard and ninth with Aleksandr Bondar on platform.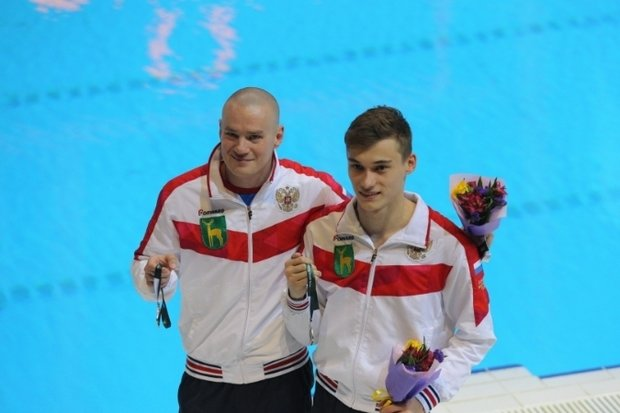 We can conclude according to these results that Shleikher is universal. His personal coach Pavel Myaukin also confirms this who remembered that ex-coach of the national team of Russia Oleg Zaitsev proposed Shleikher to compete in the mixed synchro with Timoshinina."We agreed because Nikita is a universal athlete," Myaukin said, "As he had had experience in diving from the 3m springboard with Nadezhda Bashina. But we should keep in mind that such competitions aren't just a chance to win a medal but an extra load, both physical and psychological. Speaking about Nikita, in the individual programme, he dives only one in seven dives, which are on the mixed programme. Consequently, he has to additionally learn another six dives to perform them in the programme with Timoshinina."
According to Myaukin, his motto as a coach is to try your hand at all dives. Yes, it takes much time, effort, nerves, but it also gives more chances. Moreover, the springboard and the platform complement each other. The bigger the coordination platform, the wider the coordination range.
How Shleikher competed in Kazan
Shleikher competed in Kazan better than he had done abroad. In the mixed, he finished fourth with Yulia Timoshinina. Apart from that, Nikita was sixth individually from the platform and second in the mixed synchro with Evgeny Kuznetsov. After that, head coach of team Russian Svetlana Moiseyeva noted in a comment given to the tournament's press service that the duet of Kuznetsov and Shleikher was a fallback. "The guys improve with time, but this is little to become leaders," she said and expressed her hope that Ilya Zakharov who competes with Kuznetsov would recover by the Russian Championships.
We should remind that President of the Diving Federation Aleksey Vlasenko also hopes for Zakharov's recovery. He had previously said in an interview with our newspaper that the federation "was waiting for Ilya Zakharov's comeback, our Olympic champion in London. He underwent surgery in one of the world's best clinics, as Russian doctors said he would have to return to sport after the surgery in 6 months. And here two weeks were enough."

Shleikher and Kuznetsov gave way only to the Ukrainian duet of Aleksandr Gorshkovozov and Oleg Kolody. In the springboard, their compatriots Viktoria Kesar and Anna Pismenskaya finished third, who, by the way, should be paid tribute, as the "yellow-blue"s aren't recommended going to Russia to compete, apart from the European and world championships.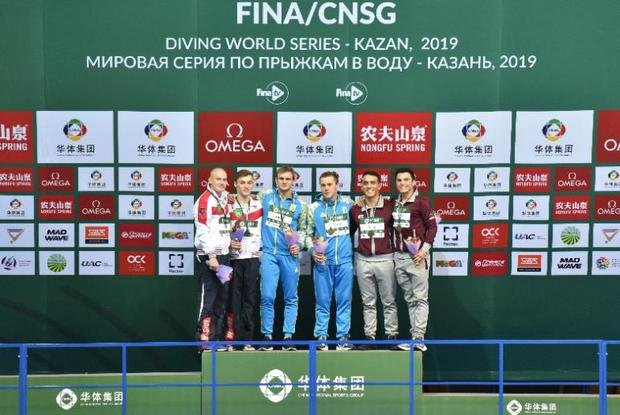 Why does Tatarstan need diving?
By the way, Bondar is also a pupil of the Ukrainian diving school who transferred to the team Russia. At first, he even stayed in Kazan together with his coach Olga Leonova. Then Aleksandr even didn't have the sports citizenship and he didn't have the right to compete for Russia in international competitions, and therefore the creation of his duet with Shleikher was put off. In the end, Bondar decided to settle down in Moscow, which is probably correct from a strategic perspective. Yes, born in Luhansk, he is just 25 years and will likely to stay in the team Russia after the 2020 Tokyo Games, too. But he would be a fake Tatarstan resident who creates a false impression of the success of the republic's diving with his accomplishments. And this is wrong, this sport in Tatarstan is in embryonic form. And this development is also linked with the opening of the Water Sports Faculty at the Volga sports academy.
Now Yekaterina Kotlo chairs the department who, by the way, also comes from Stavropol, the homeland of Shleikher, his coach Myaukin and the backbone of the current team Tatarstan. Kotlo herself trained in his group.
Now Stavropol citizens moved to Kazan. Including Shleikher's mother – Svetlana Kolesnikova, a Candidate for Science who has teaching experience, and Myaukin's best pupils who came to Kazan as members of the Russian junior teams – Aleksandr Belevtsev, who also represents Sintez SC, Viktoria Milashechkina, plus Karina Shklyar who moved out from Ruza, Moscow Oblast, to Kazan, she is another representative of Sintez SC.
Unfortunately, sports infrastructure eventually notably got worse, the base for the development of this sport got obsolete, the swimming pool stop meeting high requirements in Stavropol that had a good diving school with very rich traditions since 1970. And it wasn't justified to train in such conditions and then compete in other, better ones, of course. Again, ex-coach of the team Russian Oleg Zaitsev proposed Stavropol coaches and athletes to acquaint with the conditions Kazan could provide: a swimming pool, an opportunity to open a school. And here Director of the Aquatics Palace Albert Bagautdinov, Director Akvatika school Lev Kameshkov, then Rector of the sports academy Yusup Yakubov and President of the republic's diving federation Damir Fattakhov were already waiting for the guests.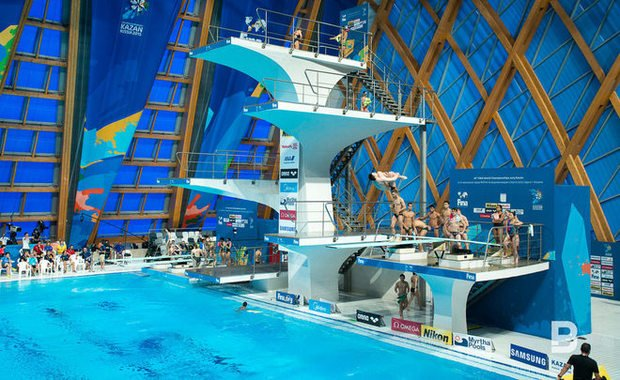 Readiness for Tokyo
Diving is a minority sport. It can't be called popular, it develops only in 16 countries of Russia. But there are plans and even a necessity to develop it remembering eight Olympic medals set and 15 world championships medal sets. There are swimming pools in Astrakhan, Belgorod, Smolensk, and coaches in sport have been trained only at Russian State University of Physical Education, Sport, Youth and Tourism. Now Kazan joined the process full steam. Moreover, it became a kind of pioneer, as work with divers will begin here as part of the FINA development programme to open the Aquatics Centre. There will be enrolment in such a centre, which opened in Tatarstan this year, that will be coached by same Pavel Myaukin.
As for the divers' plans, after Kazan the athletes will head to London, the next World Series stage, then there will be a two-week break before the national championships, which will be a qualifier for the FINA World Championships in Korean Gwangju. The competition will be in the same Aquatics Palace from 28 May to 1 June. In a year, the athletes will compete at the Olympics in Tokyo.
The Japanese themselves, by the way, have recently held their national championships where 12-year-old Rikuto Tamai won, the youngest champion of the country of all times. Tamai's height is just 143 cm, a kind of diving analogue of worldwide famous figure skater Shoma Uno, whose height reached 159 centimetres. So another rival in the fight for medals in the post-Olympic cycle in 2021-2024 is growing up in Japan, both literally and figuratively speaking, who is getting ready to compete against Bondar, Shleikher and those who will be in the team Russia after Tokyo.
Tatarstan