''People are simply held hostage in this death camp''
Rukban: humanitarian settlement or concentration camp on the Syrian-Jordanian border?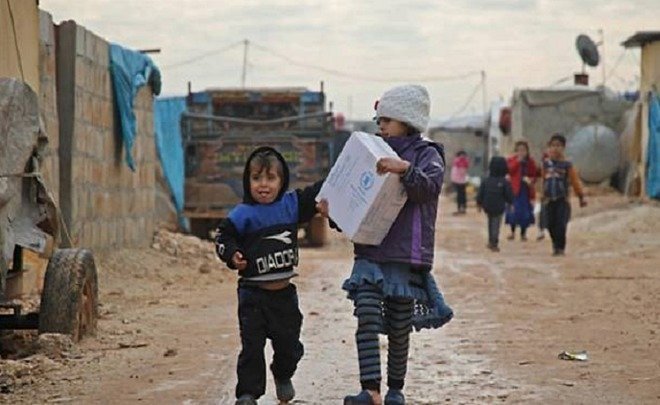 Rukhban refugee camp located in a demilitarised zone of Syria and Jordan is from time to time mentioned in the mass media. President of Russia Vladimir Putin has also recently raised the issue of its inhabitants' situation. However, there is too little information about this tent city. Near Eastern journalist and permanent author of Realnoe Vremya Anhar Kochneva tells about the true (and distressful) situation of the camp's inhabitants.
Tent city amid desert
A lot has been recently told about Rukhban refugee camp, which is on the Syrian-Jordanian border. Why is so much attention paid to it? What's its peculiarity?
I won't be probably mistaken if I say that the main difference of this camp from other places on the territory of Syria where a big number of refugees has accumulated is that there aren't any settlements nearby. At all. An empty field. Even worse, a desert. No water sources, no field, no garden, no shops, no proper dwelling.
By the way, the Russian Ministry of Defence's comment made me laugh that in Rukhban ''most buildings aren't designed for wintering'': it's at least strange to say such a thing about a facility a hundred per cent consisting of huts and tents. Photos from Rukhban can be recognised immediately. Tailor-made tents stand in a straight line in other, more civilised places. There are neither lines (habitations of the Rukhban martyrs are chaotically spread in the desert at a distance from each other) nor a big number of proper tents. Mainly handmade tents made of traps supported by sticks or billboards, which went out of use, are used as a dwelling.
''At least thirty children have frozen to death''
Refugees who are, for instance, situated in Lebanon or in north-west regions of Syria live in a place where one can earn something, though not always with hard work. To put it frankly, at least they can steal. To pick from a tree or dig out of abandoned beds. Such tricks don't work amid a desert because nothing grows there, it goes without saying. And nothing is abandoned anywhere.
This tent chaos has neither hospitals nor schools amid the desert. There is no electricity, heating nor water. About 80,000 people who escaped from Palmira and other cities and settlements in the east of Syria initially hoped to move to Jordan. But Jordanians who supported anti-Syrian sanctions by all means didn't let them come in. An especially tough period began after Jordanian border officers were injured and died in a terrorist attack in 2016. The border from the Jordanian side was tightly shut for the Rukhban residents. Nothing has been given to anybody since then. Despite all kinds of pleas for help.
This winter in the Near Eastern region turned out rarely cold and rainy. It often snows in the mountains and deserts at night. Now imagine how it is to winter in windswept ''Uncle Pumpkin's house'' without warm clothes, heating, a big number of blankets. According to the UN and the Russian reconciliation centre (Editor's Note: the Russian Centre for the Reconciliation of Opposing Sides in the Syrian Arab Republic), at least thirty children have frozen to death here. Probably nobody knows how many people have died from diseases and hunger in the last several years.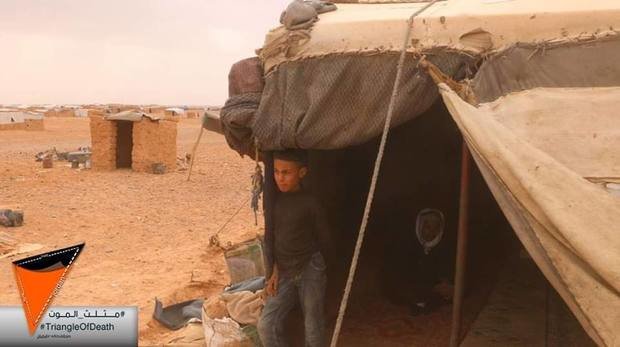 Freedom for bribe
Both rebels (representatives of six different groups are reported to be there) and Americans who occupied this region (Editor's Note: Al-Tanf US military base is near) impede from taking people from there and supplying food and medication to the camp. It's they who boss the show on this territory of powerlessness for the others. They set their own rules in the camp, this is why the majority under their influence feels only worse.
Somebody anyway manages to escape for huge bribes, others are peddled that official authorities of Syria don't agree to provide with a humanitarian corridor, which is, in fact, opened as early as several days ago. People are simply held hostage in this death camp. According to the Russian Defence Ministry's statement spread on 10 March, a new cemetery was detected in the vicinity of Rukhban tents in aerial photos. For some 300 graves. And, sadly, this is only the first acts of this tragedy. Even considering that the camp has enough rebels, civilians are its most residents. Old men, women and children. Some of them were already born on the territory of this Rukhban.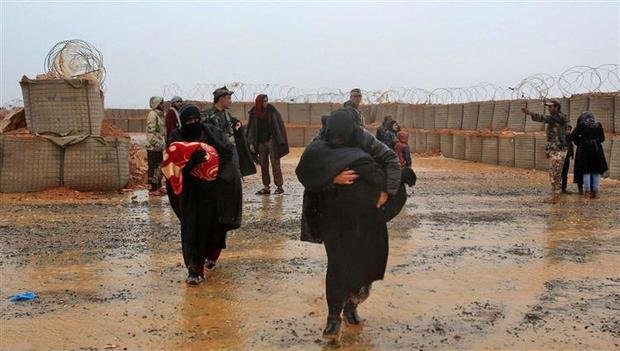 The awful thing in the story of Rukhban is that nothing will work even if its resettlement starts right now (part of people asks to go to territories controlled by the Syrian government, part of them are rebels or supporters of the Free Syrian Army as well as their relatives would like to move to Idlib). Because the experience of previous evacuations of people from enclaves occupied by rebels suggests that only several thousands of people can't be taken a day. How many days can the transportation of 80,000 people take and will those at the bottom of the list see their turn to come? Every day of delay is already paid by tens and hundreds of lives.