''Sport is not only health, much money can be earned from sport''
The Russian Sports Ministry and State Duma deputies decided how to develop sport in Russia: it's necessary to ban imported equipment and place state orders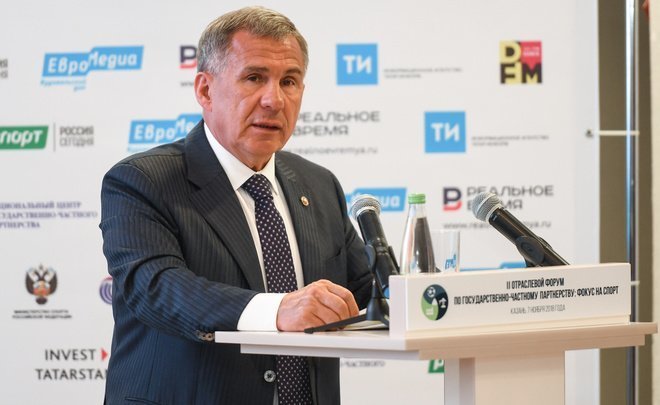 The 2 nd Investments in Sports Industry public and private partnership forum was in Kazan on 7 November. Russian producers have just 10% of 600bn rubles of the national sports industry market's turnover now. By 2024, according to May Decrees, we must double this number. There will be just 20%, but it's very hard to achieve even such insignificant growth. Russia's authorities are ready to carry out Putin's super decrees by all means, there are no holds barred here – even to ban from purchasing imported sports equipment. As it turned out, we have only Russian-made dumbbells, skipping ropes and hockey sticks – thanks to Danis Zaripov. Realnoe Vremya tells the details.
One thousand and one ways to use Kazan Arena
''We can invite you to any venue to hold the forum in more presentable conditions. But we invited you here to show we can use this hall too for different events,'' Rustam Minnikhanov began his speech with an example of how the FIFA WC legacy could be used.
But the problem with the acoustics in the bitumen corridor at Kazan Arena was a fly in the ointment. And those people sitting far from the fifth row (and there were over twenty rows) heard almost nothing. Neither did they see anything because of the heads of people sitting in front of them. And many people had to stand up to understand who was talking at the moment.
As for pleasant things, according to slides about the forum, Kazan turned out to be a capital hosting different kinds of championships and tournaments. But, unfortunately, it's not in the top 5 in public and private partnership in sport and is in the top 20. It doesn't seem to be from the 5 th to 10th place, they'd specify otherwise.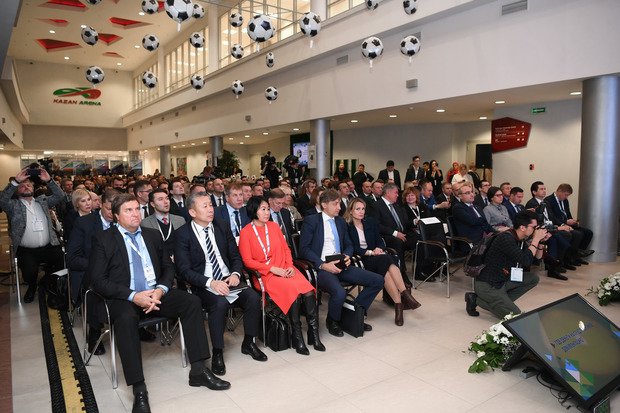 ''Sport is not only health, much money can be earned from sport''
Sports Minister Pavel Kolobkov provided some numbers – the volume of the national sports industry market was 600bn rubles, and only 10% of goods were made in Russia. The number of public and private projects is 370, only 16% of them are in the sport. According to Kolobkov, the attraction of private investments in sport can help to save up to 20% of the state budget. But it must be profitable for entrepreneurs to join it.
''All participants of such projects take advantage. For the state, it's additional sports venues, job opportunities, possibility for needy classes of the population to do sport free. As for individual investors, it's cancellation of bureaucratic barriers, obtaining a land parcel without a contest and the ownership right to the created venue,'' Kolobkov said and performed an accurate assist, as moderator of the plenary session and sports commentator Georgy Cherdantsev said, to the host of the event – Rustam Minnikhanov.
Minnikhanov told about public and private partnership in Tatarstan with an example of Kazan Arena. There aren't empty spaces here today, the stadium earns about 100m rubles, and ''it's good''.
''For instance, this stadium. Today it doesn't have free areas. 80,000 square metres will be created to attract business. We give 50% of the cost sheet of expenses from the budget, the rest must be earned. But we need to teach how we earn not to do harm to key tasks and children and youth sports schools. I'm sure sport is not only health, much money can also be earned from sport. We need to load sports venues. And the task is complicated – to attract private capital to construct sports venues. There are different ways. We provide infrastructure, give a state order – it's much cheaper for the budget than building sports venues,'' Minnikhanov said.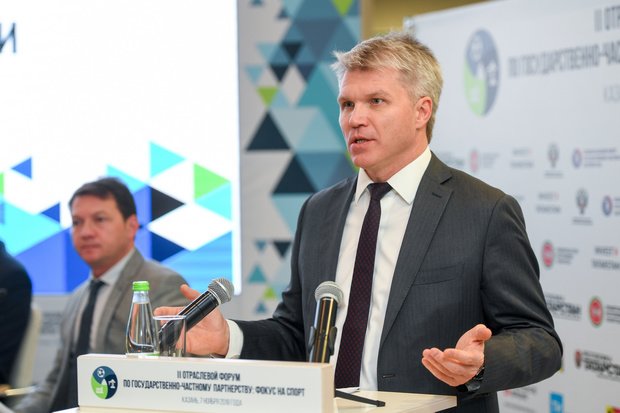 ''Not all of our products are competitive, but this can be obtained''
Using football terminology, Minnikhanov made an assist to Chairman of the Duma's Committee on Physical Culture, Sport, Tourism and Youth Affairs Mikhail Degtyaryov. Degtyaryov offered his idea to support entrepreneurship in sport. He offered to prohibit purchasing sports equipment (nothing more is expected from deputies anymore, they often prohibit anime, rap concerts, computer games, this is why nobody in the hall was surprised). Russian production will blossom when there are no rivals.
''Nobody banned the law on prohibition from purchasing foreign equipment, and nothing impedes from taking these measures when purchasing sports equipment. We have not only children and youth sports schools, but we also have secondary schools, the Ministry of Education, the Ministry of Defence, Russian Guard – everyone purchases foreign sports equipment,'' Mikhail Degtyaryov said.
According to him, ''we don't want to interfere in competition, but our enterprises need help to get stronger''. At the same time, the deputy agreed the good made in Russia would a priori be more expensive than its imported analogues. No problem, we will be patient.
''After a producer masters the technology, he will reduce prices and be able to compete,'' he inspired hope.
Later at the press conference, journalists asked Sports Minister Pavel Kolobkov about the quality of our companies' products in the absence of rivals. And they got an optimistic answer that competitiveness could be obtained.
''Not all of our products are competitive, but this can be obtained, most importantly, we have potential,'' Kolobkov said.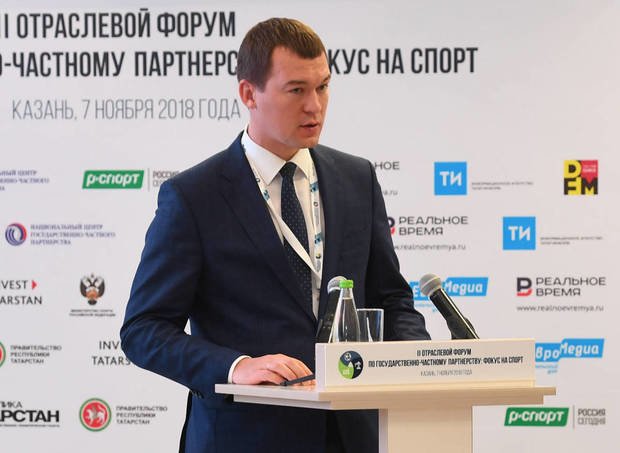 He says Russia was already manufacturing skipping ropes, dumbbells, street equipment, and even equipment for fitness clubs started to be made.
''We can produce everything – it's a matter of demand and market. As a state, we need to think of how to stimulate demand and production,'' Kolobkov said.
It was already decided on the spot how to stimulate demand – to create state orders. ''Thanks to state orders, the quality will improve, and our equipment will be as good as the best samples soon,'' Kolobkov dreamed about the better future, and many people began to feel nostalgia.
''It's not easy to enter trade chains – they have their own mafia there''
Apart from dumbbells and skipping ropes, Russia also manufactures hockey sticks. A Zaryad hockey stick was brought to the hall, and it occupied a seat next to VIPs of the forum. Director of Zaryad PLC Ivan Savin told that five Ak Bars players were already using these hockey sticks, while Minnikhanov said this production was also backed by state order and his personal example.
''It's not so difficult to make it. But it's not easy to enter trade chains – they have their own mafia there, this is why the state needs to give state orders to such enterprises. Until they become a brand, the minister must play with these hockey sticks, then they will develop. We need to give an impetus. A producer will manufacture, but if it's not sold, he will go bankrupt,'' Rustam Minnikhanov said.
Restaurateur Igor Ivanov, who has also become the president of the Football University in Ulyanovsk, told about another successful example. He shared his personal story – his son wanted to play football, while the socialistic revolution's leader's homeland didn't have conditions. And then the father decided to present a football school to his son.
''I studied, visited 21 football schools in Russia and in the world and offered to create a project. The governor supported me and fired the previous sports minister of Ulyanovsk Oblast for not knowing how to work with investors and not understanding what public and private partnership was, what I thank him for very much,'' Ivanov said.
He told he built two football pitches and reconstructed a building within 66 days. And he challenged the audience: ''If you can build faster, invite me, I will learn from you.'' The Ulyanovsk guest's self-confidence was received with unconfident applause. One should treat such people carefully anyway, there was still a question in the air – what did he thank the governor for? For having fired the sports minister or having helped to build the stadium?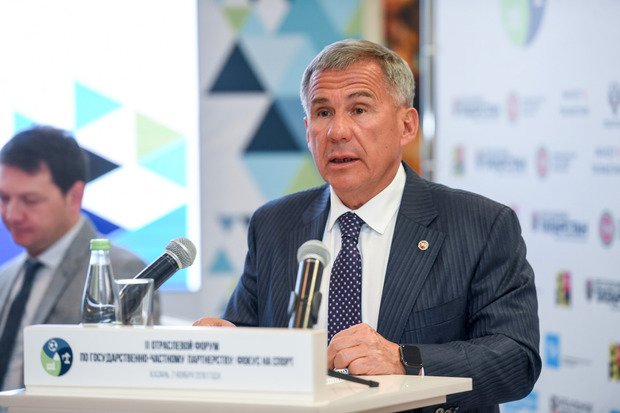 ''I quickly visited Iceland on the way to the USA and saw how they had developed sport''
Such a number of football stadiums in the neighbouring hurt the honour of the Tatarstan administration. We have more ice palaces now, but now we will undoubtedly have football stadiums too.
''Why is our football bad? We have one stadium. I quickly visited Iceland on the way to the USA and saw how they had developed sport. Their climate isn't better than ours, and all stadiums are indoor. How do we need to develop football? Stadiums are needed. There must be a programme not to just build but also use in the future – there must be all types of support,'' Minnikhanov claimed and insinuated outdoor swimming pools were in the queue after football stadiums.
''We have much water, and there is no place to swim. I say: ''Let's allocate areas to build swimming pools on the riverbank''. If we heat up water, one can do sport from late April to late September,'' Rustam Minnikhanov said with a question who should decide what to invest in – an entrepreneur or the state. ''The state must announce anyway. We need to understand what matters and how to support if an investor comes.''
However, it remained a mystery what forms of support will be offered to entrepreneurs who decided to invest in sport. Perhaps, they won't support at all – it wasn't the goal of the day – to take certain measures, and the Ministry of Sport lives from one forum to another.
''In this respect, we've gathered to exchange opinions and find problems. I hope we will be able to solve them during the third forum,'' Sports Minister Kolobkov concluded.
By Daria Turtseva. Photo: tatarstan.ru
Tatarstan