''We expect to welcome the three millionth tourist in November''
While Kazan counts tourists, the Consulate General of Turkey is going to strengthen Russian-Turkish relations with a new cultural centre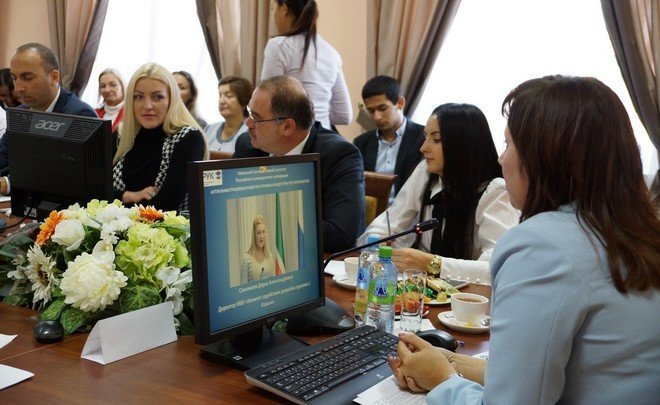 The number of people who have visited Kazan at the moment is equal to last year's result. Local authorities hope to finally cross the bar of 3 million tourists next month. Meanwhile, the Consulate General of Turkey is going to open a new cultural centre that will appear in Kazan Cooperative Institute. As Realnoe Vremya's correspondent found out at the International Scientific Conference on Topical Tourism and Hospitality Development Problems that the centre planned to teach the Turkish language and Turkish cuisine. In addition, Kazakhstan has been active in tourism that wants to arrange children and youngsters' tourist flow between the republics. Realnoe Vremya tells the details.
New centre to strengthen Russian-Turkish bonds
Representatives of Tatarstan, other regions and CIS countries interested in developing tourism relationships sat at one table on 10 October – to discuss important problems in tourism and hospitality development during the international scientific conference.
Kazan Cooperative Institute organised the event, this is why KCI rector Alsu Nabiyeva welcomed everyone at the plenary session. As a director of the institute, she told mainly about the institute's programmes and her students who had practical training in Turkey. In general, the educational establishment closely cooperates with the Turkish side. This is why Consul General of Turkey in Kazan Mr Ahmet Sadık Doğan was an honourable guest of the conference.
''Mr Doğan and I plan to open a cultural centre of the Turkish Republic in Kazan Cooperative Institute. Of course, I'd like to offer this to our colleagues from Kazakhstan and our region too,'' Nabiyeva told.
As the speaker explained to Realnoe Vremya, the joint project is implemented within the development of Russian-Turkish relations. The centre will become a platform for intercultural exchange among students. It's planned to open Turkish language and literature, Turkish cuisine courses and other educational activities.
''Nowadays the project's details are under discussion. The centre will open in late 2018,'' Alsu Nabiyeva told.
Consul General of Turkey in Kazan Mr Ahmet Sadık Doğan didn't comment on this topic but hoped the cooperation would go on. He spoke in Russian first but then gave up and switched to his mother tongue using a translator's services. He noted that 4m 200,000 Russians visited Turkey from 1 January to August 2018, while they totalled 3m 200,000 in the same period in 2017 – better relations between the countries played its role.
Kazan in expectation of the three millionth tourist
Director of the Tourism Development Assistance Committee of Kazan Daria Sannikova gave a speech at the conference on behalf of the city.
''At the moment, 2m 700,000 tourists have been in Kazan. We expect to welcome the three millionth tourist in November,'' the speaker said.
Guests from Dagestan might help to increase tourist traffic in the future. At least Professor of North Caucasian Institute of Russian Law Academy of the Russian Ministry of Justice State Higher Educational Establishment in Makhachkala Shakhizin Alibekov is sure both republics have what to show each other.
''I think two-side tourist traffic is promising. Tatarstan has what to show and be proud of. And Dagestan has many things Tatarstan doesn't – its national traditions and peculiarities,'' the newspaper's interlocutor says.
However, it's early at the moment to wait for activity from Dagestan in the short run.
''We had stagnation. Progress has been made only in the last one-two years. In general, I think everything will be fine – flows were incredible under Soviet power,'' Shakhizin Alibekov notes.
President of the Central Kazakhstan Tourism, Hotel, Restaurant and Craft Business Maya Agadidova says in turn that tourism for children and youngsters is considered promising, and they already made first steps towards it thinking over details of the project.
''So Tatarstan children would visit our country, while ours could learn history and culture of Tatarstan. It's the work we're planning now,'' the newspaper's interlocutor says.
At the same time, Kazakhstan can learn something in Tatarstan, the association's president is convinced.
''Now ecological tourism, ethnic and rural tourism development are also important. I think we will work well in this respect,'' Maya Agadidova notes.
From Dagestan to Kazakhstan
The conference has several sections where mainly employees and students of the institute delivered a speech. The list of topics for discussion started with financial and technical factors of survival of the tourist on a camping trip and ended with foreign experience in tourism training.
Educational establishments outside Tatarstan used the event as a chance to arrange cooperation and show off. Reports on prospects of cognitive tourism development in Bashkiria, tourism in Kazakhstan, use of garden and park art in cultural and cognitive tourism of Belarus and culture of management of economic processes in the Caucasus became a consequence.
By Maria Gorozhaninova. Photo: KCI press service
Tatarstan