Kamskiye Polyany holds kart racing competitions for TAIF-NK Cup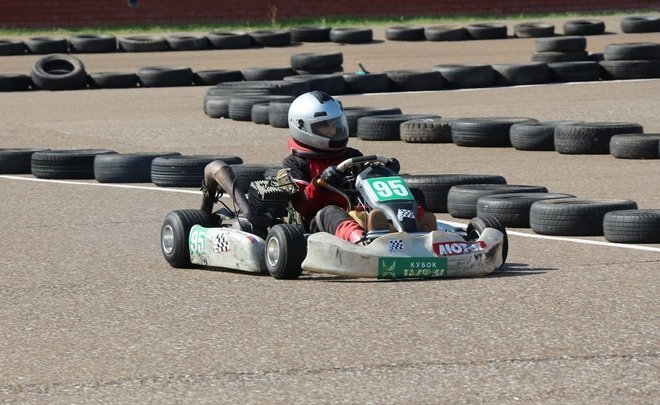 Young racers from all over Tatarstan came to Kamskiye Polyany to participate in the republican kart racing competitions for TAIF-NK Cup last weekend. Pilots from 6 to 18 years competed for the victory. About how the motorsport affects the life and what young athletes dream to do in the future — read in the report of Realnoe Vremya.
''Those who do karting drive city roads much more confidently''
There was a roar of engines on Sunday morning on the go-kart track in the settlement of Kamskiye Polyany. Thus the pilots warmed up the car and checked the engines before the test drives. For young athletes from all over the region, this site has become the traditional meeting place — every August there are held competitions in kart racing for TAIF-NK Cup. Eighteen-year-old Aleksey Gauzov came to Kamskiye Polyany from Kazan. He is new in this sport — he started to do karting only a year ago, but over this time he has developed to participate in the competitions.
''I enjoy doing this. Besides, this greatly affects the safety on road. Those who are engaged in kart racing, they drive city roads much more confidently because they feel the vehicle size very well. We abide by traffic rules and do not speed because we let all the adrenaline out on the track,'' Aleksey Gauzov shared.
Athletes from all over Tatarstan, Cheboksary and Togliatti
Kart racing competitions for TAIF-NK Cup have been held for the eighth time. Head of the municipality Kamskiye Polyany Alexander Pavlov remembered that it was his friends who offered to organize such competitions — masters of sports in racing. Over the years, the number of participants have increased and the competition has become all-Russian — this year 70 athletes came from 15 districts of the Republic of Tatarstan, Cheboksary and Togliatti.
''Over the years, many participants have grown and obtained driving licences. Of course, first of all, kart racing affects safety. It is very rarely when people who have been involved in motor sports get into an accident. Besides, it is discipline, the absence of bad habits — I do not see athletes smoking or drinking. Many children from kart racing grow up in other classes — some of them go to rallycross, oval track racing, become novice racers. For example, Eduard Nikolaev and Andrey Kargin from KAMAZ-Master in the childhood were engaged in kart racing,'' one of organizers of competitions, world-class master of sports Nikolay Zhavoronkov told.
Dune buggy competition for future pilots of KAMAZ-Master
Traditionally, this year young pilots have competed in three classes — Pilot, Swift and Standard-125. In addition, off-road competitions were held – the competitions for children from 6 to 10 years in Mini-buggy and Micro-buggy. Among the participants — 11-year-old Akmal Khaydarov, who has enjoyed this sport for already 5 years and dreams of becoming a professional racer.
''I cannot yet tell that over these years I have learned everything, for this it is necessary to devote half of the life. For example, I still need to learn how to make right estimations and learn to choose the right path. I want to switch to kart racing, and then — in the famous team KAMAZ-Master,'' participant Akmal Khaydarov shared his plans.
The results of the races: in kart racing, the first places were taken by participants from Sarmanovo. In the class Pilot – the winner was Artur Zagirov, in Standard-125 – Almaz Akhmedov, in the class Swift — Sultan Yusupov. In the competitions in Micro-buggy and Mini-buggy, the gold went to pilots from Nizhnekamsk. In Mini-buggy, the winner was Maksim Kuznetsov, in Maxi-buggy — Daniil Zhavoronkov.
Annual kart racing competitions for TAIF-NK Cup in Kamskiye Polyany are held thanks to the support of director general of the company Rushan Shamgunov. Realizing the importance of the development of children's and youth sports, the oil refining company acts as a sponsor and covers the costs of organizing the races, fuel and prize money.
Affiliate material
By Ksenia Zharkova. Photo: Ilnaz Baymukhametov
Tatarstan