Oleg Kivokurtsev, Promobot: ''To date, it is cheaper to make robots in Russia than anywhere else''
Interview with the founder of the company: about modern IT startups, Russian education and unconditional basic income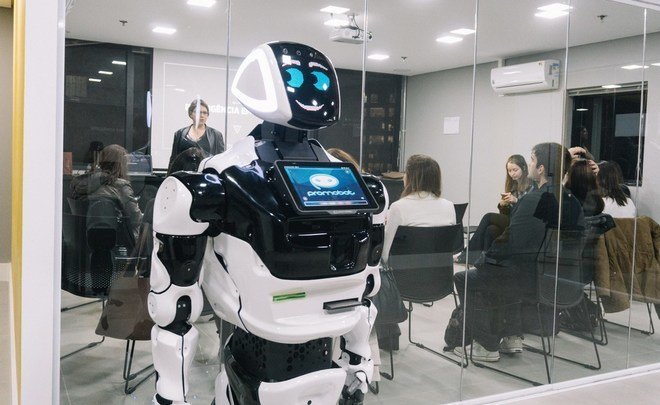 The robotic company Promobot has managed to become one of the most successful projects in Russian IT sphere in several years. Today, several hundred Perm robots ''work'' on almost every continent in more than 25 countries, and the turnover of the enterprise has grown to tens of millions of rubles a month. Founder and development director Promobot Oleg Kivokurtsev told about the success of its project to Realnoe Vremya.
''Perm is the ideal city for the production of robots''
Oleg, tell us how the team of like-minded people who created this project was formed?
In the fifth year of the Polytechnic University I was engaged in robotics with students Maksim Utev and Igor Eremeev. In 2014, at a conference, we met with entrepreneur and business angel Aleksey Yuzhakov. Previously, he participated in the creation of projects in the field of agriculture, smart homes and so on. As a result, together with him they came up with the idea to develop a service robot. The money to implement the project – from him, from us — competence.
In a week, we made the concept of the future robot: it was designed to recognize faces, speech, broadcast material on its display, move and communicate. Aleksey liked the idea, and the work began. It took four months to create the first prototype. We rented a garage on the outskirts of Perm, every day we came there and made the robot. It was not very comfortable to work, of course. When it rained, the roof leaked, the computers became wet and we had to dry them.
The presentation of the prototype took place in one of the retail chains. We set up the robot so that it moved and sold flowers to people, repeating the phrase: ''The one who buys roses – fragrant all day.'' This activity increased sales by three and a half times, by 250 per cent.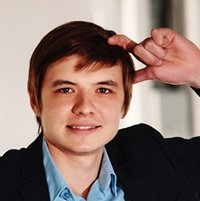 Things went well. In the next three months, we managed to sell 10 robots at 3 million rubles — about 100 thousand dollars, which is equal to passive investment. That is, we got them without attracting outside capital. After that, serial production was launched. We actively began to participate in exhibitions and conferences. And now we are the largest manufacturer of robots in Russia and Northern and Eastern Europe. And recently we have released the fourth generation of Promobot.
Promobot is a consultant robot or something more? How has your robot evolved over the years?
Initially, Promobot was designed to be a consultant robot, promoter, that is, to answer questions, attract attention, entertain, increase traffic. Over time, we realized that it is necessary to expand the implementation, and we developed the open robotic platform Promobot SDK. With its help, any developer can customize the robot. Also, the robot has the opportunity to integrate with third-party systems and services.
To date, Promobot has its own application cases. We have four main areas: the concierge robot for buildings and business centres, the consultant robot for banks, retail chains, the laboratory stand for work in universities and other educational institutions and the guide robot for museums and exhibitions. Thanks to these cases, we have the opportunity to penetrate almost any industry and market where the services are required.
Does the assembly of the robots take place in Perm?
Now it is cheaper to make robots in Russia than anywhere else. Perm is the ideal city for the production in contrast to the same Moscow. From the point of view of logistics and salaries, it is unprofitable to engage in service robotics there.
At the moment, our staff employs 72 people — programmers, designers, assemblers, electronics developers, office staff. The production takes place in five stages: metal production, body frame, board installation, assembly, testing and programming. We produce 18 robots a month, the company's monthly turnover exceeded 26 million rubles.
''As a sign of trust, the American partner gave us 500,000 shares of the company at 100,000 dollars''
How are things going in the framework of cooperation with foreigners and with Russian partners? Are there differences in approaches?
We supply our robots to 25 countries: the US, the Middle East, Europe and Africa. Our robots consist 80 per cent of domestic components, which makes them more affordable. This, of course, affect the popularity of Promobot. We attract partners and potential buyers in two ways: participation in exhibitions and forums where we establish contacts, and also brand promotion through publications in mass media of various interesting stories about our company.
Promobot will supply 2,000 robots to the US at 3,4 billion rubles. Could you tell us more, how did you make this deal?
We received a request from the U.S. manufacturer of led lamps US LightingGroup (USLG), there were no signs of major work. Due to the fact that we had previously planned a trip to Silicon Valley as part of the Global Pitch event, we could meet with our American partners. The head of the USLG admitted that all his life he wanted to do such a business as we do. ''I'm willing to buy as many robots from you as you can produce because I know how to sell them,'' the American said. As a sign of trust, he gave us 500,000 shares of the company at 100,000 dollars. We were concluding a deal during 3 days — everything went well. To date, Promobot has already supplied eight robots to the United States.
How are things going with robotics in the US?
The service robot should not cost more than 30,000 dollars, otherwise it will have a long payback and depreciation. Unfortunately, in the United States it is impossible to produce equipment at this price from an economic point of view. Service robots can't be found there. There are only patrol robots. Therefore, the US market is open. I note that there are developed industrial and household robots.
''Thanks to the development of AI and robotics, the concept of 'unconditional basic income' will be spread everywhere in the future''
According to Forbes, you are among thirty promising young businessmen. Is it an important status for you in the business community? Does the recognition in the IT sphere give a lot?
Due to successful economic and commercial indicators, the editorial board of Forbes magazine recognized that I, represented by the company, deserve to be in this rating. At one time, it brought a large number of orders for the company. And still the echo of that newsbreak is bearing fruit. This has given us recognition in the international market. For my part, I do not consider this fact as an important status, the main thing is that it brings certain results to the company.
Oleg, in your opinion, are there any factors that hinder the development of innovation, including robotics, in Russia? What are the challenges of robotics in our country in general?
In Russia, there is the ready-made infrastructure for the creation of an innovative company. We have Russian Venture Company that provides expertise and funding, we have Skolkovo Fund that helps in finding partners and establishing sales, we have the Internet Initiatives Development Fund, engaged in investments, the Innovation Promotion Fund, which gives grants. Actually, then, what exactly hinders the industry? I think these are ''everyday'' issues: problems with the organization of supplies, including to other countries due to the large volume of documentation, certification and technical issues. Not as scary as it sounds.
In recent years, we have seen a number of examples of how the state is trying to regulate cyber-physical systems. For example, China presented the multi-page Plan for Promoting Development of a New Generation Artificial Intelligence. It sets ambitious goals by 2030. Russia has also created the Convention on AI and Robotics. Is it useful? Is it in due time?
The development of AI and robotics will lead to the fact that in the future the concept such as ''unconditional basic income'' will be ubiquitous. This is the minimum amount that a person will receive only due to the fact that he is an economic unit. To make this realized, there must be a breakthrough in all industries: agriculture, engineering and others. Imagine that in the future there will be no one on dairy farms. Robots will fully control the entire production process. Therefore, a person does not have to work, as routine tasks will be shifted to machines. Unconditional basic income will give a breakthrough to science, culture and art.
If a person does not regulate all these processes, it can lead to a collapse. What happens if one day the banking sector in the world stops working? This is going to be a disaster. After all, few people know that AI has penetrated in the banking sector at almost 50 per cent. Therefore, it is important that each mechanism has the possibility of emergency shutdown and transferring it to manual mode.
By Dmitry Ovchinnikov, Lina Sarimova