Someone's losing… Depositors withdraw almost 300bn from troubled banks
But only public VTB has benefited here
The growth of bank deposits of the population accelerated a bit in the first half of 2018, but its paces still remain twice lower than in the 2015-2016s and hopelessly lower than before the crisis. Last year's clean-up of the sector severely disrupted the citizens' confidence: they've withdrawn more than 290 billion rubles from five rehabilitated banks during the year. Only public VTB has benefited from it. At the same time, one in two banks in the Volga Federal District has faced an outflow of deposits. Realnoe Vremya's review tells the details.
Clean-up and its beneficiary
In last year's spring, the population's money became more important in liabilities of the banking sector than organisations' money. Nothing has changed since then: as from 1 July 2018, citizens have held 26,99 trillion rubles and organisations had stored 25,5 trillion rubles in banks. So the total volume of deposits of natural persons, companies and balances on their accounts has reached 52,49 trillion rubles having augmented by almost 3,5 trillion within a year.
But the dynamics of the population's deposits is notably better than the deposits and the money on companies' accounts. Deposits of natural persons have risen by 3,9% since the beginning of the year and by 8,4% for 12 months. Companies' money has increased by 1,2% and 5,8% respectively during the same time.
VTB has had the greatest growth among banks with a big portfolio of natural persons' deposits – 6,7 times a year. While the volume of deposits at Pochta Bank, which is co-owned by VTB, has grown by more than 160% since last year's 1 July. In comparison with VTB, results of other big players turned out by far less impressive.
Probably the merger of VTB-24 has affected the public bank's indicators. But Otkritie Broket's chief analyst Andrey Kochetkov thinks only market factors played a role. ''In 2017, the situation in the banking system was quite alarming. The revocation of licences of several big banks, which aren't systemically important, significantly affected risk evaluation by the population. VTB is considered as reliable as Sberbank. Meanwhile, the profitability of deposits at VTB is higher than in the biggest bank of the country,'' he notes.
This also works in case of organisations' deposits. As a rule, big clients provide the biggest inflow – it's they who run the risk of losing the capital more than others when the banks, which aren't systemically important, have their licences revoked. ''Of course, enterprises are also interested in an uninterrupted service, while VTB covers almost the whole country and also provides more favourable conditions to settle for juridical persons in comparison with Sberbank,'' Kochetkov adds.
Banksta Telegram channel commented on VTB's results for Realnoe Vremya. ''VTB's policy of attracting retailing has been a priority since sanctions began to be imposed on them. VTB could borrow money in dollars, now it doesn't have this possibility. Officially, it was imposed in 2016. But the current results, first of all, are linked with the merger of VTB 24 (2,5 trillion rubles), and the bank also consolidates indicators of Pochta Bank in IFRS,'' the channel replied.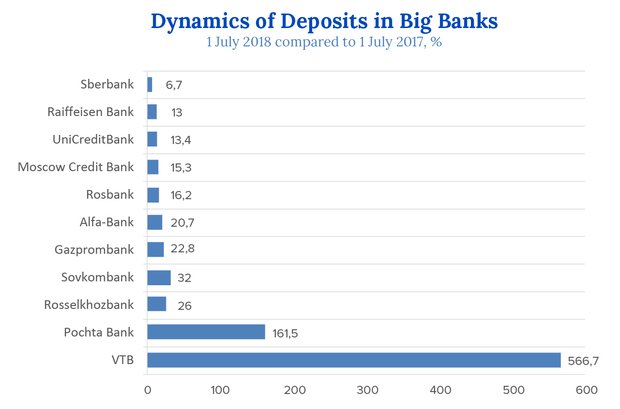 Some institutions have partly lost their portfolios during the year. Firstly, this refers to rehabilitated banks that became managed by the Banking Sector Consolidation Fund. Citizens have withdrawn a totality of 294,85 billion rubles since 1 July 2017 (excluding Sovetsky Bank and Bank ABV whose full data aren't available). Binbank has lost 14,6% of deposits during the year, Otkritie FC – 23,3%, Promsvyazbank – 1,7%, Trast – 48,5%. But the biggest loss was suffered by Rost Bank – it's lost 98,8% of natural persons' money since July 2017.
Half district at a loss
Almost half of the financial institutions in the Volga Federal District has faced an outflow of deposits. Money mainly leaves small banks. So small Synergy bank from Saratov, which owned by Leonid Mokrousov and Konstantin Lefterev, has lost 84% of natural persons' money for 12 months.
Another bank of the region – Saratov – has lost approximately 48% of deposits. About a third of the population's money outflew from Bokbank from Nizhny Novgorod. Sotsinvestbank, which is the biggest bank in Bashkortostan, has lost over a quarter.
Altynbank from Tatarstan had the greatest dynamics among those who managed to multiply their portfolio. The total volume of borrowed money of natural persons year on year has increased by more than 70%.
Altynbank's Board Chairman Rinat Abdullin says it's ''pleasant''. However, it's rather a low base effect: ''In general, we're quite conservative about such a source of liabilities as the population's money because nowadays legislation doesn't allow to use these liabilities always. Borrowing the population's money, you know, we place them as loans with terms, while a depositor has the right to revoke his deposit at any moment, and there are risks of liquidity gap.'' According to Abdullin, the citizens' money account for just 5-10% in the liabilities, while balances on accounts of juridical persons and their equity is the main source of liabilities.
Promtransbank from Bashkortostan owned by Ildar Mukhametdinov has demonstrated a considerable increase of deposits at almost 54%. The local press wrote many times the bank allegedly took advantage of regional authorities. For instance, in late 2016, Kommersant said the financial institutions asked the republic's government for support – there was discussed an option where Bashkortostan would make a subordinate deposit equal to 1 billion rubles at Promtransbank.
In comparison with other Volga district banks, Rusfinance Bank from Samara has shown the fastest growth. It's included in international Societe Generale group: the volume of deposits in the bank has increased by 47% a year.
Deposits at Sarovbusinessbank, which is the biggest financial institution in Nizhny Novgorod Oblast, have grown by 6,6%, Bystrobank from Udmurtia has had the same growth, while the leader in Kirov Oblast Khlynov has added almost 13%, Yoshkar-Ola, the only regional bank in Mary El, which is owned by the regional Ministry of Public Property, has lost 5% of natural persons' money. Ak Bars Bank, which is the biggest bank in the Volga Federal District, has augmented the volume of deposits by 11,7%.
In general, the situation with the population's deposits remains contradictory – they are growing a bit faster than last year (+8,4% a year by 1 July 2018 against +8% in 2017) but much slower than several years ago. So in 2016, the growth reached 15,9% (by 1 July 2015), 17,8% in 2015, and the pre-crisis paces totalled 22-25%.
By Artyom Malyutin, Realnoe Vremya analytic staff
Bashkortostan
Tatarstan