US ambassador to Russia: ''Some day I'd like to get a question that isn't about sanctions''
How Jon Huntsman hoped to improve relations with Russia in 2018 and didn't understood what is Russian press scrum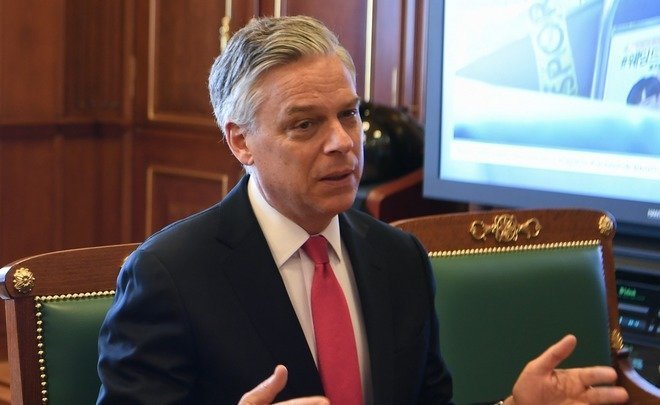 US Ambassador to Russia Jon Huntsman together with his spouse Mary Kaye was in Kazan with a two-day visit. On 26 February, the ambassador met with Rustam Minnikhanov, went to Russian-American enterprises that are based in Kazan and the Kazan Federal University. On 27 February, the youth were within his vision again – he met with students of the Kazan State Medical University and surprised journalists with a press scrum – the shortest press scrum that Kazan journalists have ever had. Realnoe Vremya tells the details.
How the ambassador destroyed the ''iron curtain'' of the protocol service
Jon Huntsman had a meeting with students at the Kazan State Medical University. All people were sitting at a round table one hour to the arrival of the ambassador and got instructions – where to sit, how to stand and when to leave the room after the important guest's departure. But the diplomat didn't build an ''iron curtain'' between himself and the students, breached the protocol, shook everybody's hands and even patted on one of the participants' shoulder like a father and promised the guy a big success. The ambassador liked Andrey Anisimov ''with brilliant English, even better than his''.
The guest noted the role of students and amazed at their fluent English, which was better than his. He also said the students thought in a different way, globally, about the world without limits, and this connects them with their peers in the USA. They have the same approach, they think about solving the problem of humankind. But at the same time, Jon Huntsman mentioned the topic of relations of the USA and Russia said we should remember there were problems between our countries that needed to be solved.
It turned out the tense relations between the two countries were only in politics, exchange programmes went on. While the ambassador was in Kazan, several employees and students of the medical university were improving their ''brilliant English'' in Nebraska. Joint Russian-American enterprises worked, the ambassador gave the example of yesterday's visit to the CHPP in which General Electric invested $2 billion and Ford, Huntsman used to be on the board of the latter.
So Huntsman said that many American companies continued working in Russia. He went to one of them on 26 February, met with businesspeople, they all had plans to expand and continue working there.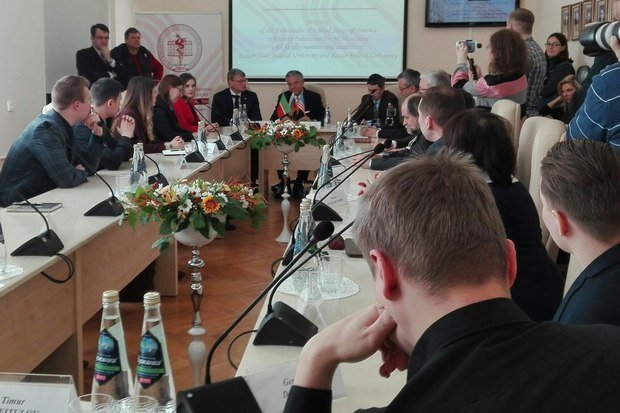 ''It can't be far worse''
The questions the students asked the ambassador were about medicine. His father – a billionaire and owner of a chemical corporation whose factories are also present in CIS countries – founded Cancer Institute. This explains very Huntsman's interest in this topic. Comparing Russia, the USA and China where he had worked before, Huntsman replied there was no country to say all was great. And Rustam Minnikhanov's interest in medicine reminded Huntsman himself when he was the governor of Utah.
Jon Huntsman said he met with Rustam Minnikhanov the previous day who mentioned the problem of medical care. And he was talking about it like a governor of an American state. And the US ambassador reminded he also was a state governor.
The journalists who were allowed to ask two questions during the round-table talk expectedly were more interested in sanctions.
''Some day I'd like to get a question that isn't about sanctions,'' hoped the ambassador and said it was the question that members of the press asked every time they met. Jon Huntsman explained that sanctions arose due to problems between our countries and they would try to solve them gradually. So he looks into 2018 with optimism, it will be an important year, in his opinion. The guest would like to end it on a higher note than it started, at least it's possible, it was what they could do.
According to him, when reading newspapers, there is an impression that ''it can't be far worse''. Due to translation problems, it was difficult to understand which position was closer to Huntsman – pessimistic or optimistic from a famous anecdote. In answer to this phrase, he joyfully claimed ''maybe, maybe!''
Jon Huntsman politely avoided the question when sanction were lifted saying that the relations with Russia were important for the USA because our civilisation was much older than the civilisation he represented. And our civilisations have things to learn from each other.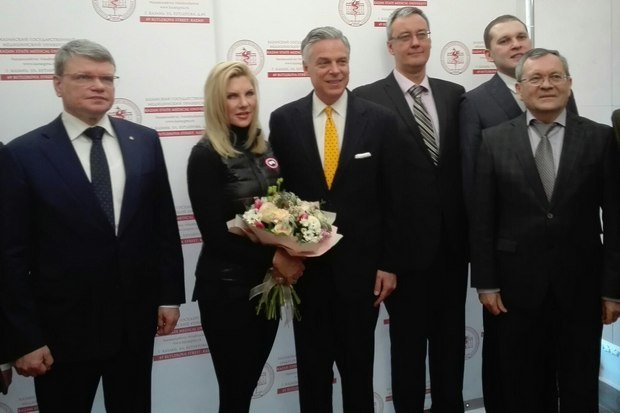 Press scrum in the American style
Huntsman says there are many areas in which Russia and the USA cooperate, and sanctions don't impede it. There will always be problems in geopolitics. But this shouldn't bother joint work for the good of the economy and personal interests.
There are problems between our countries that need to be solved. But one can do two things at the same time, work in many areas. He is a father of seven. So Huntsman says people will learn to solve some problems of their family and develop and promote some things sooner or later. There would always be problems in relations with Russia, and we needed to solve them gradually, don't go back in development of business relations, investments, keeping in touch with ordinary people, said Jon Huntsman and hoped the one day our scientists and other countries would be able to unite and declare war on cancer, while journalists wouldn't ask when sanctions stopped but when medication from oncology was created.
It was promised to continue the talk with the ambassador in the press scrum scheduled after the round-table talk. The journalists stood in line in expectation, the ambassador appeared with his spouse Mary Kaye. The couple stood in the background of the KSMU's banner for a couple of seconds stretching their lips in a wide American smile and disappeared. Either Jon Huntsman wasn't explained what a press scrum was or he thought he had clearly answered all questions. The colleagues had to just make a helpless gesture and claim it was the shortest press scrum they had ever prepared for.
By Daria Turtseva. Author's photos
Analytics
Tatarstan