Bypassing sanctions: Russian regions will be able to directly keep in touch with the world
Experience of the foreign economic activity of Tatarstan announced as role model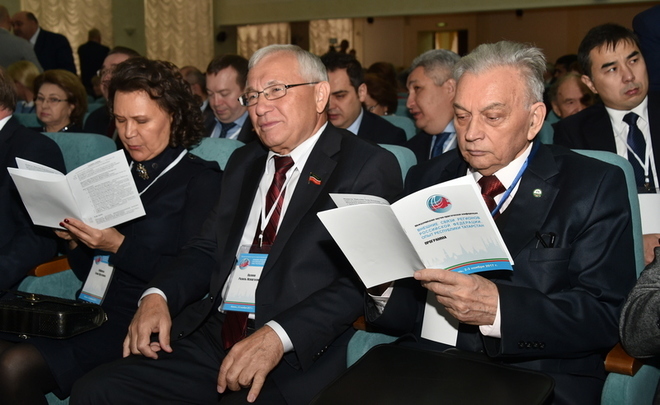 Tatarstan's found itself on the world map: the republic has increased its foreign economic turnover to $11,9 billion in 25 years – such a big number was announced at the opening of ''External Links of Russian Regions. Experience of the Republic of Tatarstan'' international conference in Kazan. The first official visit of its first President Mintimer Shaimiev to Turkey became the starting point of these ''external links''. Russian authorities are gradually restoring cooperation with this country with the help of Tatarstan.
Under control of the Ministry of Foreign Affairs
Quite contradictory experience of external commercial and economic activity of Tatarstan, which became first Russian region to enter on the international stage on its own, deserved careful attention of Moscow a long time ago – the attention that was first jealous but quite tolerant now.
At ''External Links of Russian Regions. Experience of the Republic of Tatarstan'' international conference, which opened on 3 November and was dedicated to the 25 th anniversary of the beginning of official foreign contacts of Tatarstan, speaker of the State Council of the republic Farid Mukhametshin and Deputy Minister of Foreign Affairs of Russia Mikhail Bogdanov exchanged diplomatic pleasantries and agreed then Tatarstan always was backed up by the Russian Ministry of Foreign Affairs while creating the foreign economic course. Delivering Sergey Lavrov's welcome speech, the deputy minister reported on the satisfaction with the ''current cooperation level with Tatarstan's administration on the development of its external links''. And not only the links of Tatarstan: ''The help in augmenting international and foreign economic exchange of the Federation's regions in the country's single foreign political course among priority areas of activity of the Ministry of Foreign Affairs of Russia. We state with satisfaction that the geography of our foreign partners confidently expands.''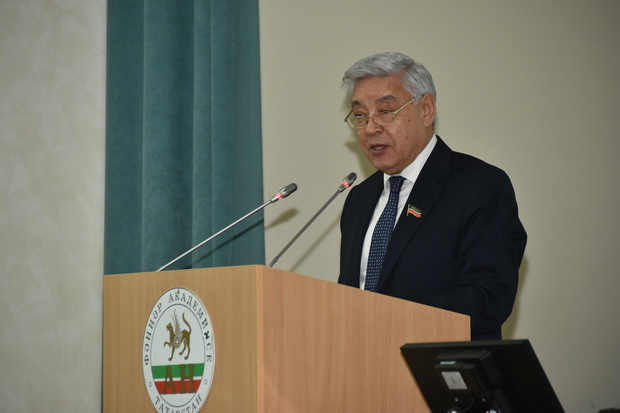 $11,9bn in 25 years of independence in foreign markets
Tatarstan's independent international activity began after adopting the Constitution of the Republic of Tatarstan whose 25 th anniversary was to be celebrated on 6 November. The the first official international visit of first President of the Republic of Tatarstan Mintimer Shaimiev took place then in 1992. And Turkey, which is close by culture and language, became the host, which is no surprise. The foundation of Tatarstan-Turkish relations was laid then.
By 2017, Tatarstan has signed agreements on commercial and economic cooperation with more than 60 countries. With the opening of representative offices of Tatarstan in Moscow, Uzbekistan, Azerbaijan, a network of Tatarstan representative offices started to be created – now they are eight in Russia and more than 15 abroad. Consulates general of Turkey, Iran, Kazakhstan work in Kazan. It is supposed to open the consulate general of China. There are representative offices of Belarus and Uzbekistan. A total of about 150 countries of the world develop commercial relations with the republic.
The effect did not keep it waiting. As it was said in the demo film, in 2016, Tatarstan's foreign commodity turnover totalled $11,9 billion. The interregional turnover rose to $550 million. Rustam Minnikhanov annually pays about 25 international visits and has 300 meetings abroad. After this impressing big picture, Farid Mukhametshin made a focus on the right of regions to have independent foreign economic contacts. ''The right of Russian regions to an international foreign economic activity is fixed in the Article No. 72 of the Constitution of the Russian Federation,'' he emphasised. ''From our point of view, this right is one of the most important conquests of Russian federalism.''
The Tatarstan State Council speaker believes that economically developed territories that are able to successfully compete in international economy are the foundation of a strong country. ''International activity of Russian regions really became important for the country,'' he stated. ''And regional links of the Federation's regions became a weighty layer in the foreign policy of our country. In totality, they add certain content to interstate and international agreements of Russia that were signed.''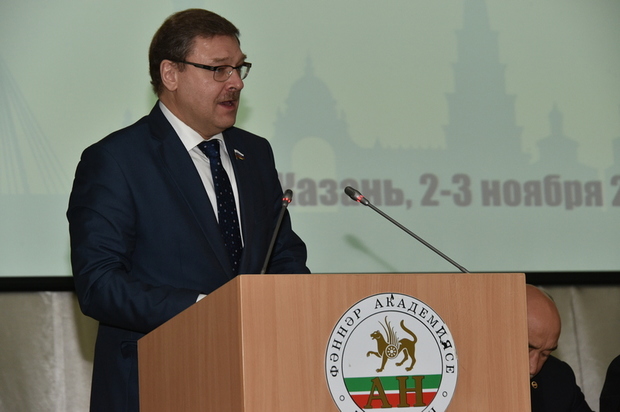 Konstantin Kosachev: western business rans away from sanctions to regions
Today independence of the regions in relations with countries is not a toothache of the federal centre. Chairman of the Federation Council on Foreign Affairs Konstantin Kosachev claimed that links of Russia's regions with other countries strengthened the country's positions on the international stage. ''Right international links of regions of the Russian Federation are in demand now like never before, in conditions when simply Bacchanalia towards our country reigns, at least from the West, when our so-called partners cross all possible and impossible red lines, when one tries to hold Russia in all possible areas. It's clear they don't succeed but try. Right the activity of regions of the Federation are the link in both commercial and economic sphere and, undoubtedly, in scientific, technical and humanitarian areas that doesn't allow all this situation to have an irreversible character,'' Kosachev thinks.
After the conference, Konstantin Kosachev explained Realnoe Vremya why the attitude of Moscow to direct contacts of regions with other countries changed so suddenly. ''My experience proves that right regional cooperation is considered as a possibility to bypass these sanctions even in the countries where sanctions against Russia are imposed. It was a new lease of life for foreign affairs of regions. It is no secret that business is frankly disappointed at the policy of authorities in countries of the West and looks for a possibility to show itself. Right regional cooperation turns out to be in demand. Tatarstan with its gigantic contacts around the world is additional possibilities.''
The State Duma adopted a law on borderline cooperation to expand export possibilities of other regions two months ago. ''The law that they (Editor's Note: regions) had been waiting for 7 years was finished off 2-3 months ago,'' Kosachev said. ''This law is maybe not the most topical law for Tatarstan, but those 49 regions of the Russian Federation that have access to state borders feel great enthusiasm for this reason,'' he noted.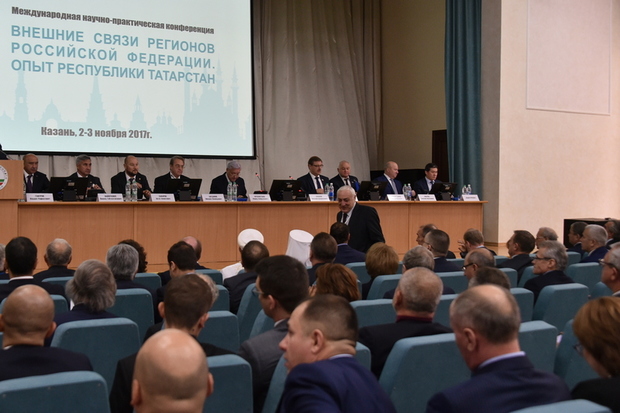 But nothing is going to change in this sphere now. ''Farid Mukhametshin chairs the commission in the Council of Legislators that is linked with international work, and there is a direct possibility to change the regulations of the legislature that the regions don't like via him. I am myself a member of this commission. But we did not see any pointed out amendments. It means our legislature is acceptable for all regions,'' Kosachev concluded.
By Luiza Ignatyeva. Photo: prav.tatarstan.ru