''Political'' smartphone: YotaPhone 3 presented in China
Mass production starts only in the autumn, the gadget is to appear in Russia by New Year, but sceptics already forecast a failure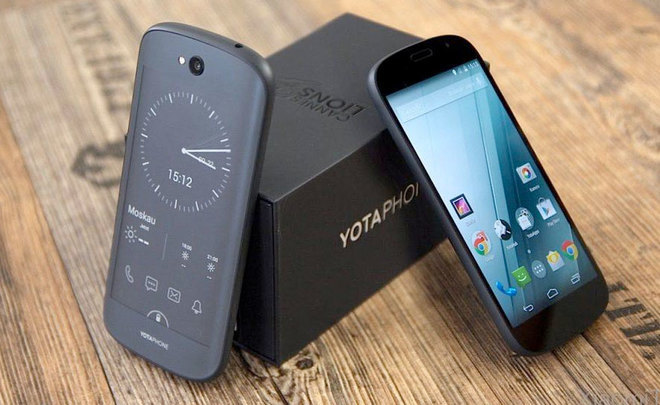 Yota Devices prepares the appearance of the third-generation YotaPhone. The Russian smartphone assembled in China is called a symbol of the Russian and Chinese friendship in technologies. However, we should not wait for a breakthrough from the latest. In addition, experts assure with the current characteristics YotaPhone3 will have become older in comparison with rivals' gadgets by New Year when sales in Russia start. The price of 26,000 rubles might also seem unreasonable.
YotaPhone 3 to be presented to Russians by New Year
YotaPhone 3 was presented during the Russian-Chinese EXPO (an international site for demonstration of the industrial potential of both countries) in Harbin on 16 June. BaoliYota Technology that is a joint venture of China Baoli (whose shareholder is Yota Devices) and Coolpad (production and distribution of smartphones in China) presented the new gadget. As representatives of the company told, the production of the new phone is to start at the beginning of autumn 2017, according to TASS.
Pre-order kicks off in the summer when the manufacturer is going to make first estimations of real demand. According to the most optimistic scenario, YotaPhone 3 is to appear by New Year in Russia. Depending on a version, the smartphones will be $350 and $450 respectively.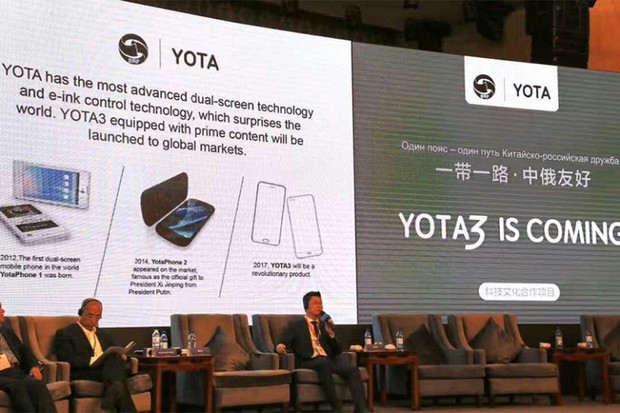 YotaPhone 3 to have two versions and Chinese browser
Like its predecessors, YotaPhone 3 is equipped with two independent displays one of which is e-paper (a clear, static picture that doesn't disappear in daylight that can be read at any angle). What is more, YotaPhone 3 is going to have two versions: 64 GB and 128 GB. It will affect the price.
YotaPhone 3 is supposed to be equipped with Snadpragon 820 quad-core processor (3 or 4 GB of RAM depending on version). The smartphone will have a 13 MP main camera and 5 MP front-facing camera. YotaPhone can run Android 7.0 operating system. By the way, the localised Chinese version of YotaPhone is going to have popular apps in the country: Baidu browser and WeChat messenger that will be active on both screens.
Developers
Yota Devices calls YotaPhone its main development. It should be noted that earlier Yota Devices was part of Yota (a department making modems and routers). In 2011, Yota Devices became a separate company and started to develop its famous smartphone, according to Roem. Nowadays 34,9% of shares of Yota Devices belong to Sergey Adonyev and Albert Avdolyan's Telconet, 30% — China Baoli Technologies Holdings Limited, 25,1% — Rostec state corporation and 10% — MTH Limited.
We should say in 2011 Rostec director Sergey Chemezov presented Russian President Dmitry Medvedev the smartphone's prototype that was supposed to be made for 4G Yota operator (that used to belong to Rostec by 25,1%). Chemezov said to the president of the country that the Russian phone was going to be made in Taiwan at the moment and the process would localise in Russia then, Vedomosti told. Then Scartel (that owned Yota before Megafon) was the developer of the phone that became known as YotaPhone.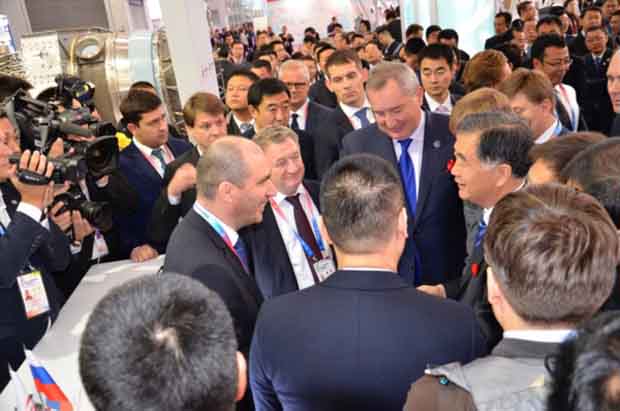 ''Cooperation symbol of Russia and China''
There has been an attempt to make YotaPhone a symbol of technological progress in Russia for a long time. Just consider the first presentation of the smartphone at CES 2013 International Consumer Electronics Show in Las Vegas. YotaPhone was the winner in Mobile Devices in the USA.
On 24 February 2014, YotaPhone 2 was presented at Mobile World Congress in Barcelona. If the initial price for the first version of the smartphone was 19,990 rubles, the second one was 32,990 rubles. In 2015, Premier of the State Council of People's Republic of China Wang Yang was presented at the same Russian-Chinese EXPO in Harbin. ''From my point of view, our phone is a symbol of cooperation of Russia and China in new technologies because we created the architecture but the assembly was Chinese. And we presented it like a cooperation symbol between our countries,'' Yota Devices Director Vladislav Martynov told RIA Novosti after he personally presented the smartphone to the Chinese premier.
Martynov also announced that Yota Devices and a Chinese company – manufacturer of e-paper screens — signed an agreement on the development.
We should note in March this year it became known the appearance of YotaPhone 3 was delayed. Rostec Director Sergey Chemezov claimed the shareholders of Yota Devices did not find money for its mass production and appearance in the market, as Vedomosti says. Chemezov explains the lack of money by Rex Global Entertainment's position that purchased 30% of Yota Devices and Telconet of Sergey Adonyev and Albert Avdolyan.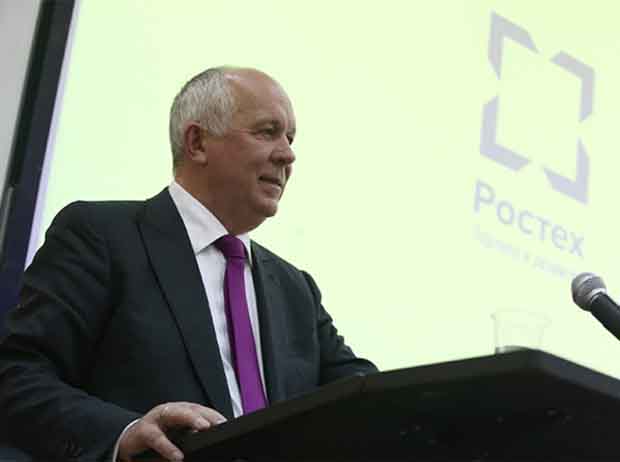 Criticism
At the same time, before its appearance, YotaPhone 3 was criticised for too high price and defeat to direct rivals in terms of technical indicators. The smartphone's bad camera was also mentioned.
''According to technical characteristics, YotaPhone 3 was deliberately simplified to make it cheaper. By the end of the year when it is on sale, it will be a morally obsolete device whose analogues were made 2 years ago,'' Rossiyskaya Gazeta cites director of Hi-Tech Mail.Ru Dmitry Ryabinin.
According to him, the attention to the phone and some noticeable sales volumes will be present if authorities support and there are considerable investments in promotion. Otherwise, the expert forecasts YotaPhone 3 a failure.