Entertainment for millionaires: Fatima persuades Arab sheikhs to invest in falconry in Tatarstan
Guests from Near East were presented royal entertainments and expected to give money as sponsors on the last KazanSummit day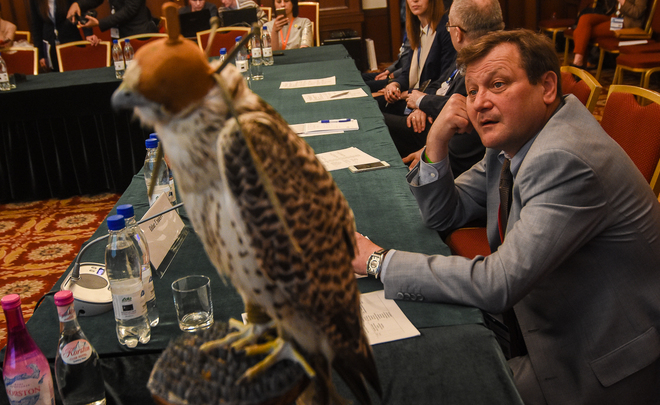 Probably another tourism gimmick will appear in Tatarstan – people will visit Tatarstan for falconry. Creation of a hatchery to breed and rehabilitate the birds of prey is also under discussion. Anyway, the most important thing – corresponding nature and interest of the republic's administration are present. Arab billionaires – the greatest connoisseurs of falconry — can be sponsors. Now they buy the birds from smugglers. In fact, the creation of nurseries must legalise this market whose volume is estimated at hundreds of millions of rubles. Realnoe Vremya tells the details.
Fatima from the luggage of smugglers
A falcon (only female birds are used for hunting) whom everything was organised for was given pride of place in the praesidium at the panel session Renascence of Russian Falconry Traditions. The bird did not have a name. Its owner – Russian Falcon Union of Amateurs of Falconry and Protection of Birds of Prey Ildar Yenaleyev said there was a contest. It was offered to name the bird Fatima.
Fatima had a hat on her head, but not for beauty. It covers her ears and eyes, so that the bird will see and hear nothing. Consequently, she won't be afraid – it is not a common thing for a falcon to sit in the praesidium at the conference at Korston.
Fatima behaved well for 20 minutes, then started to cry ad try to fly away. The owner had to interrupt her hour of triumph and take her away.
Yenaleyev got the bird from smugglers. She and other several falcons were detected in the luggage of one of the passengers at Sheremetyevo in an awful state three years ago. Fatime had necrotic legs (ornithologists did not manage to save the claws), she was exhausted. They cared for her, she won't be able to live in wild nature but she is able to reproduce. They are going to find a couple for her.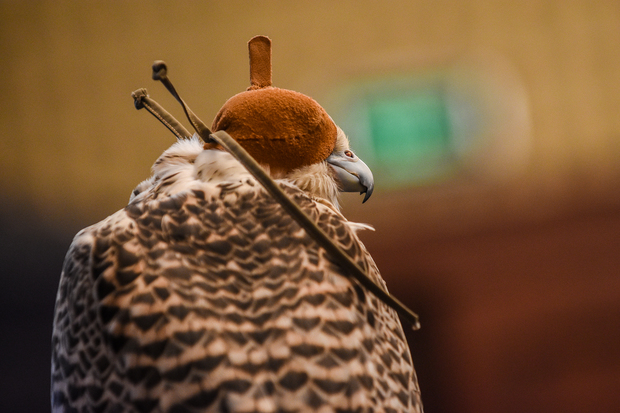 Hunters for Russian falcons from Near East
Smuggling birds of prey is a huge problem. Falconry is a favourite entertainment of Arab billionaires, and they are ready to pay huge money for a live toy. According to Aleksandr Sorokin, head of Biodiversity scientific and methodical centre, up to 1,500 birds of prey are annually taken away from poachers, and it is only the top of the iceberg. Nobody knows how many birds they manage to take from the country. The volume of smuggling is estimated at hundreds of millions of rubles. The harm to nature is impossible to evaluate.
''Almost all the falcons were often dead. If they rehabilitated, they could not live in nature,'' Sorokin says.
Unlike Russia and Europe, Arab countries manage to conserve falconry as tradition. Noble people refused it first in tsarist Russia who considered it as entertainment. When guns appeared and ordinary people who used falcon as food stopped taming them. Now sheikhs are the main smuggling consumers. Russia wants to legalise the market by creating hatcheries to breed the birds of prey. According to Sergey Fokin, director at Ecology, ''Eastern mates'' will only be glad to be able to buy falcons legally, not from smugglers.
''Russia has eight hatcheries where falcons are bred. Two of them are state. They work both for sale by selling their chicks to Arab countries and participating in environment protection programmes by letting their birds fly in nature. If our hatcheries produced a necessary number of birds for Arab falconry, it would reduce the pressing of smuggling,'' Fokin says.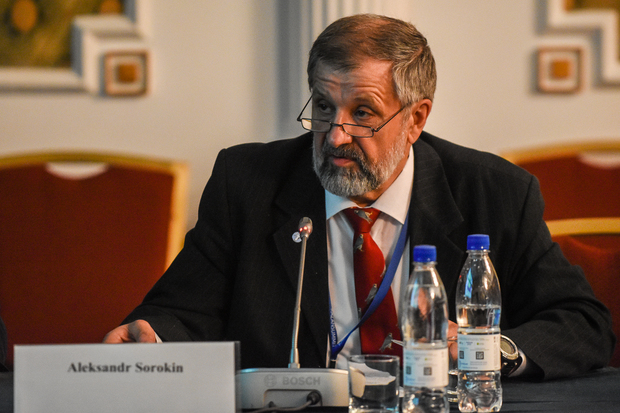 Falconry as new gimmick for local billionaires and tourists
Now the creation of two hatcheries is under discussion. One of them can be in Tatarstan, and renascence of falconry here can be not only a tourism gimmick but also environment protection factor. Falcons hunt for great bustard whose number in Tatarstan is 1,000 times more than needed.
''The districts whose territory is designed for this kind of hunt are Tatarstan's advantages – steppes, the presence of acting bird populations and the activity of the Ministry of Ecology. You have many programmes, in addition, in the Russian Federation in general,'' says Sergey Fokin, director of Ecology.
Only the ministry's budget won't cope with this task. This is why they are pinning their hopes on their Arab partners – they are expected to invest money.
Sergey Fokin found it difficult to name the value of the falcon hatchery. He only said the ''it was not expensive, cheaper than the harm done by poachers''.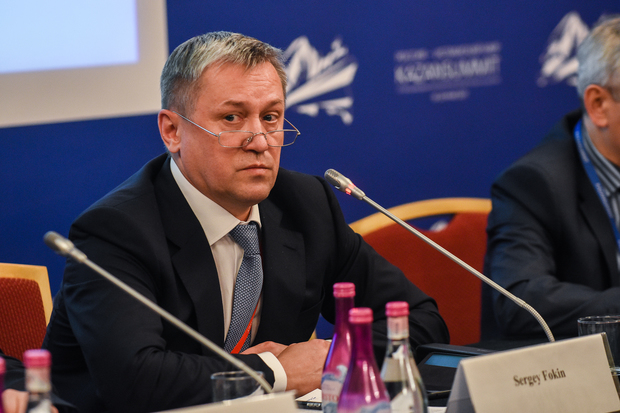 We could not know the reaction of potential sponsors – two representatives of Arab countries who left the discussion before it ended. However, such questions are not solved offhandedly. Face to face talks will be held.
''We don't sell bird droppings'' or how to make hatchery profitable
Representatives of private hatcheries that breed and rehabilitate birds of prey don't complain about their life, don't live in clover but don't stand losses. Oleg Svetlitsky, director of Holzan Birds of Prey Rehabilitation and Monitoring Centre (not far from Yekaterinburg) shared business secrets.
''Our pride is that we host 11,000 tourists every year. We are not given a penny. We exist thanks to what we earn, constantly make up something – excursions, feather painting, falconry, photo with birds. Bird droppings are the only thing we don't sell,'' Svetlitsky jokes. ''Not because we are corrupt. We do it because we need to survive, purchase new birds. African bateleurs were brought recently. We have honourable visitors – cosmonaut Grechko, Ural Pelmeni team. It is a free ad for us. Omsk Hawks (Editor's Note: Avangard Hockey Club) visited us, offered to let a hawk fly at the base of their club. Our employee came, was paid 25,000 rubles. We earned money, Omsk Hawks advertise our vulture hawks, it flies in wild nature – and everyone is content,'' Oleg Svetlitsky tells.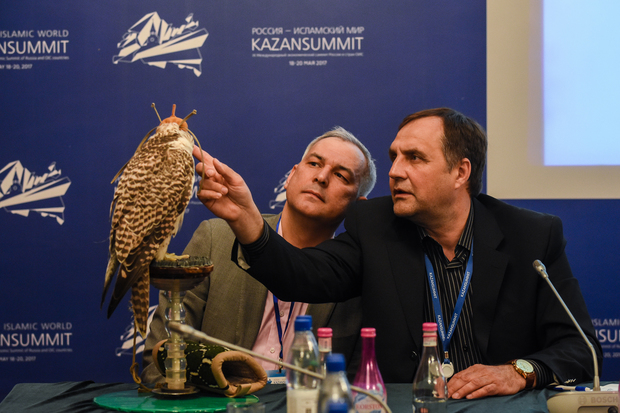 Hatcheries rehabilitate birds who were injured. Svetlitsky told that Steller's sea eagle with a broken wing was brought from the Magadan nature reserve recently. It was operated. Titanium sheets were implanted. The ornithologists hope the bird will reproduce now.
''I am for the appearance of centres in our country that would help birds and all the animals. If we support this individual initiative, we will be able to achieve a lot,'' the expert says.
By Daria Trutseva. Photo: Oleg Tikhonov
Analytics