The Strugatskys open for everyone: cult fiction writers' books publicly available
Due to this good news, Realnoe Vremya recalled how the fiction writers lived and wrote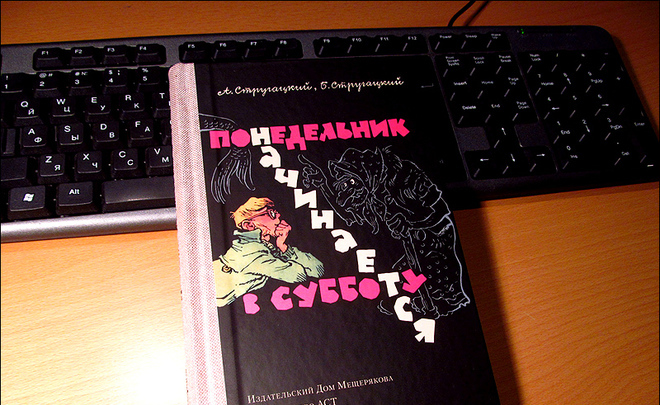 These days heirs of fiction writers and brothers Strugatskys decided to post all their endeavours including unpublished ones. In 2014, after second brother Boris Strugatsky's death, heirs Andrey and Maria restricted public access to them explaining it by a fight against piracy. However, later they stated it was useless to fight against it. Now one can read works of the Soviet fiction writers on their official page. Due to this good news, Realnoe Vremya recalled how the fiction writers lived and what the cult writers were remembered for.
1. Mother is a teacher, father – a scientific worker in a museum
Arkady Strugatsky was born on 28 August 1925 in Batumi, his brother Boris – on 15 April 1933 in Leningrad where their father Natan was appointed a scientific worker in the Russian Museum. The writers' mother Aleksandra Litvincheva was a Russian language and literature teacher at the school where Boris studied.
Arkady graduated from the Military Institute of Foreign Languages in Moscow in Japanese and English translation and worked as an editor. His brother Boris became a graduate of the MSU Faculty of Mechanics and Mathematics, then worked in the Pulkovo Observatory on origin of double and multiple stars.
2. Went through the Siege of Leningrad
During the Great Patriotic War, the Strugatskys as well as other citizens were in the occupied Leningrad where Arkady built fortresses and later worked in a grenade workshop. In January 1942, their mother and Boris left in the sieged city, and Natan Strugatsky with his eldest son were evacuated to Chkalov (Orenburg). On the way, 16-year-old Arkady buried his father in Vologda. In 1943, he managed to bring his mother and younger brother to Orenburg Oblast. According to open sources, Boris told his elder brother Arkady was about to die many times, but something saved him. After the war, Boris and his mother returned to Leningrad, while Arkady remained in Moscow to finish his studies.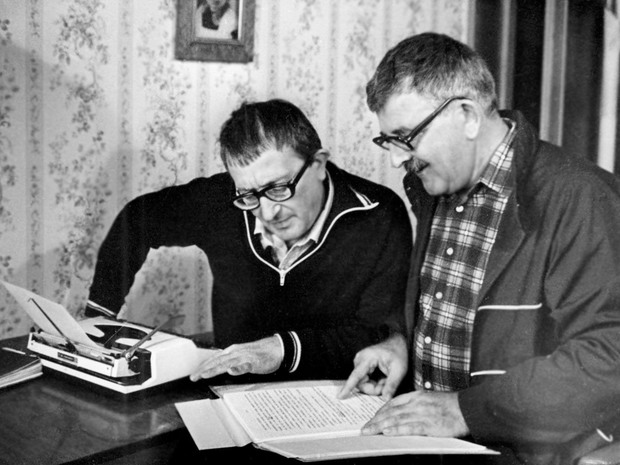 3. First joint work of the Strugatskys was for a dare
Arkady Strugatsky returned to Leningrad from Moscow in 1955. He started to write before the war. Consequently, it turned out that Boris had the same desire. Arkady's wife joked about this desire to write. It led to a creation of the first joint story of the brothers for a dare that was called The Land of Crimson Clouds. The science fiction novel was published by Detskaya Literatura publishing house in 1959.
4. Popularity from the first story
The Strugatsky brothers became almost immediately popular – after publication of the first science fiction stories. Six Matches came to light in 1959, The Examination of SCYBER, Special Assumptions and others in 1960. They all became part of Six Matches book. As Boris Strugatsky admitted, Six Matches was the most published novel.
5. Look to the future with novels
Many novels of the Strugatsky brothers written in the Soviet reality were consequently prophetic. For instance, many people see a prototype of modern Wikipedia in Monday Begins on Saturday, which was written in 1965 and became a basis for plot of Charodei music comedy. The areas in the most translated novel Roadside Picnic written in 1972 was compared with Chernobyl. In 1979, Andrey Tarkovsky shot Stalker based on this book. Beetle in the Anthill written in 1979 has an invention that resembles Skype.
By the way, the book is going to be filmed in the USA. A trailer of Roadside Picnic series of American AMC channel has already appeared. Jack Paglen (Transcendence) is the plot writer, Alan Taylor known for Terminator Genisys and episodes of The Game of Thrones and The Sopranos is the director.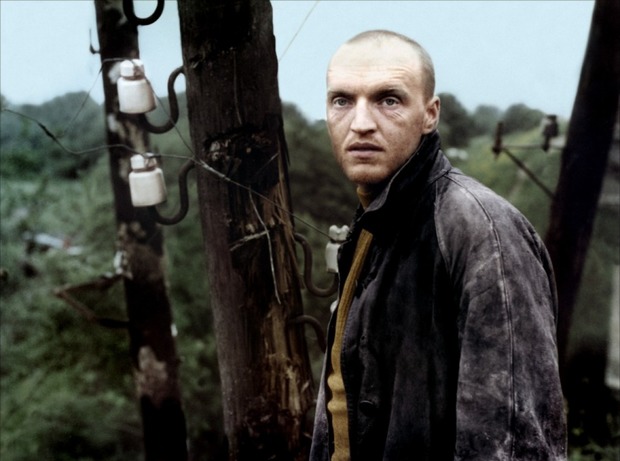 6. Not only writers but also translators
Learning of Japanese and English was not useless for Arkady Strugatsky. He translated The Nose, Kappa and other novels of the classic of new Japanese literature Ryūnosuke Akutagawa as well as novels of Natsume Sōseki, Hiroshi Noma, San'yūtei Enchō (The Peony Lantern), stories of Kōbō Abe (Inter Ice Age 4 and Totalscope). The translation of Chronicle of Yoshitsune from the old Japanese language was the summit of his works. Part of the novels was translated using the nickname S. Berezhkov.
By the way, Arkady was in Kazan in 1946 at the disposal of the Tatar Ministry of Internal Affairs as translator. He translated interrogations of Japanese military criminals who were brought to the capital of TASSR from a camp in Yelabuga.
7. Worked not only together
Arkady Strugatsky's first survived finished novel dates back to as early as 1946 but it was published in 2001, 10 years later after the writer's death. The novel is dated in the following way: Kazan 29.5.46 and was called How Kang Died. It is about a huge deep-sea predator. It was written in black ink in a handmade notebook of 14 pages with illustrations.
Bikini Ash is considered to be Strugatsky's first published novel. It was written together with Lev Petrov during their service in the army. The novel came to light in 1956. Later Arkady wrote several novels more that were under a pseudonym S.Yaroslavtsev. The writer lived in Moscow near a ''square of three stations''. Yaroslavtsev was dedicated to one of them. The letter ''S'', in turn, is an abbreviation of the Strugatskys. By the by, in Saint Petersburg, the writer lived on Pobeda Street (means ''victory'').
Boris Strugatsky also wrote. After his brother's death, a novel called Search for Destiny or the Twenty Seventh Theorem of Ethics appeared under a pseudonym S.Vititsky in the 1994-1995s and novel The Powerless That Be – in 2003. Very Boris told he ''continued to saw the thick log of literature with a two-man saw but without his fellow'' referring to his brother's death. By the way, the ''S'' letter in his pseudonym also meant the Strugatskys and Vititsky stood for victoria, that is to say, victory.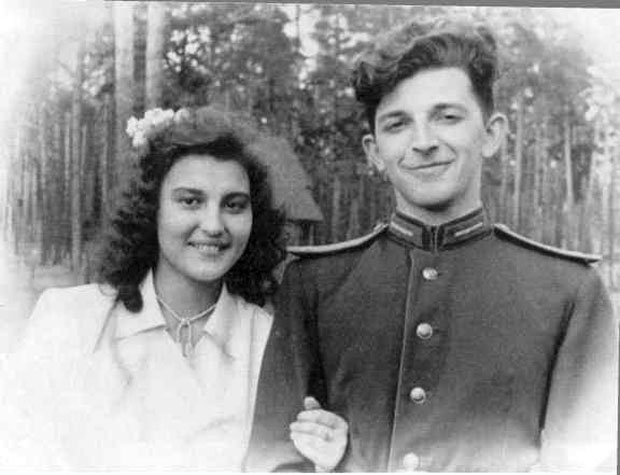 8. Others' kids like his own and student love for life
Arkady Strugatsky was married twice. In 1948, the writer married Inna Shersheva. They divorced in 1954. Elena Oshanina was Strugatsky's second wife. He brought up her daughter of the first marriage Natalia as if she had been his own kid. The common daughter of the writer and Oshanina Maria married politician and state worker Yegor Gaidar who headed economic reforms in the 90s.
Boris Strugatsky was married to Soviet commander, Major General Andrey Karpelyuk's daughter Adelaida Karpelyuk. They acquainted when they were studying in the MSU and lived together to their dying day. In 1959, their son Andrey was born.
9. Both were cremated and their ashes scattered
Arkady Strugatsky passed away on 12 October 1991. He fought against liver cancer. According to the writer's will, his body was cremated and the ashes were scattered over the Ryazan Highway by helicopter in presence of six witnesses on 6 December.
His younger brother Boris Strugatsky died after a lasting illness on 19 November 2012. He had lymphatic sarcoma. Almost in a year, on 20 December 2013, his wife Adelaida Karpelyuk died. In accordance with his will, their bodies were also cremated, and on 5 April 2014, the ashes were scattered over Pulkovo where Boris worked in the Pulkovo Observatory.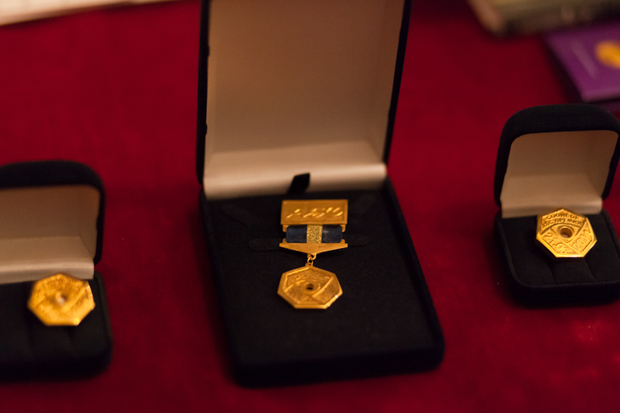 10. Award like their track, square in Saint Petersburg and over 50 awards
The art of the Strugatsky brothers was and is still loved by readers but also got many awards and honours. The writers were memorised when a square in Saint Petersburg was named as a mark of honour in 2014. Boris Strugatsky lived close to it on Pobeda Street. What is more, in 2004, the administration of Volgograd decided to call a street in the city to as a mark of honour to the Strugatskys.
In 1987, the Strugatsky brothers were awarded a special prize of 45 th World Science Fiction Convention For Independence of Through in Brighton and Lifelong Achievement in Literature of Eurocon in Montpelier.
Apart from literature awards, Arkady Strugatsky had awards for participation in the Great Patriotic War – medal For Victory against Germany, 30 Years of Soviet Army and Navy, For Battle Merit, Order of the Red Star, which was not given in the end.
Boris Strugatsky got several awards for Powerless That Be. Among non-literal awards, the writer had a medal for Merit to Saint Petersburg, medal Creative Person is Symbol of Science, Merit Order.
After his brother Arkady's death, Boris continued to get awards for both. In 2000, he was awarded Stranger award in Fiction Paladin, in 2001, he got the State Prize of the Russian Federation in Literature and Arts. The writers had over 50 awards in total.
In addition, in 1999, Saint Petersburg Contemporaneous Literature and Book Centre created an award named after Arkady and Boris Strugatsky. It is still given for the best fiction novel in Russian.