In memory of Sergey Gimaev: champion from army, top class commentator and games with Minnikhanov
Honourable coach of the Russian Federation and one of the brightest hockey experts Sergey Gimaev suddenly died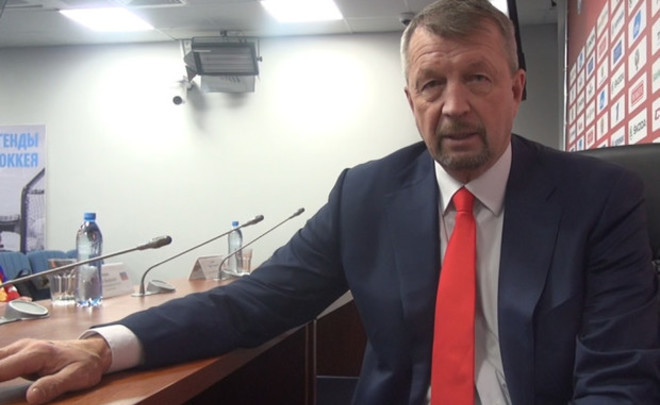 CSKA defenseman, eight-time champion of the USSR, honourable coach of Russia, popular hockey TV presenter on Match TV channel Sergey Gimaev died in Tula on the 18 March evening. He felt sick in a veteran match and could not regain consciousness. Realnoe Vremya tells about the legendary person who dedicated all his life to hockey till the last moment.
1.''My youth is my Belarus''
Even if we consider him pure Russian, Sergey Gimaev was born in Brest Oblast in Belarus ASSR. His parents settled down there because of the head of the family who went there as he did his service. The very father of the hockey player was Bashkir, his mother was Ukrainian. Sergey Gimaev spent many years in Bashkortostan where he acquainted with hockey, made his first steps and started to play among senior teams. However, this fact never influenced his affection for Salavat Yulaev or CSKA where he became a person whom all people knew. Later as a hockey expert, he always remained neutral, was generous with praises and tellings-off on merit. Hockey fans appreciated him for frankness and boldness of his estimations discussing what Gimaev said with pleasure.
2. Army as door to champion club
The pupil of Bashkir hockey managed to reach the elite of Soviet sport thanks to the army. He was called up in Orenburg, then he was sent to SKA HC from Kuybyshev (today Samara). He played under Yury Moiseyev there and achieved recognition from Moscow and got a letter that he was sent to the USSR capital to continue his service in the army.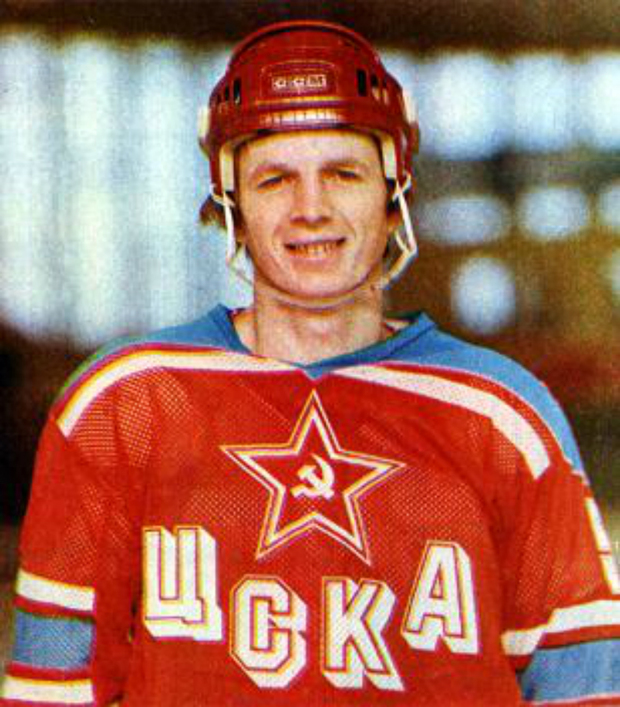 Sergey Gimaev became a repeated champion of the country, winner of the USSR Cup and repeated owner of the IIHF European Cup at CSKA. He ended his career in Leningrad playing for local SKA. Sergey Gimaev played 305 matches in total, scored 45 goals and was on the list of the best defensemen of the championship many times.
3. As coach
After he ended his career as player, Gimaev graduated from a pedagogical institute and started to work as coach. He worked with kids for many years and was CSKA Ice Hockey Sports School director. At the same time, he coached junior national teams.
Gimaev became an honourable coach after the win of the national team in 1987 when he was head coach Vladimir Shadrin's assistant.
4. Gimaev's voice as a high bar for journalists
Sergey Gimaev did not rest on his laurels and always looked for something new. He was keen on hockey as a fanatic. When coaching became less attractive for him, he went on TV. The fear of changes is not about him. And Gimaev started to learn the basics of the work of commentator from the 2000s. After the legendary 2008 IIHF World Championship, one could not imagine Russian hockey without Gimaev's voice.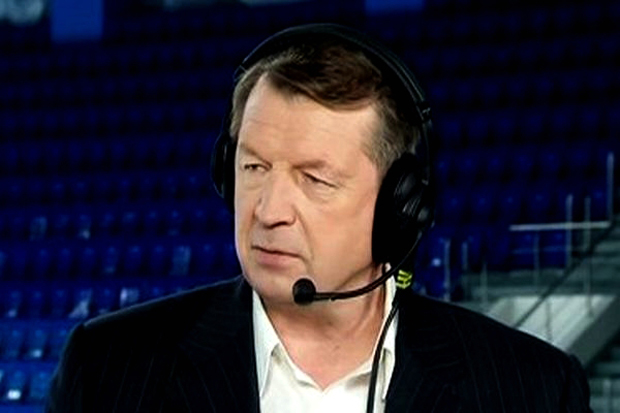 Since then his voice became a landmark of our hockey for many years. All top games were at his disposition. If he did not comment a match, it could not be a top. He was the major commentator on the main sport TV channels of the country who was rather an expert than just a person who commented the actions of hockey players on the ice. Gimaev raised the bar of the ice hockey community of journalists so high that a big emptiness remained after his departure.
Sergey Gimaev was not political and never escaped an answer even if an ordinary fan or a passer-by who was in a hockey match for the first time was standing in front of him. He was the best at propagandising healthy lifestyle drawing more and more attention of interested people to his favourite sport. His death was a shock on the ice rink. But he could not end his career in another way. He lived with hockey and died with it.
5. Played against Minnikhanov
In February, Sergey Gimaev participated in a match between Philadelphia Flyers and Ak Bars. He was invited to play there for his overseas colleagues, and he did not get lost there. Then he played against Rustam Minnikhanov who played for Kazan in that match.
The Tatarstan president treated the great hockey player, coach and commentator with warmth and expressed his condolences after his death. He published his condolences in all social networks – Vk.com, Instagram and Twitter.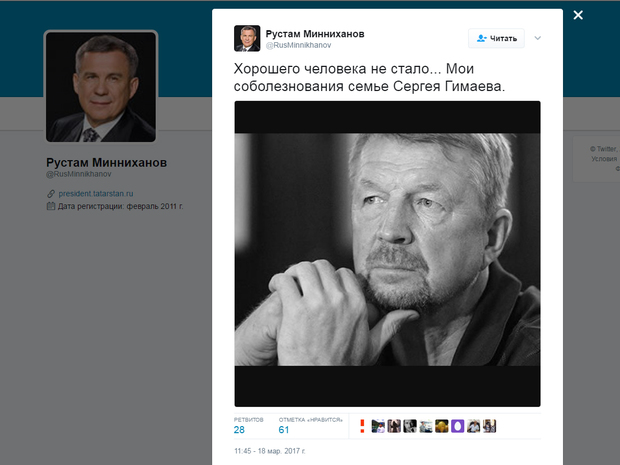 All people, even those who never met him and even those who were not interested in hockey loved Sergey Gimaev. After it was known he died, all leading hockey players of Russia expressed their condolences. Datsyuk, Ovechkin, Kovalchuk, Radulov and many others were shocked at the sad news. Numerous sports federations, regional authorities of Tatarstan, Ufa, Tula, Bryansk and others did not stay on the sidelines.
It seems his death touched everybody. The sudden departure of the head hockey expert of the country is an irretrievable loss for all us. The Russian Ice Hockey Federation said the most accurate and detailed words when it expressed its condolences to the athlete, coach and journalist's family and relatives.
''A whole generation grew up listening to Sergei on television. The Russian Ice Hockey Federation extends its deepest condolences to Sergei's family and friends. He will be greatly missed,'' was written on the official page of the federation.
We all will miss him much…