''Killing mammoths was a tradition in the past, and chopping trees will also fall behind''
Ilsur Metshin urged citizens switched to plastic New Year trees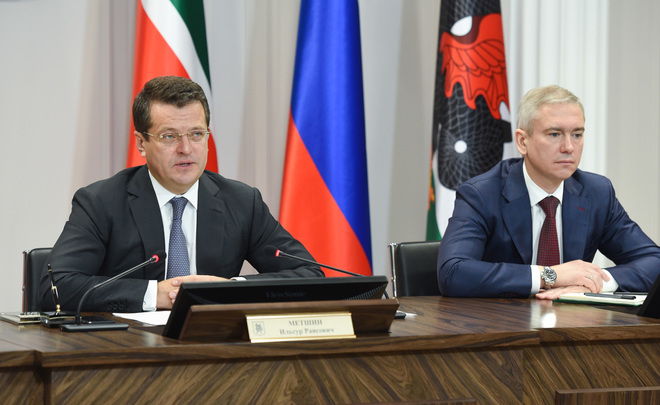 Business Monday that took place on 12 December was almost completely dedicated to New Year: functionaries reported what New Year events guests and citizens of Kazan would have, occupancy of hotels on holiday and how many tree markets would open in the city (as it turned out this business not always allows entrepreneurs to earn money, and mayor of the city doesn't consider it human).
'Cultural holidays' for schoolkids and questions for Tatspirtprom
The meeting of the heads of municipalities and subdivisions of the Executive Committee started with Mayor of Kazan Ilsur Metshin's reminder that it was Constitution Day in Russia: ''It is our holy obligation to obey laws, serve people and follow of the legislation of the Russian Federation. Congratulations!'' Then the functionaries paid attention to another important date, which is upcoming New Year.
This year the capital of Tatarstan will have hundreds of trees and tree sites: the main trees of Novo-Savinovo District and Aviastroitelny District will open in a new park Krylia Sovetov on 23 December and Continent park on 26 December respectively. Black Lake, a part on Syrtlanova Street and other several sites will be 'points of attractions' in Privolzhsky and Vakhitov Districts. Kirov and Moscow Districts will go for a walk in Pinery and Uritsky parks. This year Soviet District will have a novelty – a New Year site at the hippodrome called Khan's Yard. It will open on 24 December. Winter Sabantuy will be held there as well as the New Year's Fair.
As head of the Administration of Culture of the Executive Committee Azat Abzalov told, the central urban New Year's tree (42 metres high and adorned with 3,600 toys) will turn its lights on in the Millennium Square on 30 December. The city also cared about Kazan school kids: they will have an 'interesting cultural holiday'. Every child out of 115,000 school kids will be offered to participate in New Year's celebrations, excursions and cultural events. New Year's show for the 'youngest' schoolkids will be on 25 December. 20 million rubles were expended on presents for kids from the urban budget.
''It is a big responsibility, many guests. Safety in public tree sites and around them is the most important issue. I want us to gather two weeks later and say everything was fine,'' the mayor spoke out. ''We looked at the plans of Tatspirtprom in Soviet District. Help will be needed. We need to work well during the rest of the days.''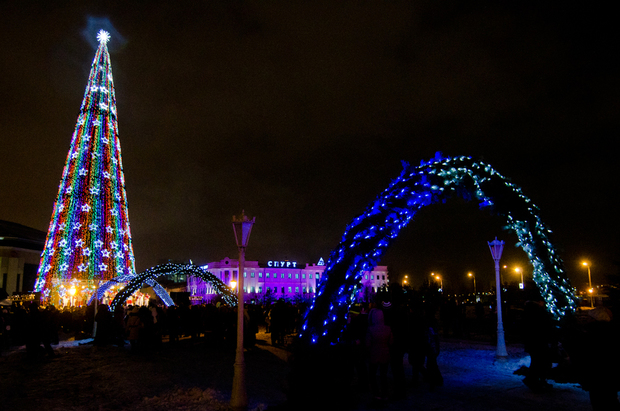 ''N
ot

to chop this beauty for two weeks

is human and right

''


Director of the Committee of Assistance to Development of Tourism of Kazan Daria Sannikova told about the occupancy of hotels during the days off. According to preliminary information, the occupancy at New Year's night is 70%, during days off – 80% (which is a bit less than last year's 90%). This winter guests from Moscow, Saint Petersburg, Samara, Yoshkar-Ola are going to Kazan. Tourists prefer to stay here for three days only. According to Sannikova, the Kremlin Embankment, a fair in Old Tatar quarter, winter Yurkin Park and new big wheel, which has already been visited by 30,000 people, are the main points of attraction for guests.

After Sannikova, chairman of the Committee of the Consumer Market of Kazan Ruslan Zainetdinov delivered a speech and told about a ''short-term and, consequently, quite risky business'' – tree markets. In 2016, all districts except Soviet will be provided with 21 sites for tree sale. As it turned out, sales were not easy. According to Zainetdinov, last year functionaries not always gained money, it affected the situation.

''Today the majority of citizens of Kazan adorn their houses with artificial trees that can be used during many years in a row. We have had a tradition when we planted spruce trees in urban districts (some trees are already 9 years old). Anyway, in my opinion, not to chop this beauty for two weeks is human and right. But there are traditions… Killing mammoths was a tradition in the past as well, and it is. This is why I think chopping trees will also fall behind,'' Ilsur Metshin told.