Hungarian Consul: The events such as with Marriott hotel prevent the tourist flow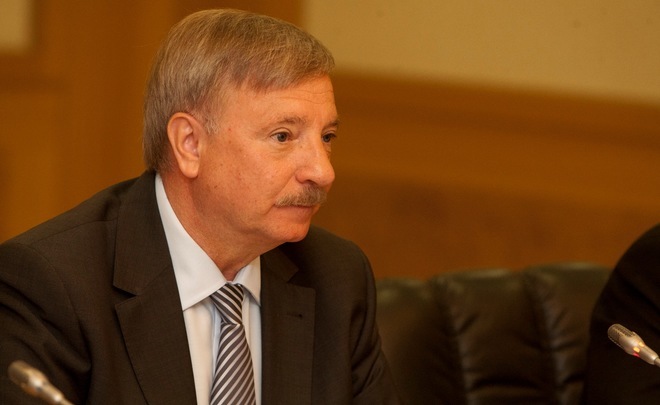 A heated discussion on the touristic attractiveness of Tatarstan suddenly arose during the Christmas Summit-2016. Consul General of Hungary in Kazan Ferenc Kontra expressed his opinion about why it is not enough for a Hungarian tourist to see Kazan, Sviyazhsk, Bolgar and why the Hungarian airlines do not want to fly to Tatarstan. Our newspaper presents his speech so that a reader could understand how the foreigners see the Tatarstan tourism.
''It is not à la European when in the airport each passport is considered for 15-20 minutes''
''We opened the Consulate General in April 2015. This means that we have started the process of registration of the Consulate General. Today I can tell you that the Russian workers will finish by the end of the year, then ours will come. Today we expect that in March we will start issuing visas. Today a Hungarian visa is also issued, but we are working through the office of Pony Express. From January to November, our Consulate issued 2.5 thousand visas in 10 subjects of the Russian Federation. It's not bad, but it would be better if a direct flight was organised, what we have been talking about for two years.
As for this flight. The airline we are talking about is a private Hungarian airline, which flies wherever it is profitable. They do not fulfil anyone's directions. If they feel a flow of Hungarian tourists to Asia, the sea, resorts, they fly. If they see no flow — they do not fly. Here's the problem, they do not see a flow to Kazan, they do not see that there would be a high flow of tourists. Or many Russian tourists form Kazan to Hungary.
Perhaps, only Kazan and Tatarstan are not sufficient to attract tourists from Hungary. I am not talking about other countries, I will not judge. But a Hungarian tourist, first, does not fly if they have to fly for 17-18 hours. It takes almost the same time to fly via Turkey to Kazan, and back. Second, you can see Kazan for 2-3 days. Bolgar and Sviyazhsk – it is also good. But maybe you should offer something a little more. Maybe, you should also show Yoshkar-Ola. It would be possible to collaborate to offer something a little wider.
For the Hungarian tourists, sailing on the Volga would be interesting. I don't know who of you have sailed on the Volga last time. A motor boat, okay. But it is impossible to drink coffee on a motor boat, you can't drink a glass of water, you can't buy ice cream — we need something different. We need a quality service. If this quality service possible throughout a tour, then it is possible to attract tourists. But in order people became acquainted with this product, it is necessary to hold workshops for tour operators in our country, to show that, yes, it will be interesting for you.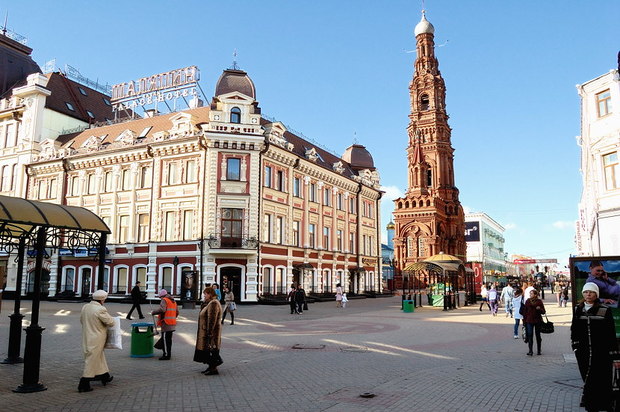 ''Walking along the Bauman Street, I feel that this central street you can ''sell'' in the same way as in any European capital. But I do not hear a single foreign word.'' Photo: kazantravels.ru
I tell these things on the basis of my two-year experience.
I would like to add two more things, which I forgot to mention. Walking along the Bauman Street, I feel that this central street you can ''sell'' in the same way as in any European capital. But I do not hear a single foreign word. My wife and I were walking, we were talking, but we did not meet any foreigner. In general, when I'm there, I do not see or hear a single foreigner.
The second question, probably, is not even to you. I doubt that there are representatives of the border services here. But the fact that at the airport, each passport is considered for 15-20 minutes – it is not à la European. They can explain it as they want, but it is impossible to attract tourists with such approach. By the way, during 2015 World Aquatics Championships the system worked perfectly. Always should be that way. It will be for the benefit of Tatarstan. And then, people who come here, they will want to come here again.
And they should smile — they should not be like cops.''
''Multi-day products already exist''
Fortunately, the representatives of the Tatarstan State Committee for Tourism were sitting right there in the hall, they tried to answer the statement of the Hungarian diplomat. First to answer was the head of the department for development of the tourism industry of Tatarstan State Committee on Tourism Artur Abdrashitov. He noted that the Committee is actively working towards international and regional cooperation. According to him, it is possible that they will create a special product for the tourists from Hungary, as well as for the tourists from China and the so-called the Arab world.
''As for multi-day products, I want to say that they already exist. It is not only two-, three-day tours that cover Kazan, nearby directions — Sviyazhsk and Bolgar, although Bolgar is not quite nearby area. There are five-, seven-day tours around Tatarstan,' said Abdrashitov.
He responded to a remark about the need to create a route with nearby regions. According to Artur Abdrashitov, already today we have created the route Great Volga Way: its official presentation has already taken place, now there will be the promotion of the route.
The audience also responded to the remark about the severity of customs officers.
''Nobody smiles here. It's like your soul is being removed, when they examine my passport,' said General Manager of the hotel Ramada Tatiana Ilchenko.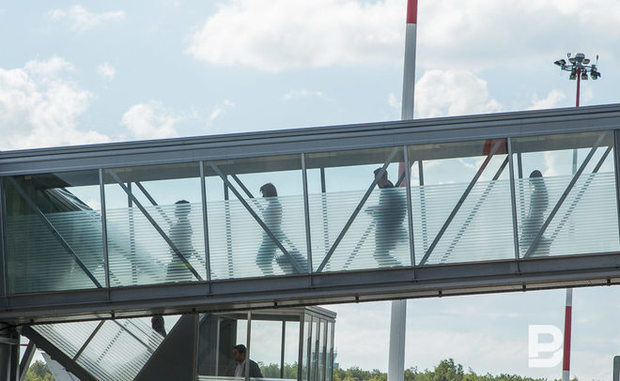 ''Only Hilton is being high''
The speech of the head of the department of the hotel business and tourism Marina Smirnova was quite optimistic. She demonstrated the results of a survey, according to which in comparison with last year Russia is the leader in profitability of the rooms (in national currency). In particular, in Russia the yield has increased on average by 17.6%. According to Smirnova, in Central and Eastern Europe there has been also an increase, whereas in Western Europe, except Germany, the markets have been in the red. However, we emphasise that we are talking about data in national currency, whereas in dollar terms, the growth of yield of the Russian hotels has been not so significant.
On the question why Europe is declining, Smirnova said that it's probably due to the economic slowdown. However, the audience reasonably noticed that in Russia the economy is growing even more slowly.
''We took away the demand from European markets and brought it back into the country. It has been that factor, not fully utilised, which gives us the impetus to the development of, first, tourism, then hotel business,' said Marina Smirnova. In her opinion, this can be considered as an example of import substitution. Besides, she added that on the background of load, the average price is growing.
However, the present hoteliers did not share the optimism of the expert.
''Only Hilton is being high, using current market situation, I see it by the figures. All the others increase the load, not increasing adr (average daily rate, the average rental income per paid occupied room in a given time period — editor's note). Аdr has increased by 10-12% this year. It is very small. Why? Because you know that the whole profitability of a hotel is taken from the average price for a room. And, of course, when all prices are growing not at such pace, a hotel keeps its operating result lower than in prior periods. The hotel should make efforts to reduce this expense,'' shared her thoughts Tatyana Ilchenko.
''A tourist ''smeared'' like a pancake in a large frying pan''
Another interesting trend that was noted during the discussion — the growing number of Tatarstan hostels. According to the president of the Association of the hostels Ilya Tsykunov, at the beginning of this year, in Kazan, there were about 40 hostels in total, by the end of September the number has reached 120. The number of beds has also increased three times — from one thousand to three thousand.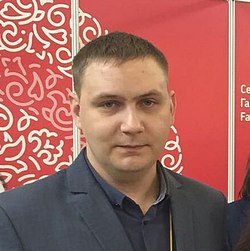 ''The hostels began to appear even in such remote places as Cheremshansky district. The second hostel is going to be opened here. Moreover, this initiative of the owner of the property, that is, he is ready to invest money, to provide favourable lease terms with equipment,'' says Ilya Tsykunov.
He noted that a boom was expected, but later — on the eve of sporting events on an international scale. At the same time, it is not right to explain the growth only by the growth of domestic tourism.
''There has been a blurring, and a tourist ''smeared'' like a pancake in a large frying pan. That is, if it was a small frying pan we would make a thick delicious crust — for a tourist, as well as for the market. In this case, it is a pancake, and very thin,'' concluded Tsykunov. According to him, there is no huge increase of tourists, at the same time, supply has increased three times.
Meanwhile, there are more low-quality suggestions, when in a two-room apartment there live 20 people. Thus, a bad impression about hostels in Kazan.