Shooter Vasily Mosin who could have been a surgeon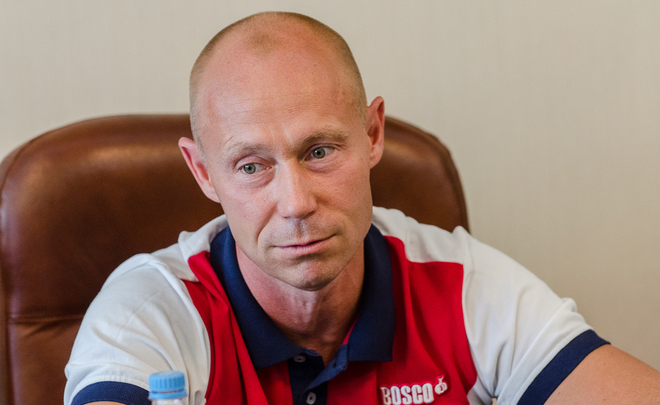 We continue the series of materials about sports stars who forged the sports glory of Tatarstan. Vasily Mosin told about the development of his sports career. His sport – stand shooting – is very interesting. It requires a total concentration, strong nerves and perfect preparation. Realnoe Vremya tells why stand shooting attracted Vasily, what choice he had to make and what achievements he achieved.
Shooting since very childhood
'I was born in a family whose surname was the Mosins. Remember the Mosin–Nagant. I was brought up with patriotism, books about war,' he started to tell his story a correspondent of our newspaper.
Vasily was even born on a special day – on 9 May, the Victory Day. So many things link him with shotgun. However, Vasily Mosin did rifle and pistol shooting first. He switched to stand shooting at the age of 13.
'I chose stand shooting because it is held in the open air. It has more dynamics and more emotions,' Vasily explains.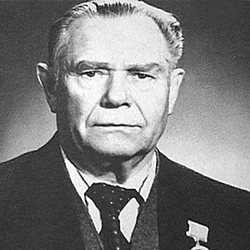 Shooter Mosin's grandfather, Vasily Vasilievich took part in two wars – Winter War and Great Patriotic War. Besides, he was a professor of veterinary, laureate of the USSR State Award, studied science together with Aleksander Vishnevsky.
Mosin's other grandfather, Kharis Garifov, headed the energy supply of the whole city during the wartime. It is a very responsible post because a short blackout can cause serious consequences. So, the question what very Vasily should do did not arise. This is why his father sent him to do shooting where Yury Alekseyev was the young shooter's first coach. Mosin became the world-class Master of Sport under him. After the graduation from the school, Vasily entered the Kazan State Medical University's Faculty of Pediatrics to study microsurgery in traumatology and orthopaedics. Mosin already had experience in that field before the enrolment in the medical university.
Medicine vs sport
'I had a propensity for natural sciences. Aged 14, I worked as a nurse, so that I could delve into medicine and look at the work from inside, join the profession. Moreover, it was the first money I earned,' Mosin tells.
Vasily also worked in medicine during the studies at the Kazan State Medical University. But he graduated from the Kazan State Medical Academy as a resident. Vasily also performed different operations. It was a big and interesting job for him. However, of course, it was not easy to combine medicine with sport.
'We gathered a family council and decided. We chose between medicine and sport like I chose between rifle and pistol shooting and stand shooting in my old days: it was impossible to do both things at a high level at the same time.
Then Vasily's sports achievements were already seen: he was a member of the national team of Russia and was going to participate in his second team tournaments. The debut in the national team became his first serious competition:
'My first serious competition took place in 1995. My goal was to cement a seat in the national team of the country.'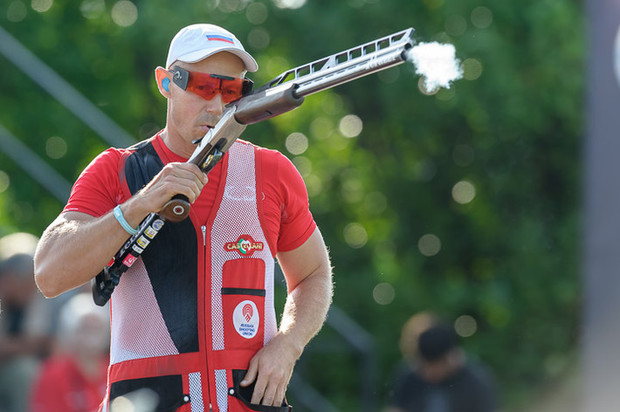 Vasily successfully handled this task. He has been constantly called up to the squad since that moment. At first, as a citizen of Kazan, Vasily represented the sports club of the Republic of Tatarstan's committee. He has been competing for Dynamo since 2000. Then he was a certified employee of the Ministry of Internal Affairs. Now he is a police lieutenant colonel.
Honourable coach of Russia Sergey Demin has been working as the shooter's personal coach since 1995. In 1998, Mosin won his first Championship of Russia. He won the second one two years later. Also in 2000, Mosin won the European Championship in individual and team events. Then his achievements only grew: next victories in the Championships of Russia (2002, 2003, 2005, 2006, 2008, 2013), a victory in finals of the Russian Cup (2005, 2013). He also had success at the international level, of course: apart from his victories in Italy (2000), he won gold medals in Slovenia (2006), Cyprus (2008) in team competition, Serbia (2011), Cyprus again (2012), Germany (2013), Italy (2016) – before the Olympiad in Rio. These are only the victories in European Championships that totalled eight!
He also won a gold in world championships: in Brazil (2005), the USA (2006), China (2008), Cyprus (2013), the UAE (2015)… In 2005 and 2007, Vasily won a silver and bronze respectively. He also got a gold in the 2013 World Championship! Vasily Mosin never lacked achievements! But that's not all. In 2010 and 2013, Mosin won silver medals of the World Championships and repeated his world record having hit 147 out of 150 targets. Vasily won the long-awaited gold medal in the World Championship in 2015 and went to Rio as a world champion. Moreover, the 2016 Olympic Games have been the fourth Olympiad in his career. He competed in Athens, Beijing and, of course, London where we won a bronze medal and became the only Russian shooter to win a medal.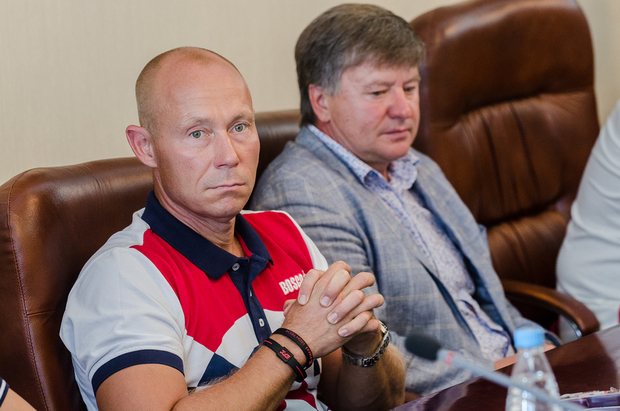 As for the Olympic Games in Rio, these games were not successful for Mosin – he finished only 13 th:
'This is why they are called games. One can win and lose the games. There were great achievements. There was a great defeat too. That's fine,' our hero is philosophising.
And it's true. It is necessary to move forward and prepare for next competitions. By the way, the next World Championship will take place in Russia, in Moscow Oblast. I think Vasily Mosin will have good chances for victory: homeland, rich experience under his belt, and the last Olympiad served a good motivation. In December, Mosin will go to camp to Cyprus in order to prepare for the next season. Aside from frequent shooting training, Vasily does physical exercises on a daily basis:
'I do yoga, circuit training, cardio and endurance exercises. I try to dedicate at least one hour to exercises every day.'
'It is a pleasure to look at the return of Spartak-Moscow'
Vasily Mosin is fond of almost all sports: he follows football, hockey, box, Formula One and likes to watch big tennis.
'I support Vera Zvonareva, Svetlana Kuznetsova, Mikhail Yuzhny. I used to support Marat Safin much.'
As a kid, Vasily had many idols:
'Aleksander Karelin, Vyacheslav Fetisov, Igor Larionov, Vladimir Krutov, Aleksey Kasatonov, Vladislav Tretyak, the national football team of the USSR.'
Now Vasily doesn't have preferences in football. But he likes some teams:
'It is a pleasure to look at the return of Spartak-Moscow. I like Lionel Messi among the players. In auto sport, Valentino Rossi, Michael Schumacher. Sport is constellations.'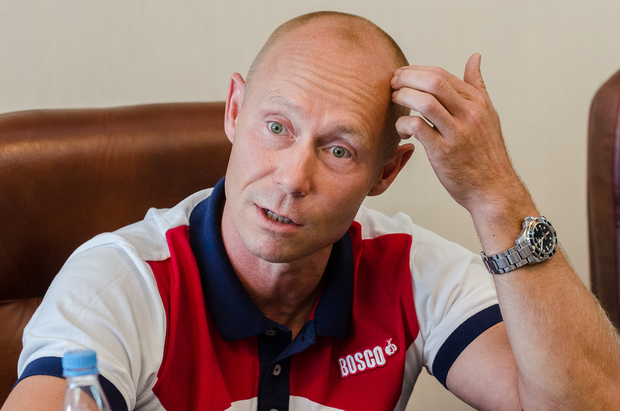 It is necessary to set high and interim goals, plan your work. The most important thing is to love what you do. There will be no results without love.
Mosin stresses the role of personality in sport:
'In sport, I support a person. First of all, sport is a personality's performance.'
I can't help but agree with it. Personalities achieve a result and decide the battle in team sports. Sport develops a person's character. Vasily Mosin thinks that perseverance and sequence in achieving the goals that were set is the main factor of his success:
'It is necessary to set high and interim goals, plan your work. The most important thing is to love what you do. There will be no result without love.'
Vasily has a big family: wife Guzel, daughters Sofia, Kamilla and son Ruslan. Now Vasily Mosin is 44. It is a mature age for shooting. Mosin won his major victories at the international level when he was 30. He is in good shape even now. So, shooter Vasily Mosin has a way to go! We sincerely wish him that he had more positive emotions from victories, made his family and fans happy with new achievements and remained such a pleasant and open person!
By Denis Davydov. Photo: Oleg Tikhonov