'I want to Tokyo': Yana Martynova who wants to come back
The sports staff of Realnoe Vremya continues a series of retrospective materials about sports stars of the past and present of the capital of Tatarstan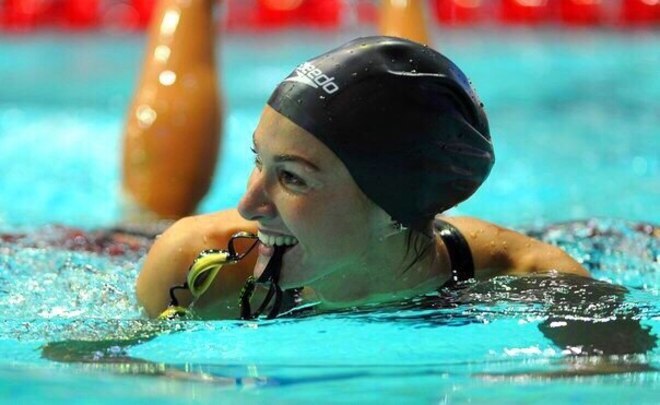 Kazan is famous for not only team sports. An athlete's career is short. And if there is a doping scandal in it, the athlete has less time for big victories. Despite it, swimmer Yana Martynova won 39 gold medals in the Russian Championship, took part in three Olympic Games and broke records. Now Yana is trying to work as coach. The sports staff of Realnoe Vremya tells about Yana Martynova's career.
First achievements
Yana grew up in a sports family: her father, Valery Martynov, holds the record of the biggest number of matches played for FC Rubin and her mother Tatiana played volleyball, a sister Marina – Master of Sport of Russia in swimming. So Yana simply could not help but do sport. Her father brought her to swimming pool that was located across the road from their house at the age of 5. Together with her older sister, she attended the classes. When Yana was 6, she started to swim with a wonderful coach Gulnara Aminova (she has been working with her till now). It became one of the components of Yana Martynova's success. The young swimmer had an idol in front of her.
'I remember that my dad got home after training with a big bag, sat on it in the hall and was sitting on it during 20 minutes. He was so tired,' Yana Martynova recalled in a talk with Realnoe Vremya's correspondent.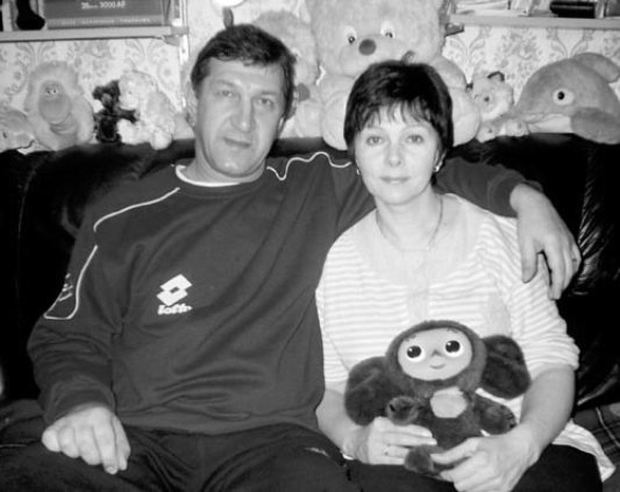 Yana inherited perseverance, diligence, strength of spirit and desire to win from her father. When she was 11, Martynova got the title of the Master of Sport. Aged 14, she became a world-class Master of Sport. She has regularly competed in the national team of Russian since 2000. Yana debuted in the national team in the 2002 FINA World Swimming Championships (25m) in Moscow. During the 2004 Olympiad qualifier, Yana won her first gold medal in the Russian Championship. The swimmer has warm memories about her first achievement.
'I had amazing emotions. It took much time to achieve it. My family and I were incredibly happy for this victory. To qualify for the Olympic Games at such a young age. I left behind the girls I was a friend of and I trained with. I remember my first victory very well,' Yana Martynova admits.
Yana – at Olympics
Finally, Athens. 2004 Olympic Games. 16-year-old Yana is one of the youngest participants of the competition of that scale. She flew to Greece without her personal coach that complicated the task to get a medal: 'Then I was so happy to compete at the Games at such a young age. As my father says, you are especial if you participate in them'.
That Olympiad became excellent experience and lodgement for her further career. Then there were wins in Russian championships, a silver medal in the 2007 FINA World Championships in Melbourne and a bronze medal in the European Championships in Eindhoven. 400-metre medley is Yana's best event. So, in 2007, having lost to the world record holder Katie Hoff, Yana took a silver with a time of 4:40.14. In 2008, she improved her result by 3 seconds and won a bronze medal.
Yana reached the 2008 Olympics in Beijing in good shape: it was not her first Olympiad, she had many big victories under her belt. She had the best age – 20. In the preliminary round, Martynova set a Russian record for her time of 4:36.25. At the Olympic Games in Beijing, Yana finished seventh in 400 m medley.
'It is my best Olympiad. I reached the final and set a record of Russia. This is why I am very happy,' she admits.
Apart from 400-metre medley, Yana competed and won in 200 m butterfly. She admits that speed is not her forte. But her stamina is fine. Injuries are one of the major problems of athletes. An injury did not let Yana Martynova successfully perform at the 2012 Olympics. During a training in London, she was finishing the event backstroke, Anastasia Zueva accidentally beat Yana's hip bone with her shoulder: 'While I had a shock of the stroke, I did not feel any pain. I decided to continue training and swam further. Then I felt an acute pain. My eyes were full of tears. I simply could not move. Then I swam till the board. People helped me to get out of the pool. But Yana appeared in the competition. Was there any other option? She put so much effort to prepare. She was going to win. Unfortunately, the injury made its presence felt during the heat. Martynova was only 24 th and could not reach the final. Moreover, her coach Gulnara Aminova was not allowed to approach her in the pool. The administration gave accreditations to only three coaches. There was nobody to support the athletes during the heat.
'I will show you that it won't break me!'

Yana Martynova demonstrated the strength of her spirit and will to win in the Russian Championships in 2007 when all her valuable possessions were stolen in the changing room: phone, jewellery. It was a big stress for the 19-year-old athlete. But Yana started the competition with a greater desire to win.
'That's what you think? I will show you that it won't break me.'
The first heat, and Martynova won a gold medal and set a record of Russia! Another distance kicked off in several minutes. A gold again! So, two victories in 400-metre medley and 200-metre butterfly demonstrated to all her opponents how strong Yana Martynova was.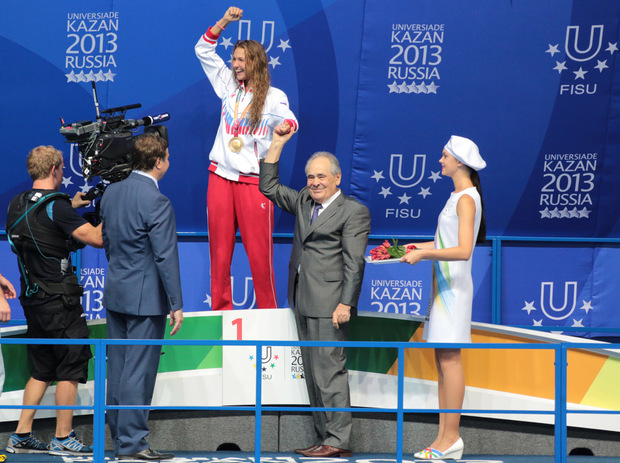 In 2012, Yana graduated from the Kazan State Financial and Economic University in Management and Marketing. She was a manager. Then she started her Master's Degree in the Institute of Physical Culture, Sport and Restorative Medicine at KFU. As a student of this university, she won the 100th gold medal for Russia in the 2013 Universiade at home.
In 2013, Martynova went to the USA for a training camp and was strongly impressed by their training process. David Salo who worked with many Olympic and world champions, including Rebecca Soni, Kitajima Kosuke, was her coach in the States.
Martynova wanted to participate in the 2015 FINA World Championships very much. It took place in her native Kazan. But the athlete could not compete due to an injury. Then a doping scandal that included many Russian athletes took place. Ostarine (an anabolic agent) was the subject of the discussion. Very Yana denied it. Moreover, she was checked by a lie detector that proved her correctness. But it did not help the athlete to escape a 4-year disqualification. So, Martynova missed the 2016 Olympic Games in Rio.
Yana's disqualification ends on 27 July 2019. This is why she has a chance to participate in the 2010 Olympiad in Tokyo. Very Yana comments it this way:
'I want to go to Tokyo very much. I won't forecast. I did it before Rio, and look what happened,' she plays safe.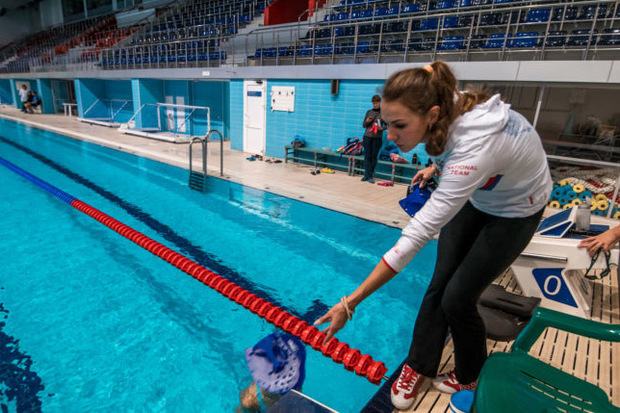 Despite the circumstances, Yana decided she needed to move forward. She has had a desire to open her swimming school:
'In general, I have never planned to be a coach. In the summer 2016, I gave several masterclasses for kids. I liked it. I used to earn my living myself. This is why the idea of opening of a school arose,' says Yana.
MY School (MY — initials of her name and surname) opened in September in KAI's Olymp swimming pool. A unique American method is used at training at her school. She knew about the method when she trained under Dave Solo. Her personal coach Gulnara Aminova advises her and sends some children to train with Yana.
'My parents are very glad. People even from other cities come to me. I remember myself at their age. This is why I am very strict about them,' the athlete said.
Yana is working with kids and really enjoying the work. She can't leave the pool. She doesn't need to do it. The Olympic Games in Tokyo that can become the fourth Games in her career are ahead. We hope to see Yana Martynova there very much.
Reference
Yana Martynova is a world-class Master of Sport, 39-time champion of Russia, gold medallist of the 2013 Universiade, silver medallist of the 2007 FINA World Championships, bronze medallist of the 2008 European Championships, participant and finalist of three Olympic Games in Athens, Beijing and London.