Tatarstan cinematography: rather alive than dead
What to expect this season?

Our literary giants Mansur Gilyazov and Ildar Yagafarov defined the situation with Tatarstan's cinematography accurately and harshly by naming their film You Alive? Producer Marina Galitskaya thinks so in a column written for Realnoe Vremya before the start of Muslim Cinema Festival.
What am I expecting?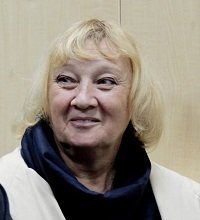 We are concerned about global and local problems, we are concerned about the search for our own film language, development of ethnic cinema and universal, national, Tatar, Russian, Asian and European cinema. What is more important: a mainstream or auteurism? This issue can be resolved only in a separate cinematographic project and will always be here. Will a film be released in Russia or not? Will a film be shown in cinema or visit several countries by participating in festivals?
Two bright talented films have appeared in Tatarstan. Puvyrga by Vlad Petrov is an author's film, deeply personal, sincere, almost intimate and at the same time it is a purely film art piece created in tandem with artist Ilgizar Khasanov. Of course, this is a contemporary film, and such films are rare for world cinematography, while Tatarstan has never had even similar films.
And the second film is Mikulay by young director Ilshat Rakhimbay based on Mansur Gilyazov's namesake composition, a mono play with puppets became the literary foundation. The play turned into a thriller but at the same time it preserved all the deepness of the dramatic composition, famous Russian theatre and film actor Viktor Sukhorukov plays the main role amazingly. In this film, the director tried to combine the modern film language and an ethnic culture. It became possible to re-enact a Tatar Makondo filled with bright Kryashen ethnography, solar symbols and universals signs of the light, sky, fire and the continuation of worldly and heavenly lives. The film was released in Russia in July 2023.
I expect new films to appear at Kazan International Muslim Cinema Festival this year. I am looking forward to a discovery film by young director Baybulat Batulla, a full-length debut Up and Remember shot in a Tatar village last year. Baybulat is incredibly talented, ironic, modern, unique — all his short films became bright memorable events of Russian film festivals.
I am waiting for another debut as director in the international competition programme — film Ada based on a script written by Kazan writer and film scriptwriter Denis Osokin. And of course, it is interesting to see the regional Tatarstan competition, see talented films and learn new names.

Funds and institutions
cinematographic expectations are linked with new possibilities of funding of cinema projects on a competition basis:
The Fund for Regional Cinema of the Russian Union of Cinematographers created to support documentaries, which had been discussed a lot, and there is sense in submitting not only projects of small documentaries but also legendary films and documentary series, appeared last year;
The Institute of Internet Development is another resource that support topical online formats;
A Tatarstan competition by the Ministry of Culture personally inspires hope in me this year because three ethnographic themes have appeared there. Ethnography and anthropology are a popular area of modern-day education in humanities, national cultures are studied and conserved around the world as university disciplines based on learning documentaries, anthropological and ethnographic films.
And, of course, I am eager to see another project created by Tatarkino in a programme of Tatar classic literature. The Mountain of Sweethearts based on people's poet of Tatarstan Ildar Yuzeyev's novel will start after the end of the film festival. Poet Ildar Yuzeyev raised the theme of the importance of conservation of natural landmarks as people's spiritual and cultural heritage, which is topical for us, for the first time in Tatar literature. The main heroine of the film protects her mountain as symbol of her connection with her love. For her, the mountain became a holy place where she feels his presence, remembers the love and vow of loyalty they expressed to each other. Director Salavat Yuzeyev develops the script in a road movie with flashbacks format when the main film heroes were young and an optimistic final with the conservation of the Mountain of Sweethearts.
Reference
Marina Galitskaya was born in Bavly, she is a Candidate of Biological Sciences, producer of Innovation: Kurban-roman studio, He, His Muse and Classmates, Tatartometrazhki and others. Marina Galitskaya is the director of Fatima women's crisis centre.
Tatarstan