Living symbol: Tatarstan ecologists to present new concept of snow leopard breeding centre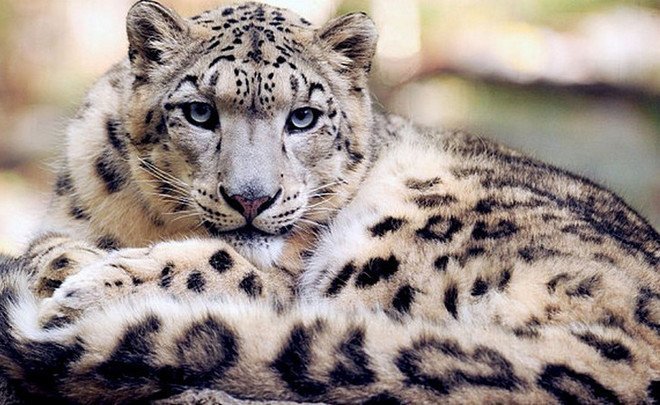 The International Snow Leopard Day was celebrated on 23 October. Snow leopards, which are on the IUCN Red List, total no more than 70 species in Russia. Snow leopard is the official state symbol in Tatarstan, but the animal doesn't live here. The only two species were in Kazan Zoo & Botanical Garden, however, they died two years ago. Meanwhile, the republic still wants to create a snow leopard breeding centre.
How and why International Snow Leopard Day appeared
The International Snow Leopard Day has been celebrated on 23 October for six years in a row. International Global Snow Leopard Forum in Bishkek laid foundation to it in 2013. This unique animal is on the IUCN Red List because of its low number and a risk of being among extinct species. The large cat is native to the mountain ranges of Central and South Asia. Apart from Russia, snow leopards can be found in Afghanistan, Myanmar, Butane, China, India, Kazakhstan, Kyrgyzstan, Mongolia, Nepal, Pakistan, Tajikistan and Uzbekistan (almost all of them participated in the snow leopard forum). The rare coat pattern and value of snow leopards' fur made them a "target for poachers who are ready to risk a lot for an illegal hunt for the wild animal".
Both the expansion of pastures and cattle grazing areas in Central Asian countries to mountainous areas leads to a reduction in the population of animals. So the habitat of snow leopard shrinks. Control over the rare animal's population size is conducted in snow leopard's habitat, particularly with camera traps (because of this wild cat's extreme caution).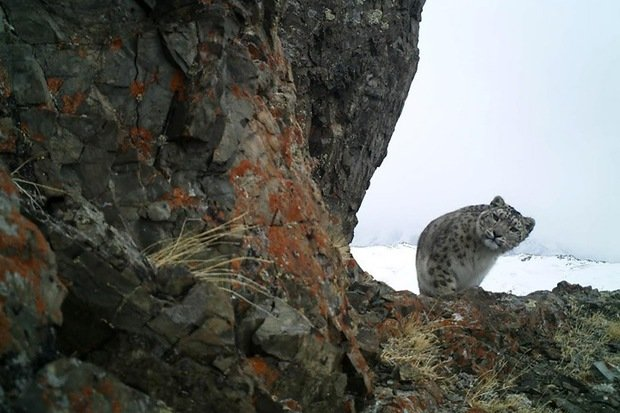 By 2013, by preliminary estimates, from 90 to 150 species of snow leopard lived in Russia, while their total population amounted to 7,000. Considering that their number was already assessed at 4-7,000 in 2003, their population doesn't almost grow, this is why snow leopard was added to the International Union for Conservation of Nature's Red List and Russia's Red List.
Today WWF confirms presence of just 63-64 snow leopards in Russia
By the way, there was the first attempt to count snow leopards in Russia in spring with mobile phones: the world's first mobile application to count the rare carnivore with its provisional name NextGIS Collector was designed by Russian specialists of a Moscow company in 2018 on the initiative of the World Wildlife Fund. It turned out that the previous numbers of 90-150 species, sadly, were exaggerated. WWF confirms the presence of just 63-64 snow leopards in our country, including 16 cubs in nine broods, over 40 of them live in the Republic of Altai. To compare, there were counted 61 snow leopards in 2018, including 23 cubs in 10 broods.
In 2014-2018, the population of snow leopard was almost destroyed because of musk deer pouching in the Western Sayan, experts of the Sayano-Shushenski Nature Reserve noted: the habitat of snow leopard began to go beyond the nature reserve's boundaries. As a consequence, only one male snow leopard left on the territory of the nature reserve by 2017, female snow leopards live in places they were born: "There is a crying need to let the animals that were brought go".
In August 2019, RusHydro company launched a project aimed at recovering the population of snow leopards in Krasnoyarsk Krai by attracting specialists from the Sayano-Shushenski Nature Reserve. The restoration will include "breeding adult species in captivity and let their breed go into the wild in the future, on the territory of their historical habitat". In addition, the specialists will rehabilitate animals injured in the wild and create a scientific laboratory on the territory of the nature reserve.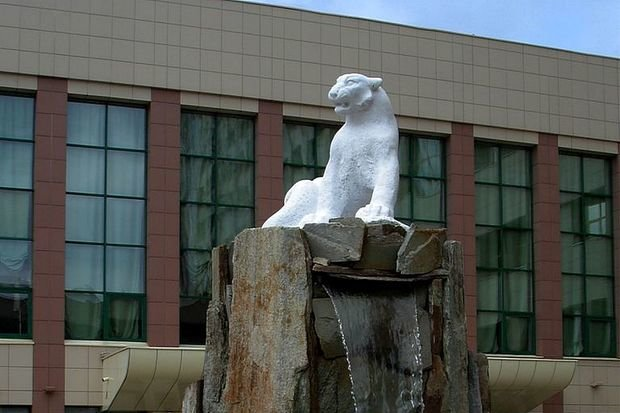 Two years without snow leopards in Tatarstan…
Snow leopard is a national symbol of Tatarstan, though snow leopard has never lived in the republic itself, except the Kazan Zoo & Botanical Garden where female snow leopard Sylvia appeared first, then male Tamerlan was brought — First President of the republic Mintimer Shaimiyev gifted him in 2005. Consequently, Tamerlan had a girlfriend Teofani, it was even said in the republic about plans to breed leopards in captivity. But both leopards died in 2017 (Tamerlan died first, Teofani followed him in October).
At that moment, Kazan Zoo & Botanical Garden promised to purchase two leopards at once. But they were warned that they would have to agree on plenty of documents for this purpose, as the animals were on the Red List. There hasn't been any information about purchasing leopards since then.
As it is known, a new zoo has been built in Kazan since 2015, it is supposed to open at the end of the year, including the new part of the zoo the Zambezi River with animals from Africa. But there is no information about the supposed purchase of snow leopards on the website of Zoo & Botanical Garden. There is a plan to create reconstructions of three expositions at the second stage with species of animals living in different regions of Russia, including animals of Western Siberia and the Far East: "Such big animals as Siberian tiger, Amur leopard, Himalayan bear are supposed to be here". There are no snow leopards among them again.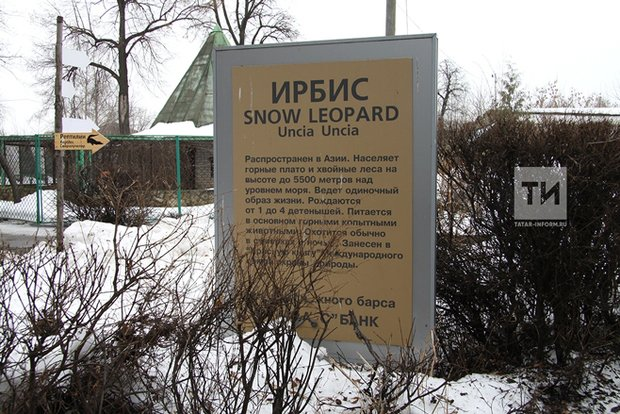 … but there is an idea to creation Snow Leopard Breeding Centre in Tatarstan
We should remind that authorities of Tatarstan started to speak about an intention to create a snow leopard breeding centre in 2017 already, just a couple of months to the first Kazan snow leopard Tamerlan's death. At first, it was supposed to be in Sviyazhsk hunting farm. "The main works on creation of the centre are planned to be completed in 2017," the Tatarstan Ministry of Ecology claimed then.
According to the plan, snow leopard's cubs should live in the centre until they are eight months old. They were planned to be created all conditions, particularly, in a rocky area to make snow leopards' habitat as close to their home as possible. Specialists from the republic learnt experience in the Leopard Recovery Centre in the Caucasus for this purpose. After their cubs grow up, they should be sent to the rehabilitation centre that was created in the same Sayano-Shushenski Nature Reserve. In 2017, the centre's opening was postponed to one year.
"We already began to work in this area, now we need breeding stock. We found a place, the task isn't that complicated. I think the construction will certainly begin in 2018, and then when they appear they will have to be placed somewhere," Tatarstan President Rustam Minnikhanov claimed in autumn 2017.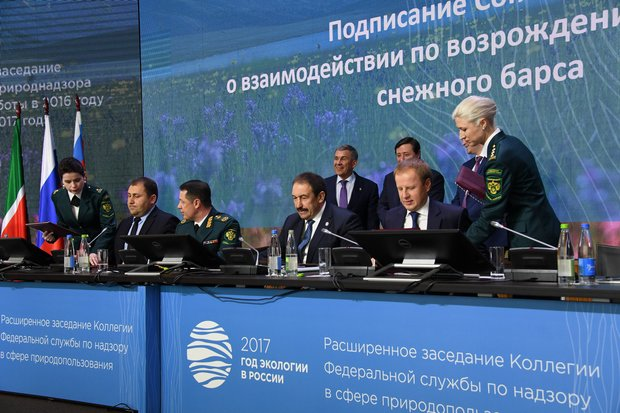 Why WWF and RAS are against the idea of breeding snow leopards in Tatarstan
However, the construction of the centre didn't begin in 2018. Instead, a discussion among scientists and politicians about the suitability of the snow leopard breeding centre in Tatarstan began last autumn. The World Wildlife Fund of Russia was first to oppose snow leopard breeding in the Volga-Kama Nature Reserve in Zelenodolsk District having offered Kazan Zoo to do it. The argument was that snow leopards had never lived in Zelenodolsk District and shouldn't live there. However, in the fund's opinion, they could be brought up in the zoo and prepared for independent life in the wild.
Firstly, the snow leopard breeding programme in Tatarstan with their further resettlement to the wild was created to be implemented in Kazan Zoo, director of the fund Igor Chestin explained: it was supposed to create a special open-air cage for these purposes. But he was surprised that in 2018 the plans to locate the snow leopard reintroduction centre changed in favour of the Volga-Kama Nature Reserve: "If the zoo wants to participate in the wild animal breeding programme in captivity and finance it, it is good, we support it. But if it is done in a specially protected area of federal importance such as the Volga-Kama Nature Reserve where snow leopard has never lived and shouldn't live, in our opinion, it is a mistake".
Tatarstan Ministry of Ecology already creates new concept of the centre
The Ministry of Ecology of the Republic of Tatarstan claimed that the measure on the creation of a centre for reserve population aimed at increasing the number and testing methods of breeding and reintroduction in the Volga-Kama Nature Reserve was included in Ecology national priority project. When choosing the format of the planned centre as well as methods of breeding and reintroduction of snow leopard, the ministry promised to use the experience of both the World Wildlife Fund, authorised federal ministries and Kazan Zoo & Botanical Garden and Kazan Federal University. Save Your Snow Leopard! programme, which was created by international experts including specialists from the Republic of Altai — the historical habitat of leopard — was also promised to be used in the work.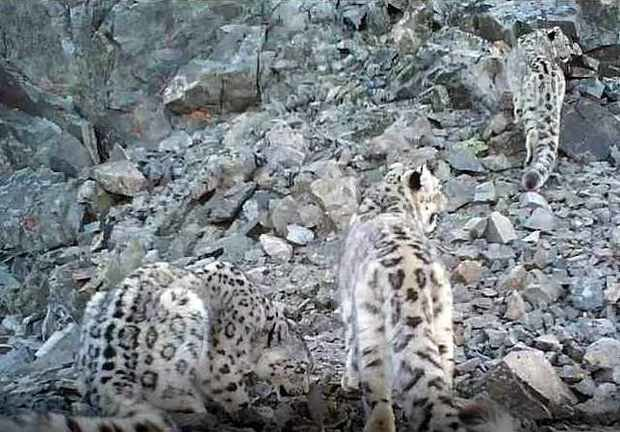 However, experts of the A.N. Severtsov Institute of Ecology and Evolution of the Russian Academy of Sciences also expressed their opinion after the fund. Member of the working group on snow leopard academician Vyacheslav Rozhnov claimed that "the experts have always been hostile to the idea of the construction of the Snow Leopard Breeding Centre in the Republic of Tatarstan". Moreover, they offered to create another centre in Tatarstan that studies biology of rare cats where both specialists from the Russian Academy of Sciences and the republican academy of sciences and other institutions could do research.
This April, Director of the Administration on Animal and Vegetal Life Protection of the Tatarstan State Committee for Biological Resources Rinat Chispiyakov also reminded that Ecology national project already included a programme on preservation of rare species, snow leopard was among them, though "we've never had it, neither have we had it in neighbouring regions". He admits that to preserve snow leopards as species, it is necessary to create special conditions: "It was planned to create a farm to breed snow leopards in Tatarstan. It is clear we won't be able to create its natural habitat, but we should do something to save the species. It was supposed to create a snow leopard breeding centre in the republic and have offspring, then take them to a region where snow leopards live and let them go to their natural habitat after certain preparation in deliberately built open-air cages". It is considered to spend up to 4 trillion rubles on Ecology national project itself, of which 3 million are non-budget sources.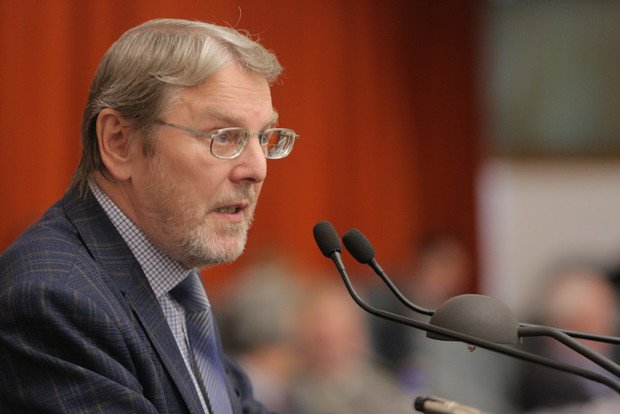 Nothing has been heard about the construction of the centre since last autumn, though it was promised to be built in 2019 already. Head of the press service of the Ministry of Ecology of the Republic of Tatarstan Liliya Mulyukova told Realnoe Vremya that nobody refused the idea to construct the centre in Tatarstan. However, now "it will be a bit different". At this moment the new project of the centre is under development, the ministry doesn't give any details at the moment. The project itself was already promised to be made public in November 2019.
Tatarstan