Ruslan Shigabutdinov: "TAIF Group is like a good Swiss watch — no need to look into the mechanism's settings"
Change of top management in the head office of one of the leading petrochemical and oil refining concerns of Russia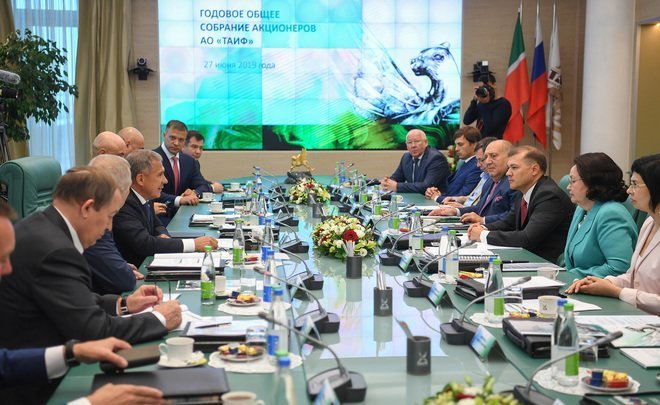 TAIF Group of Companies and its lead entity — TAIF JSC — summarised last year's performance on 27 June. The general meeting of shareholders took place in the head office of the company in Kazan. The message about the change of management was also made public there. Albert Shigabutdinov, who was one of the founders of one of the biggest investment companies of Russia and unchangeable director of its head company, made a decision to leave the post. More is in Realnoe Vremya's report.
Rustam Minnikhanov: "Mr Shigabutdinov, you are there for us and don't go anywhere"
Albert Shigabutdinov made a decision to leave the current post public in his recent interview with Vedomosti newspaper. At that moment not everyone believed that the person who had chaired TAIF since the foundation of the Group of Companies, which is about 30 years, and had seen all the stages of its growth and development, was serious. However, the information was confirmed at the general meeting of shareholders. Officials of the Group and authorities of the republic supported the decision of the TAIF JSC director general.
"The issue isn't easy: Mr Shigabutdinov was the founder of TAIF company, which today has become the largest industrial group in Russia. The decision Mr Shigabutdinov made was unexpected for us… But it is clear that this happens one day. I must say that it is a committed person, a person who achieved the impossible, some things he offered us first seemed absurd. But thanks to his effort, perseverance they became a reality. A big business requires serious work. Mr Shigabutdinov, I must thank you for such work, and, most importantly, I must note that you are there for us and don't go anywhere and will give tips like a big brother, help when it is necessary to make some decisions," President of Tatarstan Rustam Minnikhanov addressed Albert Shigabutdinov.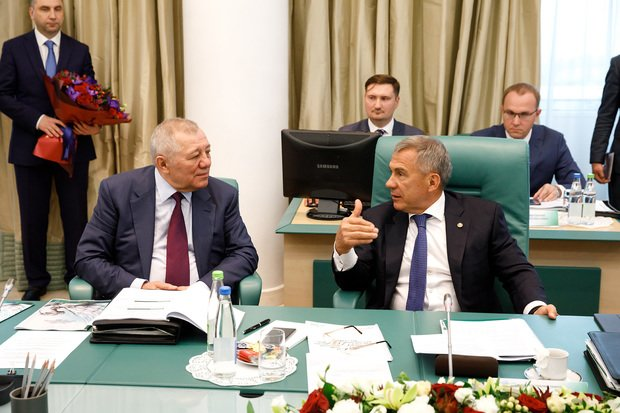 Albert Shigabutdinov explained himself later what the phrase "you are there and don't go anywhere" meant during a talk with journalists:
"When we are young, we have a lot of desire, energy but lack experience. We substitute it with working capacity. Then as time goes by, you do what would take you months in your younger days to do due to a lack of experience for a week or a day. But, unfortunately, there comes a time when you can't apply all the huge experience because the working capacity doesn't allow everything. It means it's high time to leave, not to be a brake on young people who have both a huge working capacity and both personal experience and the experience that has been accumulated. So for this reason, I made such a decision. It was agreed with both officials of the republic and the shareholders. Everyone supported me but didn't let me go completely: there was offered the post of adviser to the director general in development and made a proposal to chair TAIF managing company, which has been recreated and separated from the composition of the head company. I feel deep respect for the team I work with and the shareholders who supported me, and I will say yes."
However, Mr Shigabutdinov hasn't decided when he takes up the new duties:
"It needs to be legal. I have been brought calculations. I have 300 days of holiday ahead. So I am thinking if I should ask for money or go on holiday," he shared with the journalists.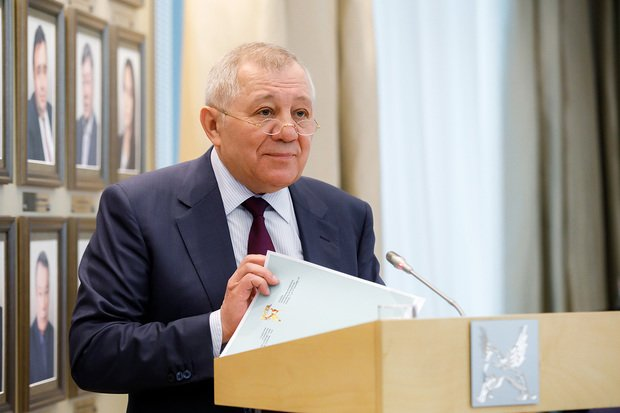 Albert Shigabutdinov: "Today is my last working day as the director general of TAIF JSC"
Albert Shigabutdinov is both an engineer, economist and administrator," Rustam Minnikhanov gave a brief characteristic of the TAIF JSC director general.
At the meeting with journalists, Albert Shigabutdinov himself stressed: "Today is my last working day as the director general of TAIF JSC." But before passing the business to the successor, he summarised the performance of TAIF Group of Companies and TAIF JSC — reported on the job done in front of the shareholders and the board of directors.
"The financial year showed again the correctness of the strategy we had chosen aimed at improving the maximum efficiency of operating production capacities, investing, the conclusion of innovative projects that have a huge meaning not only for the economy of our republic but for the Russian Federation in general," Albert Shigabutdinov stressed.
Despite tightening anti-Russian sanctions, the Group's companies effectively carry out their investment programmes. In 2018, the Group of Companies invested about 60bn rubles in its own development (this sum has exceeded 734bn rubles, or $19,5bn since the foundation of TAIF). The key share of investments is concentrated in flagship businesses of TAIF GC: oil refining, petrochemicals and power engineering.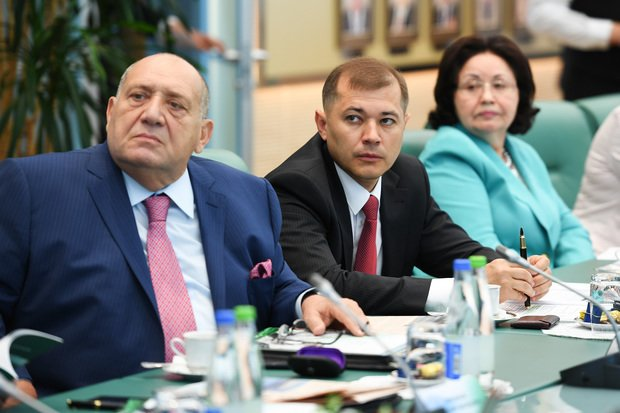 The tasks the Group of Companies sets for itself is to increase the oil conversion rate with the production of high-quality light oil products to 98,5% of the total feedstock volume, improve the efficiency of operating factories, including production of isoprene rubber with which TAIF Group holds almost a half of the world market and launch new factories such as the Heavy Residues Deep Conversion Complex, the first stage of Ethylene-600 complex, which is under construction, a methanol complex with an installed capacity of 500,000 tonnes of products a year, a bioplastic project, the construction of its own electrical power generation facilities at Nizhnekamskneftekhim PJSC, Kazanorgsintez PJSC, TAIF-NK JSC. The total sum of investments in the development of existing and construction of new factories will amount to 1,5tr rubles until 2030.
Last year, the Group reached a record high revenue of manufactured goods and services it provides — about 880bn rubles. Taxes paid to different budget levels totalled almost 62bn rubles, including about 17,5bn rubles to Tatarstan's budget.
"The highly professional labour of all employees of the Group without exception and self-dedication together with a smartly chosen investment company allow us to successfully compete in the Russian and international markets in production and sale of oil refining products, petrochemicals and services, which are sought-after around the world," Albert Shigabutdinov stressed. While effective work requires a decent wage. An average salary in the Group of Companies (which is 43 companies with a total number of employees of over 38,000 people) was equal to 51,500 rubles, which is much higher than the average republican indicator.
The Group of Companies is making no less ambitious plans for 2019. The results for the first half of the year promise to be not worse but perhaps better than in 2018. If external factors don't interfere.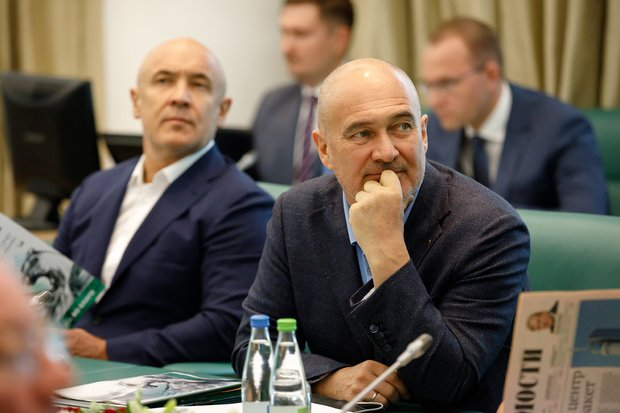 "Nowadays the Ministry of Finance of Russia together with the Ministry of Energy are creating a project of the federal law on imposition of reverse excise on capacities that will be modernised or put into operation after 1 January 2022. In case of adoption of the law in the version offered by the ministry, considering the current situation in the world, Nizhnekamskneftekhim will have lower competition in the market. A fatal outcome isn't excluded.
An estimated loss of TAIF Group might be measured in tens of billions of rubles. Moreover, taxes paid to the republic's budget will reduce, and the fate of the petrochemical company in Tatarstan will be under question soon. We turned to the Ministry of Finance and the Ministry of Energy of the Russian Federation offering to make amendments to the bill. But they haven't been accepted at the moment," Albert Shigabutdinov shared his fears.
Rustam Minnikhanov promised to render all possible assistance.
Albert Shigabutdinov: "Revolutionary changes aren't supposed now"
"I believe that it is a deserving candidate, and I will turn to the board of directors to choose Shigabutdinov Ruslan as director general of TAIF JSC," Rustam Minnikhanov addressed the board of directors with such words when the question who Albert Shigabutdinov would hand over the reins of power to arose. The voting and count didn't take much time — the decision was unanimous.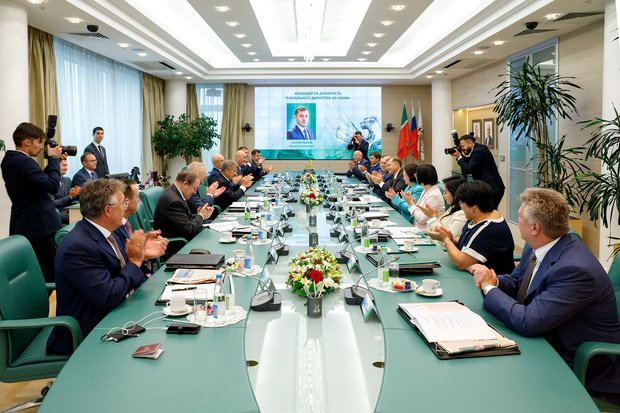 As the Tatarstan president stressed, the new director general of TAIF JSC has a rich experience: he has already had a good school by heading the boards of directors at Kazanorgsintez PJSC and Nizhnekamskneftekhim PJSC, working as a vice director general of TAIF JSC in Corporate Property Management and Investments and is aware of all both manufacturing and social programmes fulfilled by the Group of Companies.
"Be as ambitious and man of principle as you are. And achieve the goals you set. Mr Shigabutdinov has always had this quality to choose the most complicated tasks and know how to perform them by mobilising both money and people. And, of course, he has never felt pity for himself. I think Mr Shigabutdinov Jr has already covered a good path, he is an experienced person. Safe journey!" the president gave Ruslan Shigabutdinov a pep talk.
The elected director general noted himself when answering journalists' question: "If we compare TAIF with a good Swiss watch, it can be only wiped, polished and without looking into the mechanism. If we compare it with a good universal Swiss Army knife, some blades require polishing, slight cleaning, and then it can run with this mechanism. Revolutionary changes aren't supposed now because it is a very well-oiled, balanced mechanism in preparation of decisions, in decision making. We can only improve the foundation that was laid and rules and see what to improve as efficiently as possible without shifting the balance. The task is to improve only."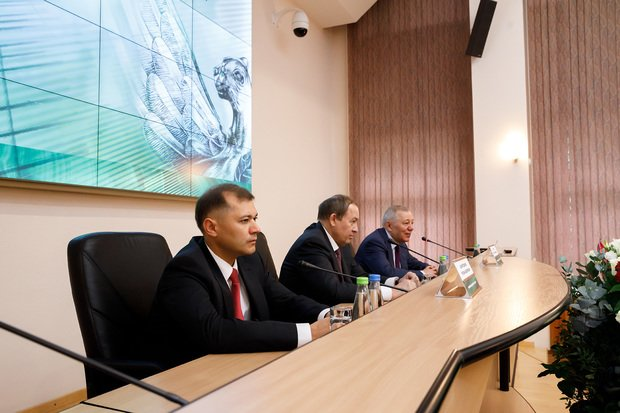 Neither are there supposed dramatic changes in the petrol station sector. According to Rustem Sulteyev, chairman of the board of directors, vice director general in Production and Commerce, first vice director general of TAIF JSC, it's not planned today to expand the network, which today has 220 petrol stations. But it is planned to increase the volume of sales to 450,000 tonnes in 2019 (against 380,000 tonnes in 2018).
Rustam Minnikhanov expressed his hope that TAIF would remain a socially oriented company. Today the Group of Companies participates in different programmes. Last year, the Group's companies completed the participation in a housing programme for their employees. Over 5,000 TAIF workers have given a house-warming party in five years. A lot of attention is paid to support sport and a healthy lifestyle.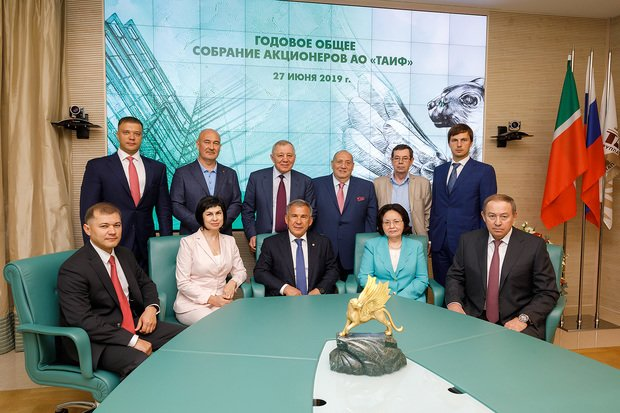 "Your participation in the life of the city, the republic, in our programmes, what we are proud of today — UNESCO sites, Sviyazhsk, Bolgar, the cathedral and other social projects — here, of course, the contribution of TAIF Group of Companies is huge. We realise this and understand that there are certain temporary difficulties in the financing of big projects. And, of course, football, which we love, ice hockey… We can't live without it. There are problems, of course. But we believe that we must succeed in football and hockey. I would like to thank both the board of directors, the shareholders, the executive directorate, first of all, the whole team of TAIF Group, which is operating in very complicated conditions today. And we should consolidate all effort to secure success for all our projects. Mr Shigabutdinov Jr, we wish you success, safe journey, might you manage not only conserve what you decided to but also reinforce and multiply it. To conserve means stay still," Rustam Minnikhanov emphasised.
TAIF Group of Companies has never allowed such a thing throughout its work. The motto "Keep moving!" is one of TAIF's mottos for a reason.
Analytics
Tatarstan