This is PSEDA! How Taliya Minullina breaks down investors' prejudice
Taliya Minullina tried to convince investors that the republic is getting rid of cronyism and family ties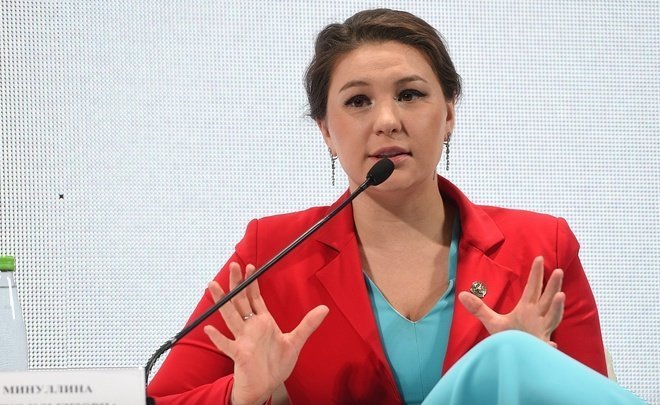 The international forum named This is PSEDA!, which ended two weeks, made a strong impression of Russian investors. The head of TIDA changed functionaries' format of a visit to Tatarstan Priority Social and Economic Development Areas and asked speakers embarrassing and slightly provocative questions keeping the whole hall in suspense. Realnoe Vremya tells you how Taliya Minullina surprised Tatarstan Ministry of Economy Farid Abdulganiyev, what Nizhnekamsk Mayor Aydar Metshin stumbled on, how she shocked head of Tatneft Nail Maganov and deservingly received the loudest applause of the hall.
Without president
A debut demonstration of five Tatarstan PSEDAs in Nizhnekamsk opened in the city's House of People's Art early on 12 April morning. It was the second and last day of the international forum designed for future and current investors in small cities with a special tax regime. The foyer of the hall was full of identical stands with different SMEs' banners – from petrochemical to confectionary. But the slogan of the international forum ''This is PSEDA!'' inevitably stood out from the crowd. It's known that the idea is attributed to head of the TIDA Taliya Minullina whose agency became a co-organiser of the forum together with the executive committee of Nizhnekamsk District. Residents highly appreciated Taliya Minullina's creative finding but could excel and prefer to blend in.
Of course, Tatarstan President Rustam Minnikhanov who had been expected since the early morning was to be the main guest. But due to objective reasons, he didn't manage to be in the final showcase of residents. Instead of announced Tatarstan Prime Minister Aleksey Pesoshin, his Deputy and Member of PSEDA's Investment Council member Rustam Nigmatullin arrived. None of the colleagues-deputies managed to substitute State Duma deputy Alfiya Kogogina, while only bored head of Zelenodolsk Aleksandr Tygin was noticed among leaders of municipalities. Directors of big industrial companies whom SMEs wanted to hear very much didn't reply to the invitations. But a numerous and talkative delegation of investors from the PRC came in its totality. It included about 30 managers from Haier corporation and its strategic partners as well as representatives of authorities from Nizhnekamsk's twin sister Maanshan from China, mayors of Chinese Gaomi and Maanshan, Turkish Mersin and Marmari. The forum gathered 850 people and took place on different sites of the city.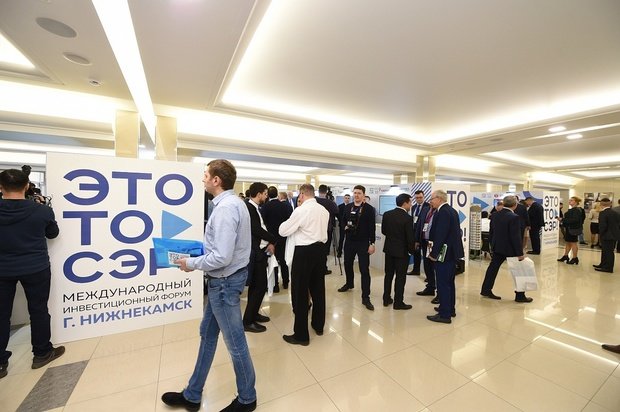 Without much fanfare
The plenary session of the forum threatened to turn into a traditional meeting of functionaries anyway. Taliya Minullina transformed it into a talk show without much fanfare, which became a surprise even for key speakers.
''You know that a new federal initiative to choose the status of PSEDA has been discussed recently,'' she raised a burning issue. ''It's been recently granted to some territories, and now they've already started to think of how to revoke it for not complying with indicators. They total five in Tatarstan today. Mr Adbulganiyev, do you think will cope with it or is anybody from Tatarstan has a chance to fail?'' she challenged Tatarstan Ministry of Economy Farid Abdulganiyev. He found out what she was insinuating and didn't reveal who could be ''fined''. ''I will give some historical background,'' the minister craftily avoided a direct reply and began to discuss for long that 'PSEDA is just a tool'', and all turned on ''whose hands it is in''. And he fell out of the show taking a pause till the end of the plenary session.
Nizhnekamsk Mayor Aydar Metshin was asked a simpler question as host – what the PSEDA would change in Nizhnekamsk, if it could be just an additional tool. The head of the petrochemical city began to answer with numbers. According to him, 8 residents with 2bn rubles of investments became its investors two years after the city was given the status of PSEDA. By 2027, they will total 20 with 7,5bn rubles of investments. He enumerated the advantages of the city for SMEs but he didn't answer how the city's life would change 10 years later. The moderator decided not to insist and accepted the reply without any comments.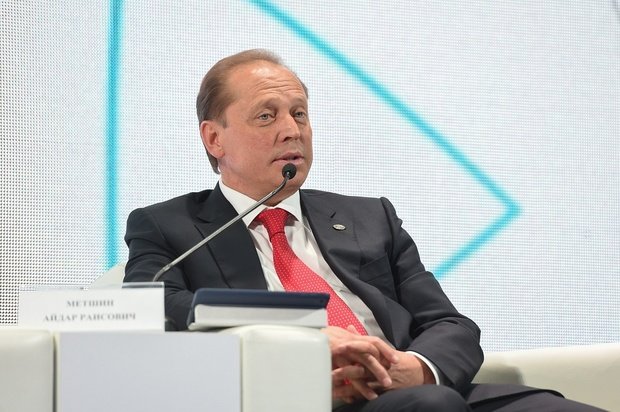 After paying attention to Tatarstan speakers, Taliya Minullina thought aloud: ''How is it in China?''. ''How did you manage to increase your region's economy 10 times?'' she asked a guest from the PRC, head of Maanshan district. After a long story during which she cited quotes of national thinker and poet Dongpo, the head of the TIDA summed everything up: ''That is to say, higher transparency of business processes, administrative processes and a transition to electronic procedures helped it. These, as I understand, are the conditions that can help the Russian economy, too,'' she asked the Chinese colleague again about the recipe for economic blossom.
A bit of romantic mood
A lyrical digression followed then as usual. ''I liked poetry in your report very much, you know. It was so amazing and beautiful that even I started to feel a romantic mood,'' she paid the Chinese lady a compliment. But it seems that the thought of openness and democracy of the economy was bothering her.
''I remembered what colleagues from other Russian regions say about Tatarstan,'' she intrigued. ''They say there aren't office romances in Tatarstan. I asked why. They replied relatives are everywhere, everyone knows each other, and it won't work, right?'' approving laughter was heard in the hall. It's clear that such a revelation of the major lady of Tatarstan probably made a strong impression on him. Though, in fact, there was no news.
''So I want to say that there is an opinion that relatives control [each other] in another way. For instance, how to become a big company's supplier? Are only relatives big suppliers? In this respect, Mr Maganov, I have a question for you…''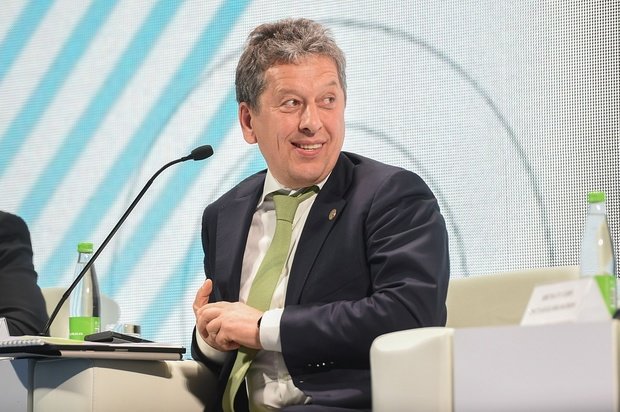 Taliya Minullina even didn't have the time to pronounce it when the hall was laughing out loud and couldn't stop. An embarrassing question was asked. ''How to become your relative?'' Taliya Minullina asked relaxed Nail Maganov point-blank without hesitation.
And really loud applause of representatives of SMEs outvoiced her immediately. And yellow news began to spread in the hall, which, however, was disguised as Taliya Minullina's anecdotes and jokes 1,5 hours later. In fact, the joke was as good as a good joke is. Because without delayed warnings in the loyal mass media, the investors wouldn't understand it was just an anecdote.
Tatneft: don't trust myths
The amazed hall went on applauding to until Nail Maganov himself took the microphone.
''Actually, I've heard these stories many times, but it's myths…'' Maganov began. ''Myths describe events that used to take place in the past,'' he denied. He assured that ''the company's openness to equal cooperation and mutually beneficial work is one of the major significant values''. Switching to a hot-button issue of services and purchases, he said they were carried out on a tender platform, while results were officially published on the company's website.
But he said with the proviso that sometimes he received letters reproaching that aspirants ''paid some money for the accreditation on this platform'', though it's free in fact. ''Taking advantage of this rostrum, I would like to say that everything is open… Such myths are my colleague's fault because we aren't open enough,'' he admitted with self-criticism.
As for the question, he replied the company didn't have special requirements for enterprises. Here Taliya Minullina inserted a remark noting that residents should understand how to work with industrial enterprises whom many PSEDA residents are focused on. In fact, what do they enter Tatarstan PSEDAs for? ''How ready is Tatneft to change its suppliers? Is there any chance that at least one supplier can become better than regular suppliers?'' she got to the point.
Nail Maganov stressed once again that ''Tatneft had equal conditions for everyone, no matter if the supplier is new or old'' and put several examples of rotation among suppliers.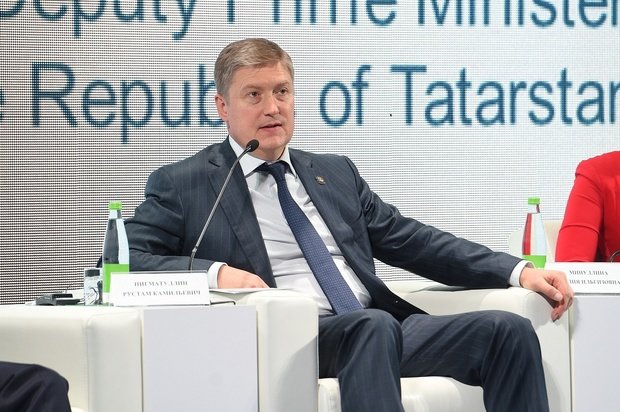 Tatarstan promises road to Pioneer
After the forum, Taliya Minullina commented on the results. ''We signed very specific agreements, 23 in Nizhnekamsk, plus four in Mendeleyevsk,'' she said. ''It's different investment projects, a four-star hotel complex (300m rubles of investments), a hardware store (450m), a fitness club (190m), a shopping and business office centre (357m) are the biggest of them. The 23 projects in total will provide the city with 931 job opportunities, while the total sum of investments will be 2,457,100 rubles.''
Vice Prime Minister of Tatarstan Rustam Nigmatullin, in turn, reported to journalists how the republic was going to help Pioneer industrial park where a plant of the third resident from the PRC Shandong BAIKAL Group opened. It's the attraction of money from a monotown development fund to reconstruct the road on Chistopolskaya Street. The cost is 335m rubles.
''The republic is ready, we're working hard, we've filed an application to the monotown fund,'' the vice prime minister of Tatarstan explained. ''The application will be considered till the end of April.''
By Luiza Ignatyeva. Photo: Ruslan Islamov (e-nkama.ru)
Tatarstan