Silver Age on Sviyazhsk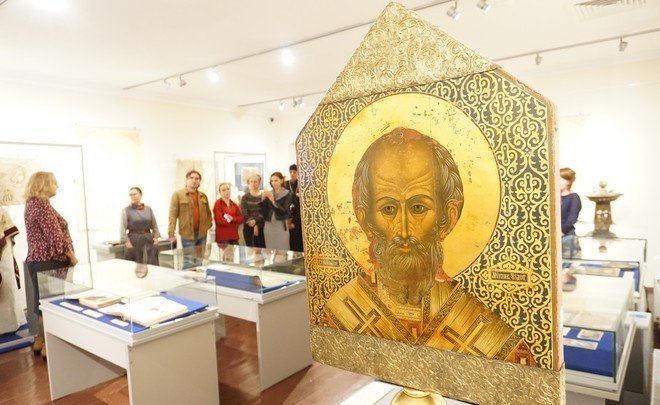 A very interesting exhibition opened in the Island-City of Sviyazhsk on the threshold of the tourism season – one can see icons, church implements, books created in a significant period of culture – in Silver Age – on the exposition. Two exhibits are worth a visit to the island – it's icons made by Mikhail Nesterov and Nikolay Roerich. Realnoe Vremya tells the details.
Beginning with cathedral walls
The exhibition is called ''Church Art of Silver Age of Russian Culture''. Exhibits of the Island-City of Sviyazhsk Museum Reserve, National Museum of Tatarstan, N. Lobachevsky Scientific Library, Perm Art Gallery, Rybinsk State Museum, Totemsk Museum Association are presented on it.
As it's Eastern time, and the Paschal greeting ''Christ is Risen!'' is traditionally heard, the ceremony started with Eastern Byzantine chant troparion performed by monks of the Assumption Male Monastery in Sviyazhsk.
''An active exhibition activity is a characteristic of the museum reserve, as we have two exhibition halls. We always prepare exhibitions, which we think will cause increased interest, by the beginning of tourist season, which starts on 1 May. The theme of the exhibitions is always linked with Sviyazhsk's legacy.
The Assumption Cathedral is Sviyazhsk's pearl. It is a UNESCO World Heritage site. But Silver Age is also represented by important monuments the understanding of whose value is increasing. It's Theotokos Cathedral named after the icon Joy of All Mourners. It was built right in this period. It's an amazing neo-Byzantine architectural monument that has monumental frescoes,'' told deputy director of Island-City of Sviyazhsk Museum Reserve Elena Kartasheva.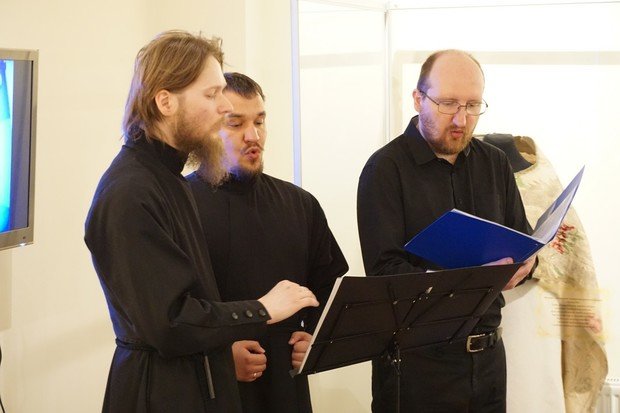 According to her, right this cathedral and its history, while the cathedral's construction dates back to 1906, that's to say, chronologically, it's a period of Silver Age, became an impulse to study the church legacy of that time. An exposition dedicated to the icon Joy of All Mourners was the lead-off. The new exhibition, which opened on 29 April, was created amid a greater interest in this bright period and with an accent on dramatism because church art passed into oblivion for tens of years a half a dozen years later.
''Silver Age is bright not only in secular culture but also church culture of this period – it's very bright and rich. Moreover, in all areas – in architecture, icon painting, painting, arts and crafts,'' noticed Elena Kartasheva.
Nesterov and Roerich
Two works of outstanding artists – Nesterov and Roerich – are in one of the halls in front of each other. Great artists worked during Silver Age in church art. It is probably this period is marked in Russia for a surge of interest in the theme of church and philosophy, spiritual quests as if artists (in a wide sense of this word) anticipated that the Church, church culture, philosophy would be a taboo some time later.
The exposition is created so that the works of Nesterov and Roerich are located frontally. Both icons, though that of Nesterov isn't a traditional icon, it rather can be considered as a fragment of painting, came from Perm.
The icon created by Roerich was painted in 1909 and created for the female monastery in Perm for the cathedral named after Our Lady of Kazan icon, which is in it. The laconism and traditional austerity of the painting are shadowed by a golden background and prominent nimbus – the last detail is rarely met. The icon is painted in an old style in dull tones, it's lofty and sophisticated.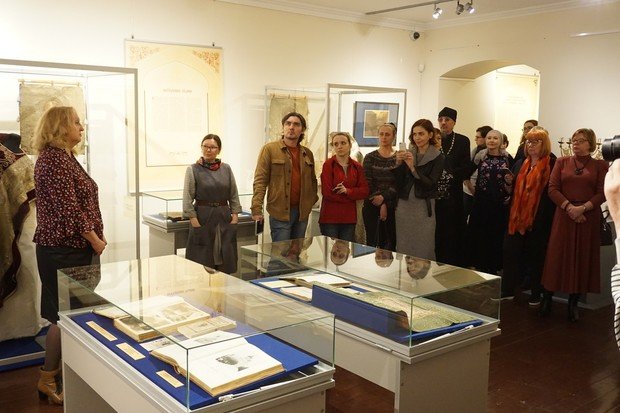 Crucifixion icon by Mikhail Nesterov painted at the request of Perm merchants was created in 1908. And though the artist for whom the church was one of the key themes was sometimes reproached for some non-compliance with canons, he brought a live nerve to church art.
Crucifixion is tragic in itself. According to the Evangeline plot, it's full of both short despair and sympathy with a lump in your throat. His famous words seem to be heard next to this work of Nesterov: ''Godness, forgive them; for they do not know what they are doing!'' Christ's face is distracted. He did what He came to the world for – He saved humankind by His martyr death. And looking at His calm face, you understand – a bit more and Sunday will come.
Icons, paintings, church implements, books are complemented in the exposition by picturesque linens with pictures of temples. The exhibits of the exposition aren't considered cold and contemplative on Sviyazhsk surrounded by cathedrals, in this absolutely sacred, tragic place that heard many prays and was revived. It's monuments of live church history – to the sound of drops of the endless rain on that day and songs of the Assumption hermitage monks.
By Tatiana Mamayeva. Photo courtesy of Island-City of Sviyazhsk Museum Reserve
Tatarstan