Samara: Stalin's bunker, beautiful girls and abundance of chocolate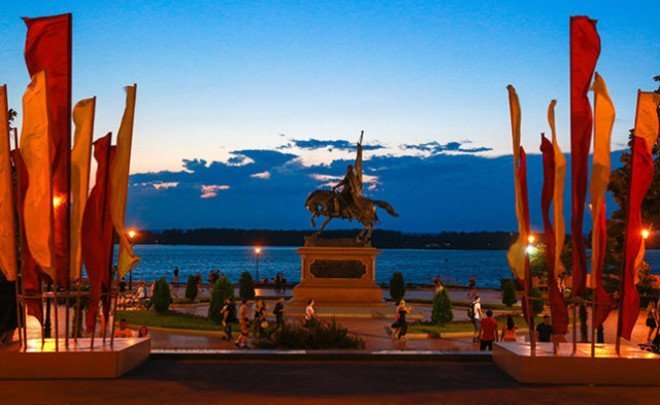 Matches
Three national teams from Latin America, three from Europe, one from Africa and the national team of Australia will play in Samara in the group stage of the tournament.
Citizens of Samara and guests of the city will see the first game on 17 June – the national teams of Costa Rica and Serbia will meet on the pitch of Samara Arena. The national teams of Denmark and Australia will meet in the same place on 21 June. And we will support Russia on 25 June! Moreover, the match for Russia is expected to be quite uneasy – with Uruguay, two-times world champion and 15times winner of Copa America, headed by Luis Suárez. Samara people will see rare WC guests – the national team of Senegal that will try to resist the pressure of Colombia on 28 June.
The football festival in Samara won't end here: 1/8 and 1/4 final matches will be held hereon 2 and 7 July respectively.
Stadium
The football ''play'' consisting of six parts will be at Samara Arena (Cosmos Arena) with a capacity of 45,000 people. The facility is new, it was deliberately built for the championship. This is why it can't boast about a rich history like stadiums in Moscow or Ekaterinburg. The erection began in July 2014 when Vladimir Putin laid a capsule. The construction was accompanied by failures to meet the deadline, financial scandals and other unscheduled events.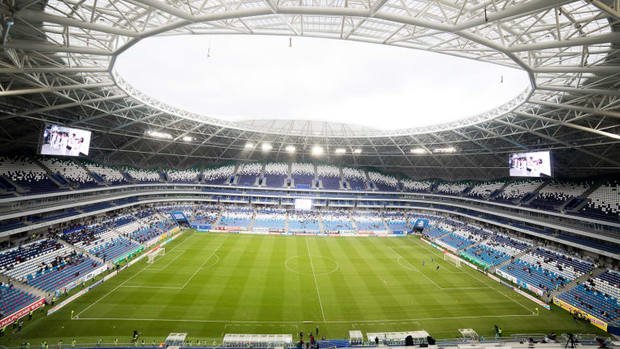 ''The façade of the stadium is a transparent cupola, which makes the arena similar to a space facility. The project is symbolic for Samara – the city playing an important role in world history of space exploration. The cupola of the stadium consists of 32 radial consoles, each of which, in turn, includes three assembly units. One console weighs 277 tonnes. According to the project, more than13,000 tonnes of rolled still was used to assemble the metal constructions. In addition, roofing area is more than 76,000 square metres, which is comparable with more than ten football pitches,'' says the 2018 WC organisers' page.
The sports facility is expected to become the home arena for FC Krylia Sovetov after the WC.
Stadium stop
The stadium is located on the border of Moscow and Volga Highway, Tashkent, Demokraticheskaya and Dalnyaya Streets on the southern slope of Zhareny (Sultanov) Bugor butte in the northern part of Samara (Radio Centre District). It's the highest point of the urban landscape. The parcel neighbours another big forestland in the East.
As the infrastructure around the sports facility hasn't been prepared yet, the nearest public transport stops are at a distance of 3 km now. For instance, Buses and Taxicubs 50, 78, 79 and 406 go to Gagarin Pioneer Camp. Routes 1, 1д, 1к, 45, 51, 67, 96, 110, 205, 210, 221, 295, 410а, 492 were laid to Alma-Ata.
City authorities promise to open new routes to the stadium or correct the existing ones. Moreover, a new line of high-speech tram will be launched to Samara Arena. So fans won't need to cover kilometres on the road to the stands.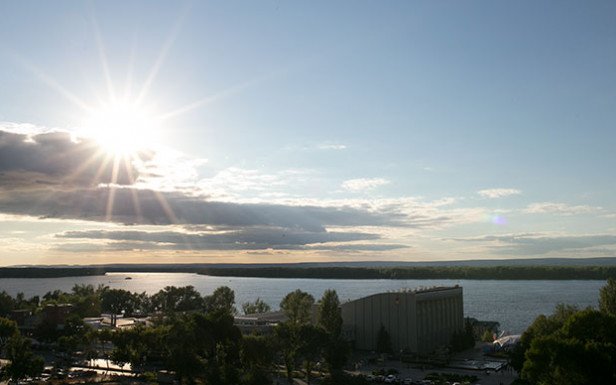 Where to stay
Samara is an ancient and big city, hotel business is quite developed here. Nevertheless, you should take into account that the best places during the WC have already been booked. But if one tries, it's possible to find good options among both famous world hotel brands and the locals. But you should care about it in advance.
Hundreds of establishments offer guests long-awaited beds. Booking.com says that nowadays the cheapest option will be 990 rubles per night for one person. Of course, it's not the centre (though it's difficult to find a centre in extended Samara). Another five people will be in one room with the tourist. Free Wi-Fi, shared kettle, bathroom, WC and hairdryer are among the comforts.
If you want something better – take your wallets out. You will have to pay much more for a close availability to the stadium. For instance, one can give 40,000 rubles per night for a one-bedroomed flat 1,5 km far from Samara Arena. The state is far from ideal, two sofas, TV, bathroom… Food isn't considered, probably you will have to cook in the kitchen yourself. While a house with two bedrooms and sauna 4 km far from the sports complex will cost 60,000 rubles.
Sightseeing points
Citizens of Samara advise almost every guest to visit Volga Embankment. Probably it's the most popular place to have a rest in the city at any time of the year. A beach with amusements rides, nightclubs, morning fitness and yoga classes open here in summer. A long pavement, avenue, monuments, adjacent cafes and shops – everything is for a pleasant walk.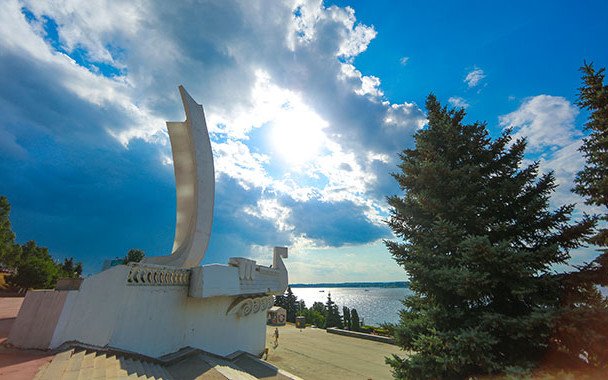 Speaking of the embankment, we can't help but mention Ladya stele. Tourists take magnets with the image of this monument more often. Right this symbol adorns products of AvtoVAZ. The 20-metre monument on a steep slope on October Embankment opened in 1987 in honour of Samara's 400 th birthday. The nose of the milky white ship look at the Zhiguli Mountains.
If you aren't tired of walking in the city, certainly go to pedestrian Leningradskaya Street. Everything here is it should be – souvenir shops, cosy shops, boutiques, cafes, fountains, benches, streets musicians and artists.
There is almost no wedding in Samara that hasn't visited the Monument to Pyotr and Fevronia. The symbol of conjugal fidelity was erected amid coniferous trees near the Saint George Orthodox Cathedral. It's a Russian reply to Saint Valentine!
Tens of other unique monuments, theatres, cathedrals, monasteries, ancient mansions, Stalin's bunker, museums and other sightseeing points can't be by passed. Big part of them is dedicated to space: many things link Samara with astronautics.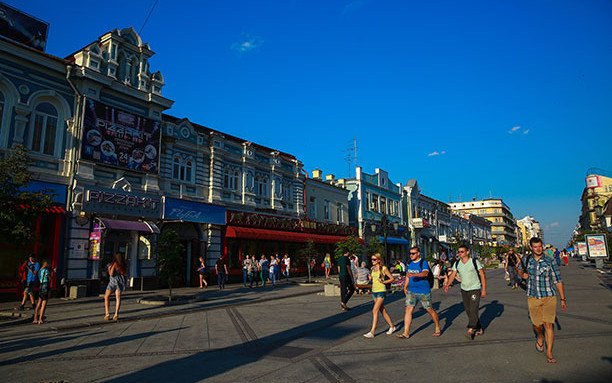 Where to eat
Habitual fast food chains and local cafes are open almost everywhere. Lovers of something ''more serious'' will be fed in restaurants. According to TripAdvisor, Café Puri with Georgian cuisine is the leader of the Samara rating. The second place belongs to Carrie (American cuisine), the third – to Parmigiano (Mediterranean cuisine).
If somebody is impatient to drink beer, Na Dne is the right place. The city also has enough halal establishments– Antalya, Armani, Al-Halal, Dastarkhan, etc.
Original Samara restaurateurs gave their establishments such names: Kompot to Mouth, I would Eat Myself , I Love You , Café, Forever Kin, Mum Lyuba, Mother, Don't Worry, Oiled Painting, Three Litres, Space Food Café, Innocent Bodega and Horse in Coat.
Highlights/specifics
It can be often heard that the most beautiful girls live in Samara. Even Nikita Mikhalkov used this opinion in a social video. Perhaps, the mixture of Slavic, Finno-Ugric and Turkic bloods among local girls made its contribution to the formation of an image of a girl from Samara.
Older Russians also know this city by its Soviet name – Kuybyshev. It existed with this name from 1935 to 1991. Even if the city and oblast's name changes, the Kyubyshev Railway, Kyubyshev Reservoir, Kuybyshev Oil Refinery operate here.
Moreover, Kuybyshev was a reserve USSR capital during the Great Patriotic War. Enterprises, Bolshoi Theatre, the government, Stalin's family was evacuated here when the war began. Yury Levitan reported news from the Soviet Information Bureau. Famous ''bunker of Stalin'' was located in Samara – it's a reserve facility for the supreme commander of USSR Armed Forces. A civil defence museum is here now.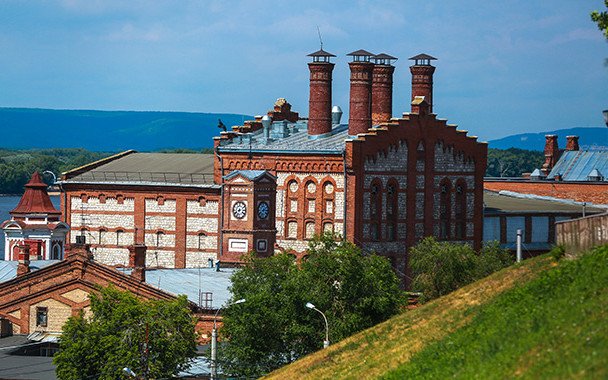 Zhiguli Beer, which is well known among Soviet citizens, was made in the local beer factory first. Now the alcohol drink with such a name is produced in hundreds of beer factories of the former USSR.
Sweets and chocolate is the most popular souvenir that tourists take from Samara. Products of Rossiya factory can't bought in any food shop of our country. But after Nestle bought the enterprise, citizens of Samara say the chocolate ''isn't the same''.