Vladimir Busygin: ''We always solved problems nice and easy – we just needed to work''
Vladimir Busygin made a decision to leave the post of chairman of the Board of Directors of Nizhnekamskneftekhim PJSC and deputy director general of TAIF PJSC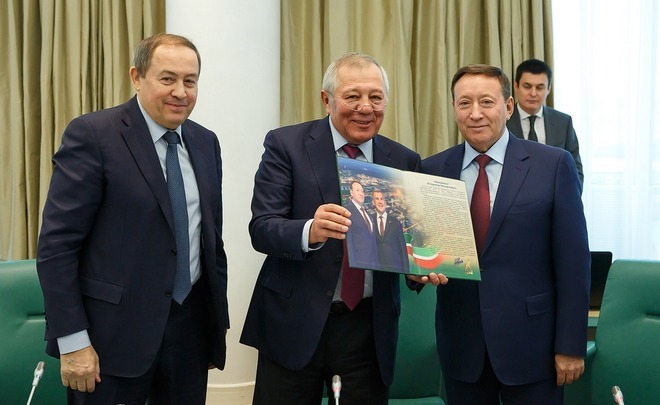 An unscheduled meeting of the Board of Directors of Nizhnekamskneftekhim PJSC took place in Kazan on 29 September whose main event was the decision of Vladimir Busygin to resign and change the chairman of the board of the leading industrial enterprise of Tatarstan and Russia. On 29 September, Vladimir Busygin left the post of chairman of the Board of Directors and deputy director general of TAIF PJSC due to his retirement. But he will continue working as board member of Nizhnekamskneftekhim PJSC.
''Person who is destined to be first in everything''
Albert Shigabutdinov, director general of TAIF PJSC and honourable member of the Board of Directors of Nizhnekamskneftekhim PJSC, said at the beginning of the meeting that Vladimir Busygin's address about the desire to leave the post for personal reasons was not the first. And judging by the sentimentally excited atmosphere of the meeting, it was not easy for all the participants. In his address, Azat Bikmurzin, director general of Nizhnekamskneftekhim PJSC, recalled all the uneasy labour road of his predecessor and senior colleague Vladimir Busygin, his achievements at work and expressed his deep gratitude on behalf of the colleagues of the enterprise for fruitful years of joint work.
Rustem Sulteyev, chairman of the Board of Directors, first deputy director general of TAIF PJSC on Production and Commercial Activity, read the address of gratitude from the officials of TAIF PJSC. He noted that when Busygin came to Nizhnekamskneftekhim, a new page of the enterprise's update and creation turned. ''In your aspiration for a goal that was set, you are an active, strong-willed person, you created a real team of professionals of the leading enterprise of the oil industry. For the Russian chemical industry, you, Mr Busygin, are a legendary person, authoritative director. In history, you stand together with such generals of the sector as Lemaev and Yusupov. We appreciate and are proud a lot that we have worked with you, an extremely honest person, a real professional, for so many years,'' Rustem Sulteyev said in his address.
Colleagues sincerely regretted the upcoming changes and thanked each other for the years of joint work. ''I can't even believe that we have worked for so many years,'' Albert Shigabutdinov said and noted that on that day all the board members were especially excited about the agenda.
Having taken the floor, the head of TAIF delivered the wish of Tatarstan President Rustam Minnikhanov. ''Mr Minnikhanov regrets a lot his absence at the meeting today due to his business trip and asked to express deep gratitude to Vladimir Busygin on behalf of him and the Government of Tatarstan, Tatarstan State Council,'' Albert Shigabutdinov told. The president thanks Mr Busygin by calling him 'his personal friend' for his contribution to the development of the economy of not only the Republic of Tatarstan but also the Russian Federation. ''The president wished Busygin would be fine and all the problems would be solved as effectively as he has worked during these years,'' the TAIF director noted.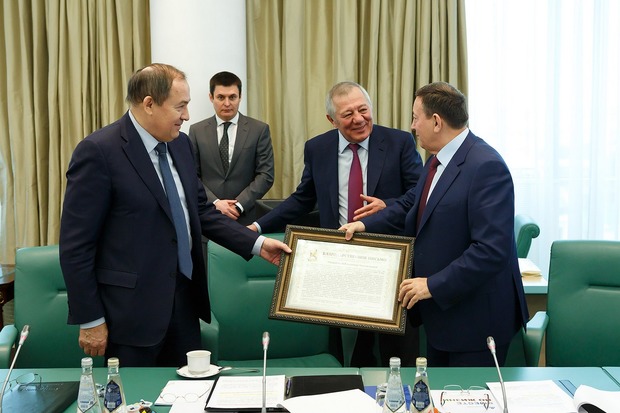 Then, Albert Shigabutdinov added himself: ''Mr Busygin, please accept our sincere gratitude for your lasting honest labour aimed at development and prosperity of Nizhnekamskneftekhim and TAIF PJSC, for your invaluable contribution to the development of petrochemistry of Tatarstan and Russia. A top professional with detailed knowledge of the specifics of petrochemistry, who has charisma, great insight, firm masculine character and rare appeal, you are rightly one of the people who is destined to be first in everything. You covered a great road from a shop director in the chemical factory to the head of the biggest petrochemical enterprise that is the pride of the Republic of Tatarstan. You were not afraid of undertaking the bravest projects! Thanks to your unflagging energy, hard work and perseverance, you managed to make Nizhnekamskneftekhim reach leading positions in the petrochemical sector of Russia! Today the enterprise continues this development for the country and people's good.''
Vladimir Busygin sincerely thanked everyone and recalled how his road in the enterprise started. ''The decision of the officials of the Republic of Tatarstan, first Tatarstan President Mintimer Shaimiev and current Tatarstan President, former Prime Minister of Tatarstan Rustam Minnikhanov on my arrival in Nizhnekamskneftekhim was life changing,'' he remembered. ''I still remember and will do to my dying day every moment linked with this decision and the meeting of directors on 29 January 1999 where I was appointed the factory's director general. I can say it was not an easy decision for me as well – to head the biggest petrochemical complex of the Russian Federation and Europe, not to mention its financial state at that moment. But the decision was especially difficult because I had not worked in petrochemistry. And it is not easy to join a 26,000 collective and chair it. But there was great trust of the officials of the republic, first president, we needed to work and justify it. I was 49 and hadn't a possibility to turn back, think, refuse. I hope I will have an opportunity to personally thank both Mr Shaimiev and Mr Minnikhanov for their huge support.''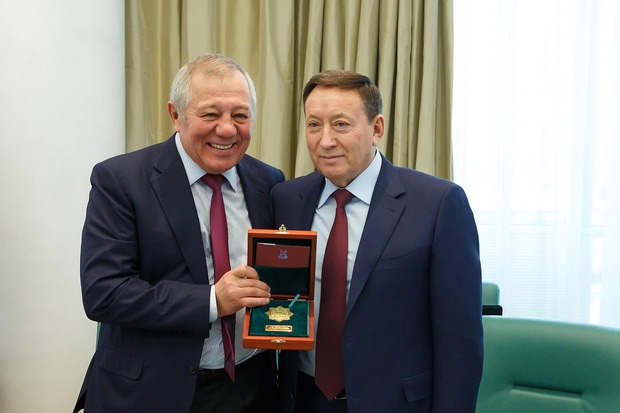 Vladimir Busygin recalled how he was hand in hand with Deputy Director General of TAIF on Petrochemistry and Oil Refining Vladimir Presnyakov. ''We made decisions that then allowed to lift Nizhnekamskneftekhim out of that awful state together,'' he said. ''I have worked with Mr Shigabutdinov from the first days. I have recently looked at photos, Mr Shigabutdinov and Mr Sulteyev were present in all of them. I am glad that this page appeared in my life. I came to the factory alone, I did not have a team but the administration's support. I did not change there anybody. I think there was not any professional team starting from workers, engineering to administration anywhere. A stronger team was made only in TAIF that rules Nizhnekamskneftekhim today.
''When I started to work at TAIF at the invitation of Mr Shigabutdinov, it was uneasy to work after Mr Shigabutdinov, the bar was high. He had been chairing the Board of Directors for seven years before me,'' Vladimir Busygin remembered. ''But during the years when we worked on the Board of Directors together, we always solved problems nice and easy – we just needed to work. All the problems raised on the Board of Directors were solved by all the participants as if the factory had been our family. I am thankful that you said in your speech that you don't say to me goodbye, that we have a road ahead. We don't say goodbye to TAIF but take a long pause. Many thanks, Mr Shigabutdinov, for your words.''
New chairman – previous strategy
After the emotionally powerful first item on the agenda, having voted for Vladimir Busygin's retirement, the board members switched to the second question that required a solution: a new chairman of the Board of Directors needed to be chosen to organise the work of the Board of Directors. Vladimir Busygin offered to discuss his candidacy – Ruslan Shigabutdinov, deputy director general of TAIF PJSC on Corporate Property and Investment Management, chairman of the Board of Directors of Kazanorgsintez PJSC. The offer was supported by unanimous voting of all the council.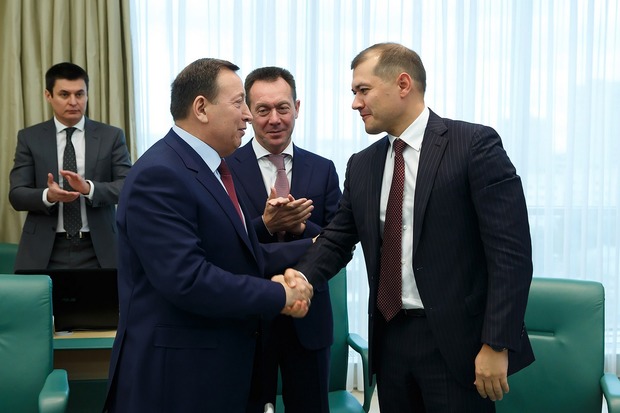 It is already known that the goals set to the new chairman of the Board of Directors will be no less ambitious. Today Nizhnekamskneftekhim is already one of the biggest petrochemical companies in Europe, occupies leading positions in synthetic rubber and plastic production in the Russian Federation. Nizhnekamskneftekhim is in the top 10 world synthetic rubber producers: in 2016, the enterprise made 670,000 tonnes of rubber whose major consumers are such world giants as Michelin, Pirelli, Bridgestone, Continental and Goodyear. Production of such plastics as ABS plastic, polystyrene, polypropylene and polyethylene is the second working are of NKNKH. Last year, there were made 730,000 tonnes, which allowed to almost completely meet needs of the Russian market for polypropylene and polyethylene.
Answering questions of journalists about plans and how he was after the meeting, new Chairman of the Board of Directors of Nizhnekamskneftekhim PJSC Ruslan Shigabutdinov noted he was ready to work and the plans were already defined. ''Nizhnekamskneftekhim has a very serious development programme. We will fulfil it, and those tasks that both the Board of Directors and the shareholders set will be accomplished,'' he said.
We need to remind that in June Nizhnekamskneftekhim signed an agreement on construction of an ethylene complex with a capacity of 1,2 million tonnes a year with German Linde. The company fulfils the development strategy until 2025, it includes the construction of a unique olefin complex with polyethylene, polypropylene production and production of some other products. The enterprise's development programme has tasks on augmentation of all the product types. Synthetic rubber production capacities will be increased to 1m tonnes a year by 2012. They also plan to rise plastic production to 1,5m tonnes a year by 2012 and 2,5m tonnes by 2025 as import substitution and sales expansion in Russia and CIS countries.