Nikas Safronov: ''The Kremlin doesn't feed me''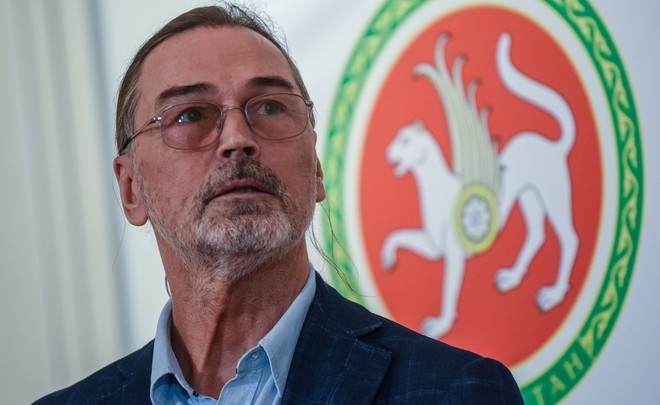 Nikas Safronov's exhibition opened at the Kazan Kremlin's Khazine gallery on 20 September. The artist presented about 90 paintings in Kazan. Safronov came to the capital of Tatarstan at the Tatarstan president's invitation and made a cycle of works deliberately for this visit. Realnoe Vremya tells the details from Safronov's press conference and opening day.
''Your president visited my exhibition together with the king''
Nikas Safronov was half an hour late at the press conference. He did not apologise in front of the journalists but thanked for waiting for him. He explained that Kazan Federal University students made him be late whom he had met with.
Before he was asked questions, Nikas Safronov told the story of his appearance in Kazan. According to him, Tatarstan President invited him to the capital of Tatarstan. ''I acquainted with him in Bahrein, he visited my exhibition together with the king,'' the artist explained.
Besides our president who supported Safronov's exhibition, the artist knows Mayor of Kazan Ilsur Metshin well. He did portraits of his family and even was the Kazan urban engineer's guest. However, his memories as a kid are linked with Kazan: born in Ulyanovsk, Nikolay Safronov (Nikas is the artist's pseudonym) was here with his parents.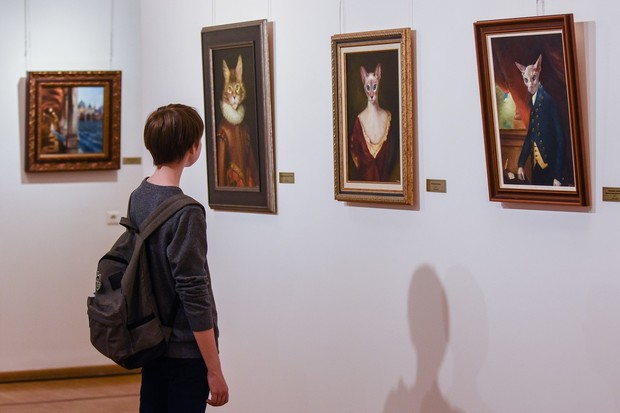 During the press conference, quite a good presentation film was shown on the screen during the press conference. Nikas' paintings appeared in each frame of the film. In general, the artist's team works very well in terms of PR: for instance, journalists were presented parcels with Nikas' portrait that had albums of his reproductions. All people who wanted to buy this or other albums could do it at Khazine gallery.
But the press release confused a bit. For example, it was written that Safronov is ''the greatest modern artist of the world'' and his expositions make people be ''positive and amaze''. A successful artist is unlikely to need such evaluations.
Nikas Safronov's biography is a biography of a person who created himself on his own, and we can respect him for it. He deals with charity a lot. For instance, he is going to give masterclasses with physically disabled kids in Kazan, he has such experience.
Safronov studied Art in Vilnius (he had maternal Lithuanian roots) and in the Surikov Institute. His biography has a curious detail: he worked as a graphic designer in a drama theatre in Panevėžys with great Juozas Miltinis for some time. In answer to the question of Realnoe Vremya's reporter what a person the great Lithuanian director was, Nikas shared his memories about this short period with pleasure.
At the press conference, he talked a lot about art and noted that ''art can support a person at a difficult moment''. He has a very negative attitude to shareholders, particularly to Pyotr Pavlensky. He noted that ''it all doesn't carry positivism and is not art''. According to him, a person experiences awe in front of a painting if it is talented. In general, when Safronov speaks about art, he does it with pleasure.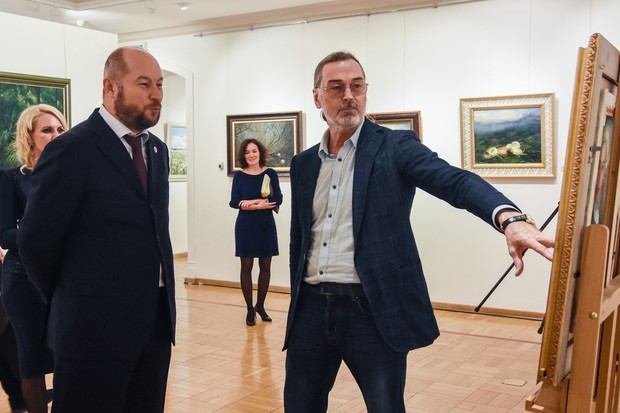 ''I will feature your president''
Nikas Safronov said that he would certainly feature Rustam Minnikhanov. But it will be a commercial work or just a present, he specified. He told how did Vladimir Putin's portrait and then Minister of Foreign Affairs Lavrov asked to do another 200 copies for all the embassies around the world.
''I never ask them anything. The Kremlin doesn't feed me. I do them a favour because they are historical people,'' the artist explained. People often ask him to do portraits. And clients do it just in order to leave them to their descendants.
Preparing for the exhibition in the capital of Tatarstan, Safronov wrote ten books about Kazan. According to his idea, they need to remain here. He offered to place his reproductions on banners in the city, so that they will become a social advertisement.
He told about Kazan in amazement for long noting the city's beauty, its cosiness and hospitality.
A bit about The Selected
Nikas Safronov's The Selected exhibition opened at Khazine gallery on 20 September evening. The artist's 90 paintings are shown there. Delivering a speech at the opening, Tatarstan Minister of Culture Airat Sibagatullin called it a ''present for citizens of Kazan from the artist''. Very Nikas thanked Tatarstan President Rustam Minnikhanov who supports art. ''Art is what makes people a nation,'' the artist noted.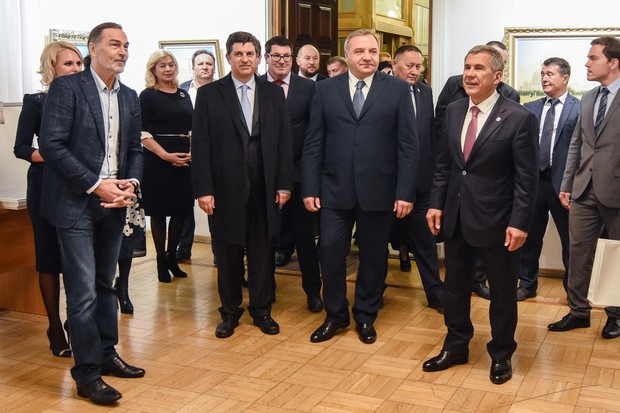 On the exhibition, one can see series of portraits, paintings done during travels, particularly an interesting cycle of works about the East, paintings done in a mixed technique. There are paintings created in Dream Vision. Nikas considers this technique his invention. It reminds ''power clashing'' when a fragment featured in an academic style is put into some irrational environment whose task to cause associations and emotions of our subconscious.
If we generalise the ideology used in the majority of the works a bit, we can conclude that Safronov is romantic concerning his art. Surrealism is the closest style to him, Salvador Sali is his soulmate. Safronov's undoubted pro with all the cons – a positive mood of his works. It is obvious that it attracts the part of the spectators who love this artist.
There is another characteristic whose roots need to be looked for in the artist's biography. His paintings are adorned, some of them remind drafts of theatre decorations. It is clear that the work in Panevėžys and Rostov-on-Don theatres was useful. Festive theatricality is Nikas' characteristic. The Selected exhibition will be open at Khazine until 5 November. A meeting with the artist took place on 21 September. The master's fan had to pay 500 rubles to talk to him.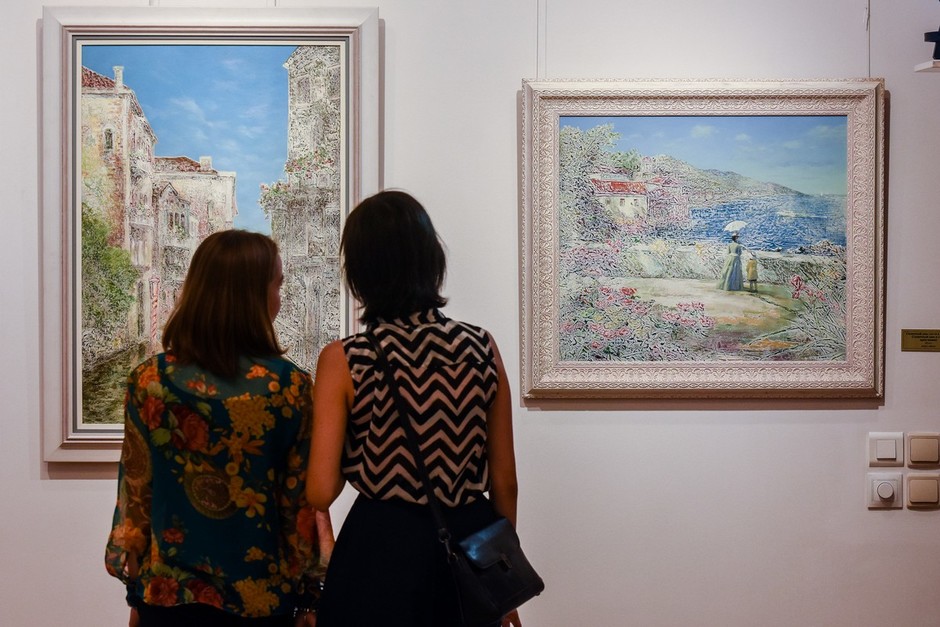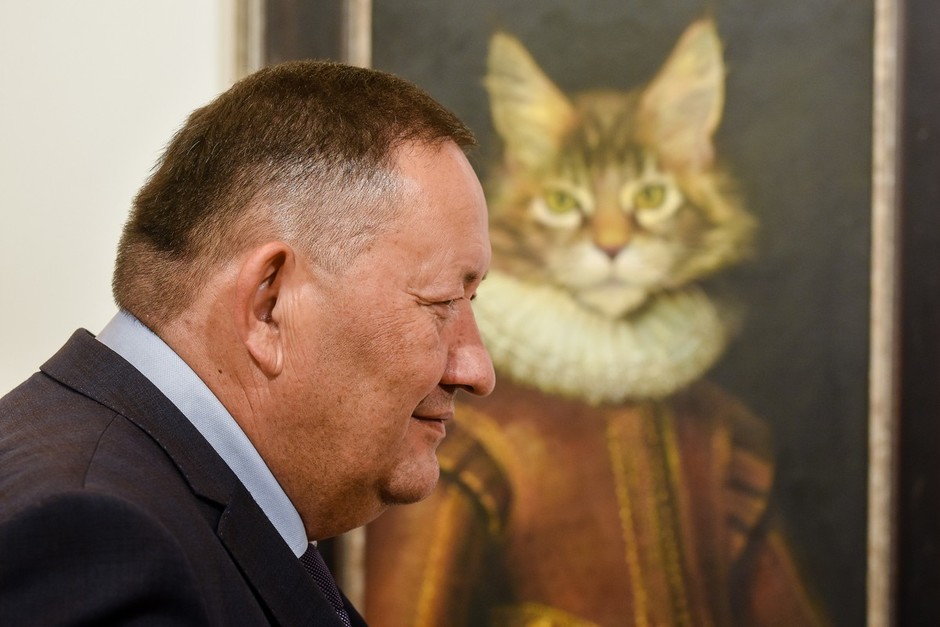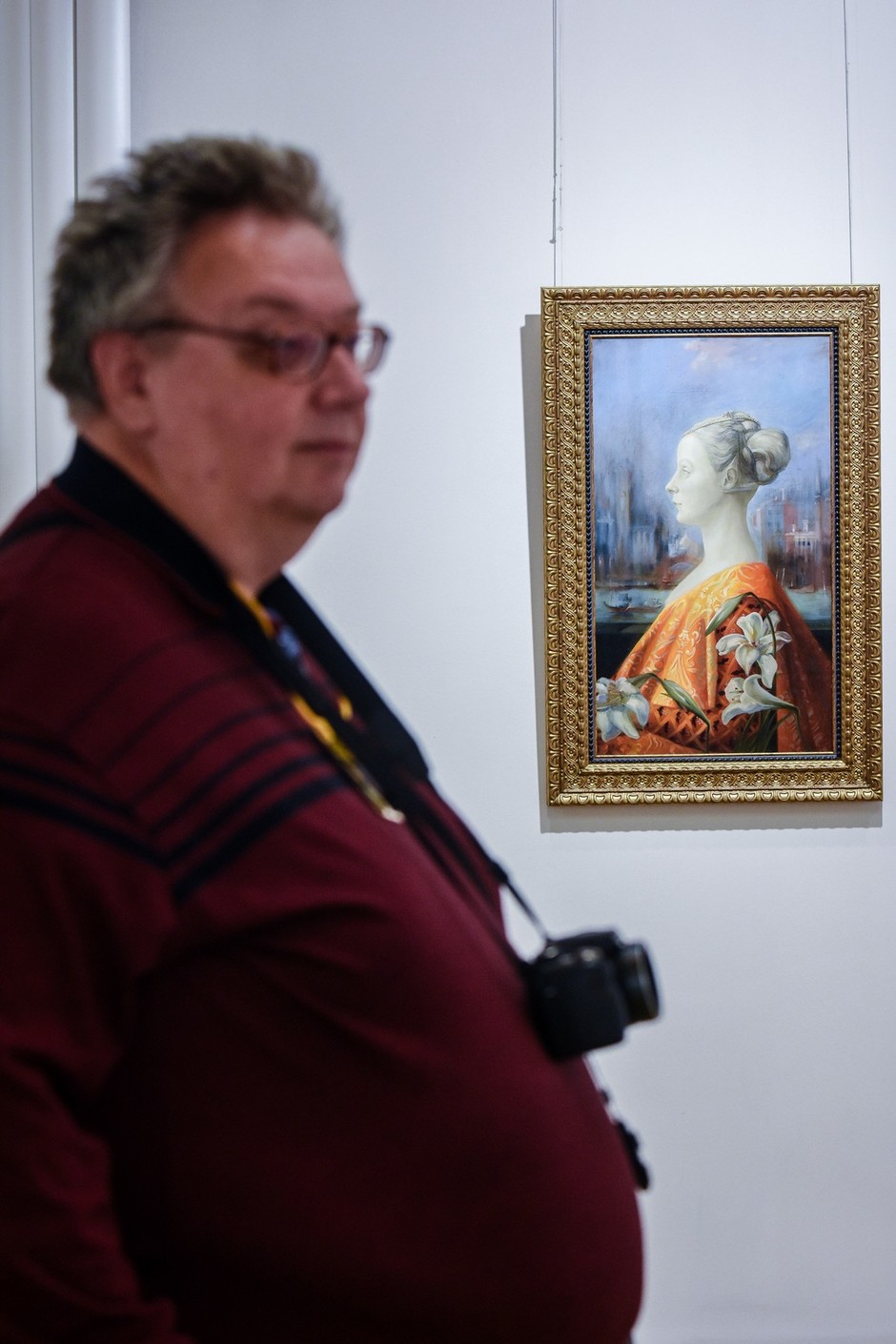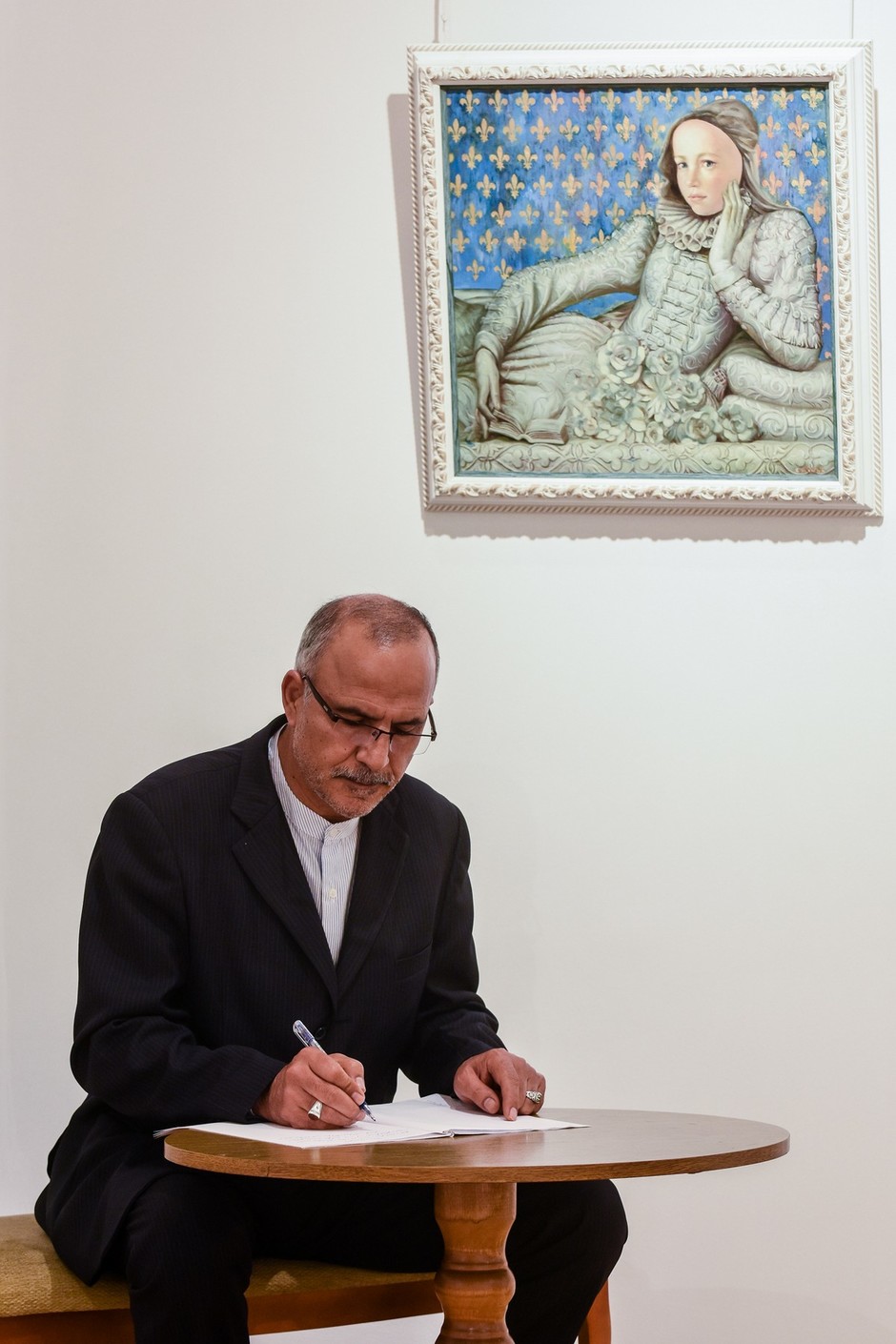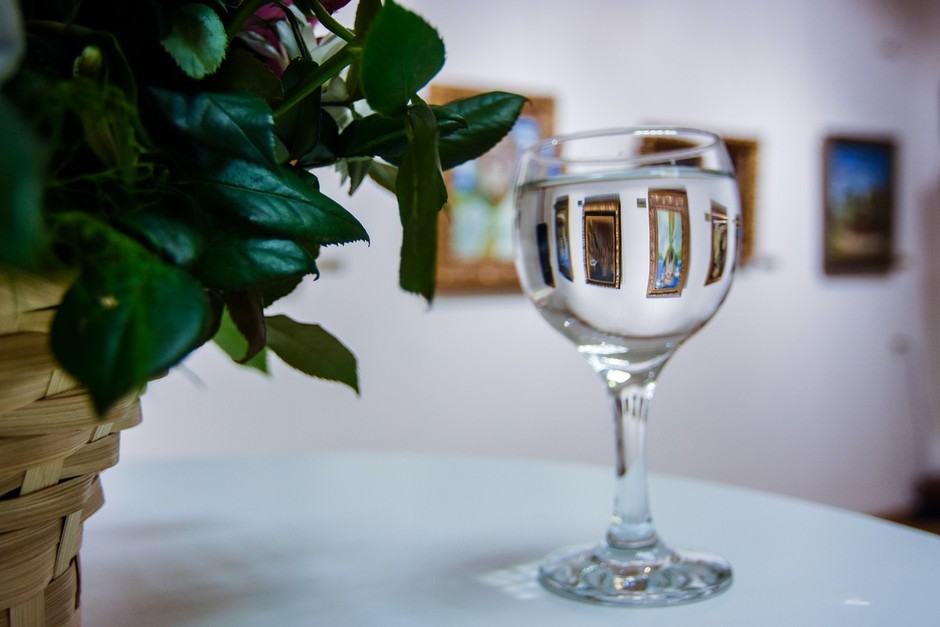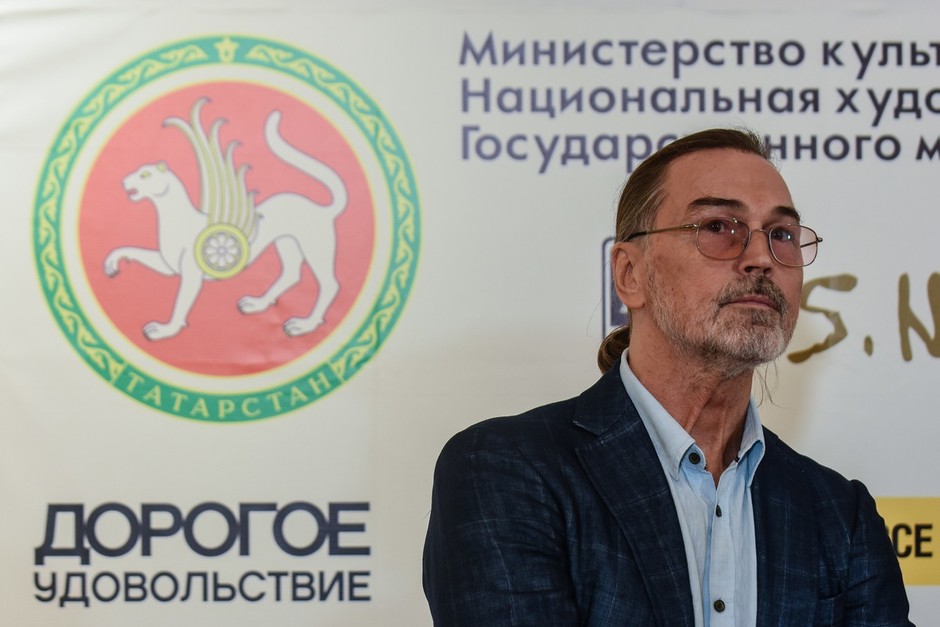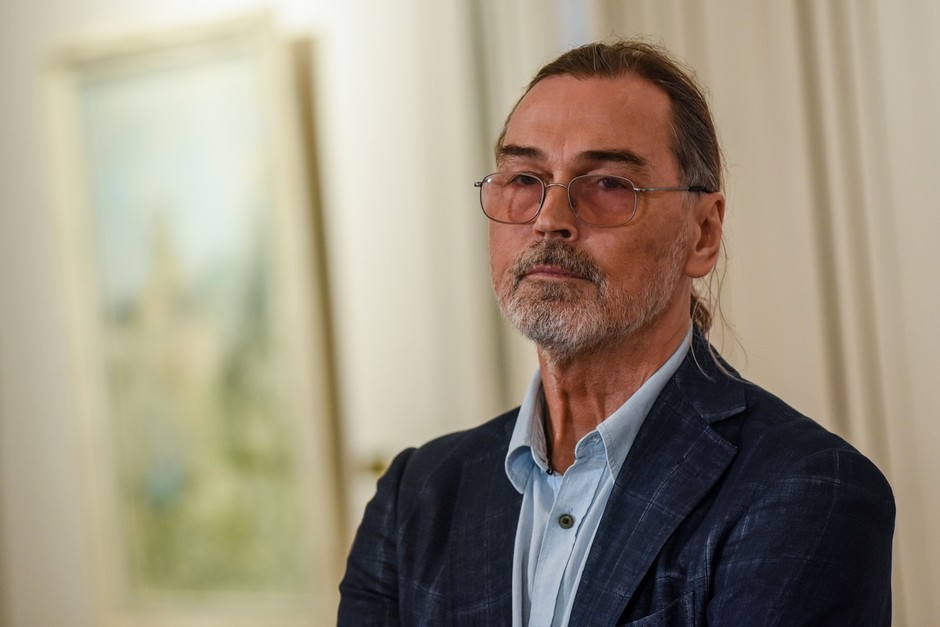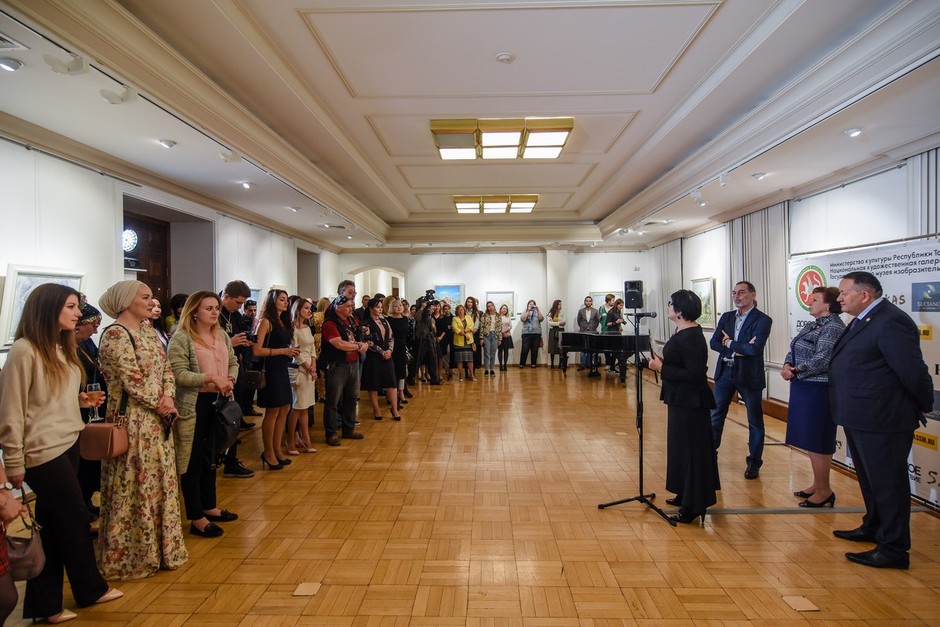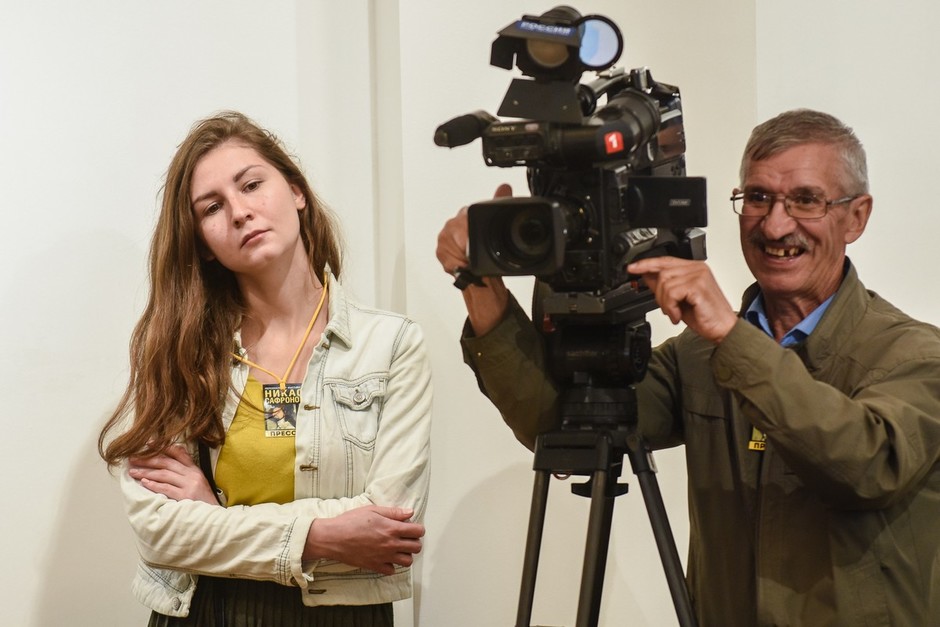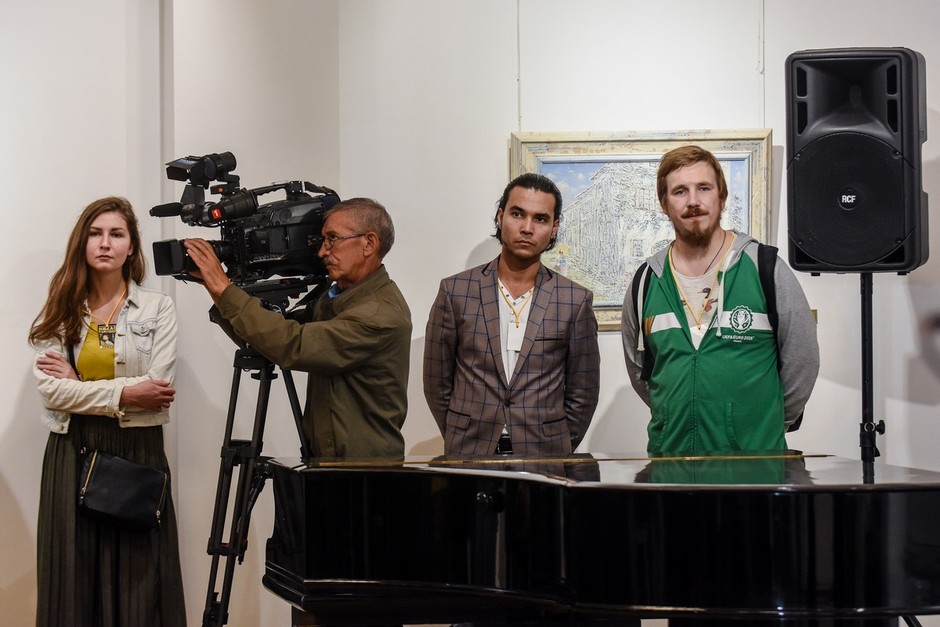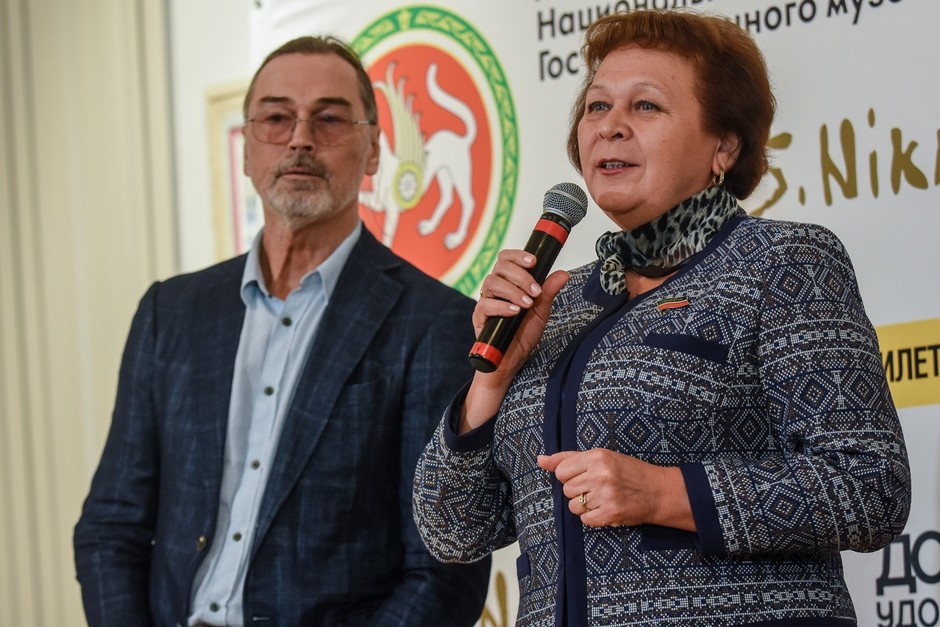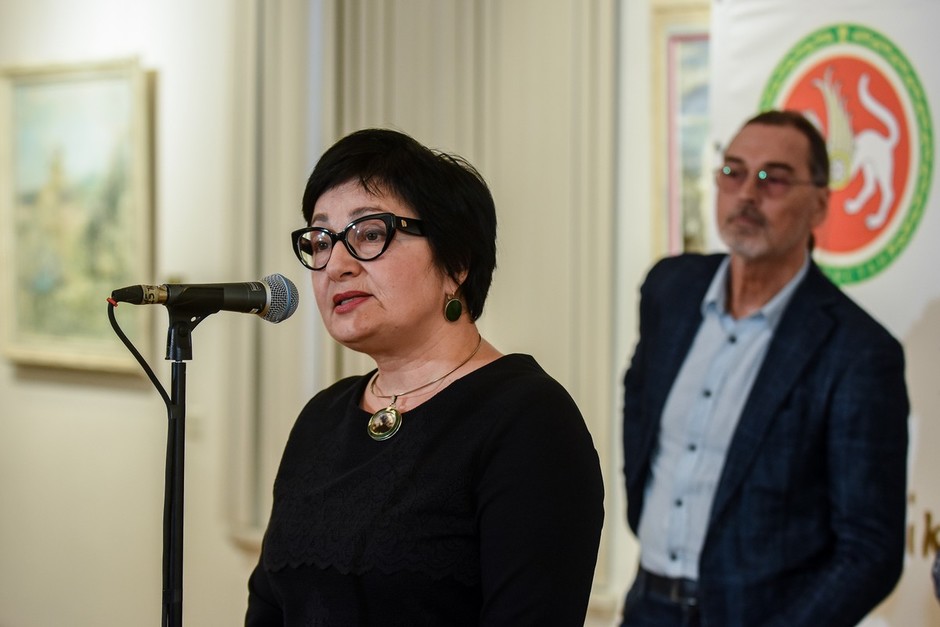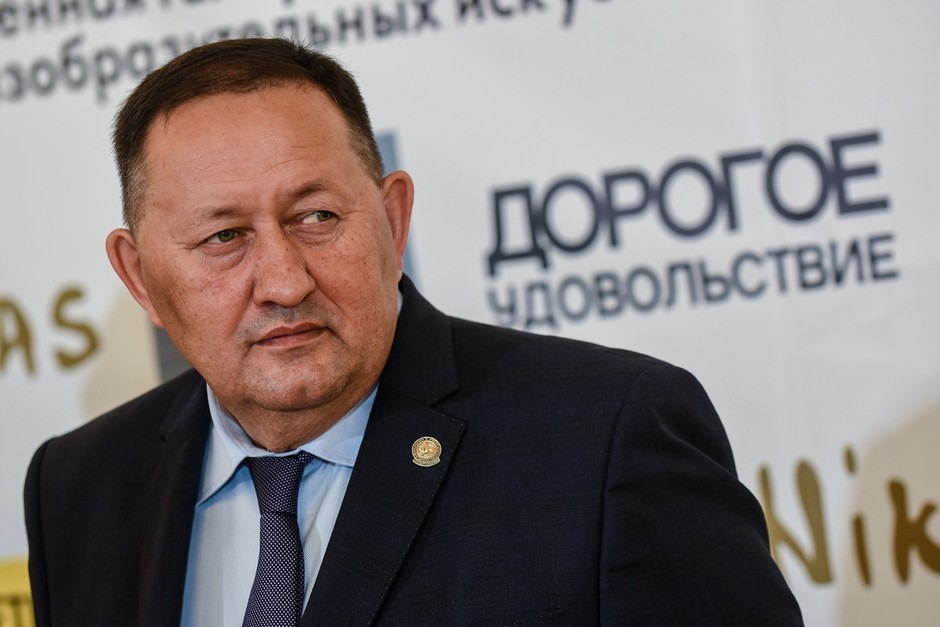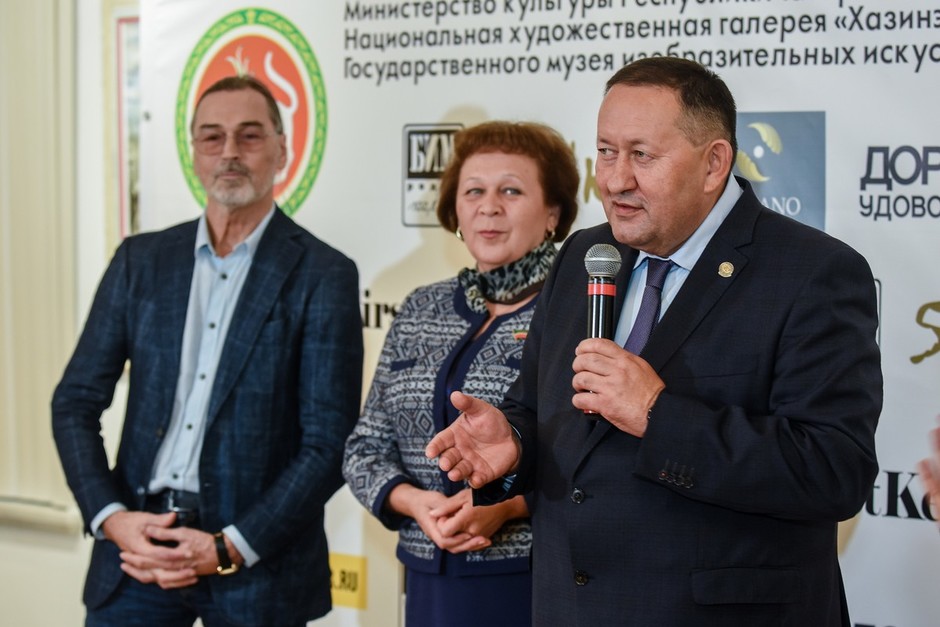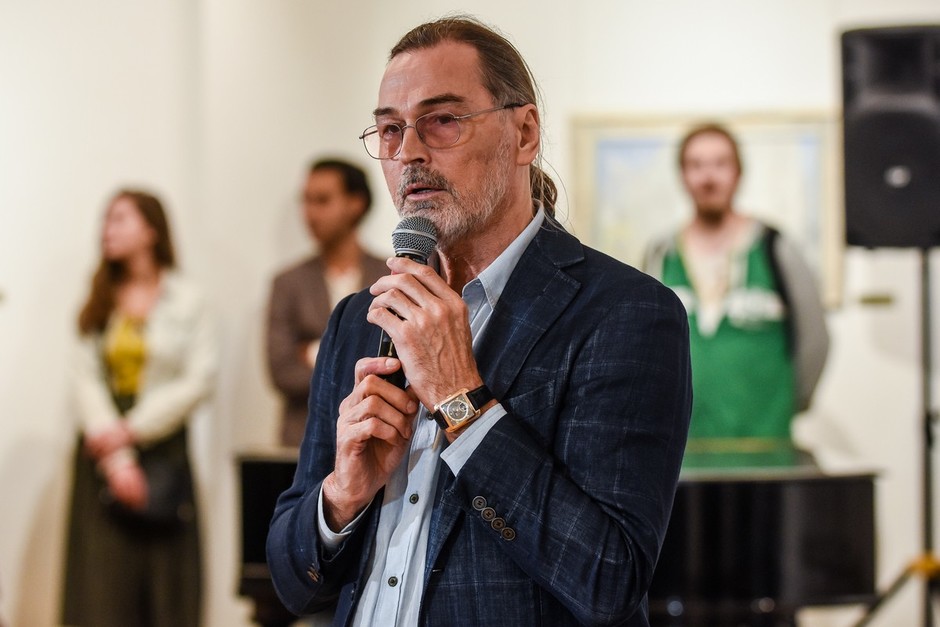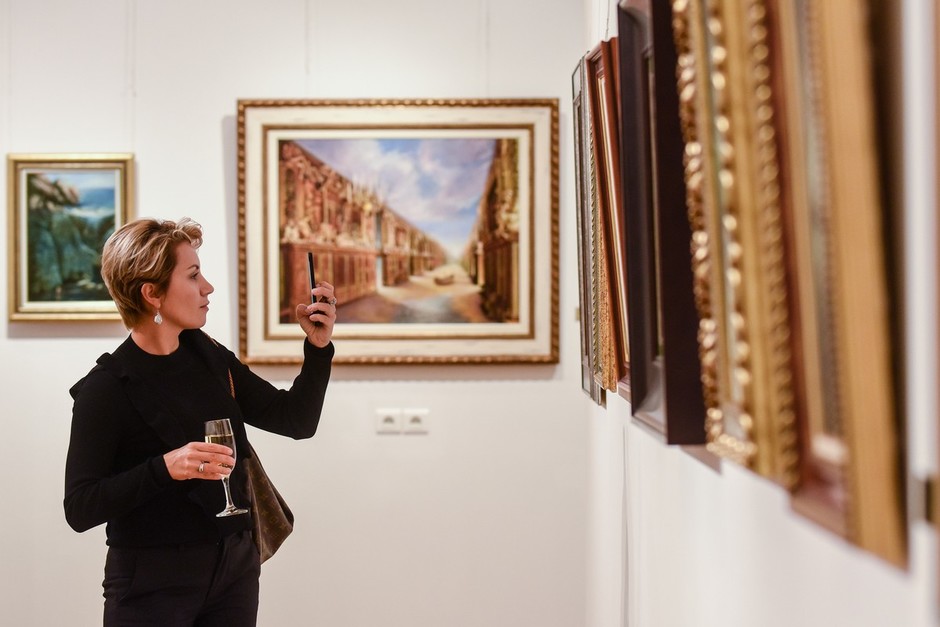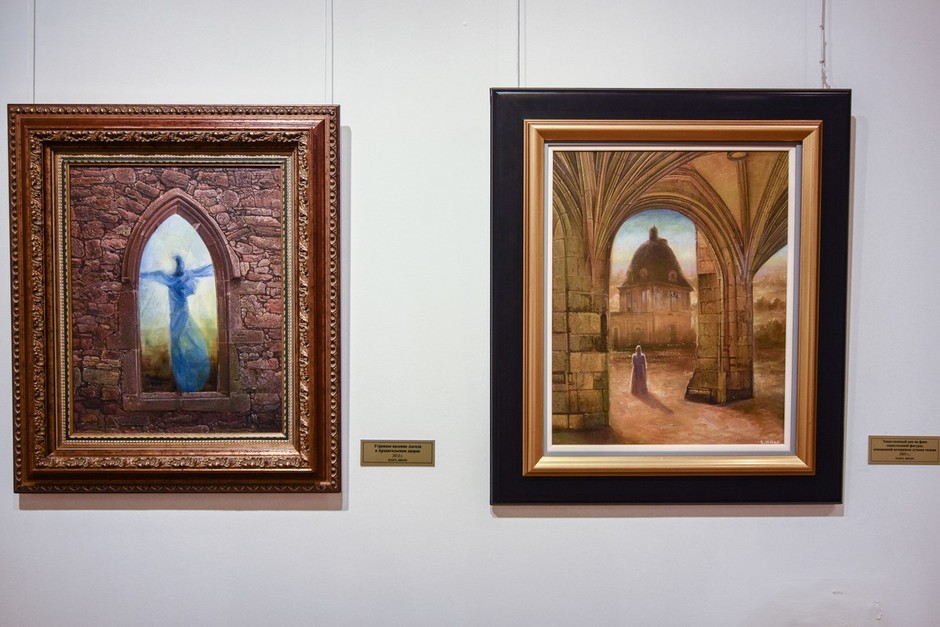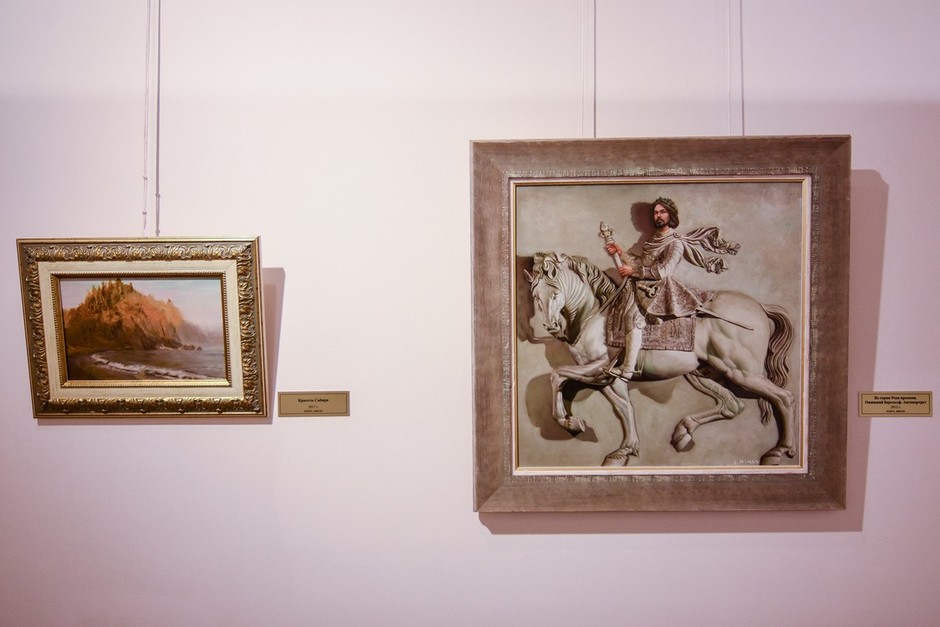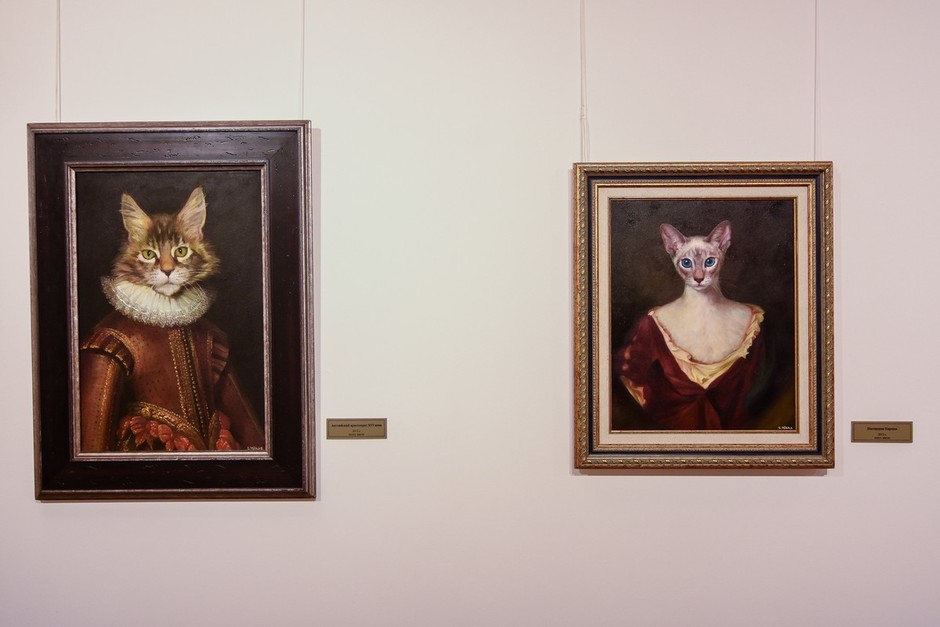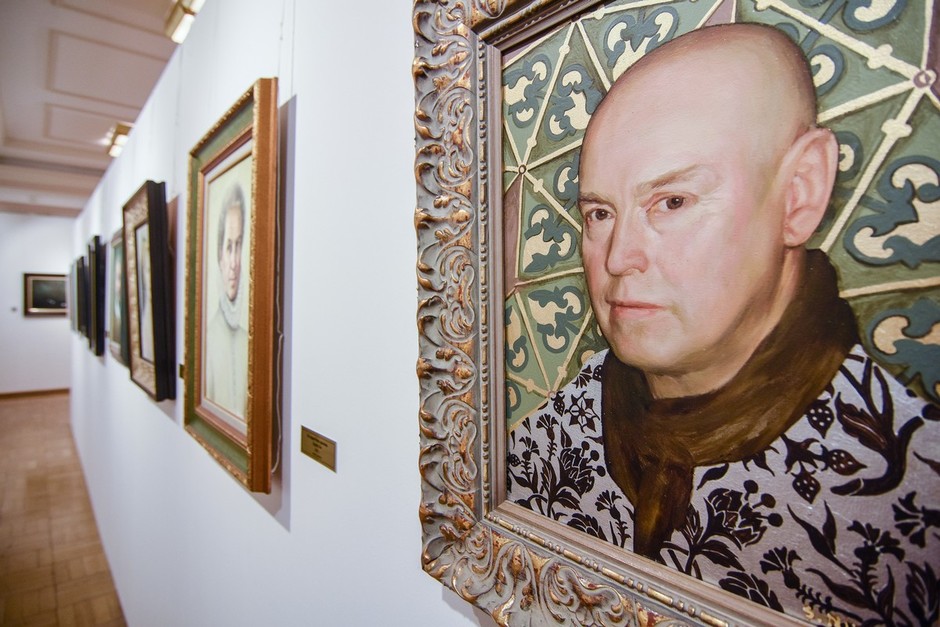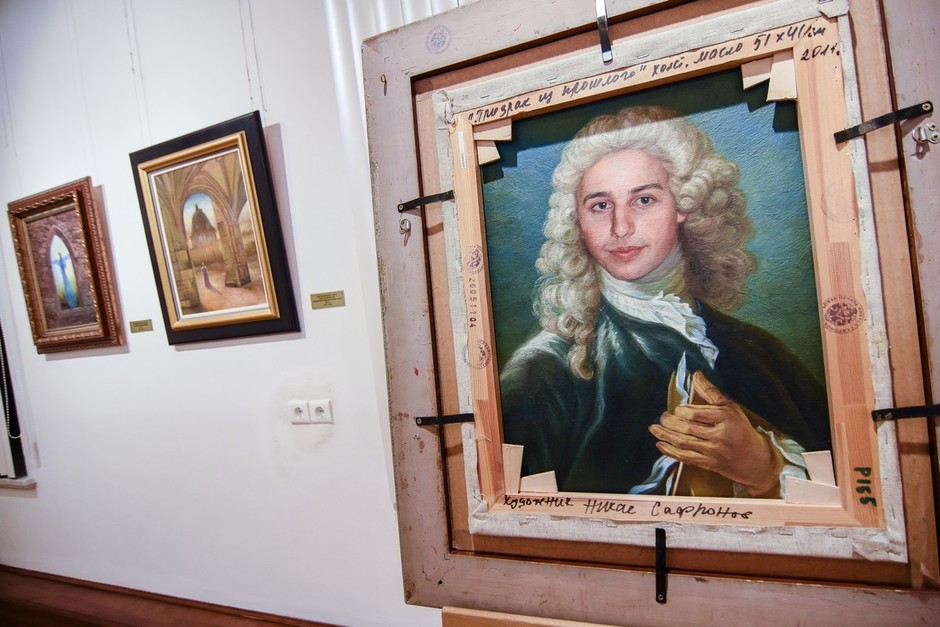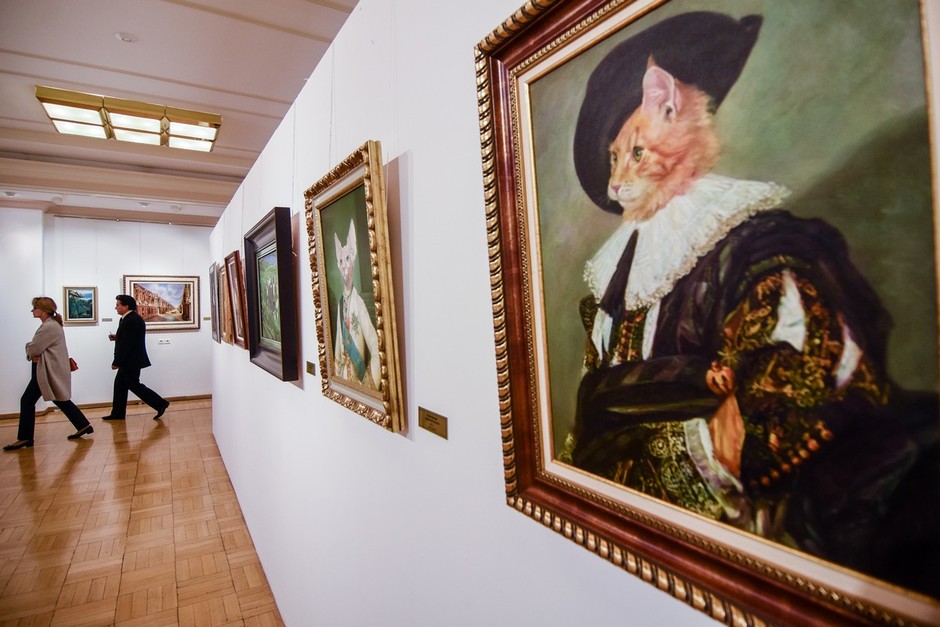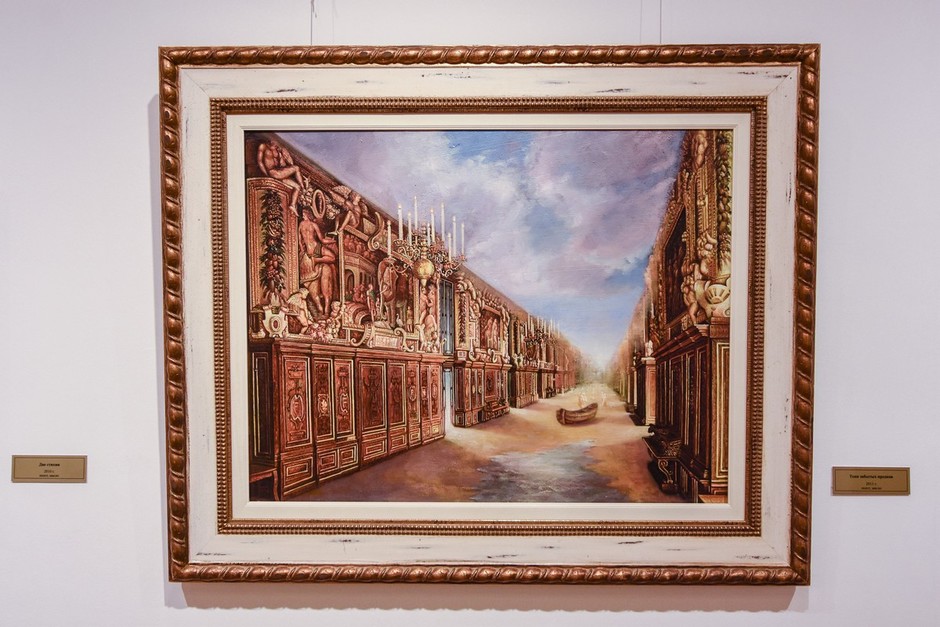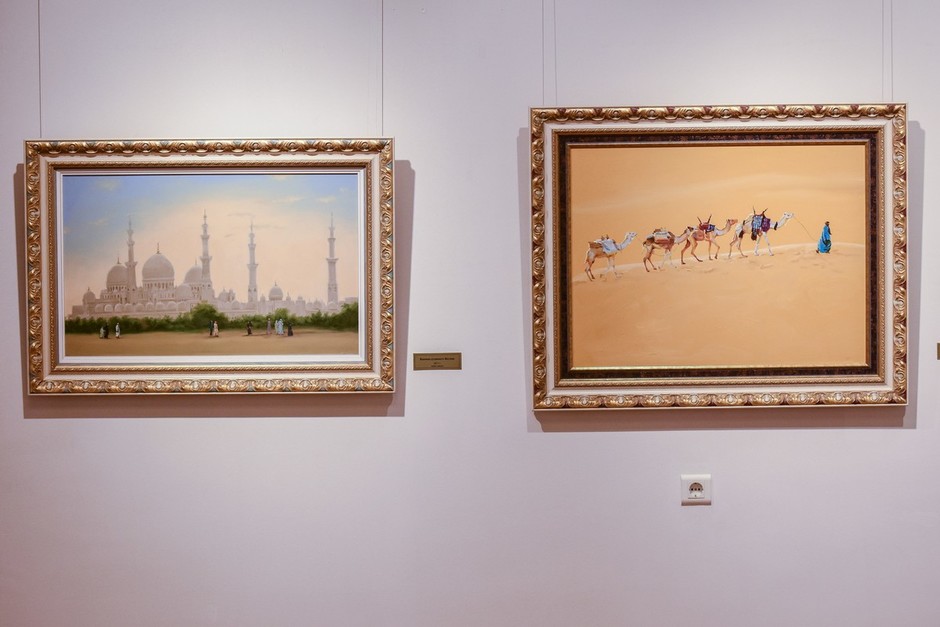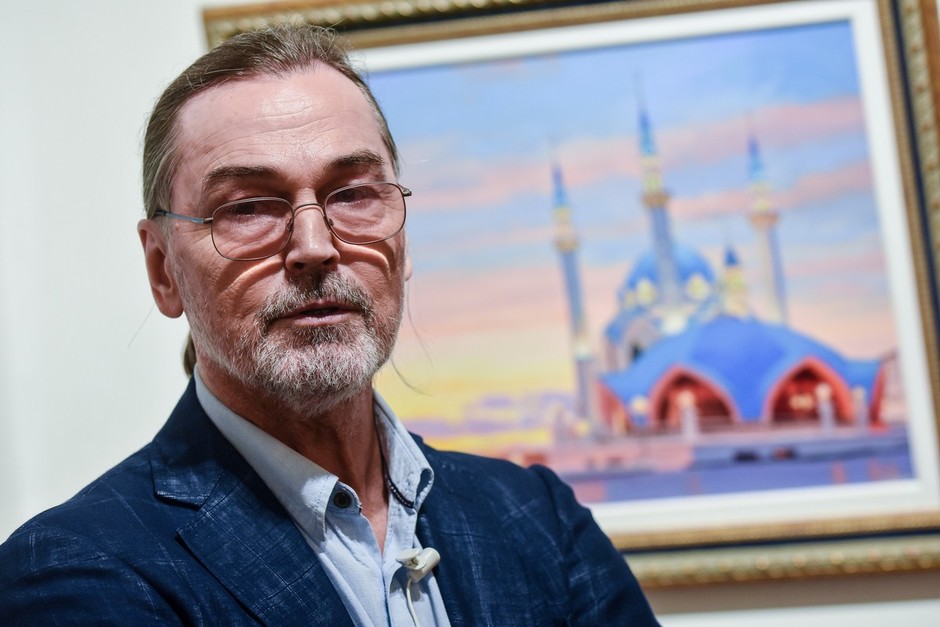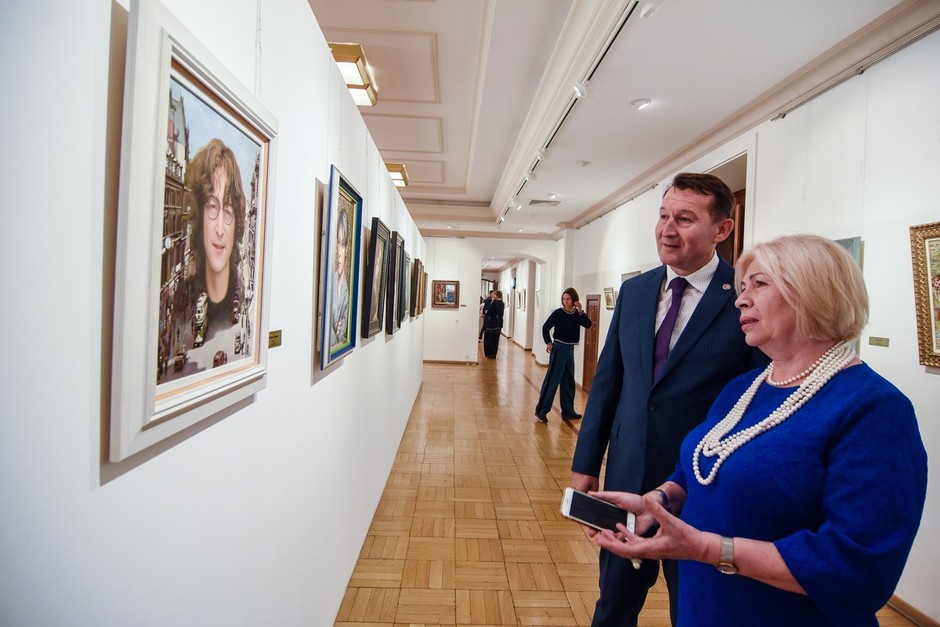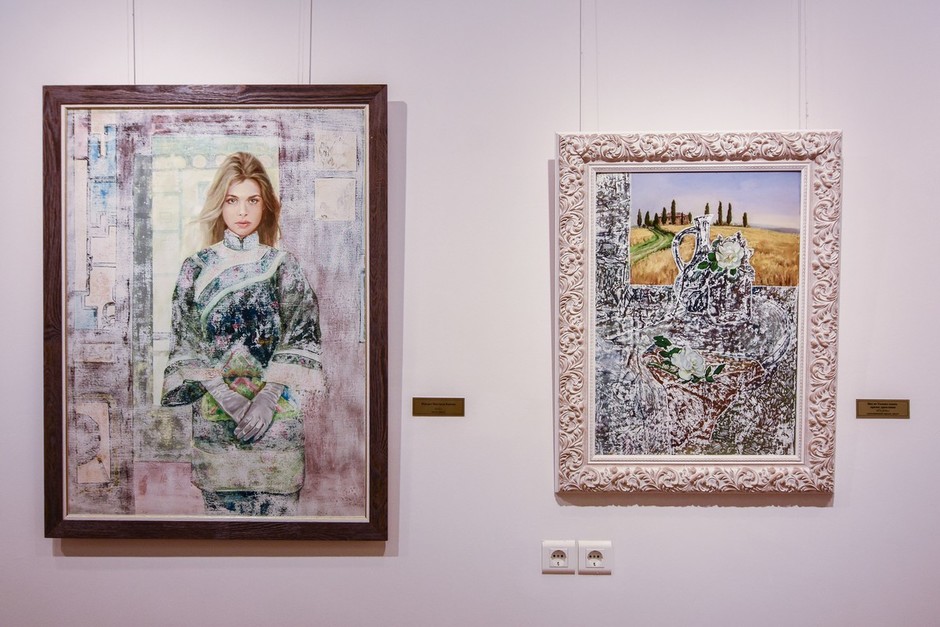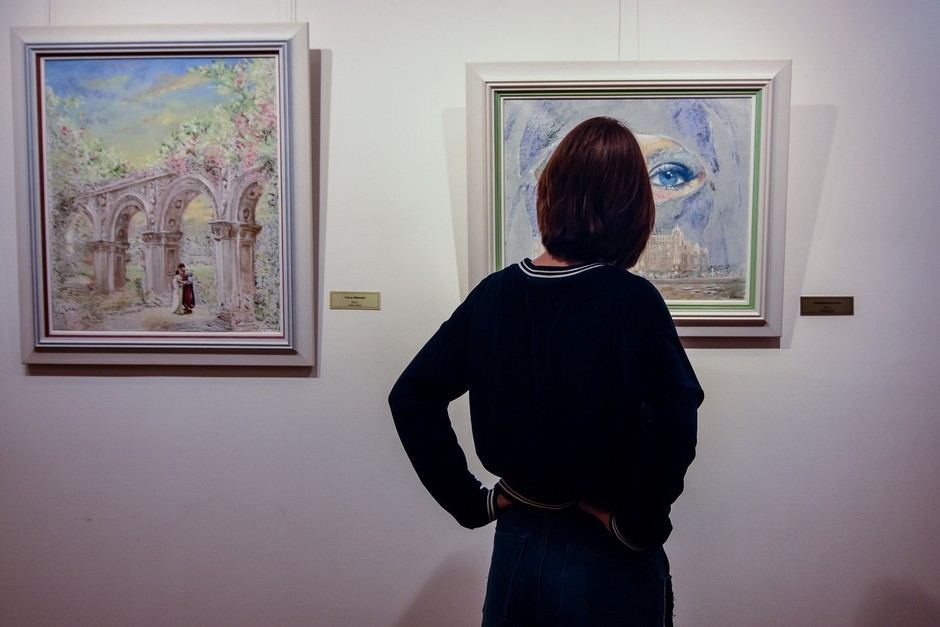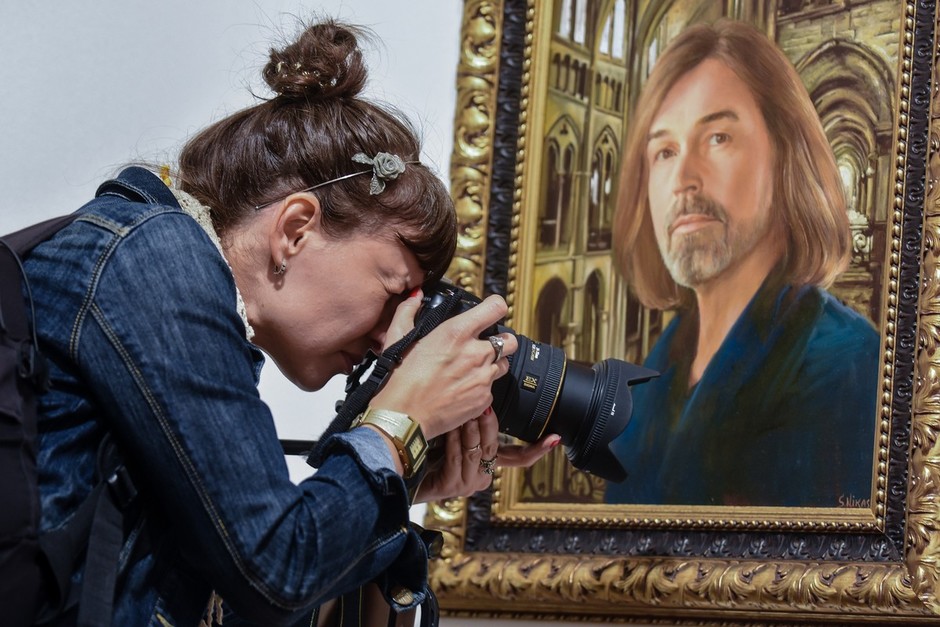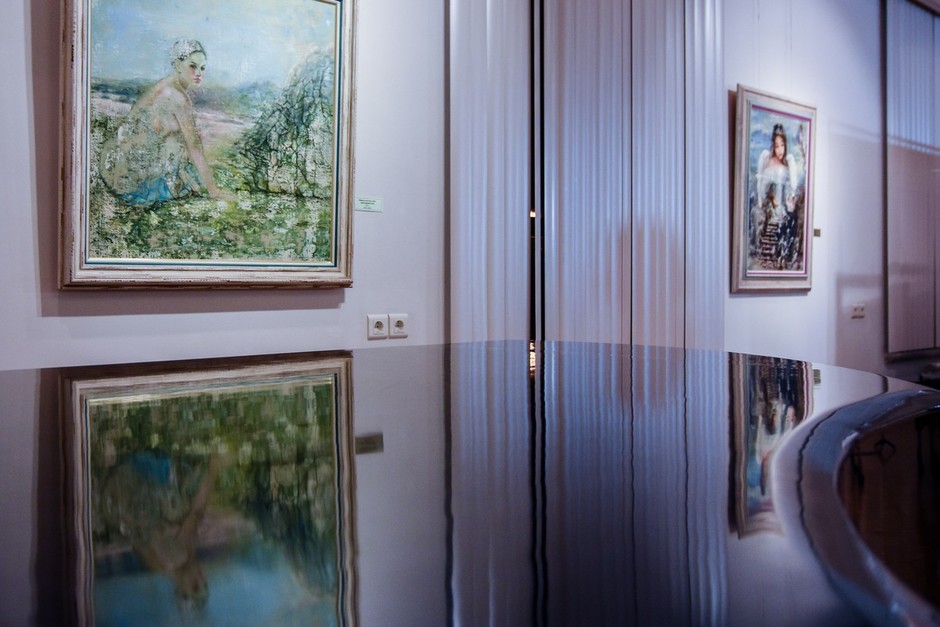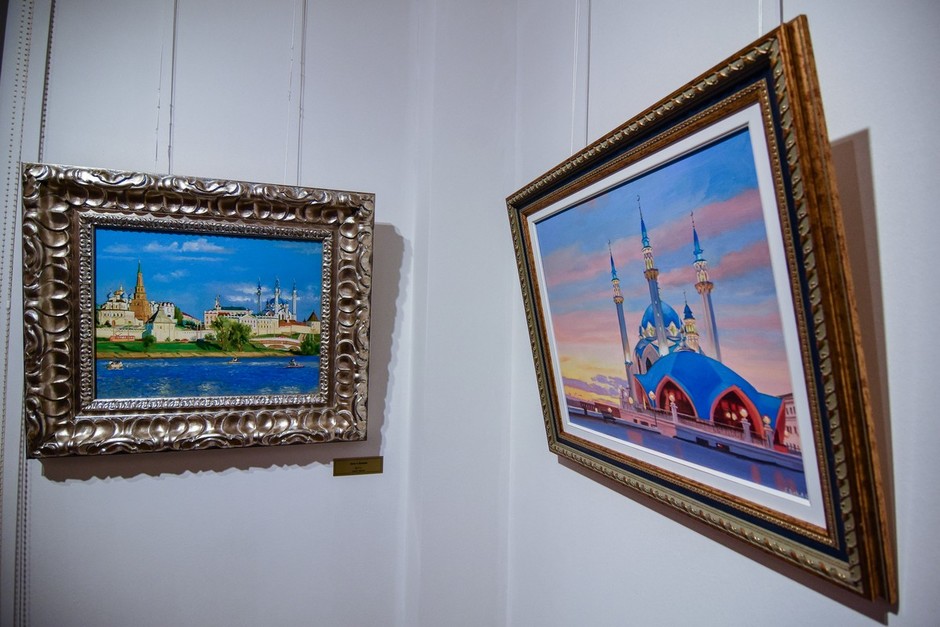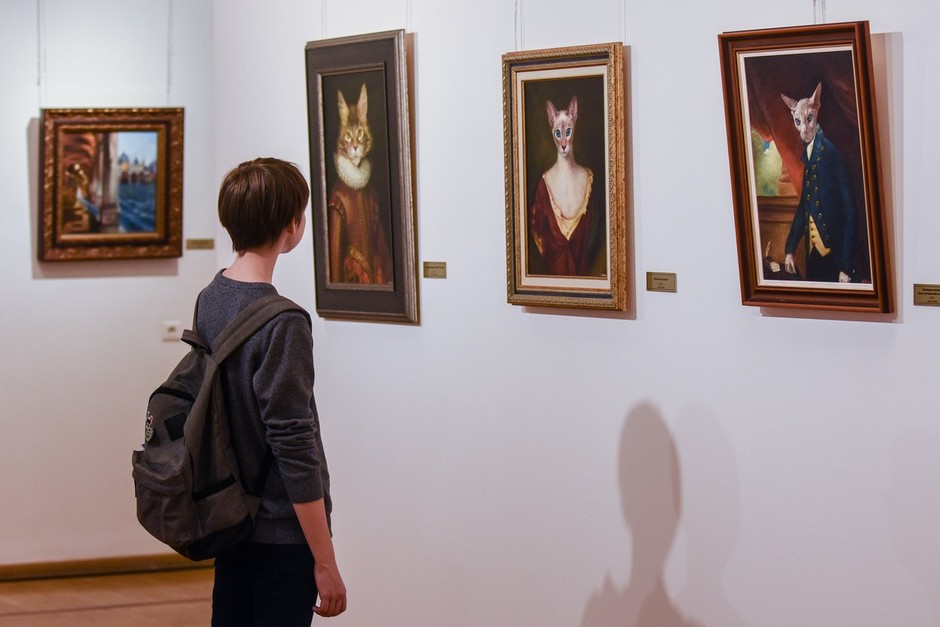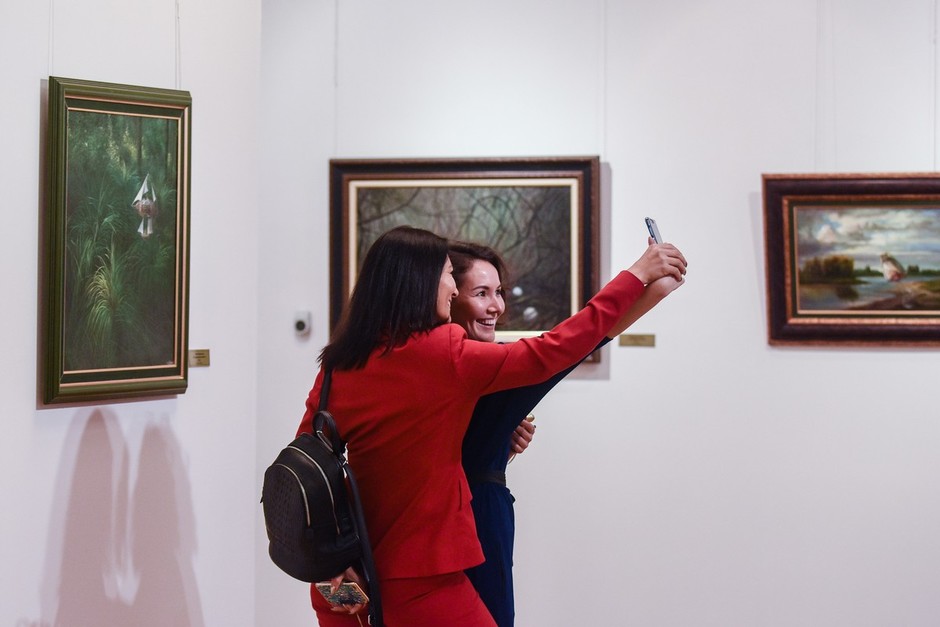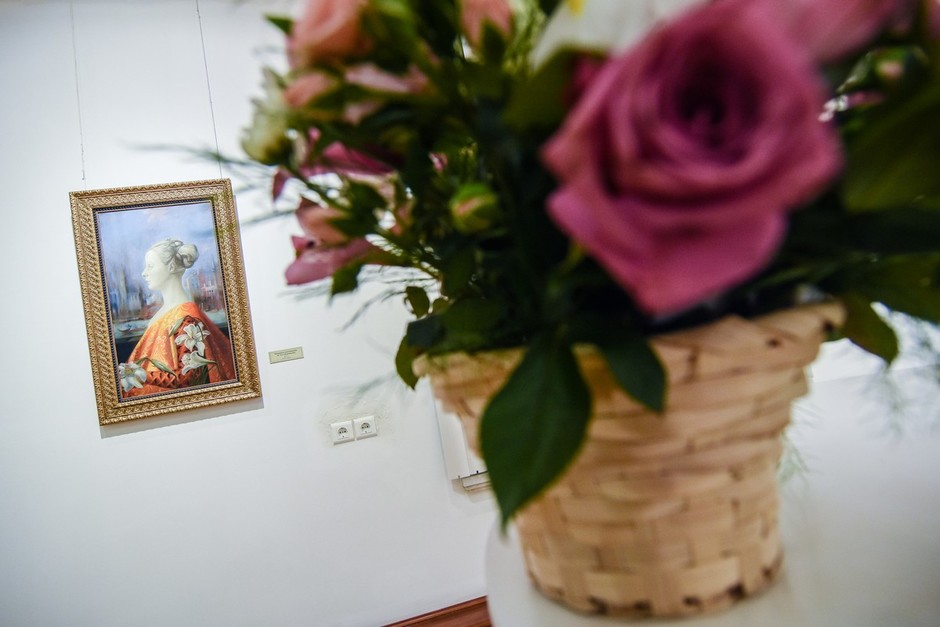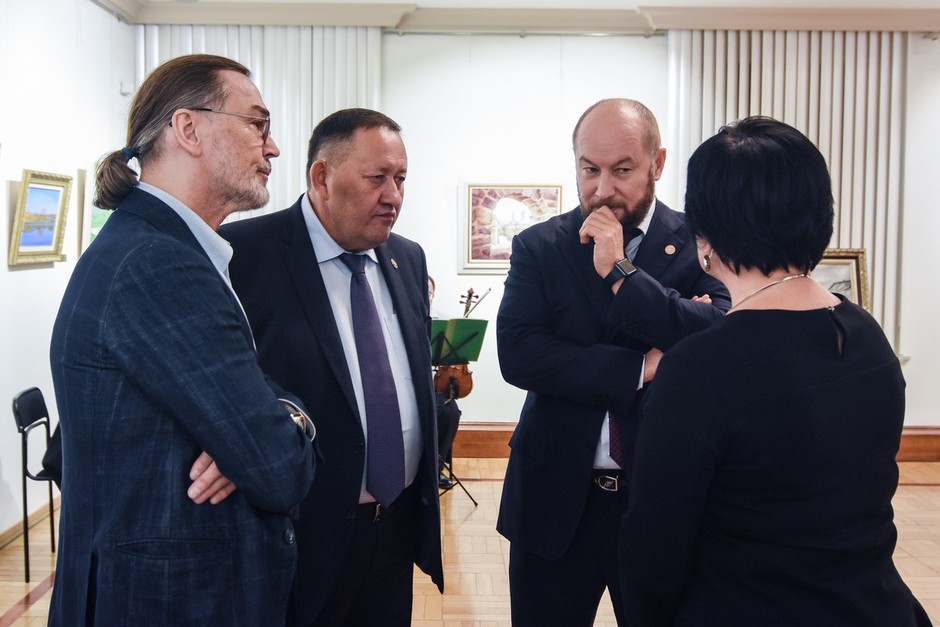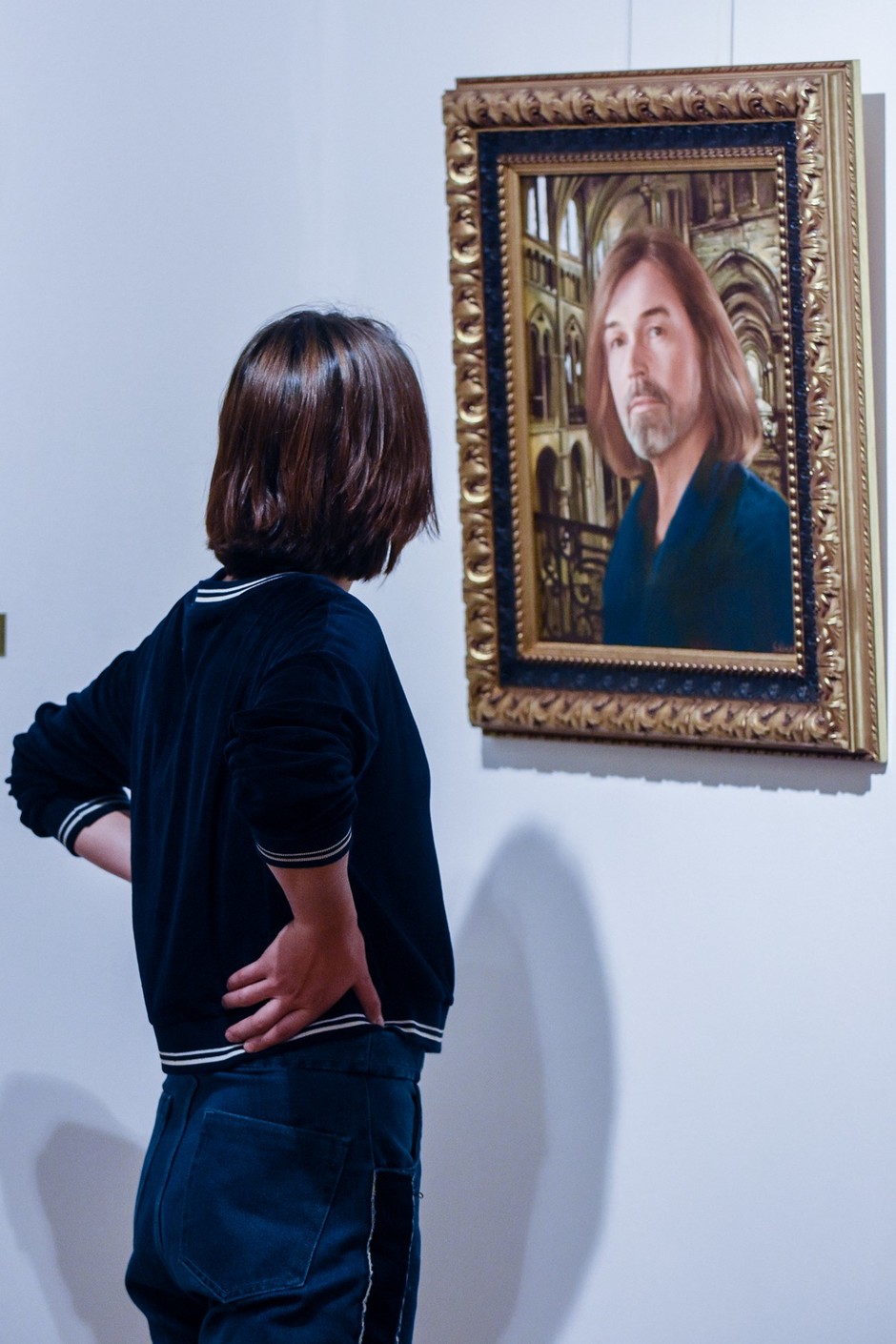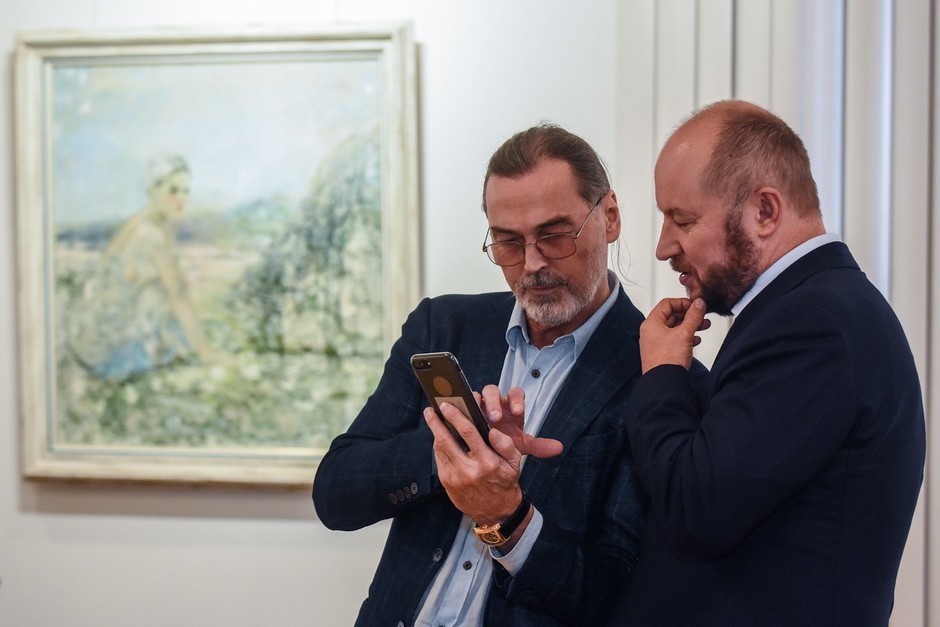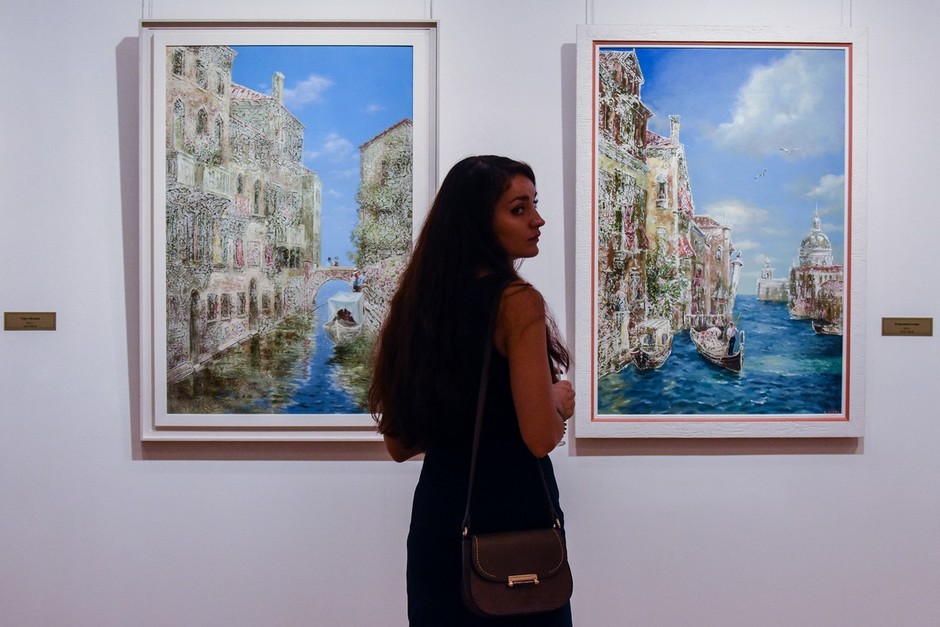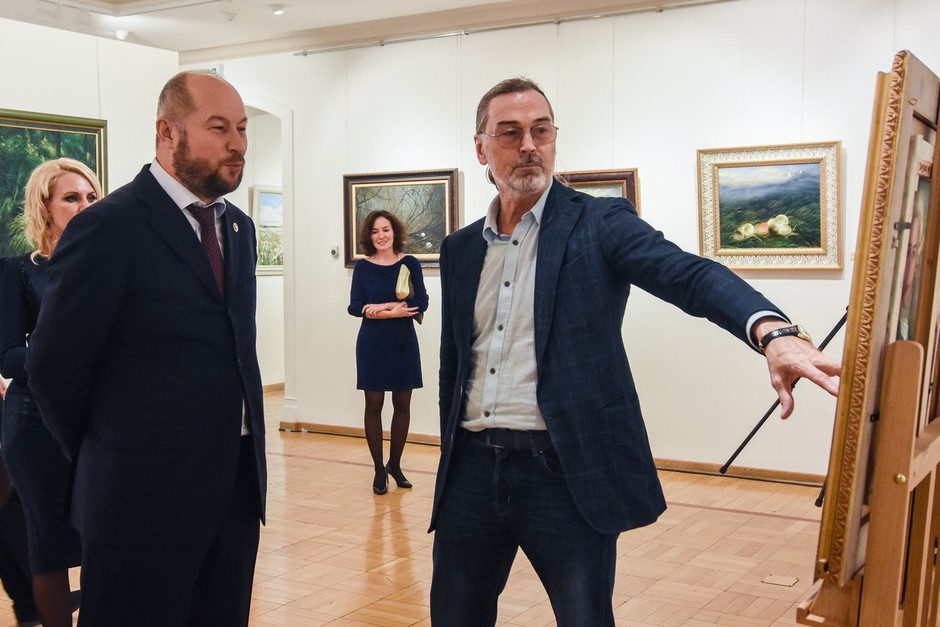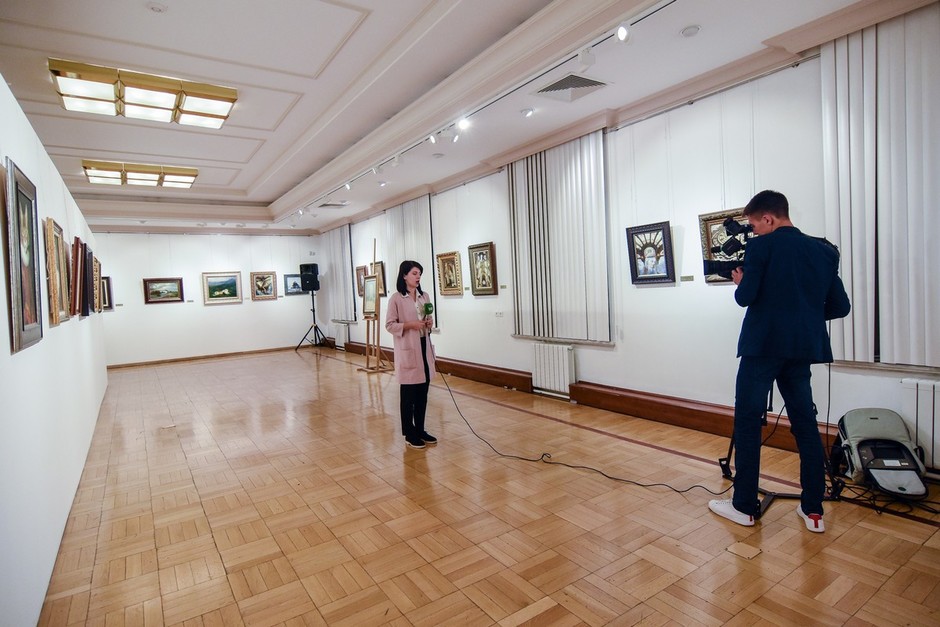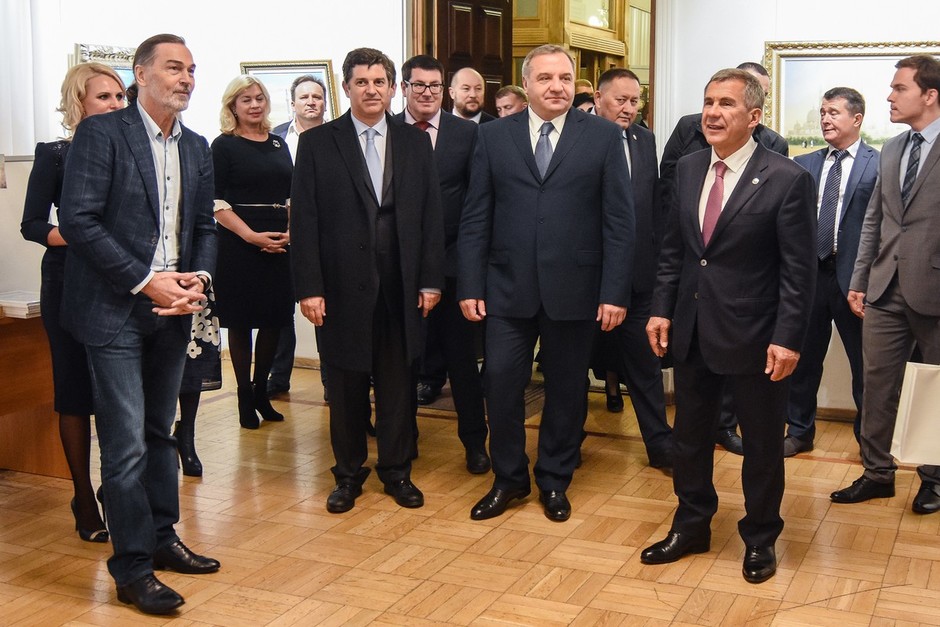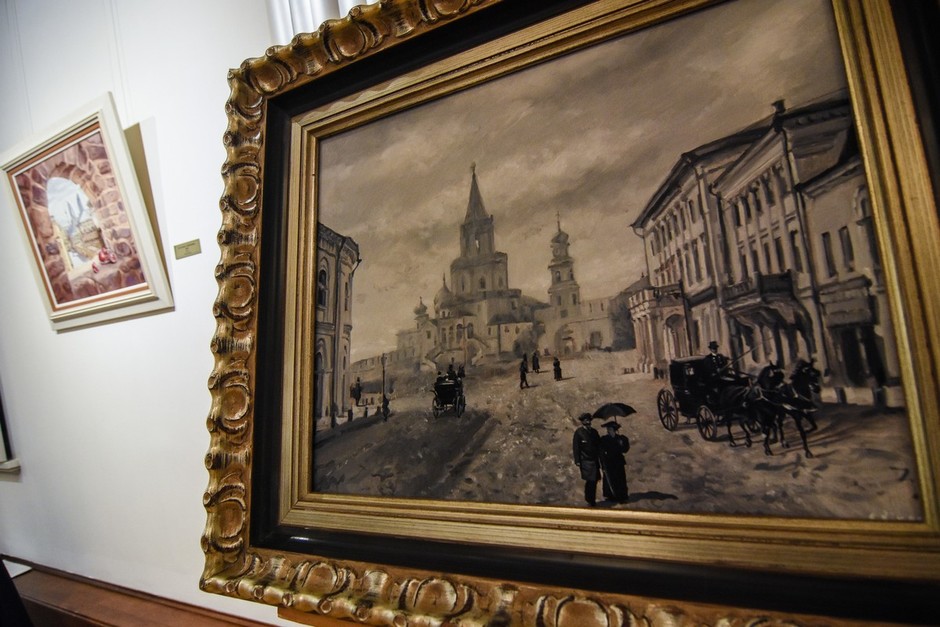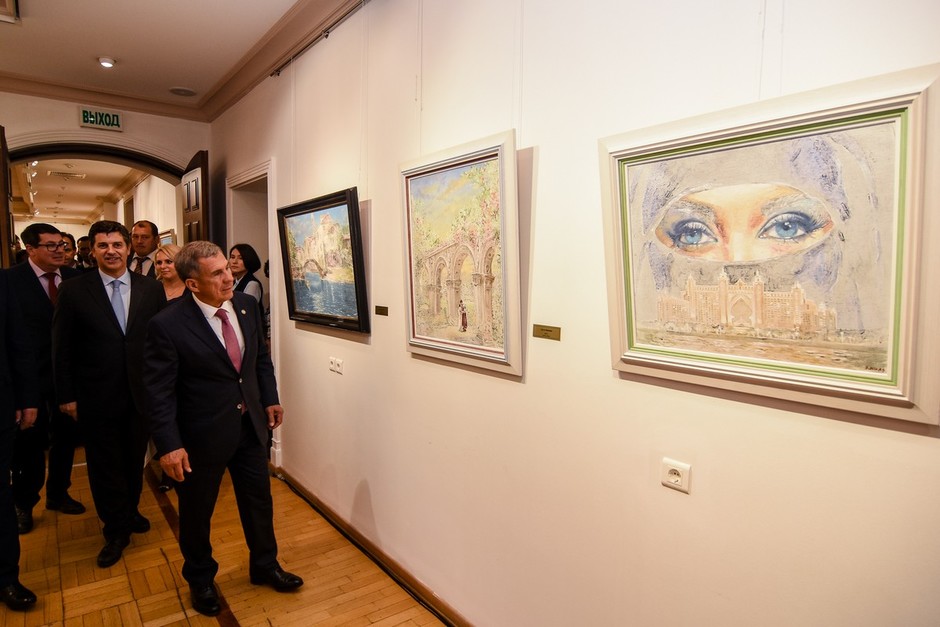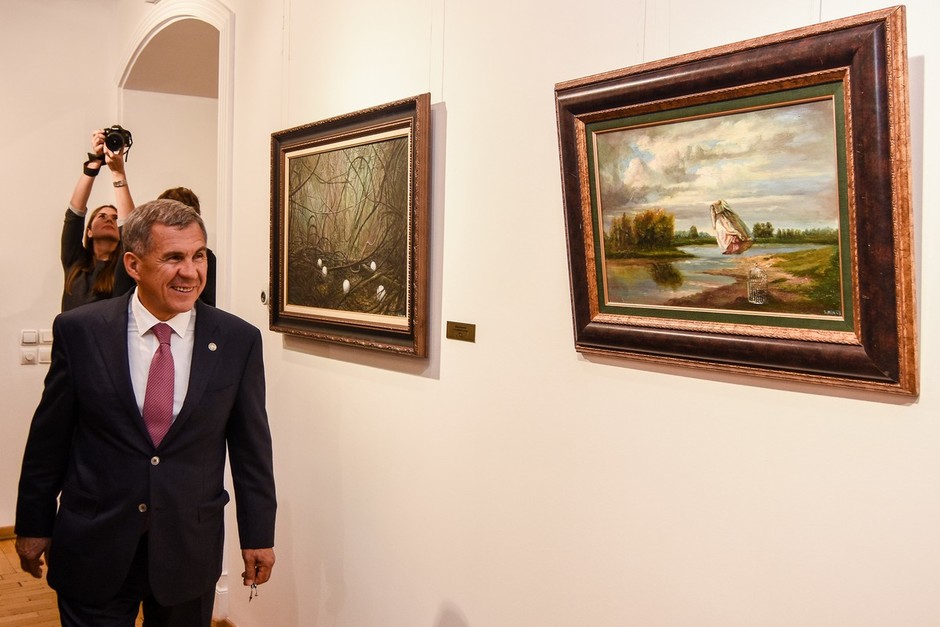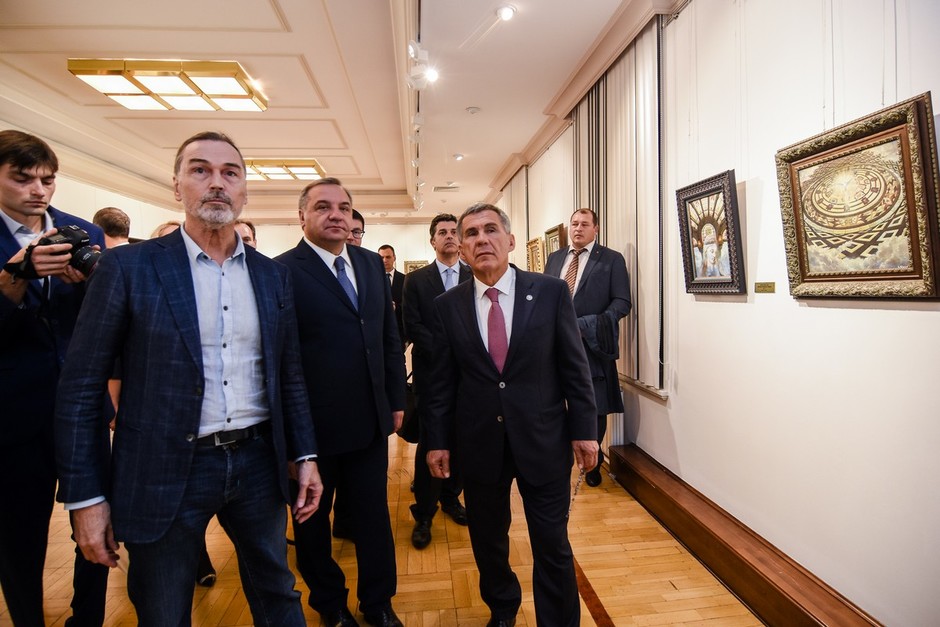 By Tatiana Mamaeva. Photo: Oleg Tikhonov