How to make money from Game of Thrones: ''iron'' throne from wood, pocket Tyrion and quests about winter
However, in such a business, one can get not only income but also problems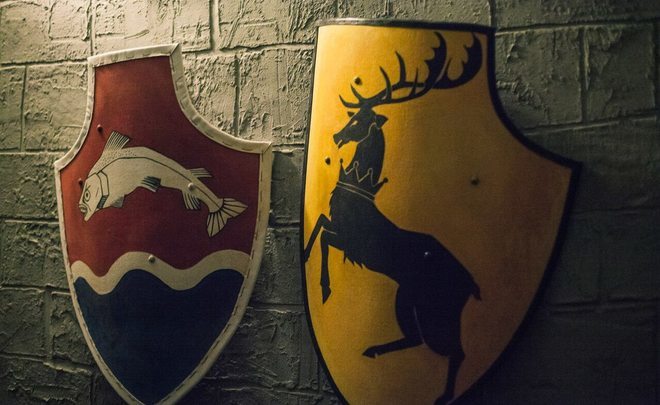 The popularity of Game of Thrones grows year after year. It is no surprise that the number of ambitious people who make money from cinematographic tastes of the population also grows. Fans are offered to buy essentials from the series, cover phones in branded cases or even celebrate a marriage à la Game of Thrones. Realnoe Vremya tells how much one needs to pay to get the throne from the series at home and whether the sale of the goods from the series is legal.
T-shirts, phone cases, spinners and pocket Tyrion
On Avito.ru free advertising page, residents of Tatarstan actively sell different kinds of goods linked with such a well-loved series. For instance, citizens of Kazan sell handmade pendants and souvenirs with emblems of Great Houses: one such an item is 100-150 rubles. There is a wide range of table games based on the plot. Their price varies from 800 to 3,000 rubles. One can also purchase themed spinners, phone cases and statuettes of Tyron or Daenerys.
The books the series is based on can be called quite a popular product. They are sold by sets. For instance, in Kazan, one wants 3,000 rubles for 4 of such volumes, in Almetyevsk, a person asks 2,000 rubles for 7 volumes. The needs of those who not only want to watch Game of Thrones but also wear are met by different online shops that sell clothes and printing companies. One of them, Print Bar, sells T-shirts with prints based on the series. The price for such goods is from 999 to 1,049 rubles.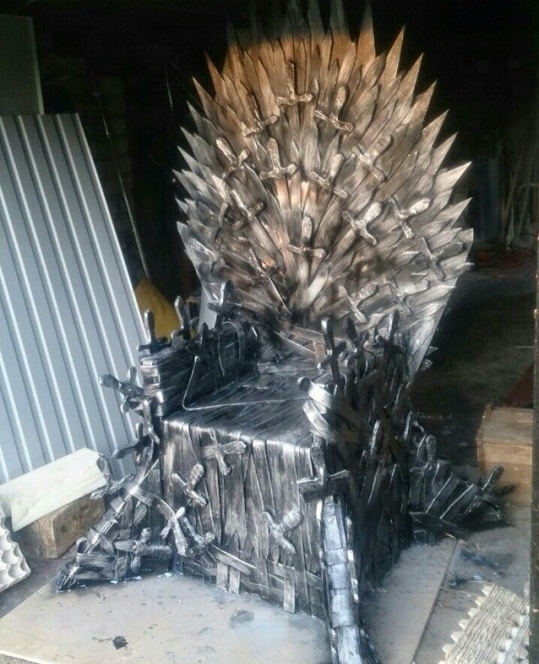 What is the price of Iron Throne from wood?
We should point out advertisements where copies of the Iron Throne from Game of Thrones are sold. Buyers are offered an identical copy of the throne from the series. The prices for this essential in Kazan vary from 37 to 65,000 rubles. For instance, a 200х130 throne (made of wood and polyurethane foam) can be purchased on Avito for 65,000 rubles. In addition, a similar construction can be ordered in the size the purchaser wants. An accurate copy from the series for 65,000 rubles is another option (it is dismantled into 8 parts, made of plywood, PVC and plastic). Making such a throne can take from 1 to 3 weeks, according to the advertisement.
There are cheaper options – a plastic 17 cm throne from Game of Thrones will cost 1,000 rubles.
''There are requests often because the series is gaining popularity. This is why people are interested in the throne – it is unusual, recognisable in itself. Because as time goes by when there is no excitement about Game of Thrones, nobody will need the throne,'' tells Aziza who receives orders for the essentials. ''Many people buy and use in photo studios, others use in quests. The quest The Winter is Coming is very popular, it is linked with the series – Game of Thrones without a throne? How come? Demand depends on the very series: a new season has started now, and we already have three offers,'' the seller notes.
By the way, that quest The Winter is Coming based on Game of Thrones is on sale in Kazan. A buyer will have to give 1 million 200,000 rubles for it and another quest.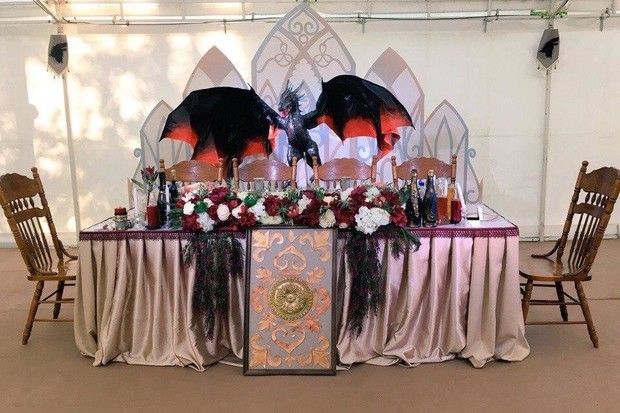 Cosplay doesn't need a licence
The throne from the series can be also seen at a wedding of Game of Thrones fans. What is more, organisations holding weddings in the style of the series also use the theme. Director Art of Celebration agency Olga Svyatkina, in turn, noted that all event agencies stage events à la Game of Thrones if the client asks.
''We make quests, team building events, banquets based on Game of Thrones. Their price will depend on what the client will want to see. We can give not only the essentials but also invite entertainers for work,'' Olga Svyatkina says.
As technical director of the company Dmitry Korzenyuk told Realnoe Vremya, clients started to express interest in the style of the popular series in 2014:
''The peak of the interest in this topic was last year. It is chosen more often,'' Korzenyuk tells.
He also said Art of Celebration makes not only thrones but also other essentials – costumes, armour, flags – on order and on a lease. The throne's price here varies from 35 to 150,000 rubles. Their price will depend on details.
According to Dmitry Korzenyuk, the agency is not concerned about rights and licensing:
''It is cosplay, and cosplay doesn´t need this thing (Editor's Note: licensing),'' the technical director stated.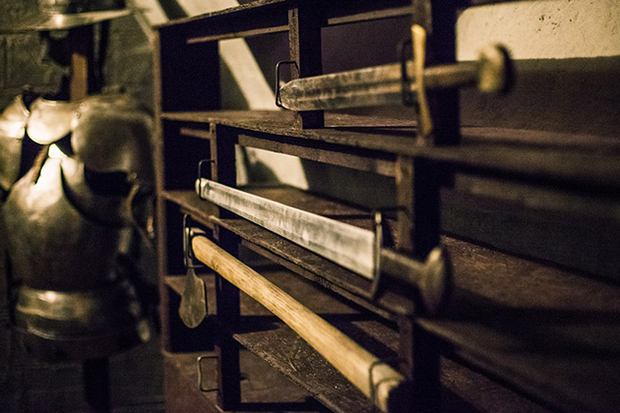 ''Free use is also possible, but it is better if it is legal''
However, a question about this business arises: is it legal to use characters from the series? In answer to the question whether Print Bar has the right to use the plot of the series for commercial purposes, an operator of the ogranisation told he did not have such information. Another online shop, Futboholic that also sells T-shirts with prints based on the series, noted that the organisation had the right to use the content of Game of Thrones. The freedom of using the content of the series depends on the scope of authority that belongs to the creators of Game of Thrones, Realnoe Vremya was told in Artpatent agency.
''People who want to use elements from the series need to check because the creators of Game of Thrones have rights. Probably, they are registered industrial samples if we are talking about accurate copies of the same thrones. In that case, if they are drawings or draft, using and licensing depends on the scope of authority and how it is established,'' jurist of Artpatent Yulia Magda tells. ''I think creators registered all the design elements, drawings, computer graphics because it is also their income. This is why permission needs to be obtained even if it is a print on T-shirts or an accurate copy of the essentials. Plot is also a copyright item. This is why a licence also needs to be obtained while organising quests.''
Artpatent also explained the order of actions that people who are going to use the content whose rights belong to another author for commercial purposes:
''They need to reach out to representatives of the creators of the series and write a letter specifying whom to get a licence from here. If it is done for scientific, informational purposes (which is presupposed by our law) and creators allow a free use, at least they need to have permission. Free use is also possible, but it is better if it is legal. And if they ask to sign a licensing agreement, act as they say,'' Yulia Magda says.