2017 Dividends: generous Tatneft and limitations of KAMAZ
Top 5 big issuers of Tatarstan paid their shareholders 62bn rubles in total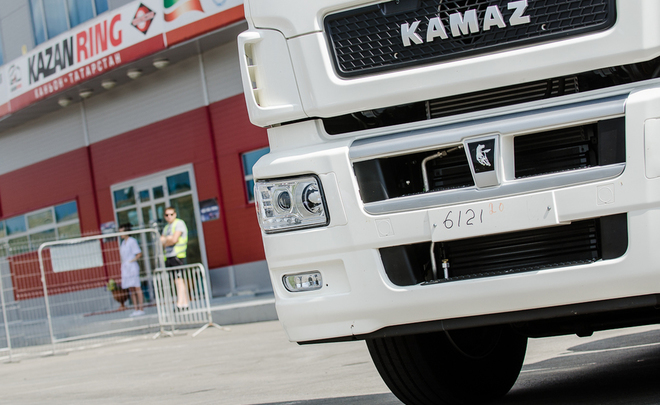 In 2017, five biggest Tatarstan companies paid over 60 billion rubles of dividends. Tatneft and Kazanorgsintez gave the biggest part of this sum. KAMAZ sent 25% of its profit to dividend payout, but it was less than 5 years ago. Other state companies wait for the crisis to end and save money for their own development. Realnoe Vremya tells the details.
62 billion for two
The biggest Tatarstan companies with different state participation are used to paying their shareholders in a different way. What is more, the recent practice shows that profit is not the point. While some companies announce record dividends, others prefer sending capitals to development. Others either pay the least sum or leave their shareholders without profit at all.
The crisis made some amendments to the big picture. Due to local difficulties in several enterprises, at best dividends were paid out less than before. However, the end of the bad period doesn't guarantee shareholders big payouts (and guarantees nothing at times).
In 2017, top 5 biggest issuers of the republic paid their shareholders over 63 billion rubles in total. However, only two companies provided the biggest part of this sum – Tatneft (it accounted for 84,8%) and Kazanorgsintez (14,3%). The share of other companies was within statistical error. For instance, the share of KAMAZ was 0,47%, Tattelecom – 0,3%.
Dividend ratio of Tatarstan companies, dividends for 2016, bn rubles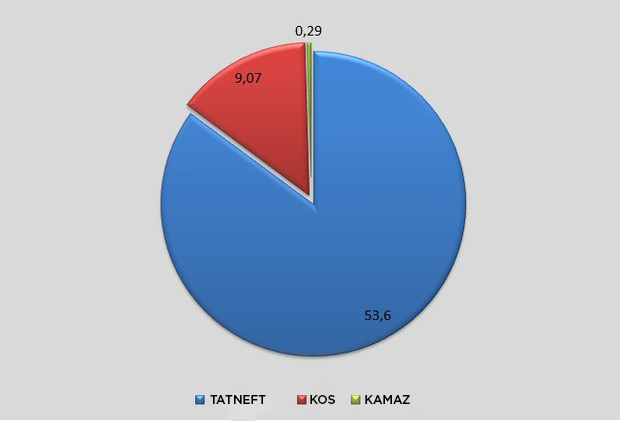 From 0 to 50
Nowadays Tatneft pursues the most progressive policy in terms of dividends. In general, it says that the shareholders need to have at least 30% of profit by the Russian Accounting Standards. So was it in recent years. But 2017 was an exception. At the annual meeting of shareholders in June, it was decided to give half of the profit by the International Financial Reporting Standards – 53,5bn rubles in total.
Dividends were paid out at 22,81 rubles for a common and preference share – it is twice more than in 2015. ''It is not tribute to a trend and generosity. It is an informed decision within the company's financial function aimed at price growth,'' Deputy Director General of Tatneft Nurislam Syubaev said then.
''Probably, but the most important thing is to found a dividend payout principle,'' said Tatneft's press service to Realnoe Vremya about perspectives of a further rise in dividends.
How Tatneft shareholders became rich, dividend per one Tatneft share, rubles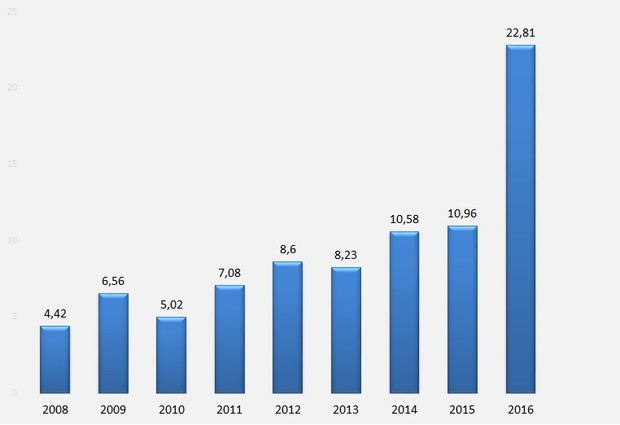 KAMAZ pursues a modest dividend policy by keeping a balance between its shareholders' interests and a possibility to finance investment projects. The company's regulation on dividend policy says that up to 25% of profit can be sent to the shareholders. However, the company paid this number in 2017 only. Earlier the profit was distributed in another way. For instance, in 2013 and 2014, 10% were given for dividends.
In total, this year the company paid 297 million rubles – 0,42 rubles per share. It is more than in 2013 (205,6 million rubles) but less than in 2012 (488 million rubles). In 2015 and 2016, there were neither dividends nor profit. The concern worked at a loss ''due to the severest crisis in the market commercial vehicles whose fall was 60%,'' head of press service at KAMAZ Oleg Afanasyev explains.
Nizhnekamskneftekhim's dividend policy presupposes that no less than 15% of the profit is expended to pay the shareholders. But the company had been paying more for many years. 30% of the profit were given to dividends from 2011.
But this year NKNKH's Board of Directors recommended not to pay dividends out. On 5 April, the meeting of shareholders supported this recommendation. Instead of the dividends, the company preferred to finance its development programme and leave part of the profit undistributed.
This year Kazanorgsintez (KOS) increased the size of dividends: its shareholders got 9,07bn rubles in total from last year's profit. In April, KOS paid out 0,25 rubles for preference share and 5,07 rubles for common. Last year, 3,22 rubles were paid for common shares that account for the company's authorised capital.
Tatarstan's biggest bank Ak Bars did not pay dividends out in 2015 due to a loss of 9,16bn rubles. Last year, the bank had a profit. However, it did not pay dividends out.
Last year, Tattelecom decided to pay its shareholders less, though its profit rose by 8,3m rubles. The company allocated 189,7m rubles against 236,8m rubles in 2016.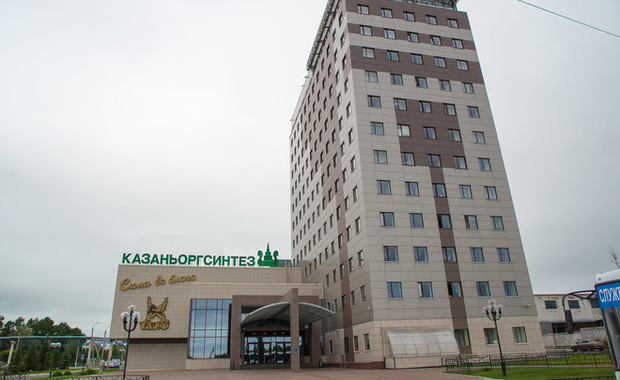 At the end of June, Russian Helicopters, the owner of Kazan Helicopters, decided not to pay dividends for common shares out. Dividends for preference shares were paid out at their nominal price – 1 ruble. In total, Kazan Helicopters paid just 594,300 rubles of dividends. In 2016, the factory's profit by the Russian Accounting Standards fell 100 times – from 12,38bn to 129,8m rubles.
Svyazinvestneftekhim used by the government of Tatarstan to hold state stakes of the biggest companies did not pay dividends out in 2015, 2016 and 2017.
Profit, plans and wishes
Many factors explain the decisions on dividend payouts. For instance, both the current state of companies and future plans and wishes of very owners can be considered.
Ak Bars Bank told that many nuances play a role while making a decision: ''Including the chosen development strategy – the organisation's development stage, the necessity to invest to expand the business and increase scale.''
''The company's profit is the main factor while paying dividends out,'' says Oleg Afanasyev from KAMAZ.
''Considering, first of all, investments in development and growth as well as needs in working capital – free cash flow that remains after that is a dividend payout source,'' Tatneft's press service replied.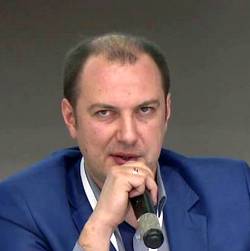 Final decisions on dividends for state companies are often linked with the necessity to patch holes in the budget, analyst at Alor Broker Aleksey Antonov reminds.
His colleague, senior analyst at AlPari Roman Tkachuk noted that this is why at the federal level the Russian Ministry of Finance has recommended in recent time to increase payouts to 50% of profit. But only Aeroflot and Alros have followed this advice. Others tried not to increase dividends justifying themselves by the necessity to realise investment programmes, he says.
Some Tatarstan companies confirmed: authorities' wishes (as shareholders) on the size of dividends are taken into account together with other circumstances. ''We listen to the opinion of all shareholders,'' Tatneft's press service answered. The same thing is said in Ak Bars Bank: ''All offers on dividend distribution received from the shareholders are considered while making a decision on the payout.''
Gazprom and Rosneft scotch growth
At the federal level, the situation with dividends looks the following way. ''Speaking about the average level, about 30% of the net profit have been sent to corporations in the last 2 years,'' senior analyst of AKRA corporate rating group Aleksandr Guschin notes.
''If we consider only state companies, the share increased from 23% in 2015 to 26% in 2016. In addition, if we exclude Gazprom and Rosneft from the list, the growth will be from 17 to 32% in the analogous periods.''
He says costs on dividends grow because the state gradually rises payments from companies to half of net profit. ''Meanwhile, some state companies manage to prove the priority of their capital expenditure programmes. As a result, the money is not sent to dividends but an investment programme,'' Guschin adds.