Tatarstan opens ''food'' gates for Iran in order Tatneft entered Dehloran
Large delegation from Razavi Khorasan Province, Iran, arrives to Tatarstan to find growth points for trade volume between the republics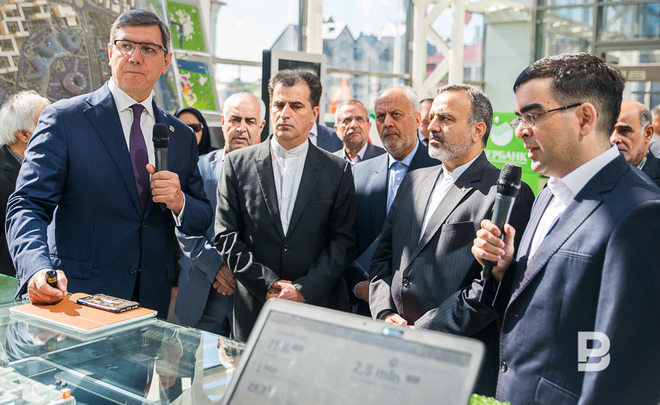 Tatarstan may become the ''point of entry'' for imports of fresh fruits and vegetables from Iran, which is full of energy to press Turkey in Russian food market. When opening the gates to them, Tatarstan companies, almost like a bomb squad, are cautiously probing for ways to enter the Iranian market, fearing of running into restrictive international sanctions. The correspondent of Realnoe Vremya writes about the wishes of Tehran and opportunities for Tatarstan.
The governor of the province of Iran relies on agriculture
Yesterday Kazan became a place of pilgrimage of a representative delegation from Razavi Khorasan Province, Iran. They arrived in Tatarstan with a response business mission. The visit began with the Iran-Tatarstan forum that took place in the Congress hall of the Kazan IT-Park. Governor of one of the largest provinces of Iran Ali Reza Rashidian arrived with a large group of managing directors of regional companies, whose turnover varies from $100 million to $500 million.
''In my team, there are 30 people, but only 6 of them belong to the power. All the others are entrepreneurs,'' said the governor of Iran's province to President Rustam Minnikhanov, when they entered the hall and began to get acquainted with achievements of the Republic in IT industry. Razavi Khorasan Province itself is famous for its favourable climate and therefore constantly involved in agriculture, that is why together with the governor there arrived the large ''agricultural faction''. Among them there are deputy chairman of the board of the agriculture complex Saleh Kashmar, managing director of the company Tara, exporter of food products, compote and butter and many other food manufacturers. But their brands are not known to Russian consumers, as their access to the domestic market until now was limited due to the European economic sanctions against Iran (the Islamic Republic has been under sanctions for almost 30 years, which made it a self-sufficient republic).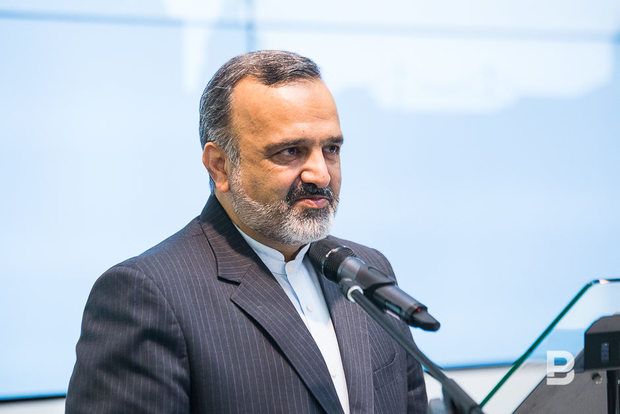 As Deputy Minister of Industry and Trade of Tatarstan Denis Valeyev said on the sidelines of the forum, after imposition of restrictive sanctions against Russia, Iran can become its main trading partner, and at the regional level Tatarstan is being considered as a point of entry on the Russian food market. ''Our goal is to build up logistics so that goods from Iran, that are not cheap, did not become ''gold'' and were affordable for the mass market. Fruits and dried fruits from Iran are not worse than in Turkey,'' he said, adding that the financial and non-financial support in development of mutual trade can be provided by the Russian Export Centre and the Centre of Export Support at the Ministry of Economy of Tatarstan.
It is not the first statement on entering the Russian market through Tatarstan. In the past year, Mohsen Fagani, then acting Consul General of Iran in Tatarstan, told about the plans to supply agricultural products in an interview with Realnoe Vremya. At that time, there was also the idea to make a base for their products in Tatarstan. A year earlier, the Iranians were interested in the project of the Sviyazhsk multimodal logistics center.
Tatarstan is preparing for a peak of trade turnover, promoting helicopters, KAMAZ trucks and oil
It should be noted that it did not take long for the Iranians to get ready for a visit. On the contrary, we can say they even hurried. As it is known, the delegation of Tatarstan had a friendly visit in April, so since less than two to three months of deliberation, Iranian businessmen visited Tatarstan, and their arrival was preceded by a round table meeting, organized by Consulate General of Iran in Kazan. At the opening of the forum, President of Tatarstan Rustam Minnikhanov welcomed them with kind parting words. According to him, the Republic is interested in expanding cooperation with Iranian companies. ''The government of Hassan Rouhani is seeking to expand contacts in various spheres with Russia, and we are ready to participate in these projects,'' he said.
The head of Tatarstan strongly emphasized lasting character and continuity of partnership relations with Iran. Suffice it to say that Consulate General of Iran has been working in Kazan for more than 10 years, the Memorandum of cooperation continues to operate. ''In Iran, there are three companies of Tatarstan: Kazan Helicopters, KAMAZ, Tatneft,'' he listed. However, the trade turnover between Tatarstan and Iran remains very modest, as if all that time their business would be frozen. Although the president said that the turnover increased 1,6 times last year, but he also made an important clarification — its value remains small. The figure, which the president hesitates to call, varies at the level of $12-13 million, according to Realnoe Vremya. How could it be otherwise? International sanctions against Iran, which has been extended again by the US administration, were faithfully followed by Tatarstan business until today.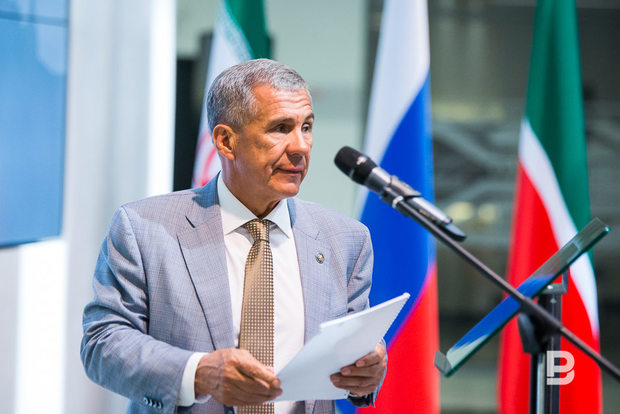 ''Iran and Russia turned out to be in one sanctions list, so it is impossible to spoil our relations,'' said Deputy Chairman of CCI of Tatarstan Artur Nikolaev. ''On the contrary, the relationship will only be strengthened. When there is a feeling that the sanctions are about to be lifted, then German, Italian, French companies show unprecedented activity, but when a ''clip'' starts again, they disappear and run away. Therefore, the Iranian side has a great desire to build relations with Russia.''
Iran is expecting a tourist influx from Tatarstan
The governor of Iran's Razavi Khorasan Province has focused on expanding commercial relations, offering to build direct contacts. ''Although we have difficulties with water supply, irrigation of agricultural land, but still we get record harvest and we are ready to supply you pistachios, saffron and fruit. I hope that the trade turnover of the region will receive a new impetus,'' he said.
Another disturbing topic was tourism. ''I would ask that I was showed entrepreneurs to talk with them about tourism,'' he stressed the problematic part.
Later, the head of Tatarstan State Committee on Tourism Sergey Ivanov told him that yesterday the ''docking'' of Iranian and Tatarstan travel agencies was successful. ''There is a plan of joint actions,'' he said. However, they already had a plan in the past year. Those plans will not materialize if citizens of Kazan are attracted by boring presentation videos that were on this forum. Expecting to see panoramic sights of Iran, the guests during 15 minutes were listening to a bearded men in traditional costume playing an instrument, resembling the dombra. Perhaps, the national melodies were performed by the state musical orchestra.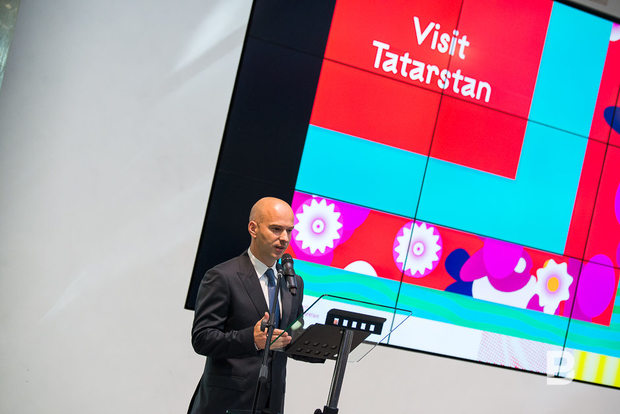 Tatneft is expecting Dehloran, and Volvo loses to KAMAZ
After that, the delegation of the province of Iran and the Tatarstan representatives relocated to the Kazan Kremlin, where the results of the business forum were summed up. Here it became known that Tatneft have signed a Memorandum of understanding with the National oil company of Iran (NIOC) for exploration of oil deposits of Dehloran. We will remind, Tatneft and Zarubezhneft are admitted by the authorities of the country to the oil depths.
Speaking about the export of oil products to Iran, the president of Tatarstan said that the issue is being worked on. ''We need to see the cost. We have the resource,'' he said. Besides, POZIS intends to start supplies of medical refrigerators to Iran. ''We are looking for ways to enter the Iranian market under their brands because Iran is a very conservative state, it supports domestic producers and imposes very powerful protective duties for the importers,'' told Radik Khasanov, Director General of POZIS, on the sidelines of the forum. ''On the one hand, the Iranian market is very large, on the other hand, it is conservative, direct access is impossible. We plan to go to Iran with medical refrigerators, but it is difficult to predict the term, we are working with partners from Iran. We participate in the programme Arab Helti, the programme of health of Iran, we want to start faster.''
Besides, KAMAZ sets the task this year to open a joint venture in Iran. But this assembly plant geographically is located in other provinces — East Azerbaijan, so this issue was not raised. But it is known that German Volvo has left the project, leaving place to KAMAZ and NEFAZ.
''In principle, the task is to increase trade turnover,'' Denis Valeyev told Realnoe Vremya. ''Now the trade turnover between Russia and Iran is $2 billion, and between Iran and China — $20 billion! The language differences between Chinese and Farsi are serious, like between Russian and Farsi, but the Tatar language has a lot of verbal borrowings from Farsi. Today this allows our President and the governor of Razavi Khorasan Province to understand each other without interpreters — the meaning of many phrases is already clear.''