Tatneft loses income due to OPEC
The head of the company hopes that the restrictions on oil extraction will be temporary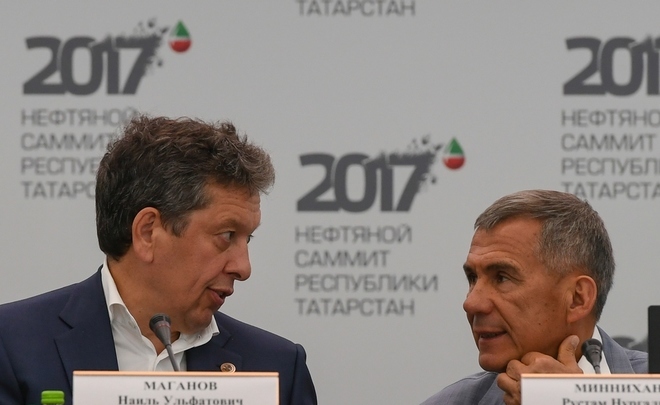 The ''digital'' tsunami that is pouring during Digital Economy federal programme that terrifies industrialists has reached Tatneft. On 12 July, at the annual oil summit in Karabash, officials of the market presented an exposition of ''digital transformation'' of all the business processes. But honourable guest of the forum Deputy Minister of Energy of Russia Kirill Molodtsov accompanied by Rustam Minnikhanov looked it over with agonising silence like he gave to understand that the trendy digitalisation doesn't save the oil industry from damage due to OPEC restrictions. Realnoe Vremya's reporter observed it all.
Taboo on talking about OPEC
The 2017 Oil Summit that gathered the elite of the Tatarstan oil industry took place against a background of sad news about the decision of OPEC to extend the action of agreement on oil supply cut until March 2018. The prolongation of the restrictive regime for Russian oil workers that came into effect on 25 May this year could not help but upset oil generals. After the decision of the cartel, oil prices reacted correspondingly: a barrel of Brent Crude in Intercontinental Exchange in London fell to $51,91. So a question of journalists about consequences of the OPEC restrictions at the summit was received painfully: like a red flag shown to an irritated bull.
Only after a soothing visit to the exposition of the summit, Tatneft Director General Nail Maganov decided to illuminate consequences of OPEC's annual moratorium that has affected Tatneft. ''Although at the beginning of the year we saw a certain growth of oil rates after the famous agreement on oil supply cut, there was an imbalance caused by shale oil extraction in the USA and decline in dynamics of India's economy. But Tatneft conserved its financial sustainability and continued stable development within the adopted strategy until 2025, which is designed to double the shareholder value of the company,'' Nail Maganov told having specified that the output volume increased by 3,4% in the first 6 months and became 14m tonnes. Tatneft and small oil companies extracted 17,785m tonnes in total during the first 6 months.
''At the same time, we continue meeting the commitment we made to cut oil supply by the level of October 2016,'' he stressed. ''The planned reduction in 2017 is about 3,000 tonnes per day. As a result, ''there is a loss of income''. But the Tatneft director anyway hopes that ''these restrictions are temporary'' and sets a task on ''further recovery of the gained oil extraction growth paces having provided an annual direct reproduction of reserves of 37 million tonnes by 2025.''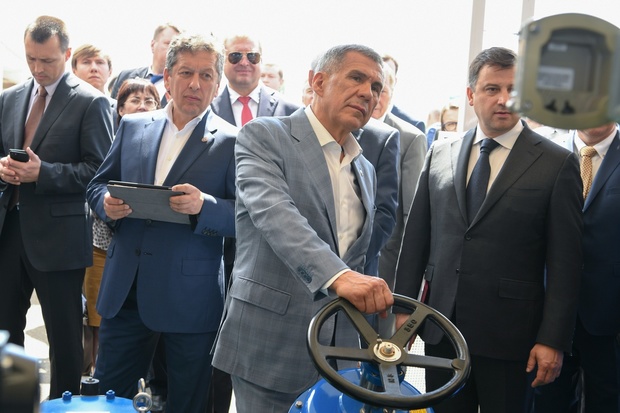 Tatneft multiplies ''digital twins''
First of all, a frightening statement about losses was made in the hall. The Tatneft director led the officials of the Russian Energy Ministry and republic ''on the light side of oil extraction'' having presented the concept of ''digital transformation'' of all the business processes of Tatneft.
By 2021, the company is going to transfer all the fields explored in Tatarstan and outside it to digital design and management. For this purpose, one year ago, Tatneft created a design centre that, as Deputy Director Renat Khalimov noted, will provide all the major fields with constantly operating geologic and hydrodynamic models that will enable to optimise the working regime of extracting wells. ''It will be a digital twin of the fields,'' Khalimov noted.
As it turned out, two fields in Tatarstan are explored with the help of artificial intelligence – Aznakaevo Square and Sabanchinsky Field. Operational costs of unprofitable wells reduced by 5% during the first year. Then Renat Khalimov went ahead and showed achievements of digital technologies in process. According to him, now operators working in remote places have smartphones with a special app. And he gave the operators' smartphone to the president, Kirill Molodtsov also estimated it then.
Chipped Kama
Managing Director of Tatneft-Neftekhim MC Anvar Vakhitov who tried to surprise the guests with microchips for light-weight Kama tyres presented digital initiatives. He showed the president what a chip sewed into tyre looks like – it is a metal core similar to a sewing needle. ''But it is just a toy without software,'' he noted and showed a tablet reading information from the chip. Here Anvar Vakhitov explained that it is not just fun: ''black boxes'' are to be obligatorily installed in new cars, so chipped tyres will be an indispensable element of vehicles' security system. Having left stands of TatRITEKneft, the delegation again stopped near KVART factory that has visited Karabash with packers that are analogues of American TAM packers for the second time. ''We started to actively sell them to Tatneft only this year because they have worked on spare foreign packers during the whole year. Now we created a joint venture on new modifications and stood together in Surgutneftegaz's tender,'' the head engineer of KVART told.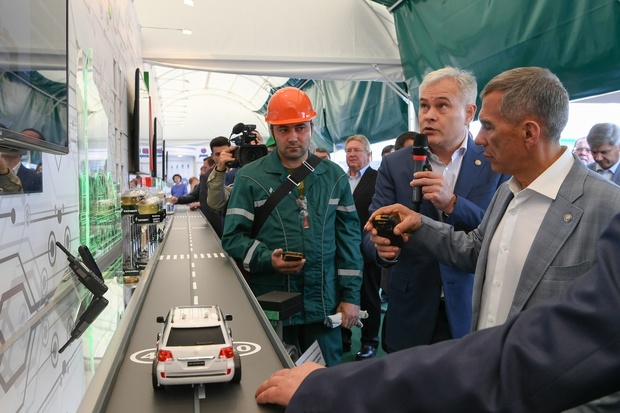 The excursion to digital technologies switched from one stand to another but it did not cause great interest of the Moscow guest. He did not utter a word during all time, and the president was not talkative. He managed to exchange a couple of words with students of Kazan Federal University, Almetyevsk Oil Institute and Kazan National Research Technological University while discussing engineering cases in oil extraction.
''Everyone is speaking about digitalisation and digital technologies. And we see that it is not talks but our future. And our oil companies are already purposefully working in this area,'' Rustam Minnikhanov commented the oil workers' achievements. ''The summit is also a good contact with our federal colleagues. Deputy Energy Minister of Russia Kirill Molodtsov, Director General of State Reserves Commission Igor Shpurov who chair these areas are here today. We have a great opportunity to express our wishes.''
Hopes pinned on TANECO
During the business part, Minister of Industry and Trade Albert Karimov reported that everything was not so dramatic. According to him, Tatarstan GRP was 835bn rubles (plus 4% to last year's level) in the first 6 months and the volume of sold products was 869bn rubles (plus 3,5% to last year's level). At the same time, he emphasised that the Fuel and Energy Complex still accounts for over 60% of sales. The Tatneft deputy director, in turn, evaluated the work of TANECO oil refinery as ''dynamic''. ''The delayed cocking unit that was put into operation last year allowed us to increase the refinery level to 99% — while an average level across Russia is 79%,'' he told.
The company's oil refinery volume in 2017 made up 8,4m tonnes of feedstock. Tatneft is going to increase the time between overhauls of TANECO oil refinery to 8 years. Now it is 5 years. Answering the journalists' questions, Tatneft Director General Nail Maganov commented on the possibility of constructing the third line of TANECO oil refinery: ''The administration of the Republic of Tatarstan and country, in general, psychs oil workers up to refine products, manufacture value added goods,'' he said. ''Of course, in this respect, we consider all the possible possibilities. Gas and petrochemistry are developing. I think we will raise this issue at a meeting of Tatneft's Board of Directors by the end of the year. Then it will depend on how these documents will be adopted. Everything is done stage by stage.''
In conclusion, on behalf of the Ministry of Energy, Kirill Molodtsov invited all the oil workers to Energy Week to Moscow in October.
By Luiza Ignatyeva. Photo: prav.tatarstan.ru