Rustam Minnikhanov meets with Nursultan Nazarbayev in Astana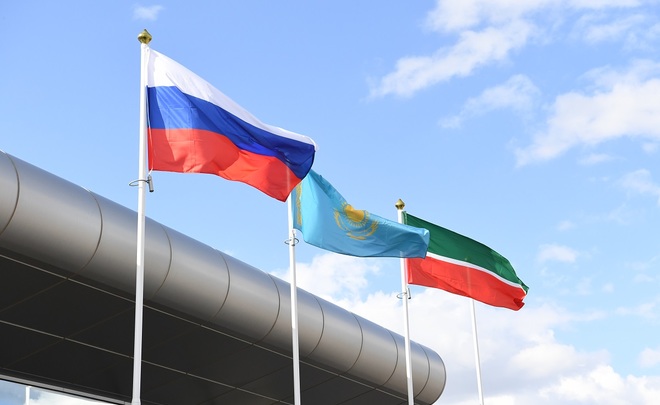 On Russia Day, the president of Tatarstan took part in Astana EXPO-2017, an international exhibition devoted to the future of energy. Tatarstan's display at the expo presents human energy as a driver of cooperation in technological development. During the visit, Minnikhanov also met with Kazakhstan's top officials and presented the highest state award of Tatarstan to the country's head Nursultan Nazarbayev.
On 12 June, the head of Tatarstan Rustam Minnikhanov visited Astana and met with President of Kazakhstan Nursultan Nazarbayev, reports Kazinform International News Agency. The presidents discussed issues of cultural and economic cooperation between Astana and Kazan paying much attention to ways of boosting Kazakhstan-Tatarstan transit and transport potential. The implementation of infrastructural projects within the framework of the Western Europe — Western China International Transit Corridor was another subject of the talks.
The head of Kazakhstan congratulated Rustam Minnikhanov on Russia Day and praised good relations between the two countries. ''We have warm relationship both with Russia and Tatarstan. Kazakhs and Tatars are fraternal people and have good economic contacts''. Nazarbayev added that he finds it crucial to develop economic ties, especially in the sphere of petroleum chemistry. Rustam Minnikhanov presented the Order of Merit for the Republic of Tatarstan to his Kazakh counterpart and invited him to visit Tatarstan.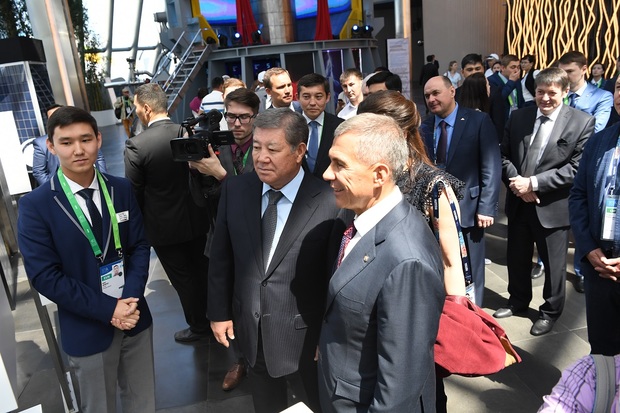 In Astana, Rustam Minnikhanov took part in EXPO-2017, an international exposition devoted to the future of energy, innovative and practical energy solutions and their impacts. The president held a presentation of Tatarstan's display in the Russian pavilion. The corner named ''Human Energy is the Driver of International Cooperation in Technological Development'' acquaints visitors with the peculiarities of the country and introduces famous people of Tatarstan who made a significant contribution to the country's development. Guests can manage their images on a LED wall using touch control.
''This is a world-class event. Things will be humming here for three months. The whole world will turn its gaze to here. The energy issue is the most important thing in the life processes. Here you can find the latest technologies and approaches,'' Minnikhanov commented on the exhibition.
During the visit, the president of Tatarstan also met with Prime Minister of Kazakhstan Bakytzhan Sagintayev, who has recently been to Kazan to take part in meetings of the CIS Council of Heads of Government and the Eurasian Intergovernmental Council.