Rostelecom to offer TAIF integrated cybersecurity solutions
The leader of telecommunication services market for Russian state power bodies and corporations is ready to offer its products and approaches to TAIF Group of Companies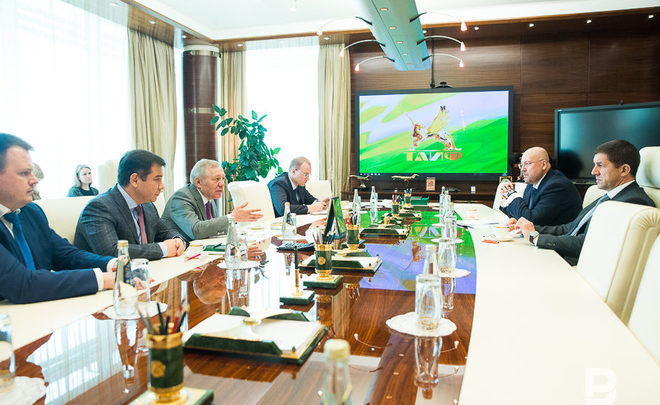 A meeting of TAIF CJSC Director General Albert Shigabutdinov with Rostelecom CJSC President Mikhail Oseyevsky took place in the head office of TAIF Group of Companies on 25 May. The head of the telecommunication company took part in Information Technology of Industrial Russia (CIPR) conference in Innopolis. He met Tatarstan President Rustam Minnikhanov before visiting TAIF. A memorandum on understanding on joint negotiation of construction of a 5G test zone in Tatarstan was signed there. Mikhail Oseyevsky's programme also presupposes a visit to biggest enterprises of the republic.
''We would like to discuss a possibility of a global contract''
''I welcome you in your new capacity,'' Albert Shigabutdinov received the guest with a smile. Mikhail Oseyevsky chaired Rostelecom in March this year. Earlier he often visited Tatarstan as VTB Bank deputy president and chairman of the board.
At the table of negotiations, the Rostelecom president told that a meeting of the government commission took place at CIPR and discussed Russia's new Digital Economy Development Strategy that presupposes an active use of data to increase production profitability of enterprises, create added value. As biggest national operator, Rostelecom is going to actively participate in realisation of the programme. Rostelecom experts created some of its blocks.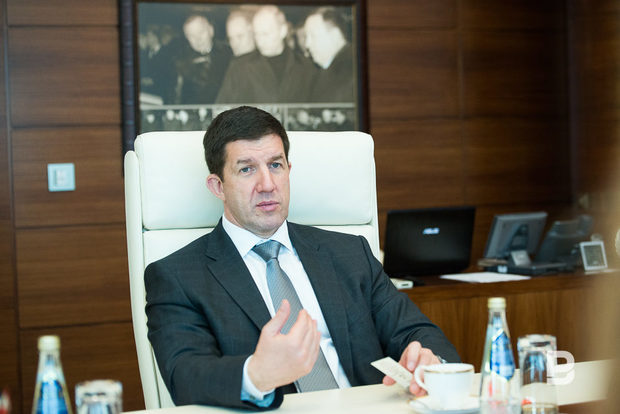 Today Rostelecom offers the full range of services freeing enterprises from part of concerns
Mikhail Oseyevsky reminded that Rostelecom is a state company and works with the population, state structures, business. First of all, it is a business company. This is why the programme of the Rostelecom director's visit to Tatarstan includes meetings with heads of key companies of the republic – TAIF, Tatneft, Kazan Helicopters – directors of agricultural holdings and energy enterprises.
''Cooperation with leaders of the regional economy is important part of our work,'' the Rostelecom president expressed his intentions. ''We are going to discuss Rostelecom's offers on new products and new approaches. Today Rostelecom offers the full range of services freeing enterprises from part of concerns. And they don't need to spend money to create their own networks, infrastructure. We can build everything on our own. And companies will just pay our services. This service model will help them to reduce capital expenditures and clearly divide responsibilities.''
Mikhail Oseyevsky expressed his interest in closer cooperation with TAIF having called the group of companies one of the biggest in Tatarstan and Russia, in general. According to him, the group of companies that actively invests, builds new modern factories and aspires to be up-to-date and effective needs digital services of a corresponding level.
''We already work with certain enterprises of the TAIF Group. But we would like to discuss a possibility of a global contract''
''We already work with certain enterprises of the TAIF Group. But we would like to discuss a possibility of a global contract,'' Rostelecom's director claimed. ''Transition from contracts with certain enterprises of the group to concentration to a single contract will allow the business to reduce expenditures and apply more effective technical solutions. Our offer covers telephony, access to the Internet, data centre.''
Integrated security
Cybersecurity has become a hot topic. As Mikhail Oseyevsky said, today Russia is the third country in the world in terms of the number of virus attacks. Digital economy development creates new opportunities. But the appearance of devices having access to the Internet leads to the appearance of new threats to information security. And big companies suffer from them.
Mikhail Oseyevsky noted that today Rostelecom provides security in seven biggest banks of Russia and expressed his readiness to offer Tatarstan enterprises solutions in this area.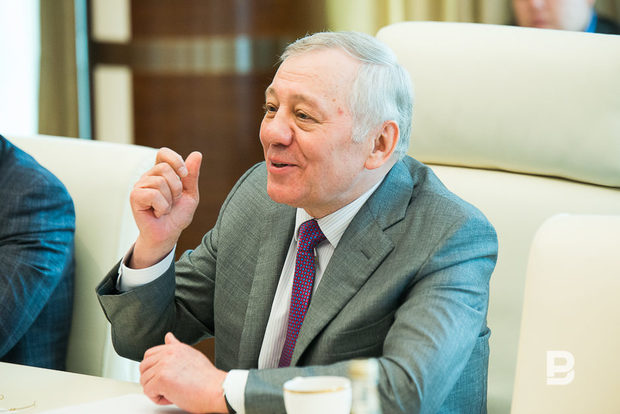 Albert Shigabutdinov agreed the problem was important and recalled a cyber attack performed in uranium enriching plants in Iran in 2010 that led to billions of losses. According to him, TAIF has been closely dealing with information security problems for a long time. And this issue becomes more important and topical every year because all the modern plants can't exist without digital support. But it also creates a threat of interference into production processes from outside. The TAIF director called technological processes that require better protection – use of enterprises, product inventory, information delivery between companies, protection of power transmission lines. At the moment, he says that TAIF stews in its own juice in terms of security provision.
Mikhail Oseyevsky answered that Rostelecom is ready to master new niches of information security and create products that are necessary for the company. In Innopolis, Rostelecom signed a cooperation agreement with RT-Inform (Rostec's IT centre) and Russian Helicopters. Expenditures on information support of helicopter manufacturing enterprises while expanding and optimising the quality of IT services are expected to reduce as a result of the agreement.
By Evgenia Gazizova. Photo: Maksim Platonov
Reference
Rostelecom CJSC is one of the biggest telecommunication companies in Russia and Europe on a national scale that is present in all the segments of communication services market and covering million house managements in Russia.
The company is the leader of the Russian broadband networks and pay television market: the number of users of broadband network services passes 12,5 million and that of pay Rostelecom TV – over 9,4 million users of which over 4,4 million watch a unique federal product called Interactive TV.
The Group of Companies' revenue for the first quarter of 2017 was 70,4bn rubles. OIBDA reached 21,6bn rubles (30,6% of revenue), net income – 3,2bn rubles.
Rostelecom is an undoubted leader of the telecommunication services market of Russian government power bodies and corporate users of all the levels. The company is an admitted technological leader in innovative solutions in e-government, cloud calculations, health care, education, security and public utilities.