Going in Style: Oscar-winning Grandads-Robbers and Leviathan
A review of the Hollywood film by Zack Braff given by a director Renat Khabibullin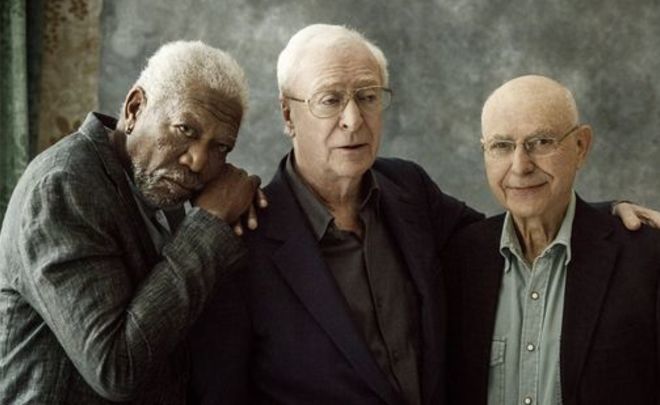 Another film of Hollywood production Going in Style starring Oscar-winning actors Morgan Freeman, Michael Caine, and Alan Arkin, is being shown in Russian cinemas. A Kazan film director Renat Khabibullin in his column in Realnoe Vremya gives a review of the work by Zach Braff. Our columnist compared it with the eponymously-named film released almost 40 years ago.
No country for young men
I want to talk a lot about the film Going in Style. At a leisurely pace. Thoughtfully. Or rather, to talk about both of them. Both, because the one that is being shown today in the cinemas is actually a remake of the magnificent film directed by Martin Brest Going in Style of 1979. In 1979, the main stars of Going in Style of 2017 Michael Caine, Alan Arkin, and Morgan Freeman were only a little over forty, and now they are 84, 83, 79 respectively, and one cannot say that it's time to rest for them. They act not like old people, and I hope they will go a long way.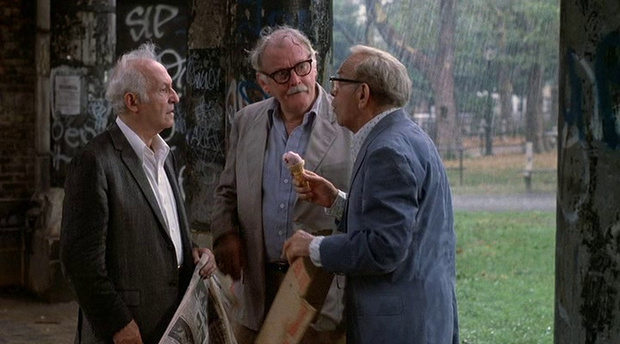 The starring actors who played in 1979 are long gone. Hardly anyone except historians of the cinema and the most dedicated cinephiles remember those names: George Burns, Art Carney and Lee Strasberg. They are all legends of the world cinema, and they perfectly play their roles. It is surprising that the film about the old men of 1979 was directed by a director who at that moment was only 28 years old. Later, the topic of time, summing up of results, was central in the works of Martin Brest. For example, Scent of a Woman starring incomparable Al Pacino had a stunning success, and Al Pacino was awarded his first and the only Oscar after eight (!) nominations. By the way, Al Pacino appears in Going in Style of 2017, but only as a hero of a film that the old men Caine, Arkin and Freeman watch on TV.
In general, the theme of old age rare but appears on the Hollywood screen. The movies Nebraska (2013) by Alexander Payne, Love (2012) by Michael Haneke, and still very fresh work that became famous in Cannes and winning the main prize the Golden palm I, Daniel Blake (2016) by Ken Loach vividly declare the relevance of the topic, but rarely resonate with critics and common spectators. Cinema, which has become entertainment, does not want to face problems of old age.
Actually, not exactly. Today we do have popular (if to read rave reviews, analyze fees and number of sessions in the cinemas) movies about old people. Dirty Grandpa, Last Vegas, Jackass Presents: Bad Grandpa – they all have the main character an old man. But are they really about old age? Can these films induce even an iota of human? Unfortunately, an old man in such works, for the most part, is just a clown, latching on young women and devouring cocaine in ungodly quantities. In these works, there is almost nothing of real life. But the reality, unfortunately, is that people just try not to remember about old people.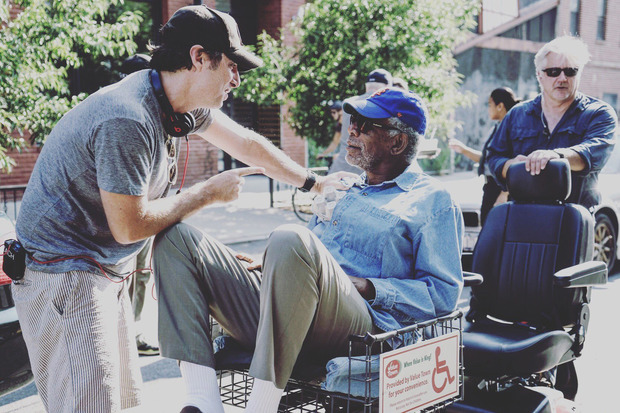 Man vs. System
The director of the film Going in Style of 2017 Zach Braff, also known as an actor of the series Scrubs, struggles to find a balance between important informative movie about people and a light form that can attract viewers at the age from 17 to 25. I must admit that he did it well. For example, Braff skillfully retains the dynamics of the narrative. Where in front of us there are old people in the traditional sense, we see a slow passage of time, a little tight assembling, but when they acquire a second youth, the dynamics and the narrative accelerates after heroes' changes. Braff nicely maneuvers on the razor's edge, never falling either into the abyss of obscenities, where we would have to laugh at how old people break wind, or in an acute social moralistic where the viewer would be rubbed his nose in the fact that he is to blame for problems of the older generation.
Old people all the more do not belong to our domestic cinema. However, once we had a hero of retirement age, who was very close in spirit to Freeman, Arkin and Caine. The film of 1999, Voroshilov Sharpshooter starring Mikhail Ulyanov, probably, most clearly correlates with Going in Style. In both cases, there is a confrontation between man and system. In both cases, the heroes decide to resist using illegal methods. In both cases, man is not just weak, but weak so that the soulless mechanism just does not see him. However, if the hero Ulyanov felt injustice by the example of the worldview gap of generations due to the fact that one day he was forced to wake up in another country, then the old trinity from Going in Style wake up only when they realize that the system is not on their side. Their turning point happens when they realize that all they talked about saving for old age and a dignified old age was a blatant lie. All that old men need is to have their humble piece of pie. They have nothing to lose: at best, they hit the jackpot, and at worst, ''bed, meals and medical care''. It seems if there will be other similar movies, our idea of prosperous West will change abruptly. After all, what system is it where it is more comfortable for old people in jail than in retirement? The West, after all! You need only to go to a supermarket and watch what our seniors put in their baskets, then everything will fall into place, and the West again will seem a Garden of Eden, where everything is made for people.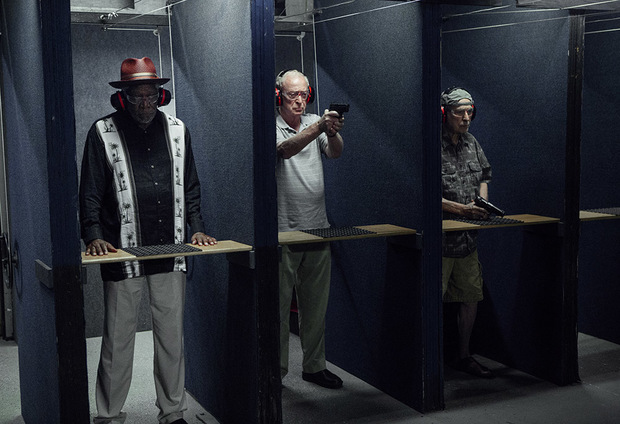 Going in Style: 38 years later
But for all of that, our idea of injustice is very different from West. More specifically, it differs in how our people react to it when it comes. If try to adapt the plot of Going in Style to the Russian reality, then our elderly in such situation certainly would find not just an abstract bank to ''return their own'' but they even would take hostage prime minister or head of the pension fund. No less. Our aggression is personalized. Our hatred always has an enemy.
What is the difference between the original 1979 and the remake 2017? It seems that the film in the modern interpretation — it is still a social movie about specific problems that exist in society in the relationship between the old man and the state. Nobody in 2017 (spoiler alert!) is actually going to go in style, which at some extent devalues a great title, borrowed from the original. Going In Style of '79. This film has a more ambitious content, covering life of man not just in the period of summarizing, but long before when his fingers ache with the gout and do not always have time to run to the toilet. Going In Style turn us to questions we should ask ourselves from a very early age.
Getting acquainted with both films, without a doubt, makes watching movies and comparing them in the context of 38 years deeper and more meaningful. What is closer to you, the viewers will judge for themselves.