Amusing BBC interview: Pusan University's Prof becomes Internet star because of his children
Top 5 facts about the expert Robert Kelly, whose children barged in the room during an interview with BBC World News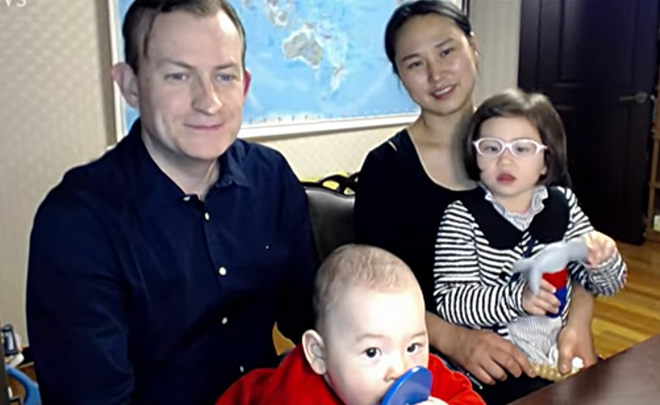 The interview with Professor Kelly on the BBC, during which his children unexpectedly barged in his office, has become one of the most viewed videos in the world. However, Kelly didn't know how to respond to the sudden popularity and has long kept silent. Meanwhile, colleagues cheered up the Professor, and even the stars, among whom has been famous Tom Hanks. Realnoe Vremya made the top 5 facts about the funny interview and about Professor Kelly himself.
1. Wife or nanny?
Professor of the Pusan National University Robert Kelly has unexpectedly become a Youtube star after the live broadcast on BBC, during which he gave a review of impeachment of the President of Korea via Skype. First, it was his daughter who entered the office, she immediately went to the desktop of her father. Kelly tried to salvage the situation by closing the child with his hand, but then his youngest son on the walker entered the room. After a few minutes, a woman flashed into the room, she hastily began to withdraw children from the room.
Internet users for some reason decided that this woman was a babysitter. But actually Jung-a Kim is the wife of the Professor. She was recording the interview, which he was giving live. She saw on TV that their children entered her husband's office. The Skype interview was broadcasted with a slight delay, about 20 seconds, that is why she did not have the time to come earlier.
As for the assumptions about that Jung-a Kim was a nurse, Robert Kelly admitted that it was unpleasant for him.
2. Tom Hanks among the fans
By the way, it is the mother who took kids to other room aroused most sympathy among users of social networks.
''We have no idea what @Robert_E_Kelly said about #Korea but his kids and wife are the GREATEST,'' twitted the user @victoria_craw.
His colleagues also supported Prof Kelly.
''I love it!!! I have often been petrified of my cat jumping on the desk in interviews from home. This is cute and human,'' wrote the expert on the Middle East Ziya Meral.
Among the fans of Robert Kelly there also were stars of show business.
''You're adorable as your kids,'' twitted an actress Lorelei King.
The famous actor Tom Hanks did not express his point of view, but shared the funny video on Twitter.
3. Kelly was afraid that BBC would never call him again
All this time Kelly was silent — he did not give comments to the media (including to Realnoe Vremya), and did not answer those who wrote to him on e-mail and social networks. As it turned out, they just didn't know how to respond to this situation.
After a long silence, the Professor once again gave an interview to BBC.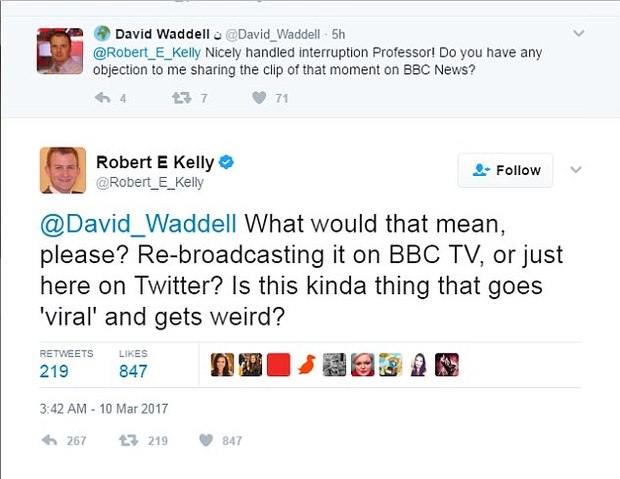 ''On us like an avalanche, a flood, any comments, questions, opinions… One woman asked me if I was clairvoyant. Maybe I see in the sky any signs or anything like that? We are flooded with emails from different media with all sorts of persistent requests. We didn't answer — and I apologize if it looked like we all ignore — in fact, we just didn't know how to answer,'' said Rob Kelly.
His wife admitted that for their family it was a little stressful, but now everything is okay and they treat the situation with humour. At the same time, Robert Kelly admitted, he was afraid that BBC would never call him again.
''We were worried actually that the BBC would never call us again. That was our first response – mortification that we had completely blown our relationship with you!'' said the Professor in his second interview.
4. Who is Mr Kelly?
44-year-old Robert Kelly received a bachelor's degree in Political Science in the University of Miami, PhD in Ohio. His father is a historian, his mother is an English teacher. By the way, Kelly's mum kind of blames on herself for the incident. According to her, the granddaughter probably thought her dad was Skyping their grandparents from South Korea. Robert usually Skypes with them from his home office, which is where he did the interview.
Rob Kelly has lived in Europe for 4 years, and in 2008 he moved to Korea. There he works as Professor of Political Science at the Pusan National University. Professor Kelly is a polyglot. He speaks German, French, Korean, and Russian.
His wife, Jung-a Kim is a former yoga teacher. Now she is focused on bringing up children.
5. He was wearing pants
At the end of the second interview, the BBC journalist James Menendez asked a tricky question: was the Professor wearing pants during their previous conversation?
''And one more question I have to ask: what were you wearing? Just many viewers suggested that you do not rose from his chair just because he was in his pajama bottoms. And if, maybe even without pants, because it was already late in the evening,'' asked Menendez.
Kelly laughingly pointed to his pants and said that he was wearing pants during the first interview. His wife added that that day their daughter had a party at kindergarten, so everyone was dressed civilized. She even jokingly said she was ready to provide photos from the kindergarten.
''And all this was staged. Some say that it's all staged, that we did it on purpose to attract attention. No, it's not true,'' added Professor Kelly.