From Panarin to Barbashev: who will join top 5 Russian NHL stars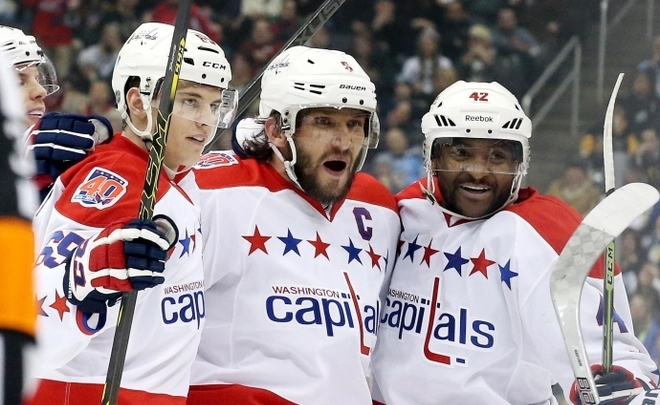 Ovehckin, Malkin, Markov. These names became famous a long time ago. Several hockey players like Tarasenko and Kucherov have joined them in the last seasons. Other Russian talented ''prospects'' are able to keep them company. Realnoe Vremya published a list of the players who are at least expected to repeat the success of their recent idols.
Artemy Panarin — future Aleksander Ovechkin
Probably I will start with the trickiest couple. Artemy Panarin has been demonstrating his highest level for the second year. His job proves he has big talent. Chicago is lucky – they got a brilliant without any intention. Now Panarin's game is turning into the club administration's pain in the neck because they got a top player who doesn't have problems in the market instead of a middling one.
Panarin is also a left wing. In this season, he is scoring as many goals as Ovechkin does. Aleksander already earned a seat among legendary NHL players, and his star will start fading soon. Panarin is ideal to substitute the main sharpshooter of the country. He has already scored several pucks in a row from ''Ovechkin's point''. In addition, he perfectly suits the image of a Russian hockey player preferring to spend his summer holiday together with chess in a Russian backwater. What is more, Panarin is ready to stand up for himself and his teammates.
Ivan Provorov – future Andrey Markov
World class defensemen have been absent in our hockey for a long time. Philadelphia had similar problems. Ivan Provorov seems to have managed to occupy both positions, so his game proves the feasibility of the hopes that are pinned on him. The new player of the Flyers is already playing against key players of the rival team. He is also actively used in both majority and minority.
Andrey Markov was the main defensive hockey player not only among Russians but whole NHL for a long time. While Provorov has not got accustomed to such a role, but he is moving towards it very fast. Ivan had the best match at the beginning of December. He had two goals under his belt, saved the goal of the team and was the first star of the day in the league.
Kirill Kaprizov – future Vladimir Tarasenko
The 2017 IIHF Ice Hockey U20 World Championship ended one week ago. But its echo is still heard in all the media. We could not help but mention the best forward of the tournament Kirill Kaprizov. He with his 9 goals became unattainable for his rivals. Moreover, he gained the greatest amount of points in goal+assist system and shared the garland of victory with Swedish Nylander.
Tarasenko was remarkable in the U20 World Championship. But his statistics was a bit worse. However, unlike Kaprizov, Vladimir managed to make the national team win. It is difficult to say whether Kirill's career in NHL will be successful. But he resembles Taresenko much, so he is likely to achieve everything. Let's admit that not every young hockey player has a team that starts to have a fever when a young forward leaves it. According to former head coach of Russian national hockey team Igor Zakharkin, it is the case of Kaprizov and Salavat Yulaev. Here are the goals he scored in the World Championship.
Pavel Buchnevich – future Evgeny Malkin
At first, I wanted to add Evgeny Kuznetsov here. All in all, my sound mind took the lead because the forward of Washington already has the right to be on the list of the best Russian NHL players. Yes, he is not doing it so well that some people would like. However, it is a reason to mention Pavel Buchnevich here. It is our another talented hockey player. Pavel made his debut in this season at New Year Rangers and managed to be liked by local fans.
Surprisingly, Buchnevich looks like Malkin due to not only his playing style but injury rate. As soon as fans of Rangers presupposed further chances of the new player in the fight for Calder, he was injured. Pavel was away for a half of November and all December. He is not in the first team yet. Yes, now he is making fans of the farm club of Rangers glad. We have the right to wait for his return to elite hockey. Not all players are able to perform such miracles.
Ivan Barbashev – future Nikita Kucherov
Not a long time ago Kucherov could become one of the players whom people pin their hopes on. Nikita took advantage, so now he is deservedly a kind of coefficient when estimating perspectives of some Russian hockey player. Ivan Barbashev doesn't look like his compatriot in terms of the manner of playing. But he is also aimed at shooting and scoring goals. At the same time, he doesn't disdain to play in defence.
If Nikita was supposed and is supposed to be mainly a forward, Barbashev is able to perform a role of a player who can fight for pucks near his and rival's boards. Ivan is universal. He has several unusual capabilities. It is no surprise that Saint Louise sees him as a winger despite Barbashev's game mainly in the centre. At the moment the Russian has 34 points and successful actions in the consecutive 9 th match. He takes after Kucherov due to his hard work. He also can protect himself without the help of other people.