Best of the best! Results of 2016 for Tatarstan sport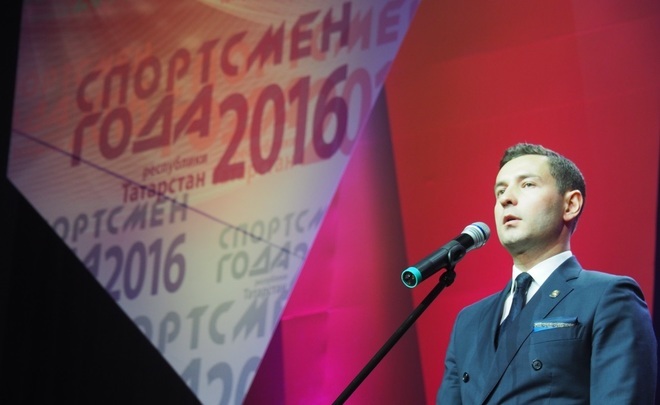 An award ceremony of the best athletes, coaches and functionaries in Tatarstan in 2016 by the Ministry of Youth Affairs and Sport of the republic took place at the Volga Region State Academy of Physical Culture, Sport and Tourism on 28 December. Realnoe Vremya tells what the award of the best of the best looked like.
It's been a tough year, but we are staying strong
The ending 2016 has been one of the toughest years for Russian athletes. This has to do with accusations of the World Anti-Doping Agency and particularly Richard McLaren and his report on doping in Russian sport, not results in competitions. We are not going to discuss how fair and partial it is. But we can say for sure that it affected the reputation of our sport a lot.
However, we can't say that Russian athletes did not have sins: a Meldonium scandal broke out at the beginning of the year – Mildronat (Meldonium) was banned by WADA from 1 January 2016. But traces of this drug were found in dope tests of a big number of athletes, including Russians, after that date. Particularly Aleksandr Povetkin, Maria Sharapova and Aleksandr Markin ''suffered'' from Meldonium.
The second boom took place in the middle of the summer: above-mentioned McLaren presented his famous report that arose a high wave that ''flooded'' many Russian Olympic athletes and all Paralympic national team of Russia. Particularly Tatarstan cyclist Ilnur Zakarin who missed the Games in Rio de Janeiro because of his doping story suffered.
Russian sport has had a fever till the end of the year. It was even rumoured that Russian might be deprived of the 2018 FIFA World Cup. It is not likely to happen, of course. However, a handful of people believed the cancellation of the Biathlon World Cup stage in Tyumen and Russia, in general, would be real, even Vitaly Mutko. But we are staying strong at the moment.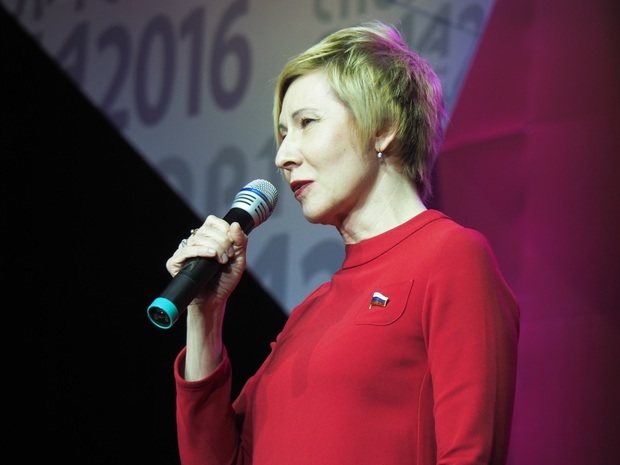 At the award ceremony of the best athletes of Tatarstan, State Duma deputy and honourable coach of Russia Olga Pavlova noted that all that difficulties helped to achieve great results to some extent.
''Great sports achievements have been very expensive for our country today. You remember well what colossal diligence and aspiration our athletes demonstrated at the Olympic Games. They paid a special price and went through serious tests. But we will only win and raise the flag of Tatarstan and Russian sport,'' she said.
Undoubted sports leadership of Tatarstan
Back to Tatarstan. It should be noted that our republic is rapidly developing sport in the region. A great deal of sports complexes and sites are opening, athletes from Tatarstan regularly join national teams of Russia (according to Minister of Sport of Tatarstan Vladimir Leonov, Tatarstan has 600 members of the national team). Also, there are many sports events.
In 2016, Tatarstan has hosted over 40 international and over 150 Russian and interregional competitions. Championships and tournaments of the republic, cities and districts were held in 100 sports. Moscow and Moscow Oblast are its rivals. But the competition only inspires.
Many Russian sports media, ministries and federations think that Tatarstan is one of the leaders or even a leader of Russia in terms of its attitude to sport, development of kid's sport, etc. Of course, results of Tatarstan athletes and team are amazing. For instance, swimmer Aleksandr Krasnykh's gold medal in the World Short Course Championships or victories in all tournaments ( almost all) of Zenit-Kazan – from the Russian Cup to Champions League).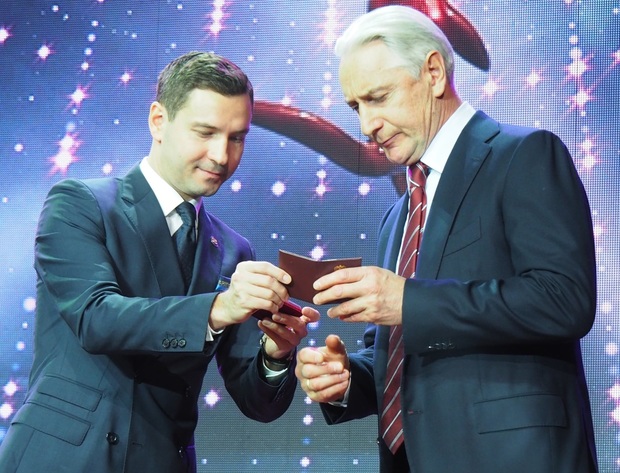 Dynamo and Ak Bars are the best, but not the clubs
In general, the year was not as horrible for Tatarstan as it was for Russian sport. The award ceremony of the best athletes and coaches of Tatarstan in 2016 started with more or less positive emotions. So, Ak Bars Combat Sports Palace was the best sports venue of Tatarstan in 2016. The contribution to the development of information services – e-queue and mobile app – was highly estimated. Director of the Gymnastics Centre Lilia Shafeyeva became the best head of a sports establishment.
Then Zainsk municipal district and its sports committee were the best region in terms of its sports activity. Bogatye Saby – its residents and people from adjacent villages were the most active athletes from villages in 2016 – was also mentioned. Mamadysh, Vysokaya Gora and Bugulma Districts were among the candidates, Kazan was the best city developing physical culture and sport (we did not expect that at all!). But the Ministry of Sport of Tatarstan did not forget Nizhnekamsk's achievements. Almetyevsk also was among the nominees.
''Sport is life. Development of sport shows the development of a society. This year sport developed in Tatarstan rapidly. Much effort is put. Following professional sport, junior and kid's sport, mass sport, the basis of future victories is not forgotten. Such sport unites us. Today people who are developing it are here. We are all here a big sports family of Tatarstan,'' chairman of the Committee of the State Council of Tatarstan on Economy, Investment and Entrepreneurship Rafis Burganov expressed his opinion.
Dynamo was the best sports community. President of the Combat Arts Federation Farkhat Khusnutdinov's achievements were appreciated as the best among non-Olympic sports. Car Sport Federation was the best federation among technical sports. And the sports ministry awarded President of the Hockey Federation of the republic Nail Maganov a statuette for especial achievements of Tatarstan hockey in 2016.
Organisers of the ceremony prepared several artistic, musical and acrobatic performances of the best groups of the city and the republic, so that the spectators applauded all time long. People especially welcomed Kazan Dance and Song Group, which is a laureate of numerous international awards. Pupils of Kazan sports schools, students of the sports academy who had a chance to get closer to the world of elite sport participated in the award of the best athletes of the republic. Probably they will be among the nominees in several years, who knows?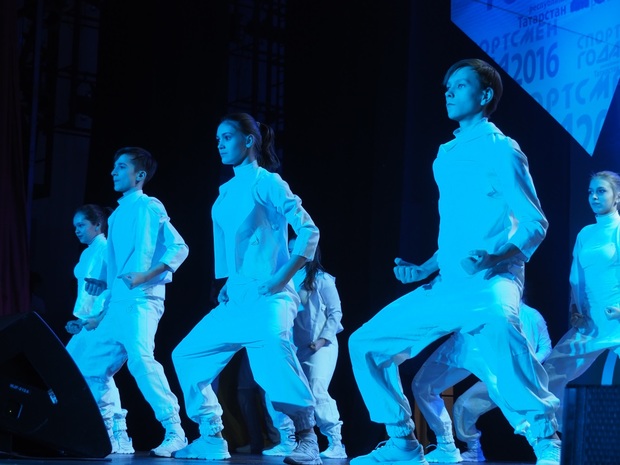 Zenit, Krasnykh and others
Viktoria Voronina (International Master of Sport in arm wrestling, European champion) and Gabdeljalil Suleimanov who has won all world kurash competitions in the last 4 years were the best athletes in non-Olympic sports. Zenit Volleyball Club became the best team. I think, here it goes without saying.
Media representatives were also mentioned. The first prize was given to TNV as the best sports media and TNV correspondent Almaz Gafityatov as the best sports journalist of Tatarstan in 2016. We congratulate our colleagues.
Young Tatarstan talents became the winners of special nominations Discovery of the Year and Olympic Hope: Master of Sport in weightlifting Nadezhda Likhacheva, new junior world champion Nikita Shleikher, Master of Sport in stand shooting Nikolai Tyoply, winner of several world and European fencing competitions in different age categories Marta Martyanova and winner of the recent European Judo Championships Niyaz Bilalov.
Forward of Ak Bars Hockey Club Vladimir Tkachev was admitted the most progressing athlete of the republic. The spectators did not understand cyclist Ilnur Zakarin's appearance on the stage who got a new nomination For Aspiration for Victory. Ilnur was banned from all competitions for violation of anti-doping rules 6 months ago. Coach of the fencing team of Tatarstan Elena Prokhorova and head coach of Neftyanik Hockey Club and winners of 2016 Bratina Rishat Gimaev who shared the award with head coach of Zenit Volleyball Club Vladimir Alekno were the best mentors.
As a result, International Master of Sport of Russia in taekwondo Yulia Miyuts and International Master of Sport in swimming Aleksandr Krasnykh got the most significant awards. According to the Ministry of Sport of Tatarstan, they were the best athletes of Tatarstan in 2016.
By Aleksandr Lushkin, Rustam Imamov. Photo: mic.tatarstan.ru
Analytics