Albert Valiullov: ''Goal – to include sambo in programme of the Games in 2024 or 2028''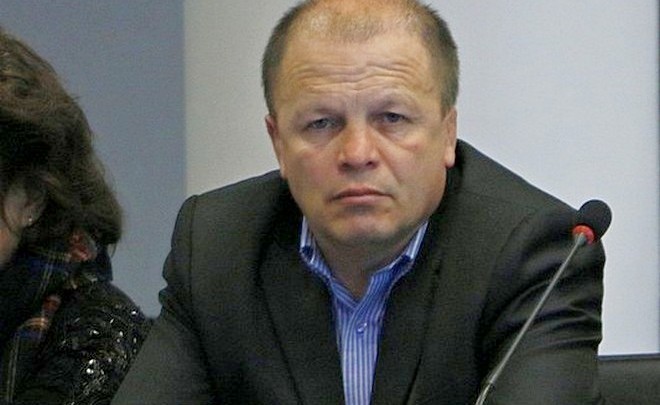 In an exclusive interview with Realnoe Vremya, executive director of the Sambo Federation of Tatarstan reveals secrets of this sport, draws conclusions to the sports year and forecasts.
''A sambo team appeared even in Innopolis''
Mr Valiullov, how is sambo doing in our republic?
Over 3,000 people are doing sambo now in sports schools, student teams, sports clubs, sambo classes, university teams. The Sambo Federation has offices in 17 districts of Tatarstan, and our sport is cultivating. So, we develop on a large scale and everywhere, we don't forget anybody. In April, a sambo team appeared even in Innopolis. It is the first sport after football and swimming. There is a very good sports hall there. We have already planned different competitions.
What are this year's important achievements of Tatarstan sambo fighters that you remember?
We have medallists and winners of the Russian and European Championships. Angelina Vorobyeva won in the U23 Cup of Russia. Last year, Alexandra Gimaletdinova, who is a student of the sports academy (Editor's Note: Volga Region State Academy of Physical Culture, Sport and Tourism) was first. Maria Shakirova from Ak Bars was third in the European Championships. Insaf Abdulrashidov is a repeated combat sambo champion of the country. These are the latest greatest achievements I can remember.
What is more important: mass sport or elite sport?
There is no elite sport without mass sport. These things are directly connected. This is why we recruit children to train in groups. We will get professional sambo fighters through mass sport. The more kids we have, the more competition is. The more competitions there are, the more chances we have that some of our athletes will become a star. We open new sambo development programmes, sports schools. These days we have had a video conference in the Cabinet of Ministers where discussed the concept Sambo to School. It is my project. I am pinning my hopes on it.
What's the main idea?
Three classical PE classes are too much. It doesn't have the effect. Guys get bored to do sport, they are tired. Attendance of classes is low. I think a half of the course is to be given as a game. Sport is the best motivator. When kids compete, they want to prove they are the best by instinct. Sambo is an excellent variant for a general school. It has elements of other combat sports. Sambo develops flexibility and endurance. Professional sambo coaches will come and give open lectures to children. There will be methodical meetings with PE teachers. So sambo will develop, PE will ''revive'' in school, boys and girls will be healthy and physically strong. We are applying it in several schools as an experiment.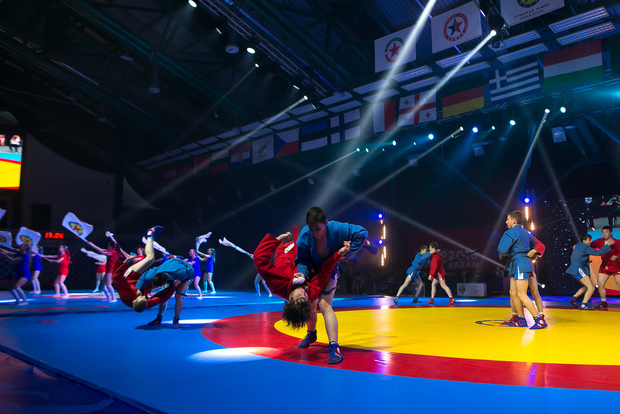 ''It has been a combat year in Kazan''
It has been a big year for Tatarstan sambo. The European Championships took place in Kazan. Does it help at your work?
It does, of course. It was a big impetus, the best ad that can be made up for us. Many people knew about the existence of sambo only in the European Championships and sent their kids to sambo classes after they saw what a spectacular and beautiful sports it was. Moreover, our athletes performed successfully, as a rule, having proved the leadership of Russia. You are pride when you look at your compatriots' victories. The European Championships became a week of sports festival in our city. We organised the competitions at a very high level, we are not going to lower the bar. Now we are thinking about the organisation of world championships. We have the support of the Moscow Federation. Now we need to garner the support here, in Tatarstan. The work is done, it is very important for us. After the FINA World Championships, people started to do swimming. This year judo, taekwondo, muay thai competitions took place besides sambo. It has been a combat year! School pupils worked with volunteers, performed exhibition fights. It charged and inspired them so much!
Did not you have organisational problems? As far as I am concerned, there was some dissatisfaction in the media.
Problems are always present. But, as our Minister of Sport Vladimir Leonov says, Kazan put big competitions on assembly line. All people know how to do everything. We just supervise and orientate them. This is why both the International Federation and delegations had only good impressions. Athletes lived in the Universiade Village. The competitions were held in wonderful Ak Bars Combat Palace, which was built for the Universiade. Kazan knows sambo, Kazan loves sambo. Our people know how to fight and organise championships of any level and scale.
''Sambo in Russia is the basis, the foundation''
It was noted a long time ago that many sambo fighters compete as judokas. Is this practice applied in our sports schools? Is it possible to combine different combat sports?
Yes, it is possible. It is a rare thing, though sambo has principles of judo. What sambo is? It is self-defence without weapons, as we all remember. It is a set of techniques of different martial arts. This is why sambo fighters can participate in other combat sport competitions. For example, Beslan Mudranov (Editor's Note: champion of the 2016 Olympic Games in judo) is an International Master of Sport in judo. He won junior championships, became the world and European champion, only then he switched to judo. Athletes choose a sphere and develop within it. If somebody manages to win awards apart from the key sport, it is an advantage, it is welcomed by everyone. And sambo in Russia is the basis, the foundation. Our sambo has been taking first places in the world for over 80 years. Our country is the birthplace of this sport, while judo has been developing for the last 20-30 years only.
In general, is it possible to combine judo and sambo?
Yes, if there is strength and desire, one can fight in both sports. It is especially popular among girls. The sports are similar. I am a Master of Sport both in judo and sambo. Coaches usually think that a specialisation is needed. It is better to be a sambo fighter but a world champion. Everyone has their own truth.
You are speaking about girls. Is feminine sambo developing enough?
Of course, why not? We had Anastasia Kovyazina – champion of the 2013 World Universiade, medallist of European and world sambo championships. She has ended her career recently and started to work as coach. Now she is coaching young sambo fighters in Tyulachi.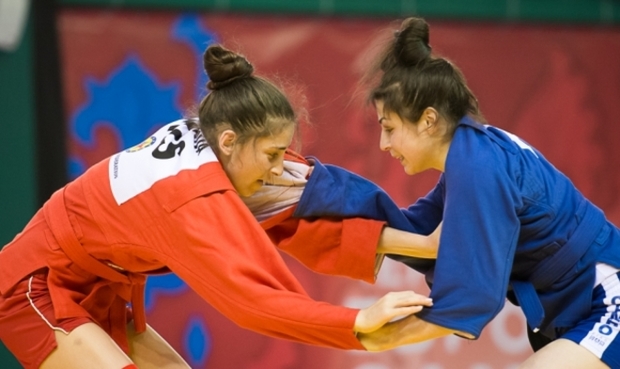 Remembering your own career, can you call it successful?
Nevertheless, I recommended myself. I showed results from the first training sessions. I was noticeable, won all my sparring partners. I won competitions in the city, RSFSR, all-Union competitions in all age categories. I competed in European and world championships. I had medals. If I lost, I lost against the best fighters in the world. It was very bitter to lost against Dzheikhun Mamedov (a 7-time world champion who is working as president of the Sambo Federation of Azerbaijan). Every time I was close, I could win him. But experience, strength and luck helped him at the end, so he won victories. When I left the elite sport, I started to work as coach in schools. Then I worked in our federation. I supervise mainly kids. All my life is dedicated to Tatarstan sambo. Many people here do the same: they work as coaches, judges in the federation. They all did sambo, went through sport and know how everything works.
''I played football first''
Why did sambo attract you personally?
I played football first, then I switched to sambo when I tried fighting. I liked it, I was good. I decided to remain, so I have been working in this sport for 40 years. I want to fight even now. But my injuries and age don't allow it. I admiringly envy participants. They have a way to go.
Last month you organised the so-called Russian Sambo Day. What was the message? Who initiated the celebration?
The USSR Sports Committee signed a decree on recognition of sambo as an official sport on 16 November 1938. Russian sambo has been living since then, it was the beginning. In 2008, the first event was organised in Moscow and Petersburg thanks to Vitaly Mutko and President of the Russian Sambo Federation Sergey Eliseyev. The date was chosen for a reason. As I have said, it is linked with traditions and history of this sport in our country. At the moment over 100 cities in Russia participate in this annual event. Kazan is not an exception. 150 cities are going to participate next year. Interregional competitions are held, conclusions to the year are drawn, best sambo fighters, coaches and workers of federations are awarded. By the way, the media covering our sport on a regular basis have been awarded too.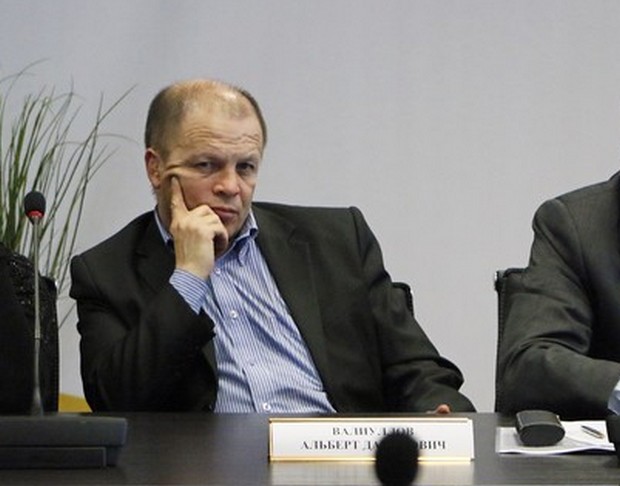 ''I have been working in this sport for 40 years. I want to fight even now. But my injuries and age don't allow. I admiringly envy participants. They have a way to go.'' Photo:

mdms.tatarstan.ru
''What suits Japanese won't suit us''
Does sambo pay attention to titles and categories as a non-Olympic sport? Is not there any desire to establish your own system like, for example, in eastern combat sports?
Why? The system established by our Ministry of Sport is quite good and useful. Athletes are ranked according to their achievements and merits. It is an additional impetus, stimulus to development. Several victories are needed to get the Third Junior Category. A victory in the tournament named after Anas Sharafutdinov can result in a Senior Junior Category. This is why athletes prepare for a long time and wait for this competition. In sambo, athletes can't 'jump' over a step, all titles are given consecutively. In my opinion, it is right. Master of Sport, International Master of Sport, Honourable Master of Sport is a desire of big athletes who constantly compete for the national team of Russia and do it successfully. Juniors are given only Candidate to Master of Sport, but it is a rare thing. We should not recognise the young so quickly. The 'belt' system, other forms of ranking of athletes in eastern combat sports is a part of their culture. We have our own culture. What suits Japanese won't suit us.
What about Olympic perspectives of sambo? Is there any development? There were several attempts to include sambo in the Olympic programme. But IOC refused them.
Yes, not everything is fine here. Together with the Russian Federation, International Sambo Federation, we set a goal to include sambo in the programme of the Games in 2024 or 2028. The sport is popular in many countries. We have over 100 federations on the planet. Why not include our sport in the Olympic list? The Universiade took place, athletes fought at Tatneft Arena. 12,000 spectators came there. It was amazing! It will be a big victory for sambo. There is hope, rather confidence, that everything will be fine.
Probably it is important from a perspective of image and money because the Olympic status could raise the prestige of sambo?
Yes, it is likely. But our federation is receiving enough money. To be more precise, it will never be enough. Money is always needed in sport no matter how much money is invested in it. Now Russian sambo is like a family. We are together and stand hand to hand. If there are problems somewhere, we solve them together. I have never heard any federation president saying: ''We have much money''. All people ask to increase the support because there are many costs. Schools and national teams need support. Unity is sambo's forte. This is why our sport will live in any case. If generous sponsors are found, we are ''for'', of course.
Summing up, in your opinion, what is the most important thing in sambo?
The most important thing in sambo is belief in yourself and your success, mutual respect, labour. Sambo is a science, especial philosophy. You need to love sambo with your heart and accept with your soul.