Saxon Prime Minister: 'In our opinion, no. It is not a suitable means to achieve a goal'
Despite a fall in commodity turnover, Tatarstan started to restore business bridges with separate lands of Germany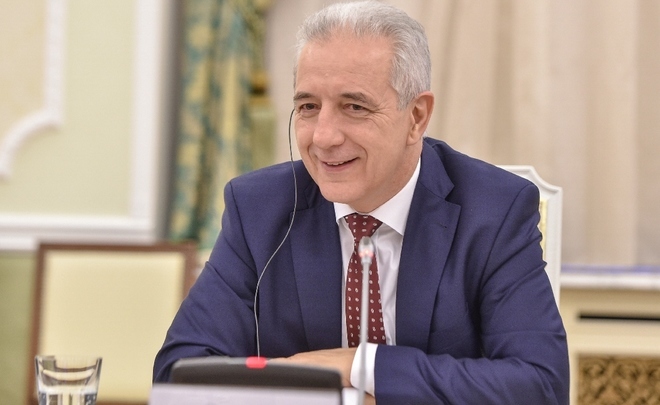 The visit of PM of the Free State of Saxony (FRG) Stanislaw Tillich to Kazan at the height of the growing declamation of European countries towards Russia left an aftertaste of hope for the renewal of economic cooperation of German and Tatarstan companies who went through good time in 2009 and 2010 when many joint enterprises were created. At Tatarstan-Saxony economic forum, Mr Tillich said Saxony was one of the few regions who didn't support the imposition of new sanctions and gave to understand: one can find new points of contact of business interests at the regional level.
Fall in commodity turnover and maintanance of friendship
International ties of Tatarstan and German companies during the action of economic sanctions against Russian significantly weakened. Even if Germany continues being the leading economic partner of Tatarstan who imports mainly high-tech equipment, the commodity turnover is reducing its pace in conditions of the difficult geopolitical situation. 'Unfortunately, last year the external commercial turnover with Germany fell by 36% and made up €1,2 billion,' President of Tatarstan Rustam Minnikhanov had to state.
'Nevertheless, Tatarstan has good experience in cooperating with Saxony,' Minnikhanov assured and noted that the head of the German Government personally visited Tatarstan after a long break. 'The prime minister visited Tatarstan in 2009. This June our delegation was in Dresden,' he described the chronology of relations. 'Next March we plan to visit an international industrial exhibition in Leipzig. There are several joint cooperation protocols signed between the regions. There is an agreement between our universities. And Tatarstan-Saxon Group was created.'
$1 billion of accumulated investments from Germany
Indeed, Tatarstan has reasons to draw attention. And there is a person who continues the cooperation with foreign business. It goes without saying, the president started to talk about the flagship of the Tatarstan machinery engineering KAMAZ surrounded by German high-tech companies. As it is known, KAMAZ brought a joint enterprise with many famous German companies manufacturing car spare details. Knorr-Bremse, Zahnradfabrik — the president named the German companies who dared to join the technological union with KAMAZ. 'The opening of a joint enterprise Mercedes-Benz Trucks Vostok five years ago can be considered as a kind of pinnacle,' Minnikhanov concluded.
Continuing to enumerate the achievements, the head of the republic mentioned no less grandiose projects of Elektropribor (production of sensors) and Kazan Electric and Technical Factory (automated production control systems). 80 joint enterprises with German companies are working in Tatarstan in total. So, the 'German heritage' is estimated at $1 billion of accumulated investments, according to the head of the republic.

It should be noted that the money was invested from 2007 to 2010. A flat calm came then. There were not announced any new and fresh investment projects that could expand the international cooperation with Saxony. There was only one exception: Niles-Simmons from Germany is ready to build a factory manufacturing high-precision machine tools. According to Minnikhanov, it will be located in Innopolis SEZ, not near the university but close to Kazan International Airport. The details were not made public.
About suitable and unsuitable money
Prime Minister of the Free State of Saxony (FRG) Stanislaw Tillich made overtures to the people who assisted the meeting with the help of discussions whether the sanctions were necessary and how they benefited: 'Saxony is one of the few federal lands of the Republic of Germany where doubts are always expressed — whether it is necessary to impose sanctions in order to pursue some political goals. In our opinion, no. It is not a suitable means to achieve a goal. This is why these days we are trying to continue our economic relationships and deepen the cooperation because we see an advantage here. If people have a job, they are glad. If they see a future, they are ready to work with each other and make concessions and solve conflicts peacefully.'
He found many things in common between Tatarstan and Saxony: 'Not only our number of the population but also industrial sectors like aviation and lightweight structures are similar. Although Saxony doesn't have powerful oil wells, it has a refinery, polymer industry and everything connected with modern materials and their use for production of more lightweight vehicles.'
Stanislaw Tillich told that Saxony recently became interesting for German car makers who are ready to turn FRG into an electric car development centre.
'Volkswagen decided to locate its demo platform for the future of electric cars in Dresden. BMW has been producing cars in Leipzig for two years. Porsche also chose the same road,' he enumerated the achievements. 'But the fact that Daimler made a decision to open the largest lithium-ion battery factory in Saxony in the last weeks was the most important thing. The investments are equal to €0,5 billion. It is one more step towards the future. So Saxon enterprises and neighbouring car suppliers will benefit much from the time when the second generation cars are presented.'
Tillich said that the visit to Kazan was very important to demonstrate that business contacts should be maintained at a regional level despite 'the political debates about Russia-German relations'. 'When people see the future for themselves, they are ready to make concessions and solve conflicts peacefully,' he urged.


By Luiza Ignatyeva. Photo: prav.tatar.ru