Airat Bagautdinov opens project Kazan Through the Engineer's Eye
How a citizen of Kazan managed to run a business in Moscow on a hobby for smart people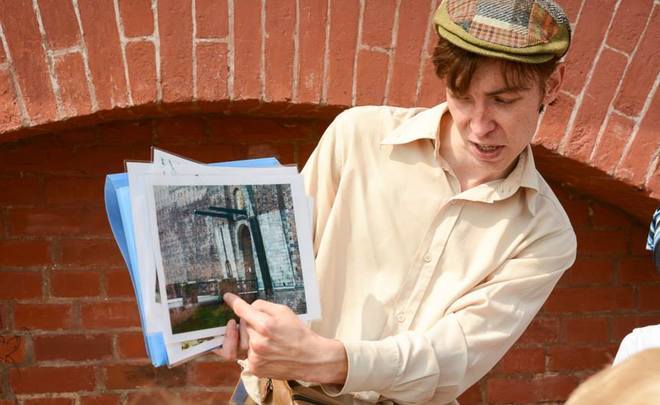 Former citizen of Kazan Airat Bagautdinov launched a business in Moscow 2,5 years ago. The idea was not commercial – excursions for Moscow citizens on the history of engineering. The project appeared successful: a monthly turnover makes up about 1,5 million rubles. The project spread in Saint Petersburg after the capital. So Bagautdinov is thinking about the creation of analogous projects of Moscow Through the Engineer's Eye in other cities with a population of over one million people and probably under franchise. First of all, in his native Kazan and Yekaterinburg.
Humanitarian mindset thirsts for engineering
About 60 people gathered at Bagautdinov's masterclass How to Create Your Own Excursion Business, which took place in Kazan at the beginning of November. The speaker told how to choose a topic, find sites of the route and means of promotion of an excursion product in front of practising guides, directors of agencies and simply curious people. Airat is not a stranger to the local public – after all, he comes from Kazan.
Bagautdinov has things to share: the project Moscow Through the Engineer's Eye, which was created 2,5 years ago, has grown into the biggest fee-based excursion project for citizens of Moscow. Every month 10 full-time guides run 80-120 excursion for 1,200 Moscow citizens who pay 990 rubles for a story about their native city. According to Bagautdinov, only Exit to City – a project that is financed by the state and runs the majority of the excursions for free – can boast about a big number of excursions in the capital.
Airat Bagautdinov created a new niche for his project Moscow Through the Engineer's Eye as if he had followed the instructions of a business book. But it happened after when the former Kazan citizens joined an international project called Free Walking Tour out of curiosity without counting on a big financial feedback. The project gathers guides who offer free walking tours. Guides can earn on a voluntary fee of thankful visitors at the end of the event. Airat says he understood very soon that Free Tour had a limited range of routes and topics for foreign tourists (the Kremlin and Red Square) and the depth of the studied topic. So he started to think about an idea of his own route.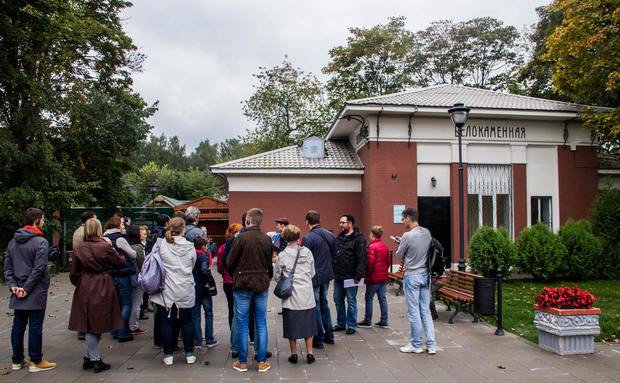 His own profession allowed him to open a niche: Airat graduated from the Kazan State University of Architecture and Engineering as engineer and constructor. He was 'lucky' to have a promotion – the topic became important in the media. In 2014, the Ministry of Information and Mass Communications spread information about its plans for dismantling of the Shukhov radio tower in Shabolovka, which is a cultural heritage site created by a worldwide known Russian engineer Vladimir Shukhov. Bagautdinov was one of the supporters who fought for the conservation of the Shukhov Tower. Excursions, masterclasses for kids and open lectures were used as a fighting weapon.
'Life of every historic preservation activist has a moment when he understands that such a cool landmark is on the verge of extinction. And you are ready to lie under the excavator to protect it from demolition. I understood that I could not permit the demolition of the tower.
The tower was conserved under the onslaught of the society. And the topic of Shukhov's heritage became one of my favourite topics in the project Moscow Through the Engineer's Eye.' I liked it so much that in 2016 Art Volkhonka Publishing House printed Airat Bagautdinov's book What Shukhov Invented.
The niche of excursions on the history of construction engineering was not occupied – nobody ran excursions in engineering facilities in Moscow before Bagautdinov. Now the portfolio of Moscow Through the Engineer's Eye has such masterpieces of engineering and architectural idea as Worker and Kolkhoz Woman, VDNKh, Kotelnicheskaya Embankment Building, the Narkomfin Building, Moscow Kiyevskaya railway station, Moscow-City, Bread Factory No. 9. Guides tell about the art of construction of bridges and facilities, towers, metro, skyscrapers and even moves of houses by their example.
The project gets access to some facilities for free. Some of them require a payment. But Bagautdinov expects that the number of sites that recognise the PR potential of the project Moscow Through the Engineer's Eye and allow free access is growing and will be growing.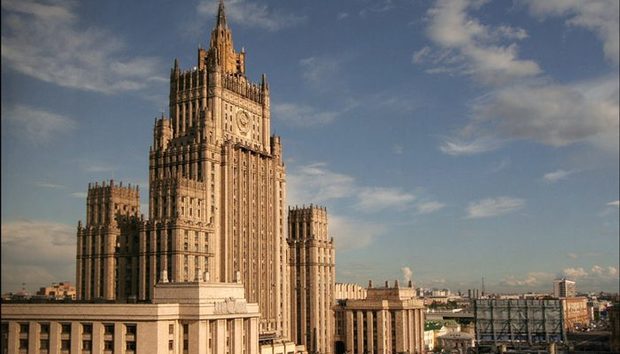 Young for the young
So the success of engineering was a surprise for very Airat. It unexpectedly interested a greater number of people than it had been supposed. Engineers themselves are rare visitors of the excursions. At first the young was the target audience of the project because mainly pensioners visited the majority of other excursions. Young guides were needed to speak the same language with the young, use an interactive system when the guide becomes an actor, in fact.
Later Moscow Through the Engineer's Eye opened its own school for guides. Fee-based offline courses allow to find bright guides. Then an online course called Excursions as Business for 3,000 rubles appeared on the page. As a result, the approach worked: now the average age of visitors of Moscow Through the Engineer's Eye is 35 years.
Moreover, Airat says that at the beginning the project was designed for events for kids:
'It was important for us to not only entertain people and pass new knowledge. We change people and the society through them. An adult can't be changed. It is always easier to lay a civic foundation when a person is young.'
'Masterclasses, lectures, summer camps when kids build big engineering constructions like a 6-metre copy of the Shukhov Tower or a 4-metre span of the da Vinci Bridge are products' for kids. Constructions are usable. One can not only touch them but also test, walk on them. Bagautdinov says it amazes kids more than a small handmade item.
What is more, excursion on engineering for kids and their parents is a good opportunity to attract fathers to education. By the way, men account for 40% of the audience of the project. It gives Bagaudtinov bragging rights.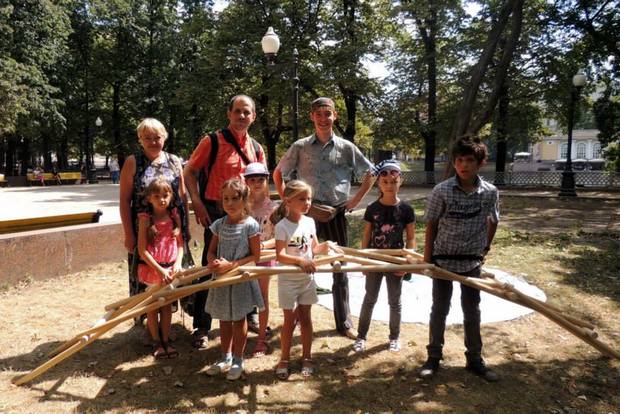 So he thinks that new topics, unique access and bright young guides are a unique commercial continuance of the project. The initial costs on the startup were small: the page was $70. And the money was spent to pay the hosting and purchase of the topic for the free 'engine' from Wordpress. The most successful way of attracting clients was online: 90% of clients come from Facebook, not a big number of people know about us through word-of-mouth marketing.
Today the project's revenue totals about 1,5 million rubles per month, which is quite a good result for the service industry. Airat admits the income is not big. The greatest amount of the money is spent on marketing. In particular, paid promotion of the group on Facebook that the project started to invest in when it had a payback. Now the group has almost 33,000 people. 30% of the turnover is spent on marketing. Another 30-40% are expended on salaries.
'We are trying to reinvest the income by opening new vacancies. For example, we have hired a producer of excursions recently,' Airat Bagautdinov shares.
Moreover, he expends the income on purely creative stories. For example, an engineer construction set for kids has been issued recently. The businessman admits he did not count the financial feedback of these investments:
'It is important for me to do it. For example, we are printing bicycle guidebooks in Moscow, sets of postcards about the facilities we speak about. It is just a beautiful story. It is pleasant to hold them in hands, hang on a wall, present a friend.'
Speaking about the urban excursion market as a niche of leisure activities, Airat compares it with the quest market. It seems that that latter depletes all the resources after its successful launch. Bagautdinov says the 10-year-old urban excursion market is growing, not stagnating: the number of visitors is augmenting, new project are appearing. Meanwhile, the capacity of the market is not big in principle. Airat thinks that his 'product' is interesting for not more than 1% of people, that is to say, 150,000 Moscow citizens. But about 30% of his clients are those people who come back.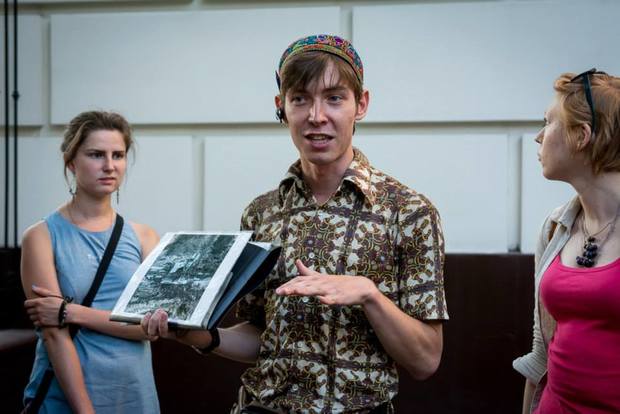 The project is actively investing in the market development in order to avoid a stagnation in the future. Now Bagautdinov is initiating a creation of a big forum of Moscow excursion projects:
'I believe that we need to act together in order to develop the market: cooperate with the city and the state, invest common money in advertising of urban excursions, not certain projects. At the moment, as a rule, people choose between cinema, theatre, concert or quest when planning their leisure activities. We want to add excursions to this list and make them a generally accepted standard,' Bagautdinov shares.
Kazan Through the Engineer's Eye
The project Moscow Through the Engineer's Eye opens in Kazan next spring. Kazan Through the Engineer's Eye will be the third project for Airat Bagautdinov's team after Moscow and Saint Petersburg.
In his opinion, the third capital is ready for a new type of urban leisure activity – excursions for citizens. A layer of interested Kazan citizens was brought up by several successful projects organised by urban activists. There are people who would like to be these visitors' guide to urban legends and stories.
The very author doesn't know how the project will start in Kazan, though the kick-off is planned to take place in April. Now there is a candidate for supervisor, guides, ideas of routes. He is dreaming of getting access to the territory of the Gunpowder Factory where one of the two conserved Shukhov Towers is located.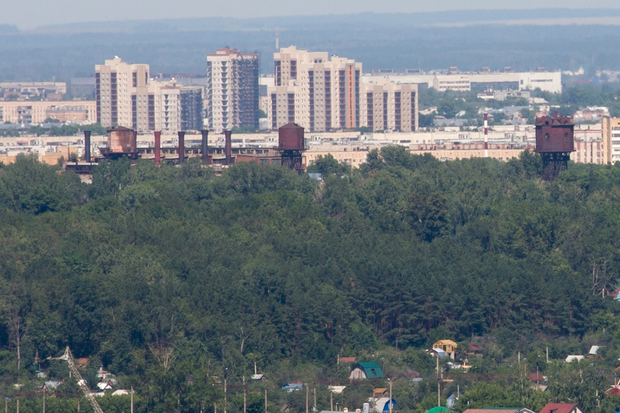 Untold stories
At his masterclass, Airat Bagautdinov easily used business concepts, spoke about promotion and modernisation of cultural initiatives. But he admits that businessman is not the most comfortable role for him, it is rather forced: the inevitable growth of the business in Free Tour and in Moscow Through the Engineer's Eye required a greater implication in administration.
'Initially, I thought I would be the creator and initiator of ideas that would become business later, though I did not consider them as a business. I was interested in making Free Tour because I liked the format. However, as the number of visitors grew, I understood I would not handle it on my own. I needed to hire people, which meant an opening of an office. In other words, I needed to become an office clerk from a guide. As a result, I made up a hobby – excursions on construction engineering. But here we are succeeding, and a simple hobby grew into a business space.'
Bagautdinov is sure that there are many opportunities for a further business development. The presence of a rich 'invoice' allows to spread the experience – to run excursions that are similar to excursions in Moscow in any Russian city with a population of over one million people. At the moment his plans cover Kazan and Yekaterinburg. But Novosibirsk and Nizhny Novgorod are next in line.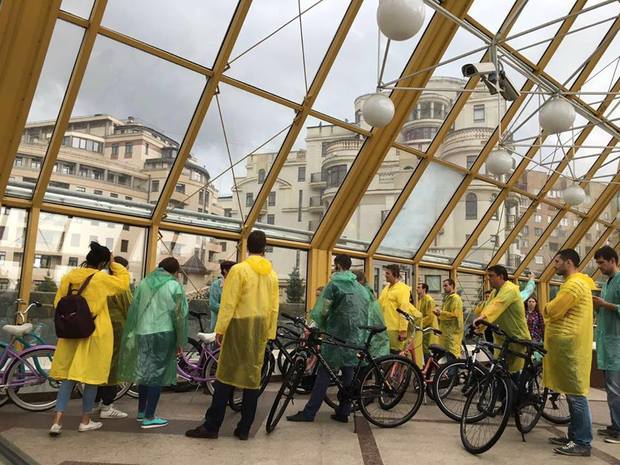 A question arises: if Bagautdinov considers himself as a creator rather than a businessman, why does he need to expand the business?
'Certainly not for the sake of money,' Airat assures. 'Money is necessary to run a business. It seems that I started to go through a 'professional deformation'. While walking in an unknown city, I mentally place every curious object into the potential excursion route. There are so many 'tasty' things that it would be a pity to omit them.
By Aigul Chuprina. Photo: facebook.com