Cherchesov's 'airtight eight'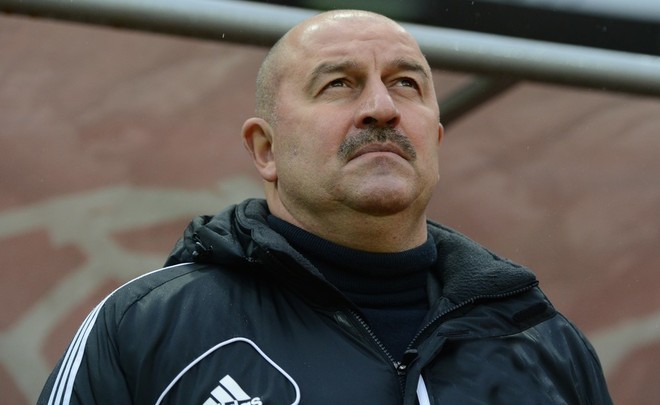 1,5 years left before the Football World Cup where the Russian squad will play at home. And Stanislav Cherchesov will have many opportunities to test candidates for the squad in friendlies. But many doesn't mean as many as you wish. It seems that time flies faster, pressure augments, choice catastrophically shrinks with every next match. This is why we can't exclude the possibility that the coach has already chosen some candidates. It goes without saying, we did it being aware of the risk of being injured that is not compatible with the trip to the Cup. We will also try to define the circle of airtight candidates for the participation in the 2018 WC by two simple criteria: a needed class that will guarantee the quality national team's game plus character that won't allow lose Cherchesov's credibility in the nearest 1,5 years. The sports staff of Realnoe Vremya is forecasting eight players of the national team who will certainly play in the 2018 Football World Cup at home.
Igor Akinfeyev
Don't change horses in midstream. Akinfeyev remains the best Russian goalkeeper. And such matches as the battle against Monaco prove it. Not only his saves but also his reaction to 'butterflies' define the goalkeeper's class. His ability to leave mistakes behind, not to pay attention to jeers from the crowd. Cool goalkeepers with easy characters don't exist. The player can miss the World Cup because he is suffering a game crisis, he has lost his form. A goalkeeper's class is defined at a distance. Akinfeyev's current rivals for the place in goal of the squad won't have enough time to prove the correctness of their pretensions to the status of No. 1 during the resting months till the 2018 WC. For example, Champions League matches.
Vasily Berezutsky
Vasily Berezutsky will be 35 in the summer 2018. I will remind to all people who doubt that the CSKA player will be ready for the game at this age that 37-year-old Ricardo Carvalho played three matches at Euro in France. Before that he appeared on the pitch in 33 matches with Monaco in the

2015/2016

season. Only injuries can impede Berezutsky from being in usual form during the present and next seasons. His experience and class won't disappear during this time. Cherchesov will have to look for a partner for Vasily in the centre of defence who would neutralise Berezutsky's separate drawbacks.
Yury Zhirkov
The universal left winger will celebrate his 35th

birthday in 2018. Is there anyone who doubts this player's class? Only his age raise some fears. A fresh example will be found here as well. This summer in France, Patric Evra from Juventus played four matches without substitution. His ability to be useful both in defence and midfield is Zhirkov's most attractive feature. Speaking about his class, today he is the best player in comparison with his Russian colleagues in his position. Only the presence of younger foreign players in the squad of Zenit can hinder him from appearing on the pitch on a regular basis. If there is quality preparation, Zhirkov will easily play in all the matches at a high level during the short 2018 WC.

Alan Dzagoev
Injuries overshadow Alan's career. But the sense of freshness, passion and football drive that arose when he made his debut for Hiddink's squad are always present in the game of the CSKA player. Eight years have passed since that moment. Dzagoev is 26, not 18. He has transformed from an attacking halfback to central player and even midfielder for that time. At the same time he did not forget his skills that are necessary in every position. On the contrary, he has enriched his arsenal.
Denis Cheryshev
Sevilla, Real, Valencia, Villareal – what unites these clubs is that the talent of the young Russian drew their attention

at different times

. The talent has a character – the prove is that Denis refuses offers from Russia that are financially better than in Spain. Cheryshev who has a necessary mastery, without doubt, is able to add the Russian team a European rhythm and speed.





Pavel Mogilevets
Another relatively young player who is not very successful in big football. In this season, Mogilevets has played only one match at Zenit. He has the same amount of matches played for the national team. Pavel's all the career is full of such paradoxes. Being on loan at Rubin, due to his game, he earned… a trip to the World Cup in Brazil in Capello's squad. Then again a loan at Rostov with the followed amazing season in Berdyev's team. Mogilevets could really become a champion on loan. In this season, Zenit again doesn't know how to use Mogilevets' talents. But Cherchesov as well as Capello, Berdyev and Bilyaletdinov see that the player has a future. We can be sure that Mogilevets won't break and won't become a 'star' in the next 1,5 years.
Artyom Dzyuba
Nobody has ever doubted Artyom's playing and physical talents, which were given by nature or God. It is thought that his character did not let him show his potential. Finally, everything coincided in the last two seasons. The forward was at a club where he doesn't have to drag his mates but try to comply with standards. If the guy did not break in the previous years that were difficult in his career, he will try to hold the bar in the next two years. The dimensions, technique, ability to press, win, score and pass. Nowadays Stanislav Cherchesov simply doesn't have another player with such options at his disposal.
Fyodor Smolov
In the last season, Smolov scored 28 points in 29 matches of the Russian Championship in terms goal+pass. This year he has scored 8 goals and played a successful pass in the eight matches. In total, he scored 12 goals and played a pass in all contests, including the winning goal in the friendly with Ghana. We have not seen another forward with such results who reminds his fans and experts about his main football speciality in the last years. Like all the previous cases, Smolov covered an uneasy road where he had to go through many offences and disappointments. Having coped with the mass of jeers, not having broken after

entire seasons without goals

and passes, loans at bottom clubs, he realised all the prepayments. Cherchesov will find it difficult to choose between Smolov and Dzyuba. Or should the coach choose any formation with two forwards?