'Their number reaches 60-70 specimens': where one can see bears in Tatarstan and how to behave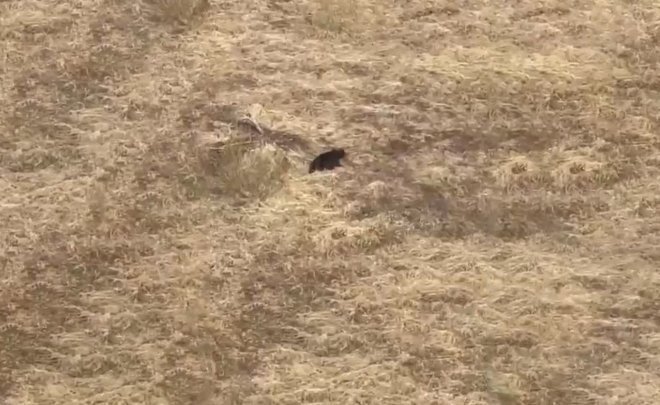 60-70 bears migrate in Tatarstan in summer
Tatarstan Rais Rustam Minnikhanov scared his followers on his Telegram channel. He posted a video with a bear.
"I went to see how spring field works are going in the republic and see a bear on my way," the Tatarstan leader wrote.
As Realnoe Vremya found out, the rais met the brown bear in a forest district in Tatarstan's Rybnaya Sloboda District. However, this predator can be seen in Agryz, Zelenodolsk, Mamadysh and Saba districts.
"They migrate from forests of Kirov Oblast and Mari El. Their number reaches 60-70 specimens during summer migration," the press service of the Tatarstan State Council for Biological Resources told us.
Nowadays according to specialists' calculations, there are 25 specimens in the republic. The committee reminded us that the brown bear was on the Tatarstan's red list. The hunt is strictly prohibited. A violator will face a criminal punishment.
How to behave when seeing a bear?
As the specialists reminded us, bears love honey very much, this is why they often visit bee gardens. Not to see the animal face-to-face, specialists recommend following several rules.
Firstly, it is necessary to keep calm and try not to panic when seeing predators. It is very important not to look at the bear's eyes because the animal considers this as aggression. Moreover, it is necessary to immediately leave the meeting point.
Secondly, in any case one shouldn't turn its back to the animal or run. If the animal gets closer, it is necessary to ward it off with sharp sounds.
Not to provoke a meeting with the predator, experts insistently recommend not leaving food residues near the temporary shelter. This refers to tents and the hunter's hut. Camps should rather be located in open areas, with a good view to the territory.
There is a serious threat for those who try to get closer to bear cubs. All attempts of feeding or luring them can lead to tragic consequences because their mother can be nearby.
Also, the State Committee reminds people that in case of seeing the wild animal, Tatarstan residents call at 8(843) 211-70-78.
Tatarstan