TAIF-NK representatives visit impaired-hearing boarding school pupils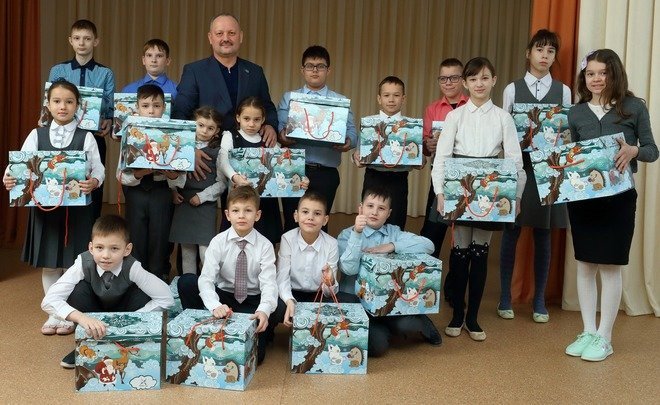 Representatives of TAIF-NK PJSC visited a boarding school for children with disabilities in Nizhnekamsk. Even if the New Year holidays are over, the company's employees decided to keep the children's joyful mood up and gave them memorable presents and sweets.
Sweets and memorable presents for boarding school pupils
TAIF-NK company never misses a chance to gladden little Nizhnekamsk citizens, as one always wants to give minutes of happiness to as many children as possible. This time they came with sweets to the boarding school for deaf and impaired-hearing children. The children were very glad to see the guests. Teachers of the educational establishment also appreciated the attention.
''It's always pleasant to receive presents, especially from our kind friends – TAIF-NK employees who regularly pay attention to us and help. The company is responsive and careful about the children's problems who study at our school,'' told deputy principal on education of the Nizhnekamsk Boarding School for Deaf and Impaired-Hearing Children Nadezhda Petrova told Realnoe Vremya's correspondent.
The Nizhnekamsk boarding school has 46 pupils with impaired hearing. TAIF-NK representatives had already visited the children and don't forget to help the school itself. For instance, the oil refinery has recently helped to equip the educational establishment's transport with special measuring devices to tighten the children's security – tachographs and GLONASS system. This time they made the children glad by giving sweets and memorable presents.
''TAIF-NK is always responsible when it comes to social and charity programmes. We try to support children who are in a difficult situation, not only from boarding schools but also rehabilitation and social centres of Nizhnekamsk. We annually join the republic's campaign Help Go to School, try to improve the basic amenities of children in large and needy families,'' told Deputy Director General of TAIF-NK PJSC Ilfar Khalimullin.
The children were glad to receive sweets and toys. They especially liked a music alarm clock with special light effects and Light Drawing tablet.
''Many thanks for the gifts. I liked the music alarm clock most. Now I will certainly stop being late for the first lesson,'' second-grader of the boarding school Matvey Yarofeyev shared his impressions.
''It's very pleasant that there is a company that cares about not only large and needy families''
Children from large families and children who go to Fenix teenagers' club in Nizhnekamsk also got pleasant presents from TAIF-NK. After the major overhaul conducted within the republic's programme thanks to the oil refinery, the teenagers' clubs got TV, sound devices and many other things.
''It's very pleasant that there is a company that cares about not only large and needy families but also praises children who go to teenagers' clubs in their free time and do research and creative activities. Today these children have always been given different presents from TAIF-NK. In my opinion, this will become a stimulus for the children so that they will actively participate in their microdistrict's social life,'' Chairwoman of the Territorial Public Self-Government Council of Microdistricts No. 10 and 14 in Nizhnekamsk Irina Surkova is sure.
Social help and charity are an important component of TAIF-NK's work. The company's representatives actively participate in inculcating patriotism in children by helping to finance repairs and equip school museums and libraries with history books, build children's playgrounds and organise local celebrations for children and adults in the city's microdistricts. TAIF-NK intends to go further. Visiting children from different social and educational establishments, paying attention to large and needy families' hardships, giving them presents, they try to bring a bit of kindness and joy to their world.
Partnership material
Tatarstan