Renat Layshev: ''Zagitova has remained as shy and educated as she was''
The interview with the director of the sports school where the Olympic champion brought up, about the scandalous break of Medvedeva with Tutberidze and not only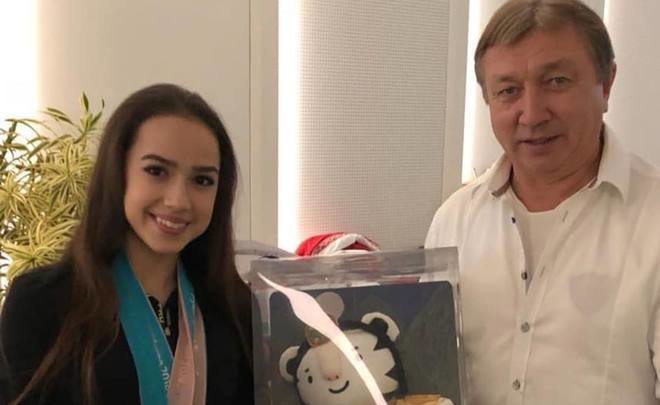 The uneasy relations between coach Eteri Tutberidze and her pupil Evgenia Medvedeva, not least because of Alina Zagitova's victory at the Olympic Games in Korea, have been the main topic of the last weeks in Russian figure skating. The three people studied and worked in Sambo-70 sports school uniting 16,000 pupils in 24 sports. The answers to all hot questions of the scandalous topic are in the first part of the big interview given by school director Renat Layshev to Realnoe Vremya.
''Tutberidze is on the ice all day long''
How did it turn out that figure skating became one of the main sports in Sambo-70?
It's such an all-state tendency. Everything began with the union of facilities of education, culture, health and so on across the country. Like in our case, the government of Moscow made a decision to create a union of sports schools around Sambo-70 six years ago. Now we have 24 sports and 16,000 pupils. All sports that joined us understand they got additional protection of their interests thanks to this step. And those talented coaches who work in the school are our capital and our pride, including both Eteri Tutberidze and Elena Tchaikovskaya and many other coaches. But the most important thing, which I always use it in my work, is not to bother people and create conditions for the comfort of the Sambo-70 family if possible. In addition, when you are in the world of sport from an early age, you understand the character of every coach, what he needs, how he lives.
How do you manage to keep such top world coaches as Tutberidze?
Actually, we don't keep anyone (laughing). But everything depends on conditions, first of all, organisational and technical conditions. The working environment we create for them is the most important thing. Then there are sports federations that solve other problems, including top problems. Every federation has its potential, the country, the ministry of sport, government of Moscow help. It's not manna from heaven. But if each of these structures solves its problem, it turns out, in general, a person feels good, comfortable, and it's economically stable to work here.
What can you say about Eteri Tutberidze as a person and teacher? Is it difficult to work with her?
She is a very talented coach and has a remarkable personality. It's such a unique specialist whom one should treat respectively. Like in any other sector, the sport has people whom one needs to check – at what time they get to work, at what time they leave, etc. And there are those who are at work on both Saturday and Sunday. And they, on the contrary, sometimes need to be offered to rest to avoid overwork. People know themselves what to do. Moreover, a result is the major indicator, and that of Tutberidze speaks for itself here.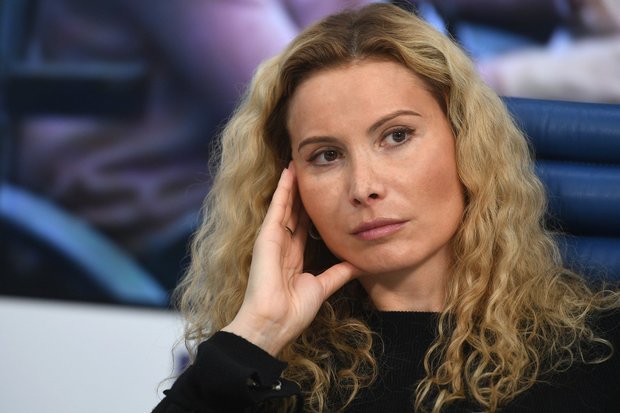 ''Eteri Tutberidzeis a very talented coach and has a remarkable personality. It's such a unique specialist whom one should treat respectively.'' Photo: 123ru.net
You said about her diligence. But not every diligent coach achieves such colossal successes. Not every coach manages to bring up at least one Olympic champion.
I explain it by a concurrence of many circumstances. It coincided so that a talented pupil appeared. Here the work of the talent scout who is able to see a talent is also very important. I have been seeing it all my life and always amaze. For instance, Viktor Tikhonov in hockey who had the national team of the USSR at CSKA. He knew whom to invite, so that the person then would go to the national team of the country while the competition in hockey was very high then. I think Tikhonov is rather a talent scout than a mentor. And we had all components of success. And Tutberidze's diligence is the biggest talent, of course. She is on the ice all day long and works hard. And she is also a genius. When she is on the ice, everything calms down, you know. You can't bother her, the discipline is very strict, all girls and boys listen to her carefully.
''Some specialist included me in this topic very delicately''
How it was that you were first to announce the break of Medvedeva with Tutberidze?
I didn't make any statements, it's just a media stunt! Just imagine, I'm the head of the family, why do I need to be first to announce a break in it? It's a very intimate intra-familial thing, today they are together, tomorrow they aren't. It seems to me some specialist from figure skating included me in this topic very delicately, not to participate in the process of divorce. In general, it wasn't very correct.
How did it happen?
I woke up, while Russia 24 Channel was saying Layshev made a statement. A statement is a serious thing. I will repeat, why did I need to do it? It would be beneficial for me of all people if this topic left inside the school. And then the sides would perhaps change their mind and continue working in tandem. I don't know the buzz that arose around this all. It's such a frequent occurrence in the world of sport: the child has grown up and left the nest.
But here the break with the coach is the case. Is there any difference?
It's completely the same thing. For instance, I've been training with a coach for 11 years, and I want to try something new – what if it will be better there? You will never understand it until you face difficulties and mistakes.
''There are external forces who envy and bother''
How do you assess the circumstances in which Medvedeva left her coach, in general?
You are paying attention to figure skating only while I have transfers every day, I have 24 sports in the school. One person goes to another one, another one goes to a third one. It's a normal world practice. But it seems that the people's love for Medvedeva and this sport's popularity caused a keen interest.
In any case, the situation inside is absolutely normal. I see such things every day. A coach asked to close glass walls of the swimming pool with curtains, so that the pupils' parents wouldn't look at him. I came and said: ''Who had the idea to close the swimming pool?'' And I was said: ''The coach asked, he doesn't like to work under supervision.'' But didn't he think he created a confined space for the children? Certain corrections were made after this.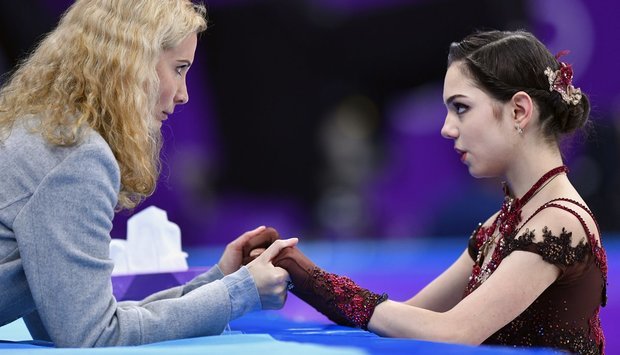 ''I have 24 sports in the school. One person goes to another one, another one goes to a third one. It's a normal world practice. But it seems that the people's love for Medvedeva and this sport's popularity caused a keen interest.'' Photo: meduza.io
What did the situation with Medvedeva begin with?
Does it matter now? The most important thing is that this workshop has been saved. Moreover, my relations, as administrator, with both Tutberidze and Medvedeva are fine, kind. And I try to save both of them, so that nobody will deliberately kindle the conflict because today modern sport is a colossal competition, and there are external forces, there are many who anyway envy and bother. Have you noticed Tutberidze doesn't give big interviews to almost anyone now? Because she is a workaholic, she works, and this process and result are the main pleasure for her. But they have reached out to her anyway.
In one of your interview, you said such a phrase speaking about the departure of Yulia Lipnitskaya from Tutberidze: ''From my long experience, I can say the change of coach, as a rule, isn't for the good of an athlete, especially at such a young age.'' It was one year ago. Can you repeat it in the situation with Medvedeva?
Of course. I think one shouldn't seek something better than what you already have. And not only in this sport but also in many other. As a rule, the best results always came from ''home''.
You said Medvedeva would continue working in your school. Does this seem to be excluded now when she announced her cooperation with Canadian coach Brian Orser?
No, she will compete for the school.
So will Sambo-70 pay to Orser?
Sambo-70 doesn't have this money. Either the federation or sponsors pay and organise it. I don't enter the backstage. Most importantly, Medvedeva promised she would certainly compete for Sambo-70, Moscow and the national team of Russia. This is the most important thing for me. And a coach who is hired, who rents the ice and who is paid per hour is a worldwide accepted system existing for tens of years. And I know, for instance, they will treat her injuries and recover with the help of the latest means that are available in Canada first.
''Zagitova has remained as shy and educated girl as she was''
Do you talk with Alina Zagitova as close as with Medvedeva?
We were with Alina and her parents almost all day long on 9 May – in Immortal Regiment campaign and a race dedicated to veterans. How can't I talk with our close people as a pure Tatar man? I don't lose either links or relations with the native place and often visit Tatarstan.
Do you speak Tatar?
I do. When I went to Kazan last summer for the World Congress of the Tatars, it was difficult to understand the classical speech because my parents are Penza Tatars, while I was born in Moscow. And after two-three days in Kazan, I usually remember everything and start to fluently speaking Tatar. As a deputy [of the Moscow City Duma], I work in this area. Though I never thought I would actively deal with national issues. I'm very proud and glad that our Tatar diaspora supports me so, they treat with great attention and respect. We also support an orphanage in Laishevo that constantly comes here to compete. At the Olympics, by the way, somebody joked about Zagitova's roots, like do you promote your people? It's funny, but sometimes I have to explain people because having heard such a thing, a correspondent can present everything in another way or misquote.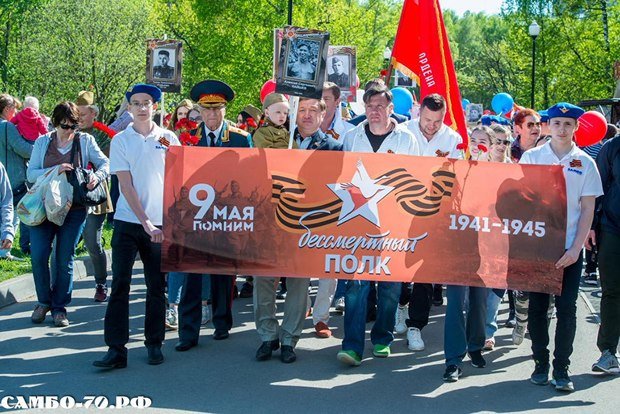 ''We were with Alina and her parents almost all day long on 9 May – in Immortal Regiment campaign and a race dedicated to veterans.'' Photo: самбо-70.рф
What is Zagitova doing now?
Alina is in the ninth grade, she will have to take exams soon. She missed many classes and is preparing hard now. We talked about it only the day after yesterday. We have a friendly atmosphere in the school, in general. We go to support Alina with the class. Of course, I worry about the girl a bit. Everybody asks me why she lost in Milan (Editor's Note: this year's world championship). Listen, the person is 15 years, she has won the European Championship, Olympic Games this year, got ''Friendship Order'' personally from the president. It's good she didn't fall to pieces there but continues living and working.
There was an unspoken prohibition of calling Zagitova the Olympic champion in the media before 7 May. How did she go through it?
I hear about this prohibition for the first time from you. Even at the Olympics, we celebrated her victory on the next day, including the presenter who called her an Olympic champion. And we had many events after this where all speakers called Alina a champion.
But it was prohibited in the media.
I don't know, I didn't pay attention to it.
So did this pass her by? Didn't this information reach you?
No. Zagitova has remained as a shy and educated girl as she was. As well as her parents, by the way.
Medvedeva was the leader of Tutberidze's group. Will Zagitova handle this role?
There is nothing to handle there. There is one leader there, it's Tutberidze.
To be continued
By Zulfat Shafigullin, Artur Khalilullov
Bashkortostan
Udmurtia
Tatarstan