Russian-Korean gas pipeline idea revives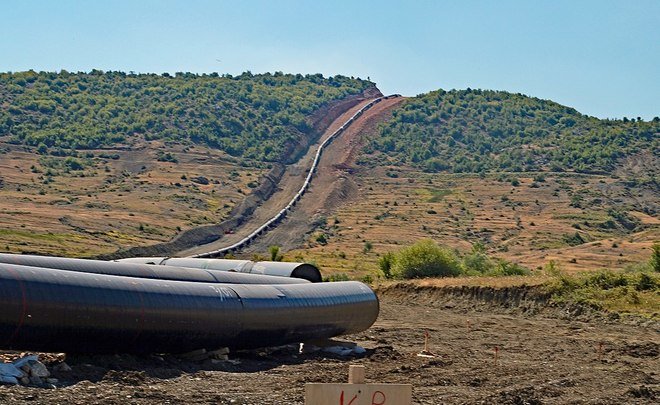 A recent thaw in relations between South and North Korea can bring an idea of a Russian-Korean gas pipeline back to life. Gazprom intended to build the pipeline to South Korea almost a decade ago, but the pipe had to pass through the territory of North Korea, so the project was set aside due to ''the complex political-military context'' on the Korean Peninsula.
An idea of a Russian gas pipeline to South Korea via North Korea could be revived if the security situation on the Korean Peninsula improves, states Oilprice.com citing South Korean Minister of Foreign Affairs Kang Kyung-wha. ''Should the security situation on the Korean Peninsula improve, we will be able to review the PNG [pipeline natural gas] business involving the two Koreas and Russia,'' the minister said at a forum on regional energy cooperation in Seoul. He also added that if the North participated in talks on Northeast Asia energy cooperation, it would serve as a catalyst to ease geopolitical tensions in the region.
The idea of delivering Russian natural gas to resource-poor and import-dependent South Korea by pipeline was once put forward by Russian Gazprom. Russia and South Korea even signed a road map to the pipeline in 2011, but the tense regional situation complicated the project's further development. ''The ideas behind the pipeline look very difficult to implement, especially given the complex political-military context continuing on the Korean Peninsula and obvious political risks,'' Gazprom claimed in a corporate newsletter in October 2012. However, the company emphasised that the project could take place in case of ''political will and a mutual commitment'' and help strengthen military and political security in this rather turbulent region.
After decades of tension, the relations between the two Koreas have recently improved. Last week, the rapprochement resulted in setting up a meeting of the nations' leaders for 27 April, which is supposed to take place south of the Korean Demilitarised Zone. North Korean leader Kim Jong-un made his first foreign visit at the end of March when he met with Chinese President Xi Jinping during a surprise trip to China. Besides, Kim is expected to have a summit with US President Donald Trump in May.
Earlier last month, it was announced that Russia and North Korea were considering the construction of a new bridge to facilitate cargo delivery. However, the move towards trading future beyond sanctions and military tensions can be hindered by high political risks and lack of funding. At the moment, Russia and North Korea have no automobile checkpoints and only one railway bridge on their 17-kilometre border.