''I didn't buy bitcoin'': Roman Shaikhutdinov about cryptocurrency, 'optional' blockchain and construction in Innopolis
The minister of informatization and communications of Tatarstan met with the representatives of Kazan media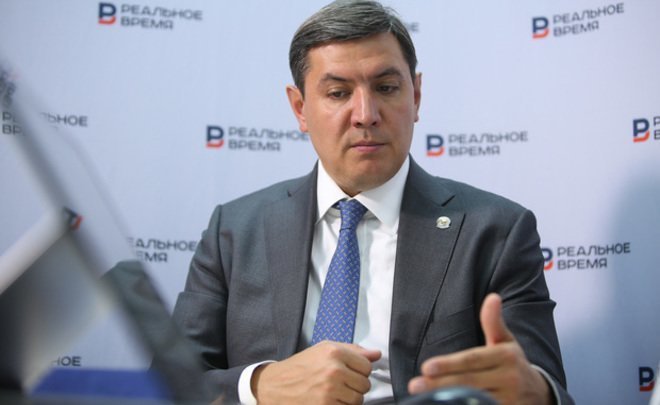 Minister of Informatization and Communications of Tatarstan Roman Shaikhutdinov has recently met with the representatives of Kazan media. The journalists asked him whether he had bought bitcoin and whether new blockchain projects were to be introduced in the public sector of our republic. Read the minister's answers to these and other questions in the material of Realnoe Vremya.
''Large companies do not sell their IT systems, they develop them themselves''
Mr. Shaikhudinov, first I would like to ask a question about Innopolis. What revenue do the residents have? You have intrigued us by telling that there will appear new residents by the end of the year.
The team of the management company and the city mayor's office of Innopolis has held negotiations. What companies it is — I cannot say, they are forming the documentation that will be submitted later (it is slightly more than 200 jobs).
In general, the technopark today is leased at 67%. We expect that we enter the new year with approved residents – it is five to seven companies, depending on documentation preparation stage.
As for the resindents' revenue volume, I can tell that we are in the process of obtaining the information about the year's results. The projected amount is slightly less than 1 billion rubles. Compared to the previous period, a growth amounted to almost 50%, and the goal, of course, is to increase the performance.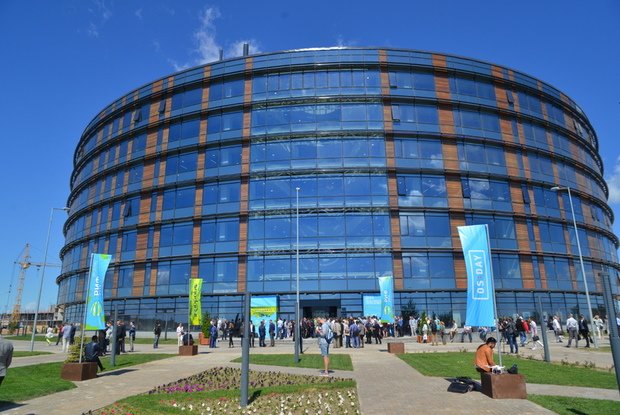 ''The technopark today is leased at 67%. We expect that we enter the new year with approved residents – it is five to seven companies, depending on documentation preparation.'' Photo: Maksim Platonov
It has been discussed how to bring IT divisions of larger corporations in Innopolis (there were negotiations with Rostec), maybe there is some progress in this regard? And with what other major companies have you negotiated?
Rostec is working through the 'subsidiary' — it is about 70 people. Just to remind you that we have two statuses: residents and partners. Partner is the same resident who pays all the taxes. The partner's benefit is that it gets access to specialists. This year we have 169 graduates — all of them got a job in the company, there they live and work.
From major companies we have Sberbank in the face of Sberbank Technologies, then we are negotiating with energy companies, with the company Lukoil, and also Aeroflot. By the way, from Aeroflot, one of their largest suppliers of integrated solutions has become our resident. All these stories require personal participation — every company wants a special treatment to itself, in a good sense. What do we do for each company? For each company we specify labour requirements and a specific technology. Today there are 138 jobs open — it is about 12 different technologies.
Every two weeks I look at what vacancies of what companies have opened. For example, the companies Sistema Dokumentoobotota, SKB Kontur, ABCT, Technoservis, MTS and a number of others now need specialists for blockchain technology in five different directions, frontend developers on Java, HTML5, Ember, they are also actively looking for testers, developers on Android and Sailfish, robot technicians and so on. Innopolis in this case gives such service as a resource center.
A company comes and says that it needs to find someone or to teach someone. We teach according to a technical specification for a future employer — it specifies the required skills, and our teaching staff teaches. It's interesting for the financial sector – it is the top 10 Russian banks. From Tinkoff, for example, we have 60 people, Sberbank, Alfa-Bank, and the company MTS.
Today in Russia the market is unique in the sense that we do not have developed IT sector to freely contract a company from the market, so large companies do not sell their IT systems, they develop them by themselves. It gives them stability because the companies are small and they can be bought by another bank, for example, or a competitor. Everyone is careful about this and they develop inside.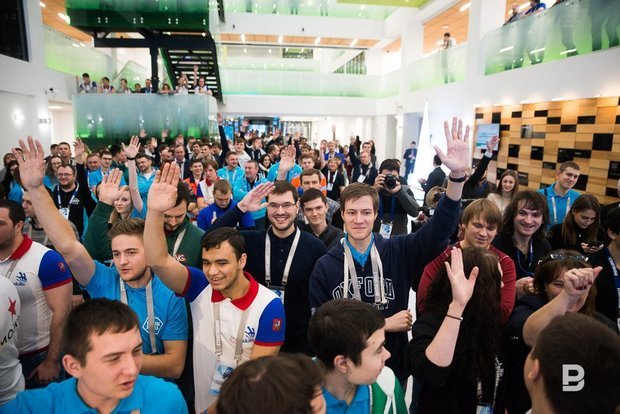 ''The championship DigitalSkills – it is training of specialists for digital economy. The purpose of this event, that we have been preparing for six months, is to attract the industry to the Olympiad movement.'' Photo: Maksim Platonov
And what about foreign companies? You have invited Huawei… How do these companies react and what do they demand?
As for Huawei, the project is connected with the implementation of the project 5G — we want the fifth generation launched in Tatarstan, Innopolis and Kazan. It's totally different speeds, different quality and, of course, higher costs.
Huawei is looking to release the corresponding equipment on the market among the first. We are discussing with the company the issues of joint development and localization of their product here for the customers who cannot buy the products 100% developed abroad. Second, it is the launch of 5G network, as well as partnerships within development of professional skills.
By the way, let me remind you that from Monday to Friday Innopolis hosts the championship DigitalSkills – it is training of specialists for digital economy. The purpose of this event, that we have been preparing for six months, is to attract the industry to the Olympiad movement rather than to the system education, and only after that to involve the system education, as well as to make it commercial. Next year it is planned that one half of the funds that has been spent here to be collected from participants and the other – from the industry. We are going to engage Huawei including.
But if you look at Innopolis, it is mainly Russian companies, this is no coincidence. Foreign companies are not actively developing on the territory of our country, and if they are, it is, as a rule, outsourcing of our specialists, who work in the grey zone without opening any representative office of the customer or legal entity.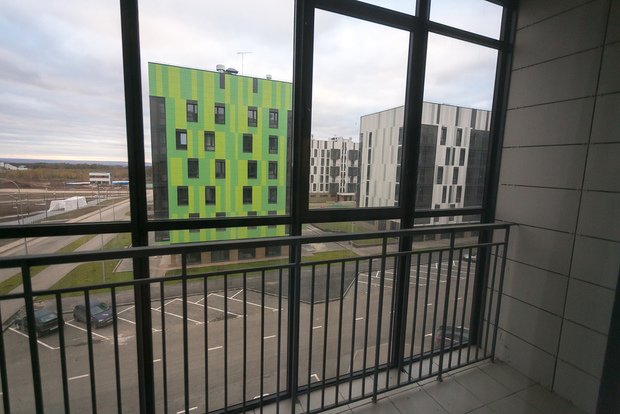 ''Another two houses were taken under the roof in Innopolis. 740 apartments are being under construction. They are beginning the finish, but it's quite a long process.'' Photo: Roman Khasaev
''There are consortia when banks agree among themselves to use cryptocurrency''
RV: Mr. Shaikhudinov, where, in addition to the State Committee for Archival Affairs of Tatarstan, will blockchain technology be implemented? Perhaps, other regional agencies?

In the workflow system… You know, blockchain technology has nothing supernatural. It has been known for a long time, and it has gained popularity simply because of the connection with cryptocurrency. This technology requires high computing capacities.
Second of all, blockchain technology is useful and necessary in a situation when a work or a digital interaction (not personal) is carried out in digital format in untrusted environment. In the case of public administration, blockchain is rather not a way of verification but a way of time-saving. In the case with cryptocurrencies, it is a way of preserving of affiliation of solvent digital artifact. So, it's more for untrusted environments when you don't know who is on the other end.
As for the archive, it has been prepared a small technical specification jointly with Irada Khafizyanovna — in this case, it is a data storage technology. Also, blockchain can be used to find information quickly. At the federal level, this 'pilot' was intended to be launched between the Agency for housing mortgage lending (AIZhK) and the Federal Service for State Registration, Cadastre and Cartography (Rosreestr): transactions made by the AIZhK with physical persons are transmitted to Rosreestr, which receives them. At all stages all parties trust each other, so the 'pilot' was probably connected with the development of the technology itself. That is, it is used blockchain instead of electronic digital signature.
But again, in my opinion, the use of blockchain in public administration is probably unnecessary. It would be better to use it in commercial environment.
RV: We have recently contacted the Russian Association of Cryptocurrency and Blockchain (RAKIB) — we have been informed that they are already working on the opening in Tatarstan of a regional branch of RAKIB and are negotiating with our authorities. We have no details, so maybe you could tell us on what projects they will work in our republic?
I don't know with whom they are negotiating (laughing). With the Ministry of Finance – definitely not. It will be interesting to know who is negotiating.
Taking a pause in the response, the minister took his phone and called the head of RAKIB Arseny Scheltsin. The conversation was not on speakerphone, so the explanation by Sheltsin left to the participants of the meeting a mystery, however, judging by the tone of the conversation and the fact that the minister was surprised by our question, the RAKIB rushed to disclose the information about its entry in Tatarstan. Anyway, Roman Shaikhutdinov scheduled a meeting with the head of the association for the following week. It is possible that the question of Realnoe Vremya has contributed to the creation of regional offices of the RAKIB in our republic.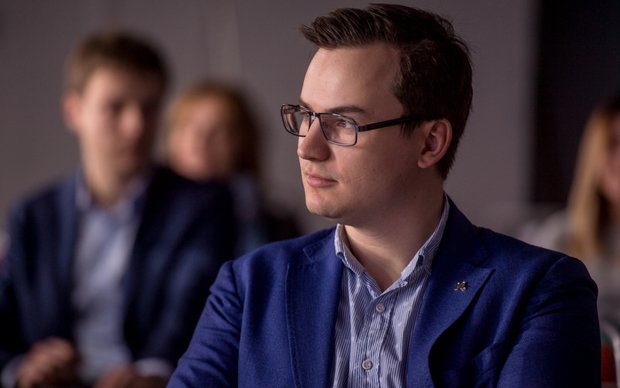 RV: Mr. Shaikhudinov, let me ask you a personal question: have you invested in bitcoin?
I think that a mean of payment must be a mean of payment — by itself it cannot create an added value. Remember the 'dot-com bubble'? Those mechanism of formation of expectations, then disappointment and further collapse of the pyramid — what did it led to?
Specifically bitcoin now is having the greatest advantage compared to all other cryptocurrencies because it is one of the first. But, let me remind you that there are being already more than a thousand cryptocurrencies.
Nevertheless, it is a certain real manufacturing sector gives added value, although services can also be an object for which you can use such means of payment. No object can grow in value at such a pace, there is no commodity-money relations that would form such a growth and such added value.
It is a pyramidal growth, i.e. it is a pyramid. As soon as 15% will begin to sell it, all may withdarw from it. Plus, the cryptocurrency is used in the darknet.
The cryptocurrency is more likely to be a mean of increasing liquidity in economy, but it does not meet the necessary requirements for this. Now we can see the table cloth, the recorder, which lies in front of us, — all this has a cost, which means that these things can be the means of solvency ensuring. Such a mechanism of crowdfunding, when you become part of the ecosystem and vouch for the solvency of the currency by a given to you limit of material assests. In other words, gold reserves are replaced by your personal assets. In this case, it is an increase of liquidity, but this must be done with your consent. This is a new trend that can take place. This mean of payment is more equitable and balanced, but again it is not clear how to evaluate it. The main problem will be that bitcoin will simply take over the national currency. Of course, no single sovereign would agree on that.
By the way, the US already have consortia, we have acquainted with one, which consists of five banks. They all agreed among themselves to use the cryptocurrency. This is another mean to reduce costs or improve efficiency. In this case, banks do not use the Swift system, do not use the international payment system like Visa or MasterCard — they use their own private platform. It also happen to be.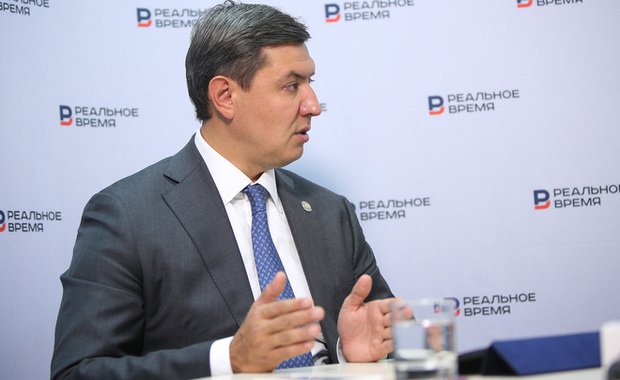 ''I think that a mean of payment must be a mean of payment — by itself it cannot create an added value.'' Photo: Roman Khasaev
Cryptocurrency is also a way of avoiding intermediaries. This is a special challenge for security forces as the control of such flows can be carried out only in centralised systems.
That is why I didn't buy it.